New book Stayed on Freedom: The Long History of Black Power through One Family's Journey is an innovative way of revisiting the story of Black Liberation, told through the intertwined story of two grassroots organizers: Zoharah Simmons and Michael Simmons. Based on hundreds of hours of interviews with biographer Dan Berger, Stayed On Freedom is a moving and intimate portrait of two people trying to make a life while working to make a better world.  Stayed On Freedom brings into focus these unheralded Black Power activists who dedicated their lives to the fight for freedom. Below is a brief interview conducted right before Simmons and Berger appear in San Francisco.
Michael Simmons and Dan Berger will appear Tue/7, 6:30pm at the Green Arcade bookstore (more info here). They will be joined in conversation by Dr. Tiffany Caesar.
48 HILLS Michael, what was it like to take stock of your history with Dan over the past few years?
MICHAEL SIMMONS Having this narrative published has been an exhilarating experience. As one lives a life seldom is there consideration of anything but the next step. Looking and assessing it in hindsight presents a narrative of struggle and love. Dan has been able to capture both.
48 HILLS Dan, when you started this project with Michael and Zoharah what did you hope to accomplish? Did anything change in that regard as you moved forward?
DAN BERGER I set out to write a book about Black radicalism and the struggle for freedom that showed Black politics at the center of the fight, any fight, for social transformation in the last century. That required rethinking Black Power from how it's often described, stuck in a particular time period, strategy, or organization.
As I kept writing, particularly under COVID context, it became even more important to me to tell a story of two long-distance runners in the struggle for justice: one that would help illuminate what it means to build a life on the left, a life engaged in political work, that recognizes that we ask different questions and play different roles as the years continue. The book is a story of politicization and endurance.
48 HILLS What about this book might challenge the ways we understand the Civil Rights and Black Power Movements?
MICHAEL SIMMONS As Dan states, this book shows that the Black Power Movement was a direct outgrowth of the Civil Rights Movement. It challenges the notion that both movements were content to settle on domestic issues and instead saw themselves as part of an historic anti-colonial, anti-imperialist international movement.
DAN BERGER One of the biggest way the book might challenge some people's perceptions is that it describes Black Power as an outgrowth of the civil rights movement. Rather than see civil rights as just a thing of the South and Black Power as a thing of the North, the book shows that Black Power emerged within the civil rights movement. Black Power was also always an internationalist movement, and that internationalism only deepened as political work became more difficult in the United States.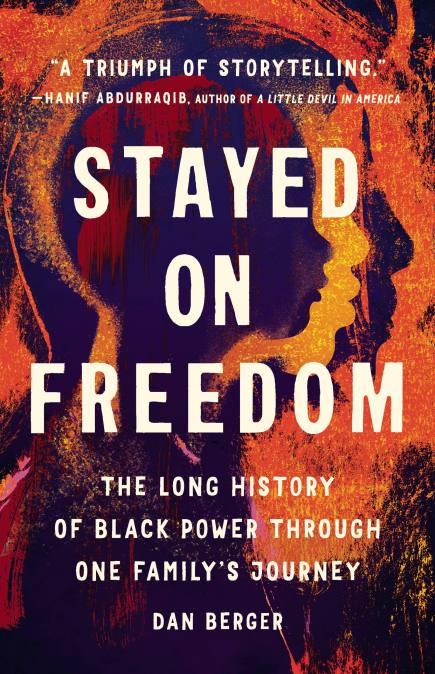 48 HILLS Stayed on Freedom comes to the world at the height of the right-wing battle against Black history, and history from below in general. Why is the right so obsessed with erasing histories like these now? Do you think there is an endgame for the so-called "culture wars"?
MICHAEL SIMMONS Looking at the US we can see a new world emerging politically and culturally. This has caused trepidations that have resulted in imagined fears that things will only get worse in the short run. Their endgame is repression, but, in the long run, they will not win.
DAN BERGER Let's just hope we're at the height! What's happening now is awful, but I don't know if we've yet reached the height of what counterrevolution looks like. To my mind, the assault on Black Studies is part and parcel of an assault on Black politics–specifically the movement for Black lives. I think we have to understand what's happening now in the context of how potent and poignant the 2020 uprisings were, coming on the heels of a decade of abolitionist and related organizing that gave rise to and sustained the Movement for Black Lives.
In 2020, the right saw millions of people, multiracial and multigendered masses, take to the streets in a Black-led movement against police violence. They want to break the solidarity evident in the streets so that nothing like that happens again. And too many mainstream institutions are willing to abet that mission.
48 HILLS What contemporary movement organizations do you find inspiring? What lessons might they learn from your history?
MICHAEL SIMMONS The unique social history in the US is that people will organize for social change. I am encouraged by the #MeToo movement, the Black Lives Matter movement, along with issues like police reform. The one thing that should be learned from the past is that social change can be a difficult process and short term failure should never detract from long term goals. A luta continua!
DAN BERGER There are a lot of organizations, too many to list, that inspire me right now: fighting for renters and the houseless, migrants and workers and prisoners; resisting climate catastrophe, transphobia, and fascism. I am also inspired by people who are just stepping into movement work to stick up for their friends and neighbors by protesting censorship or defending Drag Story Hour and beyond. I hope the book offers them comfort to keep going, keep growing, for the long haul. Movements are bigger than one organization or one time period, and we show up differently as both the times and our capacities allow. The important thing is that we show up.