Depeche Mode chose Northern California as the launching point for the group's Memento Mori world tour. The beloved 43-year-old English band opened the tour in Sacramento on March 23, released the 15th studio album Memento Mori album on March 24, and stopped at San Jose's SAP Center on Saturday, March 25. They routinely fill stadiums in Los Angeles, but the Bay Area also remains madly in love with the band that has influenced so many branches of modern music.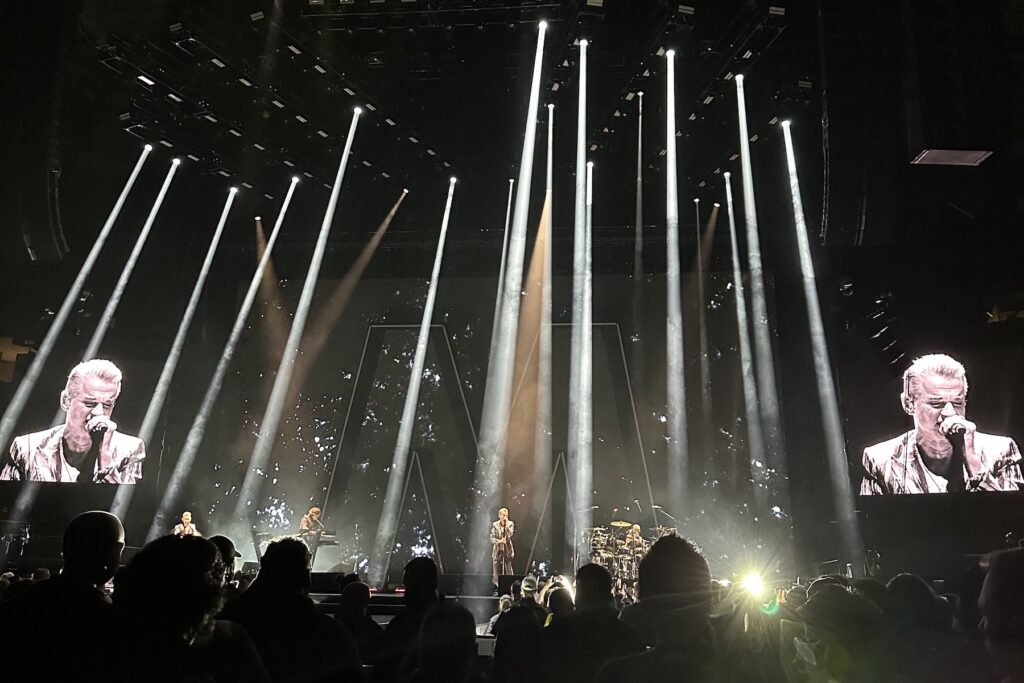 I braved the high ticket prices and bought two seats in the uppermost section of the arena, which still set me back nearly $200 each with fees. Floor seats soared well into four digit prices after the pre-sale—but I am guessing that there isn't a single person that sprung for them who regrets the purchase. Depeche Mode's Dave Gahan and Martin Gore have two of the most extraordinarily gifted voices around, and their harmonies have been reducing us fans to emotional puddles for a lifetime.
The Memento Mori tour and album is Depeche Mode's first without keyboard player Andrew Fletcher, who passed away unexpectedly from an aortic dissection in May. Gahan recently called Fletcher, "the captain of our ship" in an interview with Mojo, and admitted that he and Gore had to grow closer in the wake of Fletcher's death.
"I think Fletch's presence forced Martin and I to … maybe this is the wrong word, but compete," Gahan told the publication. "And it created a certain atmosphere of being a bit spiky. So Martin and I have had to find a different way. We had to find a way of communicating, becoming friends."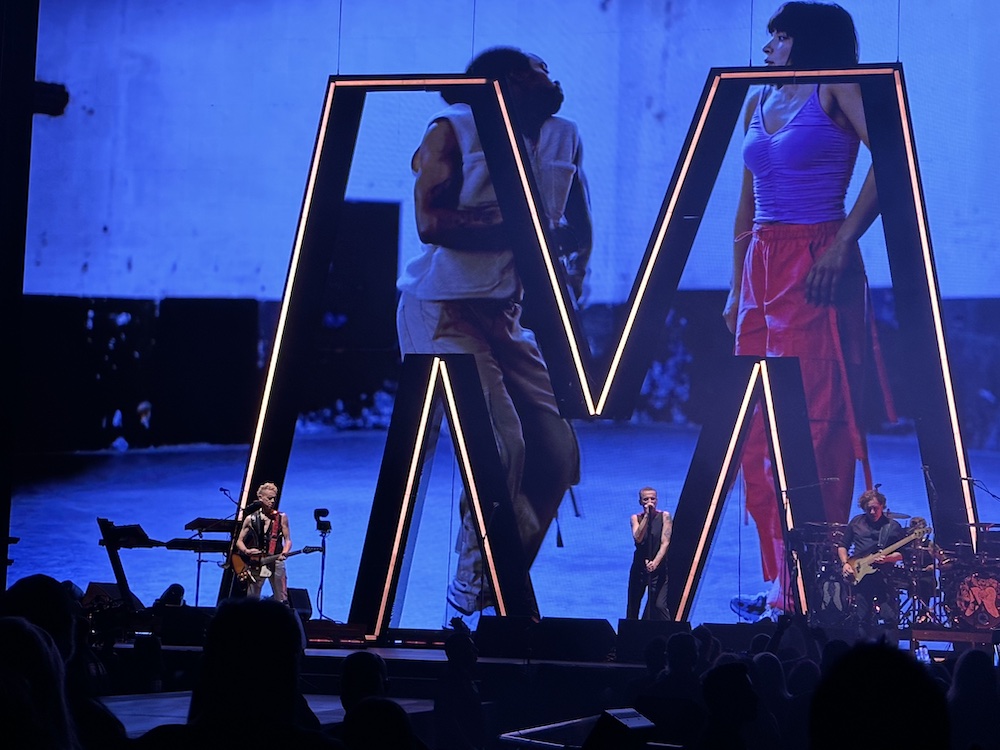 That friendship came out to play on Saturday. The 23-song performance unveiled songs from the Memento Mori album, and hopped all the way back to the 1981 debut album Speak & Spell. The selections felt curated by emotion, rather than to follow a greatest hits template—though anthems such as "Everything Counts," "Just Can't Get Enough," "I Feel You," and "Personal Jesus" wouldn't dare be left out. The songs collectively offered a well-rounded education into how Depeche Mode has evolved over nearly a half-century. The tour setlist includes beloved tunes not performed in many years, including "Waiting for the Night," which Gahan and Gore sang together late in the show. Slicing Up Eyeballs reported that the song was last heard in concert back in 2009. Pictures of Fletcher filled the screen during "World in My Eyes," and eyes in the audience started welling up.
One of the most naturally thrilling rock stars of all time, Gahan was light on his feet onstage, twirling around almost to the point of levitation and striking sassy, angular poses that we could appreciate even in the rafters. Though more introversion can be felt in Gore's voice, he still held over 10,000 people in thrall when he performed solo versions of "A Question of Lust" (from the 1986 album Black Celebration) and new song "Soul With Me."
After many years reporting at SAP Center concerts, I can tell you that the majority of crowds there don't tend to go all out when it comes to sartorial splendor. But this was different—I hadn't seen that much legitimate effort from fans since Lady Gaga rode a mechanical horse around the arena in 2014. The memo to dress in all-black appeared to have been distributed, and I saw families with two or three generations of members with amazing coordinated outfits.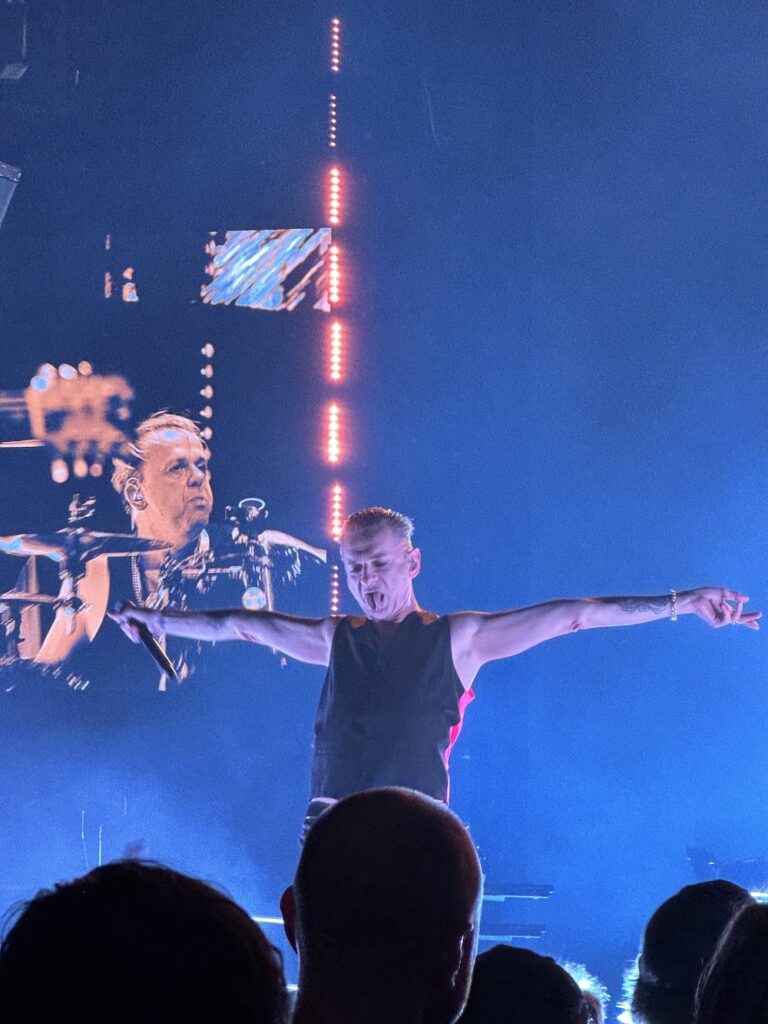 "I saw Depeche Mode with your brother, and now I'm seeing them with you!" I overheard one grandmother say to her granddaughter, as the youngster's mom, clad in a "Master and Servant"-era chain bra and leather, went to the bathroom.
Depeche Mode offered tasteful—and pricey—t-shirts, hoodies, and limited edition red vinyl copies of Memento Mori for sale. Every merch booth drew what looked like an hourlong line, despite visible QR codes that linked to online sales. Many were still waiting when opener Kelly Lee Owens, a Welsh musician with a penchant for Martin Gore's synths, began her set of treated vocals and escalating techno beats. Owens dedicated one particularly banging song to her late grandmother, whose face was shown on the video screens.
Before the show, I was guilty of freezing Depeche Mode in the bouncy synth pop and sexual provocativeness of their youth—those songs still excite me as much as they did when I was a tween. Saturday's performance helped me realize that, depending on when and how they tapped into the band, Depeche Mode is perceived in endless ways by their fans, and they're all meaningful and revered.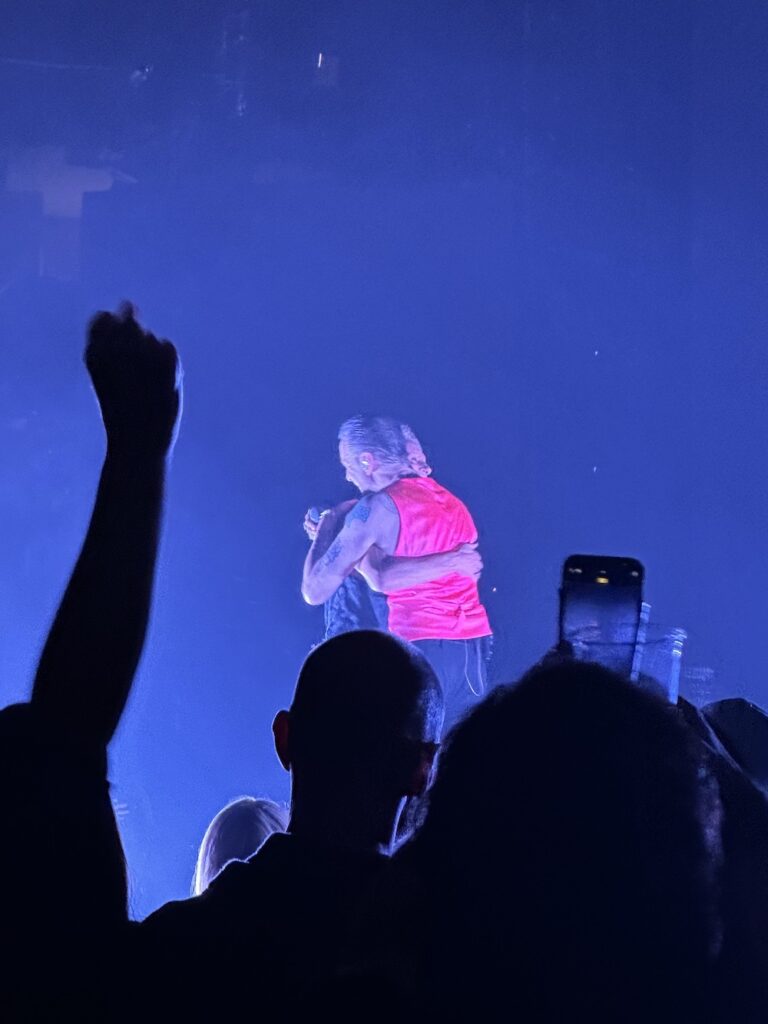 Thank you, Martin and Dave, for continuing on with this utterly vital band in the face of heartache, grief, and loss. Watching your genuine embrace at the end of the San Jose concert radiated hope for the strength and longevity of your working relationship and growing friendship. We're not ready to say goodbye just yet!
And we don't have to: Depeche Mode recently announced a second Bay Area performance for 2023 on December 3 at Chase Center. I can't be the only fan who looked online for tickets (which are still available) as soon as they got home. We'll all be waiting for the night.
DEPECHE MODE December 3, $99-818. Chase Center, SF. More info and tickets here.