The ability to deliver pure joy in the form of a record played to the right crowd at the exact right time is a superpower that some of us may have forgotten about during the height of the pandemic. PhonoBar, on the other hand, has not.
Located at 370 Grove Street, just a few blocks from City Hall, Opera Plaza, and the Asian Art Museum, it's basically in the part of the City where things get done in the most official of ways. The venue, which features a cozy mixture of San Franciscan attendees on most nights, sticks to its mission statement of being "an audiophile cocktail lounge and restaurant that champions music culture in its deepest most authentic forms."
They mean that.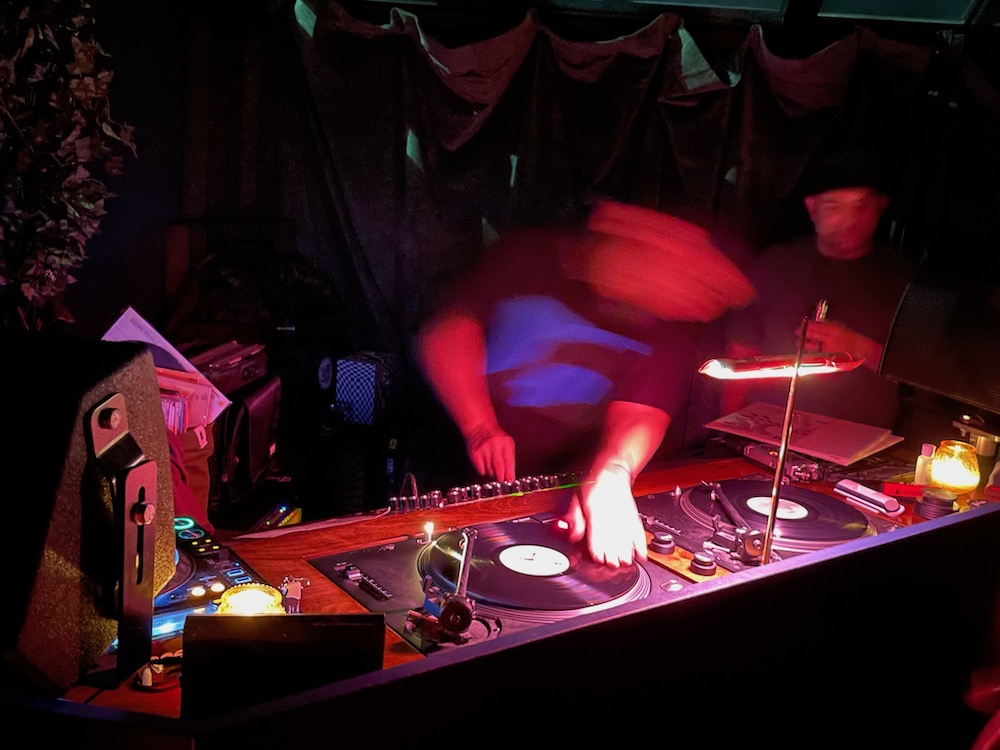 Quality music begins to buzz in your head as you walk through the front door. Turn to your left, and you'll find a stylish and crowded bar with cheerful and endearing staff who can fill your glass with house cocktails that turn mezcal into a Barry Manilow tribute. (This is referred to as range.) To the right, downtown professionals mingle at tables with capital "s"-for-serious dancers taking a cocktail break from the all-in energy of the back room.
On a Thursday night Earl Biggers and Mustafa Popal, who co-host the Tribe Jazz night with TJ Gorton, were going hard on the venue's world-famous boutique soundsystem. Drops, cuts, blends, fades, and quick mixes, all designed to turn that back room into a top-tier oasis for dancers and devotees of the sacred wax. Its leaders follow the universal rule, never spoken but always understood: no bunk tracks. And on this final Tribe Jazz nite, Biggers and Popal humbly complied, hitting those active polyrhythms.
When you transition from Johnny Hammond to jazzy house, it sends people into the right kind of hype.
At one point Mustafa, who blended in that New York style of broken beat on "She Raised Us in Sunset Park" by Musclecars turned the energy of the room intergalactic. Folks started clinking glasses with their ring fingers to keep time, and sneaky dudes attempted (and failed, yeah I watched) to Shazam the blistering anthem in dark corners.
One patron got so caught up that they dropped a crisp $20 on the DJ setup in adoration. Others, exhausted after rollicking in the singular moment of off-time percussive funk when the art of hi-fidelity had proven its prowess, called it a night. They grabbed long-cruising skateboards, and rolled it home.
After a four-year run, Tribe Jazz concluded its monthly night. Resident DJ TJ Gorton, along with DJ Justin Nerstylist, have taken over its monthly slot under the name Rebirth, building off the foundation that Tribe Jazz established.
REBIRTH: (FORMERLY TRIBE JAZZ) every third Thursday of the month. Phonobar, SF. More info here.