Eli Anaya grew up in the Mission District back when he was too damn young to go out and experience that late '90s stormy racket. During that era bands like Jon Dwyer's ever-name-changing entity Thee Oh Sees would turn up the crazy and prove SF to be a bastion of coolness. Experiencing such FOMO at a young age pushed his desire to create Throwin' Bo's, a boutique music promotion company that celebrates its five-year anniversary Sat/1 at Rickshaw Stop.
Since its creation at the now gone-for-reals Elbo Room on Valencia Street, the label has thrived on Anaya's tastemaking authority. Lineups that splice together cool out-of-town bands with superior local talent have not been the only factor that exalts the company. Such events have made the city shine during a, let's say, "complicated" period of existence.
Need proof of his golden touch?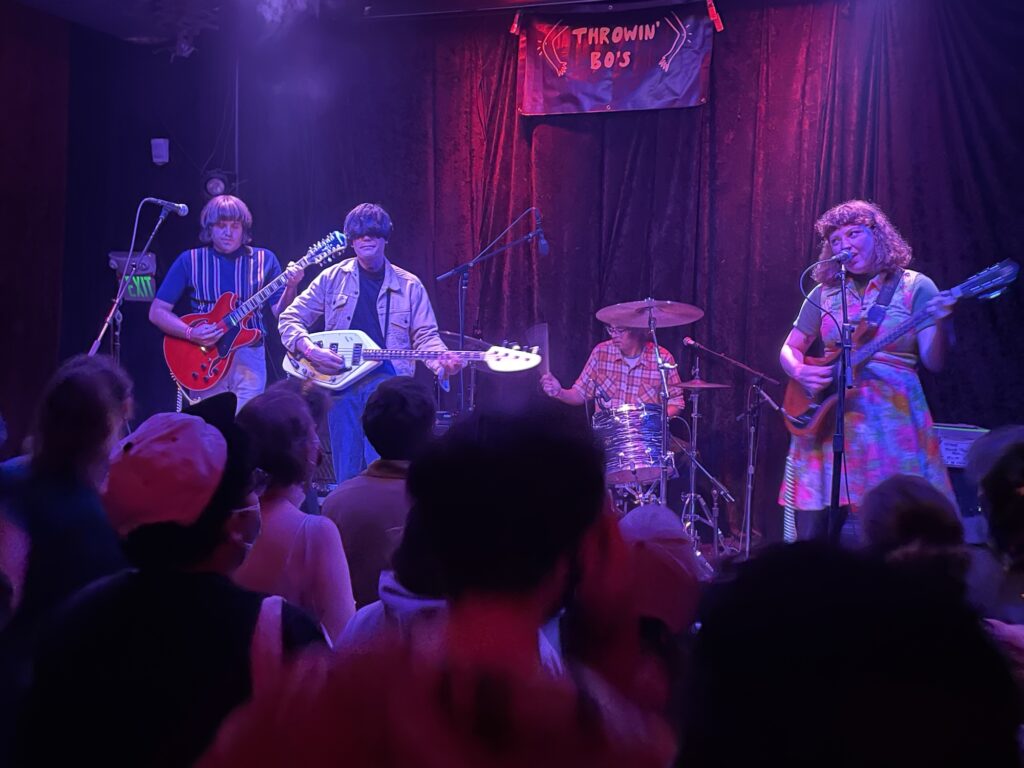 Take the rising tide of local band Fake Fruit, which "has been killing it of course," Anaya told 48hills via email (yes, we talk about the group a lot, because AHEM, they remain dope and booked both Noise Pop and Outside Lands in the same year.) Fake Fruit has opened for Dry Cleaning twice when they played the Bay. Meanwhile, Glenn Donaldsons' The Reds, Pinks, and Purples are opening for Destroyer on this spring-summer national tour.
Anaya has supported both of these talented bands from jump, and despite obvious setbacks over the past couple of years.
"When live music came back in late summer 2021, it felt almost like a race to the bottom at first, with so many bands trying to (rightfully so) make up for lost time and hit the road as soon as they could," stated Anaya.
"But folks were (also rightfully so) still concerned about Covid, and many weren't comfortable going to shows, especially in small club settings. With all this noise going on, and people having to choose from so many shows, it was the smaller artists that would get pushed to the side a bit. What you ended up getting was a ton of shows happening at once with, say, half as many people showing up as before."
But Throwin Bo's has made it through, and is putting on a party to celebrate our rich musical ecosystem—which might even be stronger than it was circa 2019.
The label's five year anniversary featuring Tony Molina, Pardoner, Unity, and The Umbrellas will be a packed ticket featuring an ever-evolving rotation of musical artists on the come-up.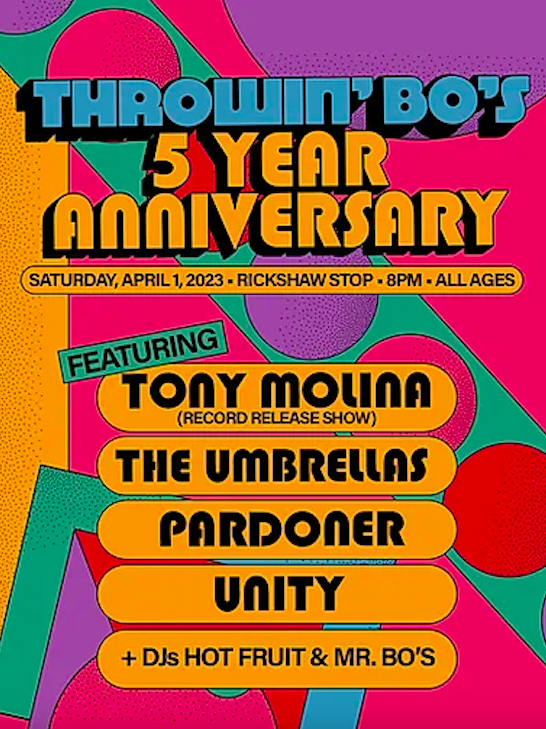 Today's Bay Areans live in a time in which downtown buildings stay vacant and local government seems inactive when it comes to a slew of public health and service issues. These stages, those spaces, give our region—our venues, bars, bartenders, waitstaff, doorpeople, DJs, and music aficionados—something stable to trust in again.
Go witness Juicebumps, Sour Widows, and younger-newer bands like Mild Universe, Abracadabra, Uncle Chris, Marika Christine, and Wanda What. All contribute to this feeling of a new musical heyday, according to Anaya.
"The Bay Area music community has always been close-knit and supportive," he said. "What I found with my shows was that oftentimes, especially post-Covid, the stuff that would get the most love was a well-curated local bill. It was definitely important for our five-year anniversary show that it be all local bands, and it ended up being probably my favorite lineup I've ever put together."
THROWIN' BO'S 5 YEAR ANNIVERSARY Sat/1 7pm, $13. Rickshaw Stop, SF. Tickets and more info here.