Posters for his own films adorn the wall behind Finnish auteur Jalmari Helander's head during a recent Zoom call. One sees the calling cards for 2010's Rare Exports: A Christmas Tale as well as his latest Sisu, which opens in theaters on Fri/28. In between them is one featuring Sylvester Stallone as Rambo. Helander had long wanted to make a Finnish action movie, and Rambo: First Blood was one of his inspirations when he was writing his new, ultraviolent action thriller pitting one man against a horde of Nazis. At the same time, the filmmaker calls his latest work, "a rhapsody for the Finnish man."
"I think, like, what is a Finnish man?" says Helander. "In my mind, he's really a silent guy who doesn't talk and he's willing to do what it takes to achieve what he wants."
Jorma Tommila, the director's frequent collaborator and brother-in-law, plays just such a Finnish exemplar, Aatami Korpi. The film is set in 1944, and the Nazis are on the run—not that Korpi would know any of this. Done with the war and isolated from society, he is a solitary gold prospector in Lapland whose only companions are his horse and his little white terrier. But a troop of Nazis are cutting a murderous swath through the countryside as they make their retreat, and happen upon their latest victim—Korpi. Luckily, he is an ingenious man with a lethal talent for survival. The film's title is a Finnish word that the movie itself advises has no English equivalent. But it defines what Korpi has in abundance: unblinking valor and grit, as he faces impossible odds.
"I like to think that you can kill him, but he needs to accept it first," Helander says. "Because he's not willing to die when he has something to do first. He's not like a superhero in that sense. But he is almost like a superhero. And the idea for that comes from the idea of sisu, which is almost like a superpower. The state of mind that is sisu is a power for you in an action movie."
The setting, Juri Seppä and Tuomas Wäinölä's atmospheric score, and a hero that makes Clint Eastwood's Man with No Name look voluble suggest that Rambo was not Helander's only touchstone when writing his screenplay. He agrees he had spaghetti Westerns in mind.
"Definitely. There is a history of the silent hero in Westerns," he says. "I really love that, and that it's not fast storytelling with pictures. I love how stories play out in old Westerns. We use the time to see the landscape and we are not in a hurry.
"The score was really hard to do," he adds. "When I was editing the film, we couldn't find any music from any film or any band or basically anything from Spotify to use as temporary music in the film. That isn't usually the case. Usually, you have a ton of songs and scores to use, but we couldn't find anything. And because I'm not a musician, it is really difficult to know what I'm going to get but I use my best ideas and try to explain to the composers what I want. I was so happy when I heard the first demo of Sisu's score and that bit of Western."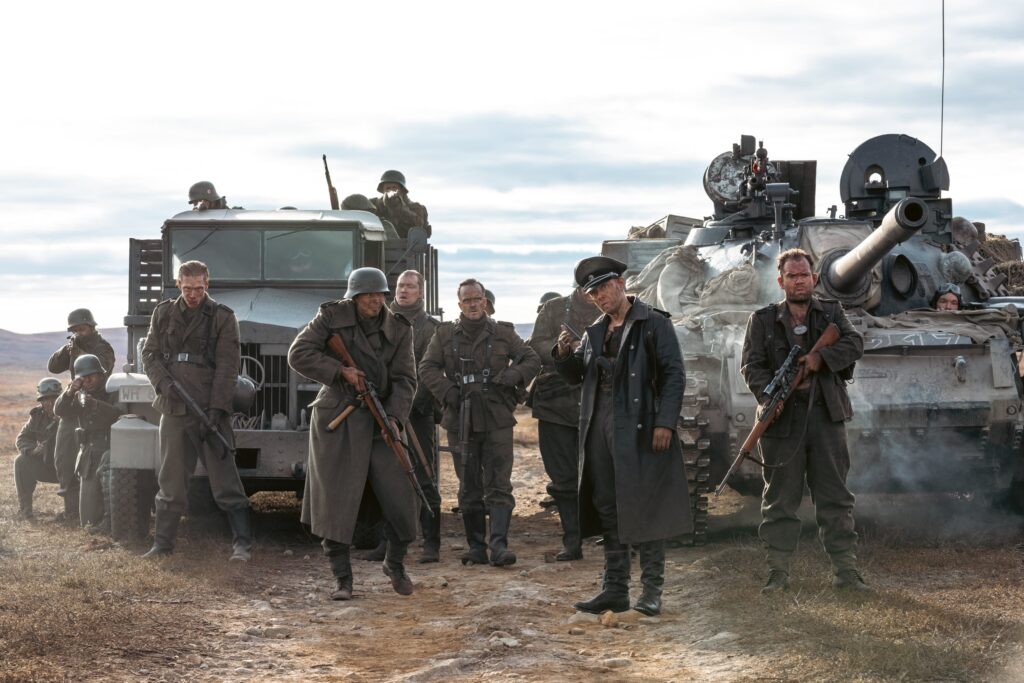 Helander shot Rare Exports in Norway and his 2014 second feature, Big Game, in Germany. Making Sisu provided his first opportunity to work at home—and he chose the most challenging of Finnish locations. Lapland is stark and striking, with its landscape becoming another character in the film. The film was shot in autumn, when the temperatures were frigid and 60 mph winds buffeted cast and crew. Helander loved it.
"I would never like do something like this against a green screen," he says of the special effects wizardry that other filmmakers might have turned to in this situation.
"I hate it and I hate being on set during shooting where people are relaxed and they're all having a great time and the sun is shining. Nothing good ever comes out of that, in my opinion, particularly if you're doing a film like Sisu. I really enjoyed the hard moments and the hard conditions to make this film. I think it gives a lot also because you're struggling there with yourself and you can't be lazy in any turn. You have to force yourself to try and get everyone to do the best they can under those conditions. I love that kind of filmmaking.
"It definitely felt really good to work in Finland," Helander adds. "The whole theme of the film is so Finnish. It was a pleasure to make a feature in Finland with all my friends. Basically, all my friends were there doing the film. It was so good. I still miss the shoot."
SISU premieres in Bay Area theaters on Fri/28.