When Amanda Nudelman started working on the show that became "Rituals of Devotion" at the McEvoy Foundation for the Arts (runs through May 27), she came to the table with pandemic thoughts on rituals of care and apology. What she found in the collection addressing the subject surprised her.
"The core of that idea I was thinking about was the ways that we return to each other to care for people we love when something difficult has happened," Nudelman said. "What I ended up finding in the collection was all of these really affirming connections in the realms of spirituality and interpersonal relationships within families. Both biological and chosen, between friends, and also the ways that we try to connect with our environment and the cosmos, and the way we imagine connections to things that we don't know anything about."
The result is a cornucopia of love. Examples of care between family and friends in the exhibition show up in Lee Friedlander's portrait of his wife Maria, Nan Goldin's images of her friends in "Ballad Triptych," William Eggleston's photo of girls on a couch, and a photo of Patti Smith by her friend Robert Mapplethorpe.
One catches the spiritual side of the collection via Mary Carlson's diminutive porcelain figures, "St Catherine Reading (after Campin)," and "Virgin and Demon" along with Hiroshi Sugimoto's "Hall of Thirty-Three Bay," a print of Buddhas, and Ursula Schulz-Dornburg's series of gelatin silver prints of a hermitage, "San Esteban de Viguera, Spain (Light from the East)." The show also has an 1895 lithograph called "Madonna" by Edward Munch.
"I was so thrilled that they were open to presenting this kind of radical reimagining of the Madonna figure," Nudelman said of this last work. "That was a really exciting thing to be able to pull in."
The show even has space for a moment of self-care in Marina Abramović's rose quartz "Black Dragon," upon which visitors are invited to rest their forehead and chest.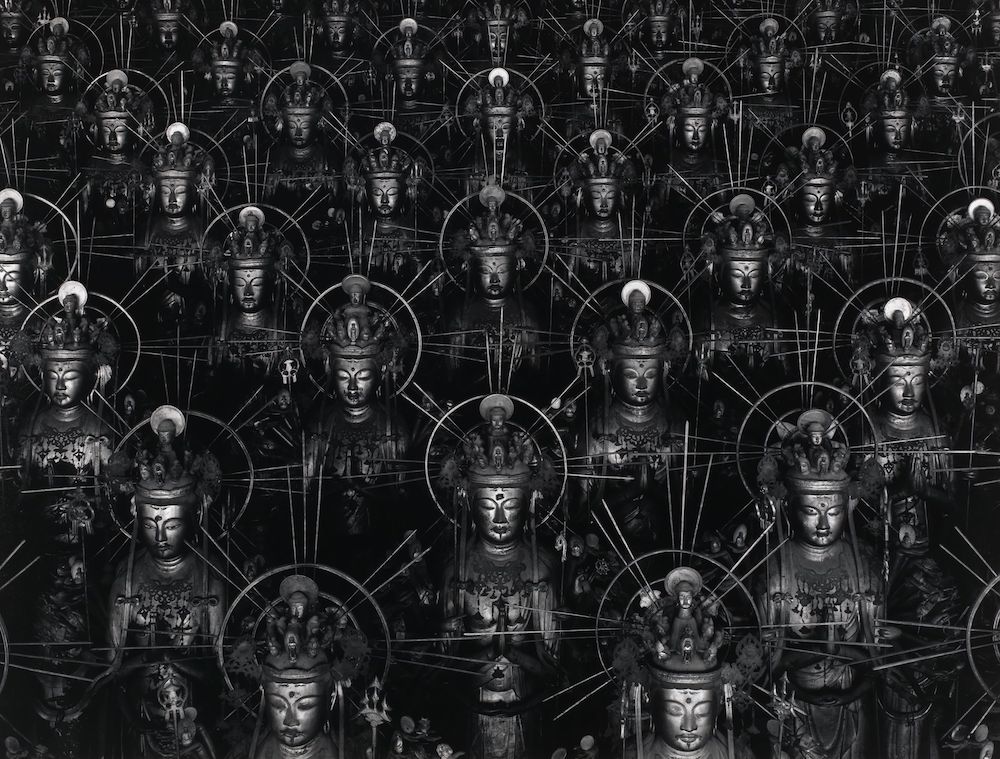 Having such a variety of artists and topics fit under the umbrella of ritual was exciting for Nudelman.
"I felt like it allowed me to bring some of these things together, which are a bit weird or kind of idiosyncratic," she said. "But it's also kind of representative of the way the collection is very personal. A person chose these things because they liked them."
A film program of short films focusing on rituals in relationships curated by her and McEvoy curatorial assistant Dylan Sherman "We Begin Again," is in the screening room, adjacent to the gallery with the portraits. The show also features a May 17 screening of George T. Nierenberg's gospel documentary Say Amen, Somebody.
Nudelman says visitors have an emotional relationship with the exhibition, often in ways she didn't expect.
"People drawing this connection between those two parts of the project has been a nice thing that that I've seen come out of it," she says. "There's also a few loaned works in the show, and it's been nice to see the relationships that I hoped would be formed, and the way that the collection is very open and flexible to have these conversations with other works."
RITUALS OF DEVOTION runs through May 27. McEvoy Foundation for the Arts, SF. Say Amen, Somebody will screen on May 17 at 7pm. More information here.