In Bessma Khalaf's solo exhibition "ritual" at Romer Young (through May 27), the artist's surrealist works draw upon Chaldean mysticism to explore the relationship between nature, the body, and fire. In stark contrast to the gallery's white walls, Khalaf presents dense dark black photographic images, assemblages, and sculptures, where fire suggests metaphorical and material transformation. Additionally, as fire produces light and legibility, its absence shrouds the unknown in darkness.
Most strikingly, Khalaf presents a series of images coated in smooth, glistening black wax. In the descriptively titled "A bird in the hand" (2023), one hand braces a cluster of branches while a bird is perched on the other. With the hands, branches, and bird rendered in crisp detail, the dense black background obscures the figures' relationship to the tree. Khalaf astutely allows viewers to sort out whether the figure is hiding behind the tree in a form of camouflage, or a human-tree mythological hybrid.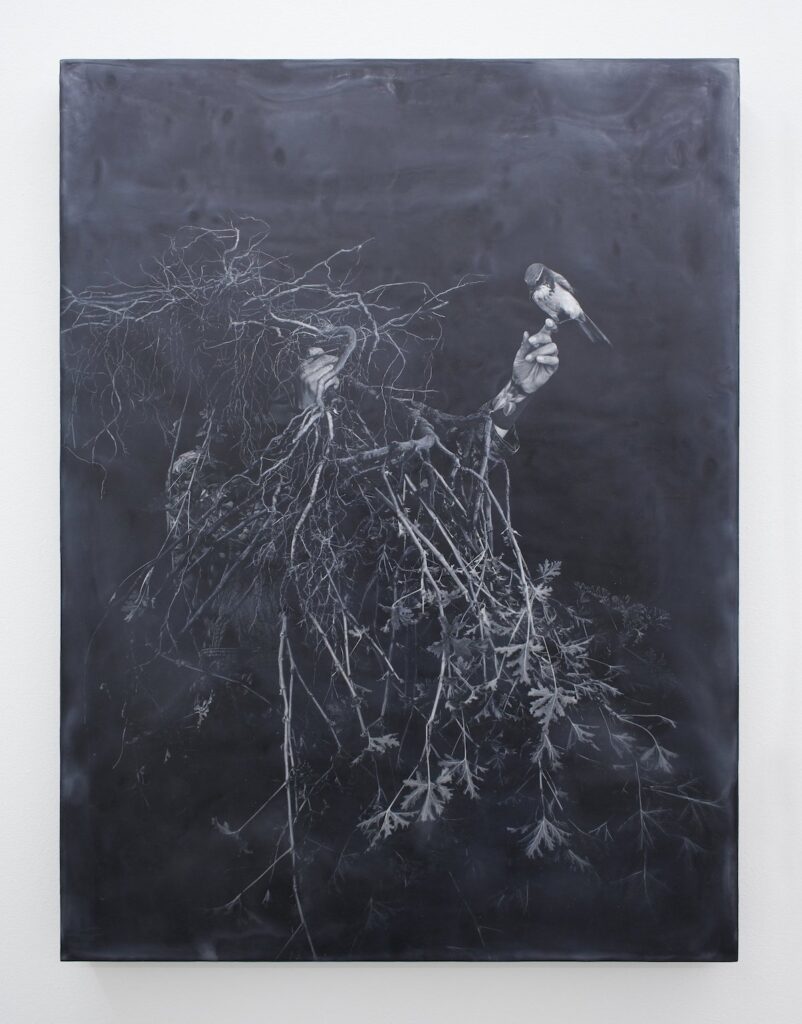 At close inspection, a solitary and rather awkward eye lurks beneath the intricately rendered branches. While the eye evokes a symbolic narrative of seeing, but unseen, its directness borders on a hokeyness, which might ultimately be unnecessary.
"A bird in the hand" has a luscious photographic and painterly quality, a result of the artist applying charcoal, chalk, beeswax, and damar resin to her photographic prints. Photography uses an almost alchemical process of manipulating light sensitive materials and sensors to expose an image, while computers allow us to crop, mask, filter, assemble, and manipulate. Adding to this magic, Khalaf's detailed hand rendering speaks to the artistic process as a form of conjuring, where creating and manipulation renders images visible and comprehensible. Khalaf prompts viewers to slow down in order to identify how the works are created and pause to grapple with the legibility of the imagery itself. 
Complementing Khalaf's image-based works, the artist also presents a series of 11 "Tree Altars" (2023). Installed on the floor in two clusters, melting black candles rise from the burnt wood stumps to build a verticality akin to trees or figures. The lusciousness of the dripping black wax is particular evocative of termite mounds or stalagmites.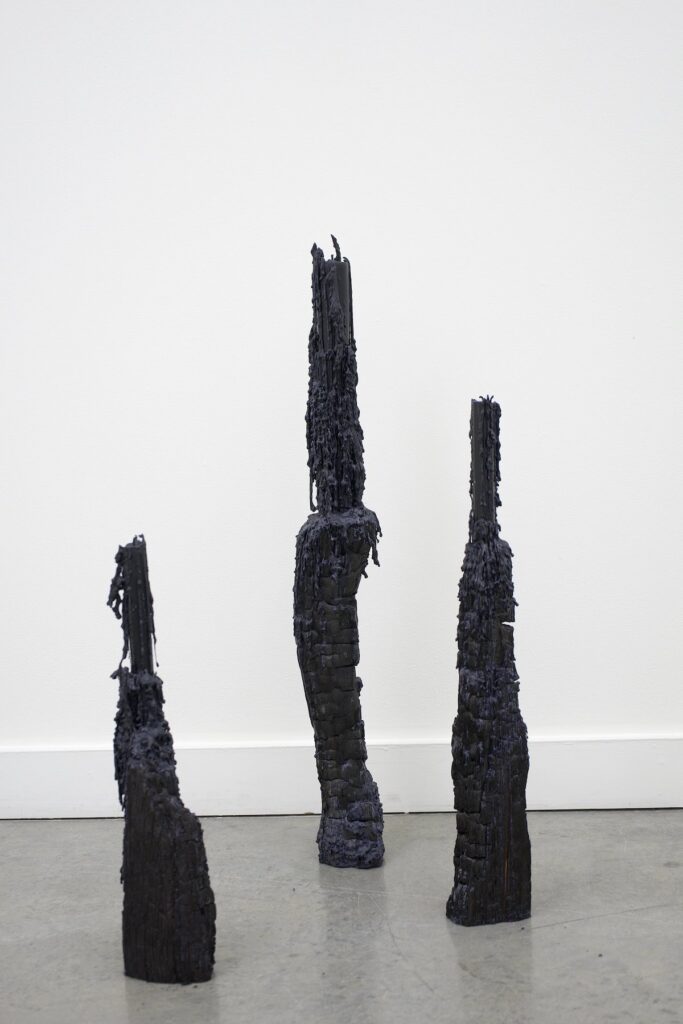 With their excessive and Baroque drips, the candles in Khalaf's "Tree Altars" have clearly been used, previously burnt in an unidentified ritual or action. With a small amount of soot and an occasional wax drop on the floor, the "Tree Altars" suggest the flux or fragility of ritual objects, where use imbues the object with meaning, in contrast to permanently static sculptures. Khalaf's "Tree Alters" beg the question of how these ritual objects change or continue her narrative of transformation. Additionally, there is great potential in thinking though how the ritual or ritual objects impact their location (in this case being the gallery) or the cosmic order of nature and humans.
Through strong material selections and dramatic lighting, Khalaf strongly seduces viewers into a mystical world, where the artist also suggests that visibility and knowability are related, but not contingent upon each other. Most importantly, Khalaf suggests forms of physical, ancestral, and intuitive understanding that can occur within the shadows.
BESSMA KHALAF: "rituals' at Romer Young Gallery, SF, through May 27. More info here.