For artist Emanuela "Ema" Sintamarian, the road to the visual arts has been an unlikely one. She says that it started with a pair of red shoes.
Sintamarian grew up in Bucharest, Romania, and spent her summer vacations in Transylvania. She describes the contrast; Bucharest an intense, cement, and concrete city—fast, convoluted, contradictory, and completely unapologetic for its imperfections—while Transylvania was a magical land of adventure and discoveries in nature.
During her childhood, art was first and foremost a tool of propaganda for the Communist Party. Conformity, political loyalty, and obedience were demanded of all citizens, starting at a very early age. It was considered a great honor when her elementary school was selected to participate in National Day celebrations at a soccer stadium in the capital city.
"Think megalomaniac presidential speeches. Think parading tanks and row upon row of goose-stepping soldiers. And of course, picture the obligatory thousands of happy school children waving tiny flags and precisely spelling out slogans on the field with intricate choreography," Sintamarian told 48hills.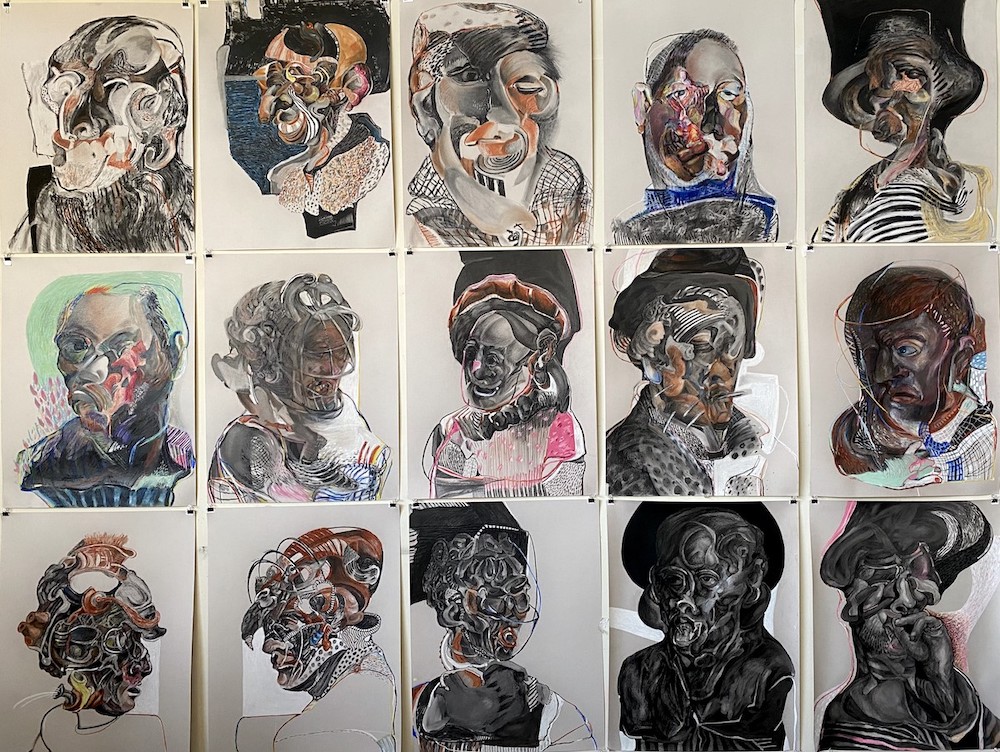 With the promise of Pepsi and cheese upon arrival, each student was checked for a clean uniform: white pressed shirt, red neck scarf of the "Youth Pioneers," and black shoes. Unfortunately, her shoes happened to be red, and she was immediately banished to the parking lot where she sat in the bus with the drivers for the rest of the day, a fate she found delightful.
"The bus drivers were most entertained by my spot-on, 10-year-old impressions of our dictator, Nicolae Ceaușescu. The episode became emblematic of my greater experience and perceptions of adult life. Even in my home country, I was constantly an outsider—an adopted, queer, irreverent female who saw the absurdity of the mainstream culture that surrounded me," she said.
Sintamarian turned toward art to escape, to expand, and to express.
She did her undergraduate studies in graphic arts at the National University in Bucharest (1995-2000) and studied abroad in Italy and France. She first came to the United States in 1999 in an exchange program, participating in an art program at Sioux Falls Reservation in South Dakota.
As a teacher, Sintamarian has worked with kids and young adults from diverse backgrounds at colleges, but also in other settings, from HIV-positive kids in a Romanian orphanage to talented-yet-economically-challenged students in East Palo Alto Abramowitz Program. She is currently an educator at San Jose City College and City College of San Francisco.
"All of these experiences made me understand that no difference is so strong that it could stand in the way of personal and collective growth, that we all must deal with our demons and allow ourselves to recognize beauty within others," she said.
Sintamarian returned to the United States in 2000 on full scholarship to complete an MFA (printmaking, 2002) at the University of Delaware, then continued her studies at San Jose State for a second MFA (2005, painting.) She now lives in an industrial neighborhood of West Oakland.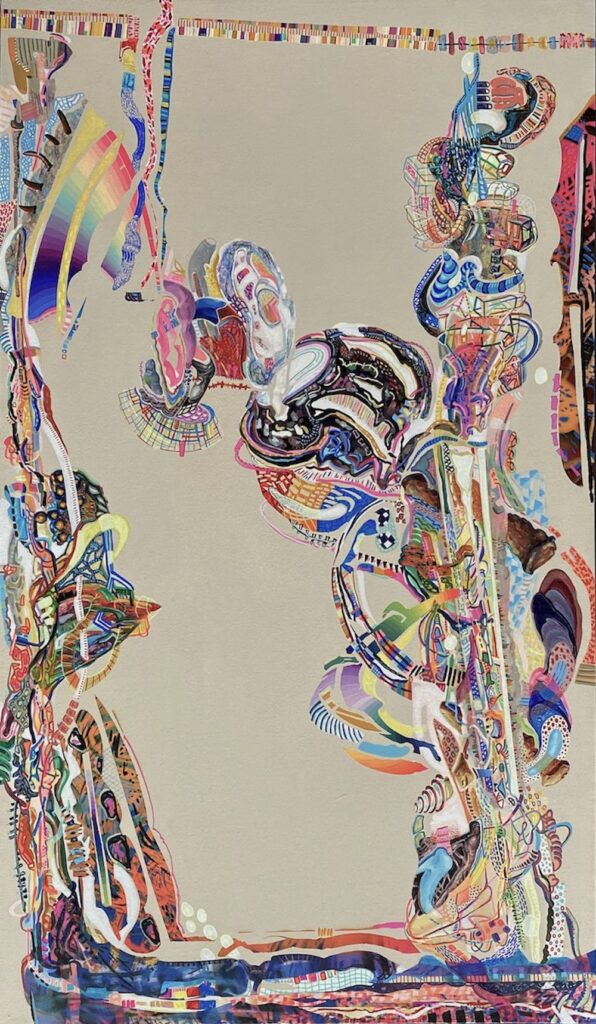 Noting conceptualist Marcel Duchamp as an influence, making art is her way of translating the outside world. She appreciates Duchamp's affinities with his contemporaries, especially Joyce and Proust, on meaning, memory, and purpose.
"I like his flexibility in thinking, getting away from 'retinal' art based merely on individual and fashionable aesthetic, and placing it back in the service of mind," she said. "And for his fondness of the mechanics of desire and wordplay."
Sintamarian equates creating art with learning how to read and write. Of learning how to dream and recreate a grim communist landscape. Of escaping the banality of ritualized routine and learning how to smile in a foreign language. She labels herself as contradictory, but a sincere dreamer.
"I could never say exactly what drives me, but it is as if Penrose shapes met and had a coffee with Saint Augustin. It is the energy of being alive and wanting to stay so," she said.
Her studio is her playground, materialized "from within." Paradoxically, the enclosed space is the most open, full-of-possibilities space she believes she could ever find.
"My current studio—oh boy, I am lucky. It's a glorious space. Its size allows me to work on several projects simultaneously in different materials and mediums," she said.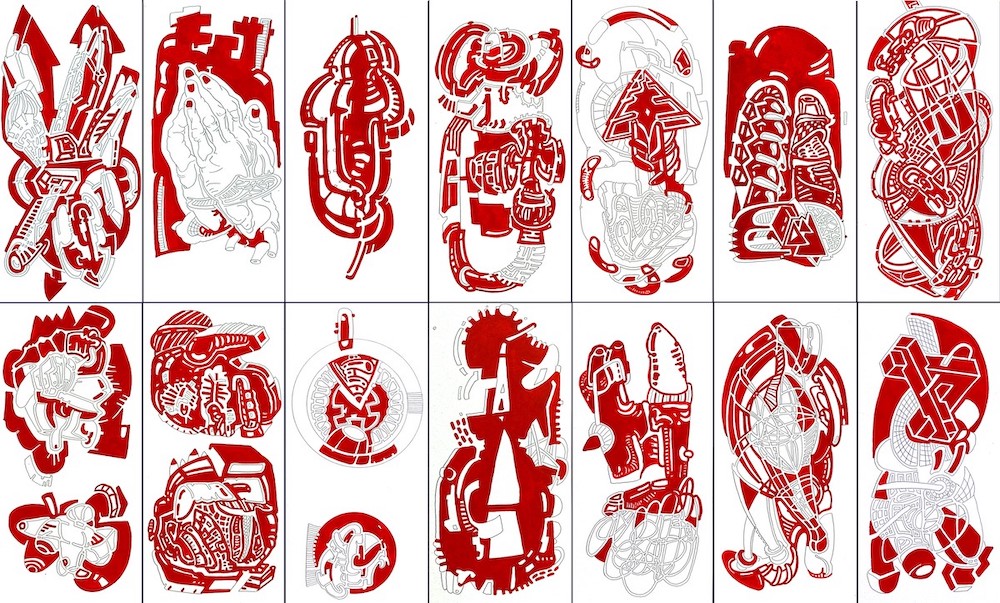 As for process, she does not physically sketch a drawing or painting in advance, but mentally sketches form and image. Once she starts working, she has a pretty good idea where she would like to go.
With her rigorous academic training, Sintamarian has oscillated between media, from drawing and painting to installation and video, and stylistically, from realism to non-objective. Her ideas hinge directly on experiences, carrying autobiographical elements: her first exposure to the Western world and immigration, systems of language, and the relationship between images and words.
When asked to describe her subject matter more specifically, Sintamarian waxes philosophical. She says that much of contemporary life is inherently wrapped in the poetry of melancholy, loneliness, and the absurd.
She believes that everything can be and usually is a source of inspiration for her work. From discernible objects to fleeting memory. Like that of a sunny day going to college by crossing Cismigiu Park in Bucharest, listening to her cheap, broken Walkman and stopping to play chess with the old folks in the park.
"I tend to connect direct and indirect information in a montage of my own mental movies," she said.
She is also intrigued by the mechanics of motion and its visual translation, and the dichotomies intrinsic to it such as transfer vs. change and action vs. reaction. She is curious about how memory relates to perception, and the fluidity and tension of contradictions, like organized chaos and uncontrolled order—perhaps a vestige of personal history. An introspective nature continues to emerge as she speaks more about her work.
"I am interested in suggesting emotional/physical motion in an immediate, visceral manner rather than generating self-referential or didactic works," she said.
Elaborating further on her search to understand how memory works, she regards it as "selective amnesia guided by the changes within us." In finding our personal or collective relationship to the past, Sintamarian draws a parallel between the methodological process of memory and archeology.
"The excavation process inherent in archeology, in which the marking of space and time is mapped and unearthed, has emotional content and is based upon speculation of what we have not found rather than what we have found," she said. "The missing or incomplete parts of our memories comprise the chasm to be filled with new, fluid stories, which do not necessarily reconcile with the linearity of the initial story."
Thus, one of the tasks she takes on is to find a coherent system of visually answering how the cycle of fragmented memories, the realignment of memories, and the condensation and dissemination of memories, affect our psychic intensities and our abilities of free association.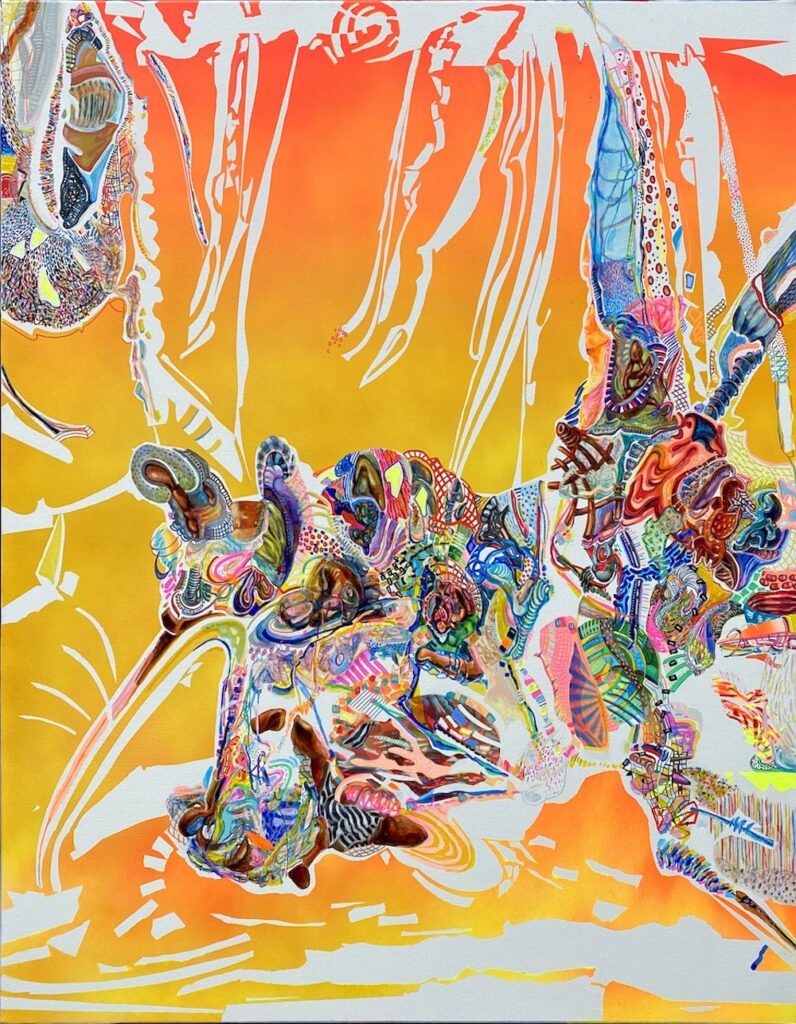 During the pandemic, quarantine provided the artist with maximum time in the studio and the highest level of curiosity. Working across several series, she completed over 1,200 drawings and paintings, as well as four short movies. The most ample was "Letters to Invisible Ones," a series of 1,001 drawings. During this period, she had no preconceived ideas about what art is nor what it should look like, but rather fully embraced the immediate visual translation of undistilled ideas.
"The more I continued working, the more the works started to inform and sustain each other in an unorthodox and unexpected manner. I grew more interested in pushing the limits of abstraction and suggesting motion in an immediate way. I wanted to let the work surprise me," she said.
What does she want us to experience from her work?
"The joy of disconnecting from immediate, regurgitated, and embellished stories; the pleasure of discovering, asking questions, thinking, feeling, liking, disliking, rejecting, recognizing . . . everything which makes us individuals," she said.
Sintamarian's work has been shown in Romania, the UK, and Sweden; on the East Coast and around the Bay Area. She has been the recipient of numerous awards, most recently the Leigh Weimers Emerging Artists Award (2021) in San Jose. Recent shows include two solo exhibitions at The Fourth Wall Gallery in Oakland and a show at Art Ark Gallery in San Jose. She is finalizing plans for an expansive exhibit in Bucharest. In two new bodies of work, "Ingloriously Bastardized Heroes" and "Simulacrum of the Sublime of an Imaginary Quotidian," Sintamarian is challenging the Platonic understanding of beauty through different subjects and styles.
In other parts of life, Ema Sintamarian loves to travel and learn new languages (she speaks several), meeting new people and learning about "other and otherness." And she wants us to find something which is uniquely ours, too.
"Whatever it is, find something that you can take with you wherever you go. Something that can guide you through the darkest of times and help you to learn more about yourself," she said. "Then have the patience to share it with yourself—and the foolishness to share it with others."
For more information, visit her website at emahsin.com and on Instagram.