Craft & Conceptual Art: Reshaping the Legacy of Artists' Books at San Francisco's Center for the Book (through June 18) has a large range of both artists and their books, from Yoko Ono's 1995 Pennyviews and Ed Ruscha's 1969 Stains to Reginald Walker's s 1985 Haqazzuzza and Jaqui Holmes' 1980 Songs from Home.
That range was deliberate, says curator Megan N. Liberty, and she hoped to capture people's attention, by showing something other than a photo book from a well-known artist like Ruscha. She also wanted to have artists like him and Ono alongside ones with less well-known careers like Walker, who died young and whose work is hard to circulate since he made craft-oriented books.
With the exhibition, organized by the Center for Book Arts in New York, Liberty tried to rethink the divide between handmade books, often unique or in very limited editions, and books that are concept-driven, sometimes with multiple editions. 
"I wanted a good mix of unique and multiple," she said. "And to think about how this history brings together works on both sides of this material-driven versus idea-driven making can create surprising connections between artists we think we know and artists we don't know."
Liberty, an archivist and writer in New York, has been focused on artists' books for years, more recently looking at institutions that had exhibited and supported these books, such as New York's Center for Book Arts (where the show was on display before coming to San Francisco), Minnesota Center for Book Arts (where it's going next), as well as San Francisco's own Center for the Book.
"I started to see that by the time I learned this history, it was sort of set in stone the idea of craft over here, conceptual bookmaking over there," she said. "I saw that that wasn't really supported in those early years. And it became really interesting to me to think about how and why this happened, and how we can reshape it now and put these kinds of different modes of making back together again."
Barbara T. Smith, whose 1967 Coffin: In Self Defense is on display in the show, offers a great example of an artist who work belongs both to craft and conceptual art, Liberty says.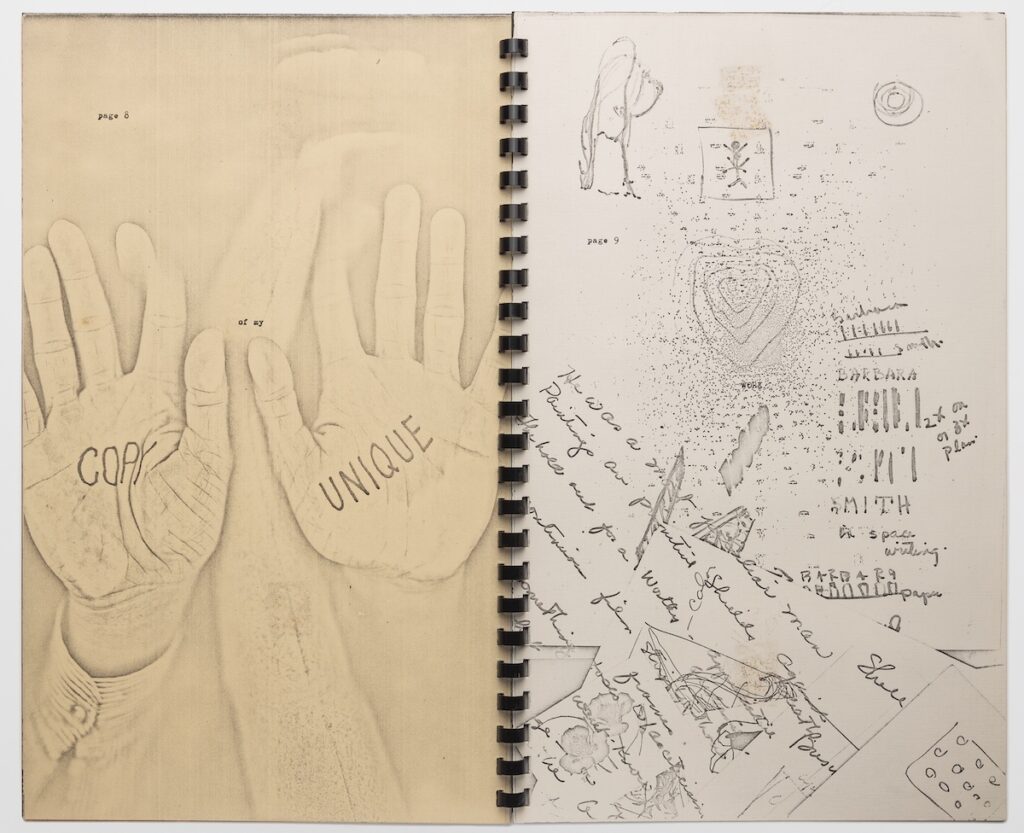 "The way I knew about her primarily was as a performance artist and we think about performance as being very ephemeral, very conceptual, very idea-driven, and not as material-driven," she said. "Yet we see early in her career, she was really thinking very specifically about the materials of publishing and producing books and the Xerox being a vehicle for that."
The catalogue for the show contains an essay about the Xerox machine and women's labor and craft, which focus on Smith as well as Sas Colby, whose Lifebook: 1939-1976 is in the Center for the Book's show. Liberty says the catalogue also includes lots of the historical ephemera she looked it and archival texts.
She's a big proponent of archives, Liberty says, and wants people to know all the materials that are accessible to them. For that reason, she made a point of including the call numbers for the books and material in the catalogue.
"I want to encourage people that these works are available to them, and they can see them and make their own opinion," she said. "That's what I wanted the show it to do — to challenge the idea that there's one history set in stone and to encourage more people to look back at this period and do more research and look into these artists and get excited about artists' books."
CRAFT & CONCEPTUAL ART: RESHAPING THE LEGACY OF ARTISTS' BOOKS through June 18 at San Francisco Center for the Book. More info here.