Greta Lee likens starring in Celine Song's debut feature Past Lives to skydiving for the rush it gave her. The film, which made its world premiere at the Sundance Film Festival and opens in Bay Area theaters this week, stars the actor as a woman confronting the path not taken when a man from her Korean girlhood visits her and her American husband in New York. It is not a story of regrets but one that acknowledges that every choice we make, for good or ill, comes with an emotional cost.
"I would joke that this movie should be rated X emotionally," the Russian Doll and The Morning Show actor says during a visit with Song to San Francisco, where Past Lives was the SFFILM Festival's centerpiece selection. "There's barely any touching and yet it's X-rated, and that was the task at hand."
The drama takes place over 24 years in 12 year jumps that begin when Nora (played by Moon Seung-ah as a youth) and her best friend Hae Sung (Seung Min Yim) are enjoying their last days together before Nora's family immigrates to Canada. A dozen years later the pair resume a long-distance relationship online only to separate again. By the time they connect again when Hae-Sung (Teo Yoo) vacation in New York where Nora is a rising playwright, she has married fellow writer Arthur (John Magaro).
Song is open about the autobiographical nature of the tale. The very first shot of the film is set in the present and shows Hae-Sung, Nora, and Arthur sitting side by side at a bar, setting up the emotional dynamic of a woman comfortable in the life she has chosen but unsettled when confronted by her past.
"The movie came to me when I found myself sitting in between my husband and my childhood sweetheart," Song says. "I was the only person between the three of us who spoke both of their languages. I was translating between these two men, not just in language, but also in culture.
"As we were having this conversation, I was looking around the bar and seeing the way that people were looking at us. I could tell that they kind of wanted to know who we were to each other. This movie sort of came from the feeling I had, which was, 'Wow, you guys have no fucking clue.'"
When it came to casting, Song looked on it as a key component of her storytelling. The men, in particular, were a concern. They had to be credible as the characters they were playing and also in their relationship with Nor.
"Arthur has to be believable as a writer and New Yorker and very, very, very American, in every sense of the word," Song says. "And when it comes to Hae Sung, he had to be so specifically Korean, drenched in the Eastern way of thinking.
"We have these two men who are going to be different, so each will have a different chemistry with Nora, just wildly different. We were talking about it the whole time we're making this movie, that the chemistry she has with Teo and his character is just a different beast than she has with John-slash-Arthur."
So intent was Song on ensuring she would get the emotional tone she was after that she kept Yoo and Magaro apart. She wouldn't even allow them to meet before they began filming together. She wanted the scenes to play out organically between actors who were strangers to each other in parallel to their characters.
"It's like the worlds I was building with John versus Teo," Song says. "I was building a movie with Greta and Teo and also building a movie with Greta and John. When we brought those two worlds together, I think there was a natural explosion, these two worlds colliding and pushing up against each other. It gets back to the idea that this specific situation is speaking to something universal. Everybody has been in that situation – at, say, a birthday party or a wedding – where somebody from one of your worlds meets someone from another and the two worlds collide."
"To me, this was pivotal for creating these specific and precise worlds with Hae Sung and Arthur," Lee adds. "That could only happen with Celine's foresight in keeping them separate until we filmed the speakeasy scene. The two actually meeting for the first time as actors was wild and really thrilling."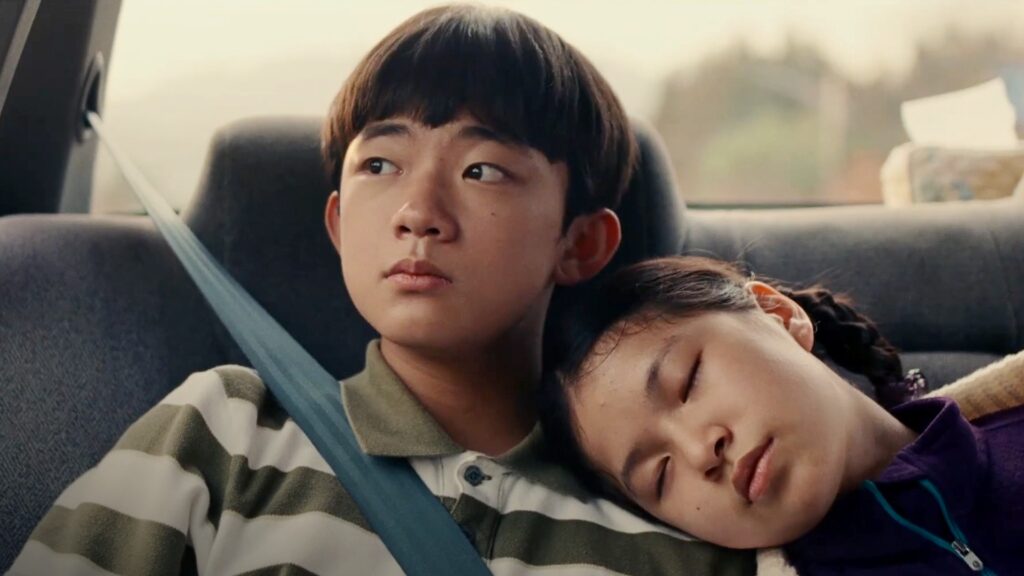 Song's aim with Past Lives was not to manipulate the audience but instead allow them to experience Nora, Hae Sung, and Arthur's situation and apply to that their own life experience. In a way, the film is a choose-your-own-adventure story where the viewer applies to the film emotional resonance from their own past lives.
"The life that every single person has lived is different, so I want the film to feel like it is a specific experience only for you," Song says. "It's made for you because of where you were when you walked into the theater and how you walked away from it. It's going to be a unique experience for you.
"Every single person has their own subjective experience in life. And the movie is about average people because that's who Nora, Hae Sung, and Arthur are," she adds. "They don't have superpowers beyond being able to love each other and care for each other. What is extraordinary about them is, in a very pedestrian, simple way is the way we can all be heroic or extraordinary, which is the way we are able to love each other and care for each other."
PAST LIVES opens Thu/8 in Bay Area Theaters.