Artist Heather Wilcoxon has followed a traditional academic path as an artist, but the rest of her story is individualistic, strong willed, and dedicated to art for its own sake. With works sparse of color—oftentimes nearly monochromatic—but hardly so with regard to symbolism and emotion, she follows an intuitive path that allows space for personal interpretation and resonance.
Wilcoxon grew up in Los Angeles and moved to the Bay Area in the early 1970s. She completed both a BFA (1984) and an MFA (1986) from the San Francisco Art Institute and is thrilled to be part of the art community of the Bay Area.
"Even though we are considered provincial in some eyes, the high quality of work in the Bay Area is extremely diverse. And younger artists are proving that fact. It's exciting to watch that happen," Wilcoxon told 48hills.
Wilcoxon has lived in Sausalito for over 30 years, in the unique community of Galilee Harbor, a member-run cooperative of 38 household boats comprised of artists and maritime workers who all contribute to its specific infrastructure and community.
"Other artists like Will Rogan, Lauren McKeon, and Chris Hardman have been my neighbors. It's an extremely special place to live," she said.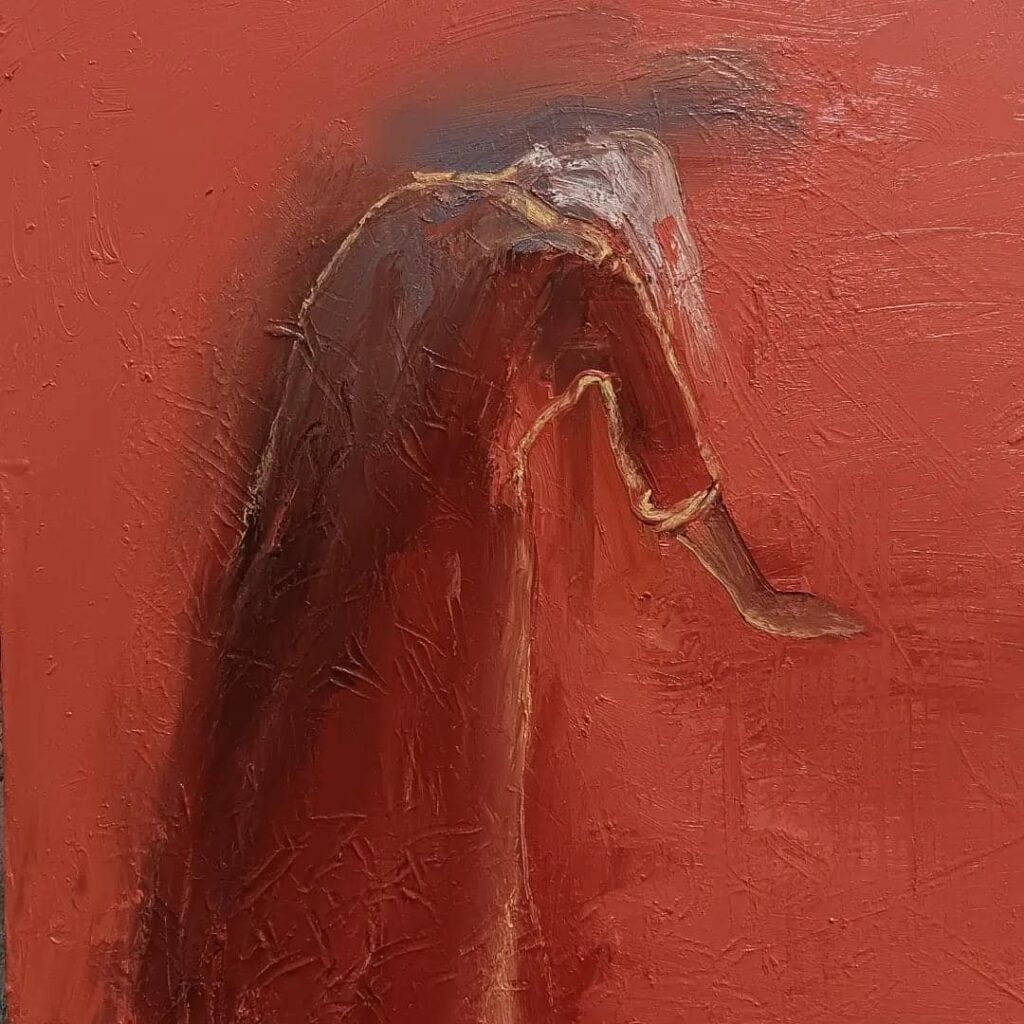 Wilcoxon makes art because she has to, saying she has no choice in the matter and would not know what else she would do in life.
"I am not in it for the money. It can be a struggle. The career goes up and down. The work itself is most important, everything else is just my monkey-mind messing with me," she said.
What guides her work is something internal in need of being let out. As for subject matter, political, social, and environmental issues are what drives her imagery. She uses the words dark, emotional, and stubborn to describe work that is both figurative and abstract. Anonymous characters, boats, ladders, and miscellaneous objects are the syllabary of her monoprints and oil paintings on paper, wood panels, and canvas. Wilcoxon's images may at first feel subtle, but they possess a haunting depth to them that connects us to the familiar, internal though ethereal, stuff of life.
"I don't paint pretty. Or anything that matches the couch. My raw emotion is always there in my paintings," Wilcoxon said.
If she could spend one day with an artist from history, she would choose Philip Guston (1913-80), saying his paintings are full of emotion, humor and juicy paint. She shares a telling sensibility with the artist's work that posed political commentary within an abstract expressionist framework.
Wilcoxon's studio is a block from where she lives in a space she has occupied since 2007. It's not a big space but has amazing light through its skylight—the only studio she could find nearby with that feature. Its high ceilings give an illusion of being larger that the artist says feels perfect. She isn't there every day, like she was when she was younger. She prefers to do less, but better, work, these days.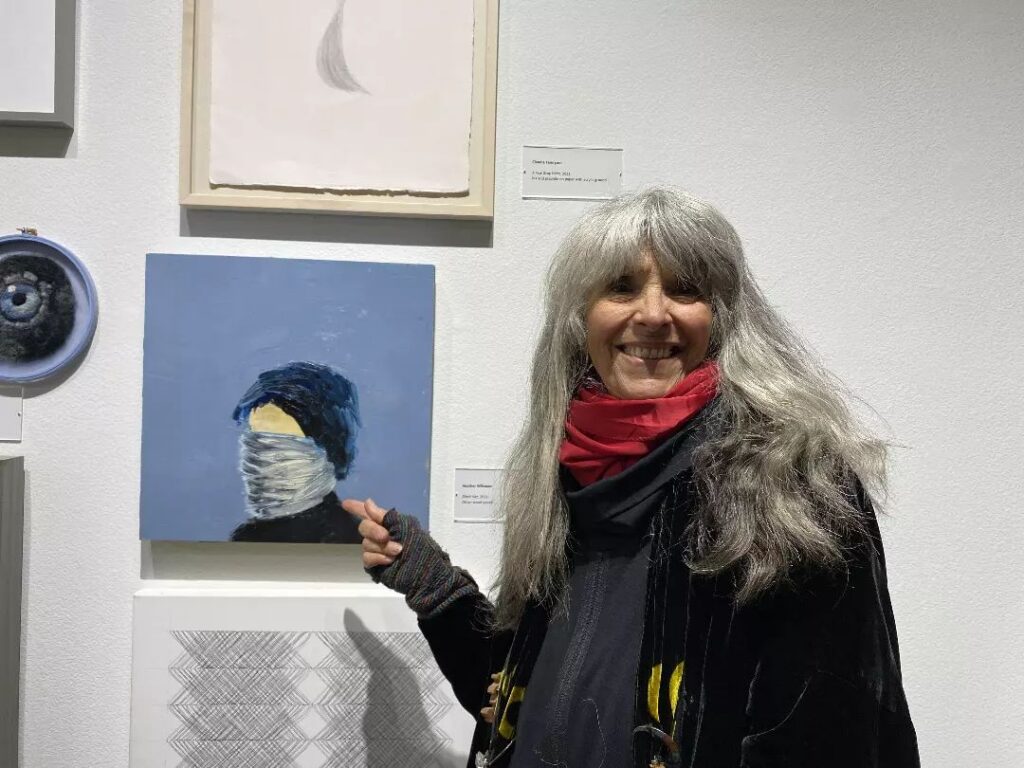 "Sometimes when I arrive, I dive right into what I am working on. Other times, I sit and think. Once I start something, I work through it until I feel I can walk away. Some paintings just happen, while others can take months to resolve themselves. Painting is a mystery full of surprises," she said.
Wilcoxon considers herself a late bloomer. After graduating, she was very experimental and less defined in her work, a typical drift she thinks is common with young painters. She has moved through abstract, cartoon, collage, formal and not so formal imagery. In 2013, her work took a radical change.
"I was using quirky, in your face political imagery for about ten years, and became known for that work. But then I painted myself into a corner with it all and needed to change something. So, I started using more paint and less cartoon drawing," she said.
Things naturally developed in a new direction for Wilcoxon, and she never looked back, settling into what feels right for now. She thinks it's healthy for artists to change, especially if they get bored. She advises those in that situation to move on, try something new.
"It's risky, but so what. I still challenge myself and take chances in my work," she said.
Wilcoxon works in series, lately focusing primarily on the figure because she feels "our human condition is all over the place" in these times. She explores the gamut of emotions: sadness, loss, aging, confidence, depression, pain, joy, and violence. The list goes on. At the height of the pandemic, Wilcoxon created a series of works based on masks, and another series on houses called "Home Alone" that dealt thematically with both the issues of isolation and global warming.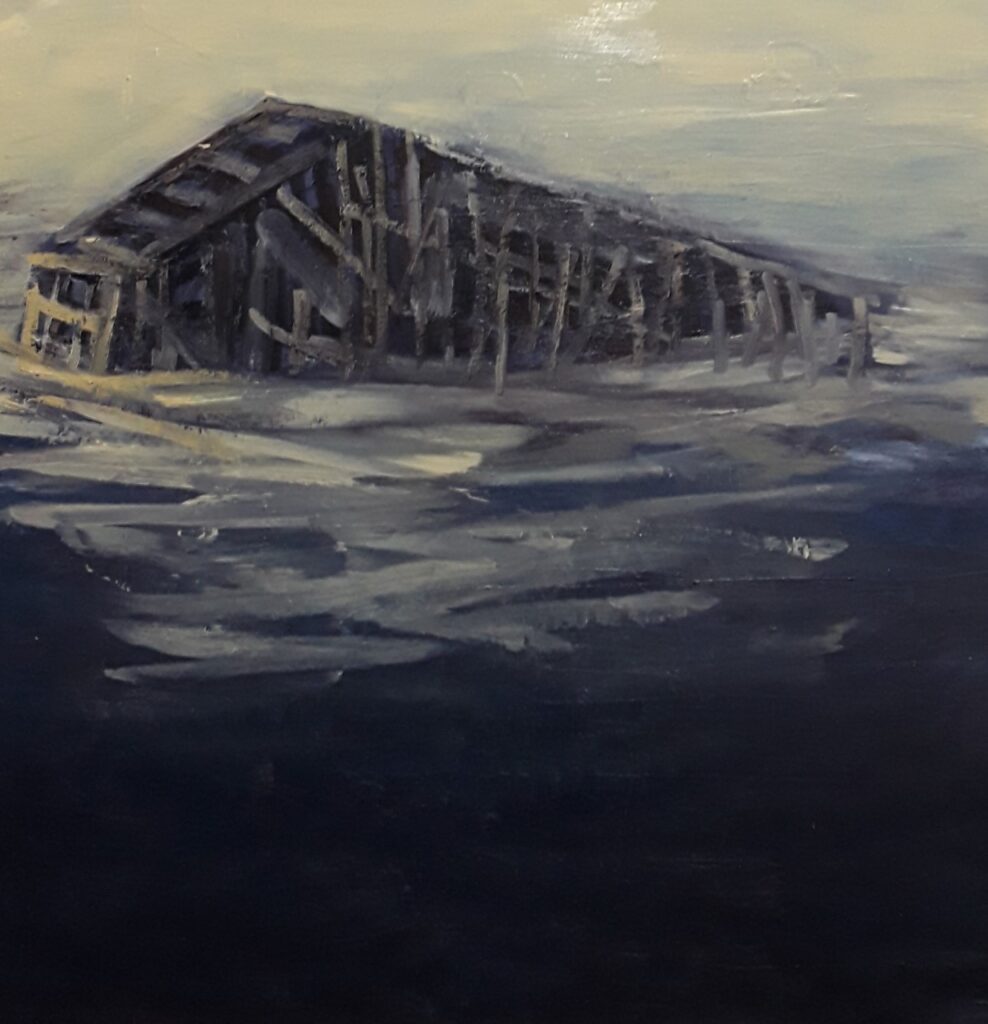 "I have always used images as metaphors about life, even in my cartoon paintings. But now I feel that figures are more compelling about our current contemporary life," she said.
Wilcoxon is represented by Studio E Gallery in Seattle, Washington, where she will be in a two-person show in October. She was recently included in the exhibition, "True North" at the di Rosa Center for Contemporary Art in Napa and is part of their summer group show, "Figure Telling," from June through September. 
She knows the importance of staying true to one's own course as an artist, and encourages others to follow suit; to paint what you want because the rest does not matter. As for those of us experiencing her work?
"I like the viewer to find their own story in the work. My paintings are very emotional. That can be difficult for some people. I'm ok with that," she said.
For more information, visit her website at heatherwilcoxon.com.