If you've ever been to the Golden Gate Park panhandle on a nice weekend day, you know the drill: There are dogs and kids and bicycles – and people playing music. Not huge concerts, just folks hanging out with a guitar and some drums and having a good time.
It happens all over the park. It's been happening for 50 years.
But this Sunday, Oct. 23, a group of musicians playing for mostly a group of kids wound up drawing the attention of Rec-Park officials, who issued a warning and sent a car out to make sure all was proper and no permits were needed.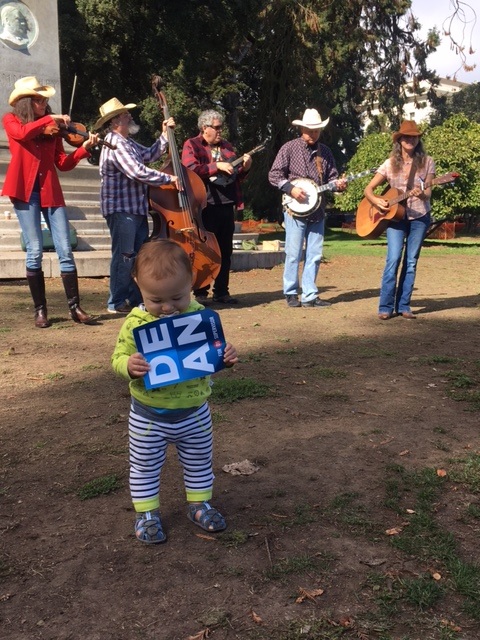 What's different this time? The event was held by Dean Preston supporters, and Preston is running against the D5 incumbent, London Breed.
It's part of a pattern I've been hearing about of low-level harassment by city departments aimed at Preston supporters. A café that held an event for him suddenly got a graffiti abatement notice (for markings that had been around for more than a year). The Preston campaign office got a notice of violation from the Department of Public Works for a garbage can that was not blocking the sidewalk. People who were holding events for Preston told me they got calls from Breed (none of them wanted their names used).
And now this.
Gayle Schmitt, a local musician and movement teacher who does music for pre-schoolers and has a small-time bluegrass band offered to play some songs in the Panhandle at an event for families who wanted to know more about the Preston campaign.
She put out a few emails, spread the word around. Not a huge event, not a huge deal.
But somehow, Rec-Park got wind of it and sent her a letter warning her that playing music in the park without a permit was a violation.
"I was forwarded a post announcing that your band is performing at the Panhandle this Sunday," Diane Rea, manager of permits for Rec-Park, told Schmitt in an Oct. 21 email. "I need to alert you that I do not have a permit on file for a show at that location on that day."
Schmitt replied that this was an acoustic, non-amplified event aimed at maybe 20 families, all of them friends of hers.
Still, a Rec-Park official, whose last name was Wong, showed up at the event in a city car. "I asked him why he was there and if there had been a complaint," Preston told me. "He refused to answer anything. He was just texting on his phone. When I asked again he said it was "an interdepartmental thing."
He eventually radioed something in and left.
I was unable to get Rec-Park to respond this weekend, but when I hear from them Monday I will update.
The whole thing is pretty silly – and I of course have no evidence at all that the incumbent, Sup. London Breed, has anything to do with it.
But when you run against a powerful incumbent this tends to happen.
Preston put it this way:
We've got momentum, and I guess they're trying to stop it. It's a shame they're picking on little kids in the process, but it's going to take a lot more than that to derail this campaign.
I texted Breed, will update if she responds.