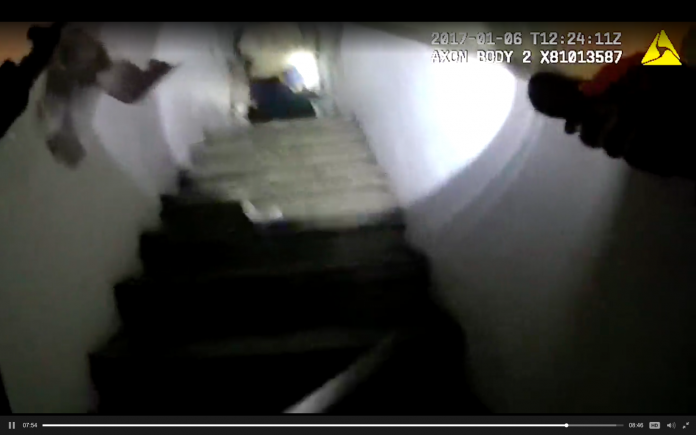 Sean Moore, 43,  who has been held on $2 million bail and faces several felony charges, and was shot twice – in the groin and the stomach by an SFPD officer on Jan 6th – was scheduled to appear in court on Thursday but has been hospitalized due to complications post-surgery. 
Moore, who is mentally ill and suffers from bipolar disorder and schizophrenia, is being represented by the Public Defender's Office. Charges against Moore include assaulting a police officer, making criminal threats & resisting arrest.
The Public Defender's Office is asking for all charges to be dropped against Moore.
The shooting:
Two officers from the Taraval station responded to a call from an individual who claimed that his neighbor (Moore) was violating a restraining order. The individual said that Moore was banging on their homes' shared wall. 
The  SFPD officers arrived 515 Capitol Ave. at 4:15 a.m. on Jan. 6, and began discussing the restraining order with Moore. According to SFPD, Moore didn't respond to the officers' attempt to explain the restraining order to him. 
The body camera footage, released by the Public Defender's office last week, showed officers at first attempting to speak to Moore but quickly resorting to aggressive behavior before attempting to pepper spray him, hitting him with a baton, and shooting him twice.
Moore appeared visibly agitated from the get-go and can be seen cussing the two officers and asking them to get off his property. 
Moore's mother, Cleo Moore, who has worked as a nurse at San Francisco General Hospital said the incident "didn't have to happen this way if the officers had been trained on how to take care of mentally ill patients," she said. 
Discrepancies: 
The most pressing discrepancy that is apparent in the video is police statement that Moore charged at them. Body camera video shows Moore retracting back to his house as Officer Cha goes towards Moore. 
Before the shooting, the officers can be heard giving several confusing directions to Moore. They announce that he's under arrest and ask if he understands that, while at another point they ask him to come out of his house so they can call the ambulance for him. 
Moore's mother says that the police had been to the house several times and knew about Moore's mental health condition. Attorney Pearlman said that the Public Defender's Office is trying to obtain a police report that was filed earlier that mentions Moore's illness. 
A quick look at records of restraining orders issued against Moore reveals that several complaints had been filed starting in 2014. 
Public Defender Jeff Adachi said that the officers violated the Police Department's body camera policy by viewing the body camera footage before they made their initial statement. Acting SFPD Chief Toney Chaplin denied that later at a press conference.
Adachi said the body camera video reveals that Moore was visibly agitated from the start and that the officers didn't spend enough time de-escalating the situation:  "It's pretty significant – based on the evidence and the videotape – that crisis intervention team was not called at any point. Clearly, once the officers had gone back to the bottom of the stairs that was a point, for example, that the crisis intervention could have and should have been called. Instead, the officers went up the stairs and clearly escalated the situation because they took out their batons, they're clearly dealing with somebody who is clearly agitated," he said. 
Moore is expected to appear in court on Friday but it's not clear whether he would be able to recover from the complications in time.