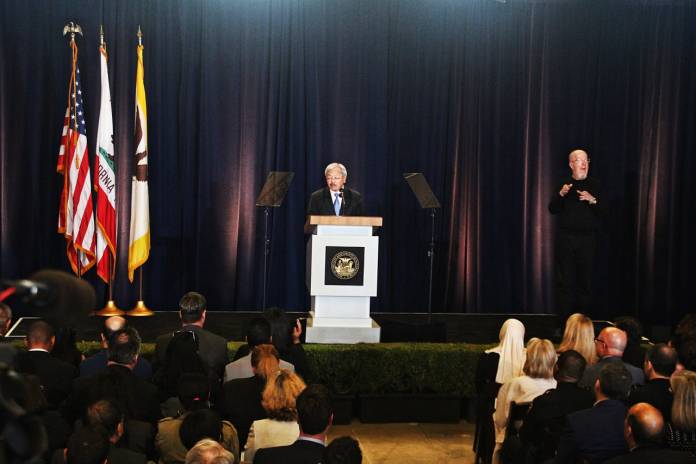 An upbeat Mayor Ed Lee delivered a State of the City address at the old Hibernia Bank Building today that sounded like a re-election speech, loaded with a list of a his achievements – some of them a bit dubious – and giving only a modest nod to the all-out attack that San Francisco can expect from the Trump Administration.
"The state of our city is ready," he said. "Ready to finish implementing solutions on housing, homelessness, and police reform. Ready to defend ourselves against cynical attacks from Washington, DC."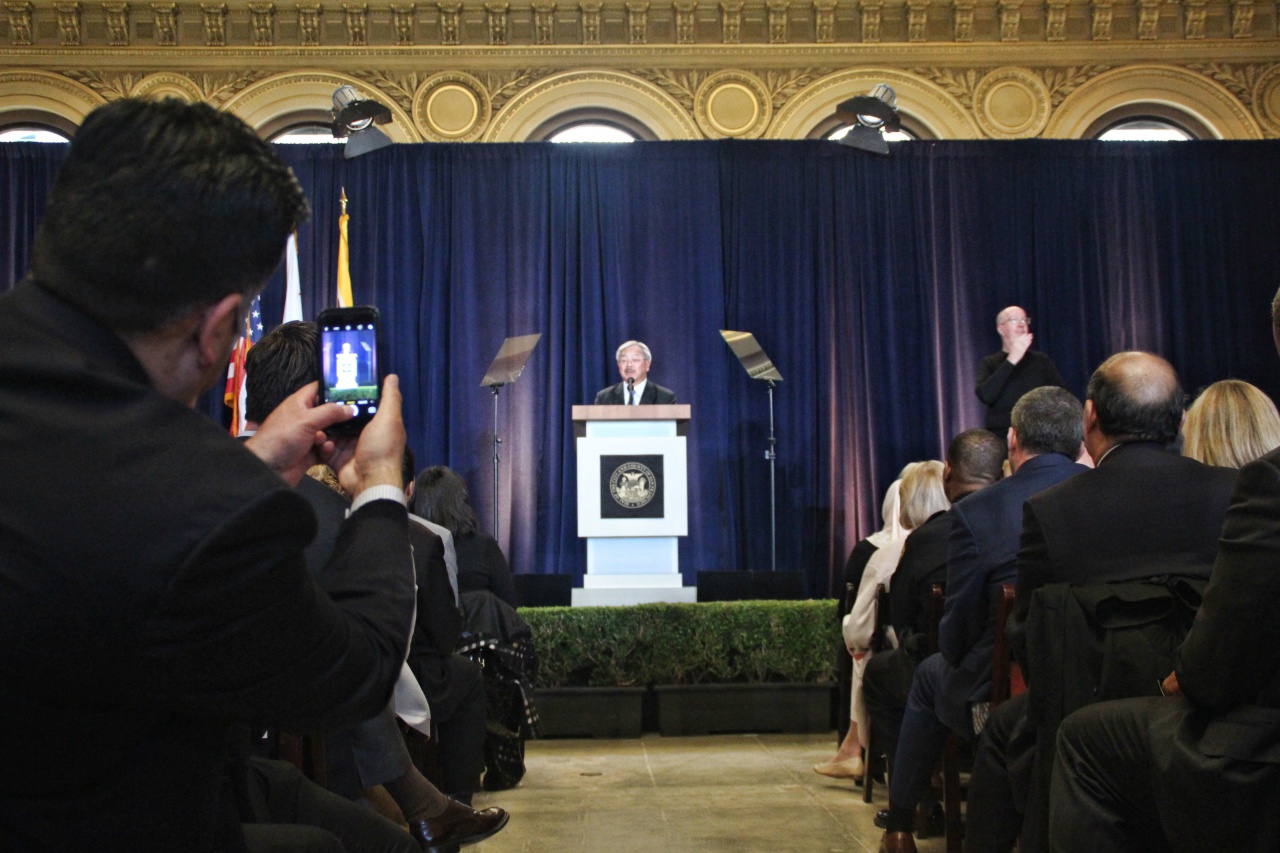 He got a long, enthusiastic standing ovation when he said that San Francisco is, and will remain, a sanctuary city.
But he never once mentioned that the new president has threatened to cut off what will be at least tens of millions and perhaps hundreds of millions in city funding or described how he might ask the residents and business community to come together to respond.
There was an air of unreality about the who thing: A mayor who has overseen the worst housing affordability crisis in the post-War era bragging, to applause, about his affordable housing policy. A room full of people who seemed to take the GOP dominance of the federal government as an afterthought. A lot of promises about "fighting" for San Francisco values, but not any real new policy ideas that would address the fact that this city is going to be increasingly on its own without Washington or Sacramento help.
A truly astonishing statement that "building more housing does help more people afford San Francisco."
We spoke briefly with London Breed, president of the Board of Supes, before the speech and asked her about the prospect of hundreds of millions in lost revenue. "I'm not afraid," she said. "We will deal with it."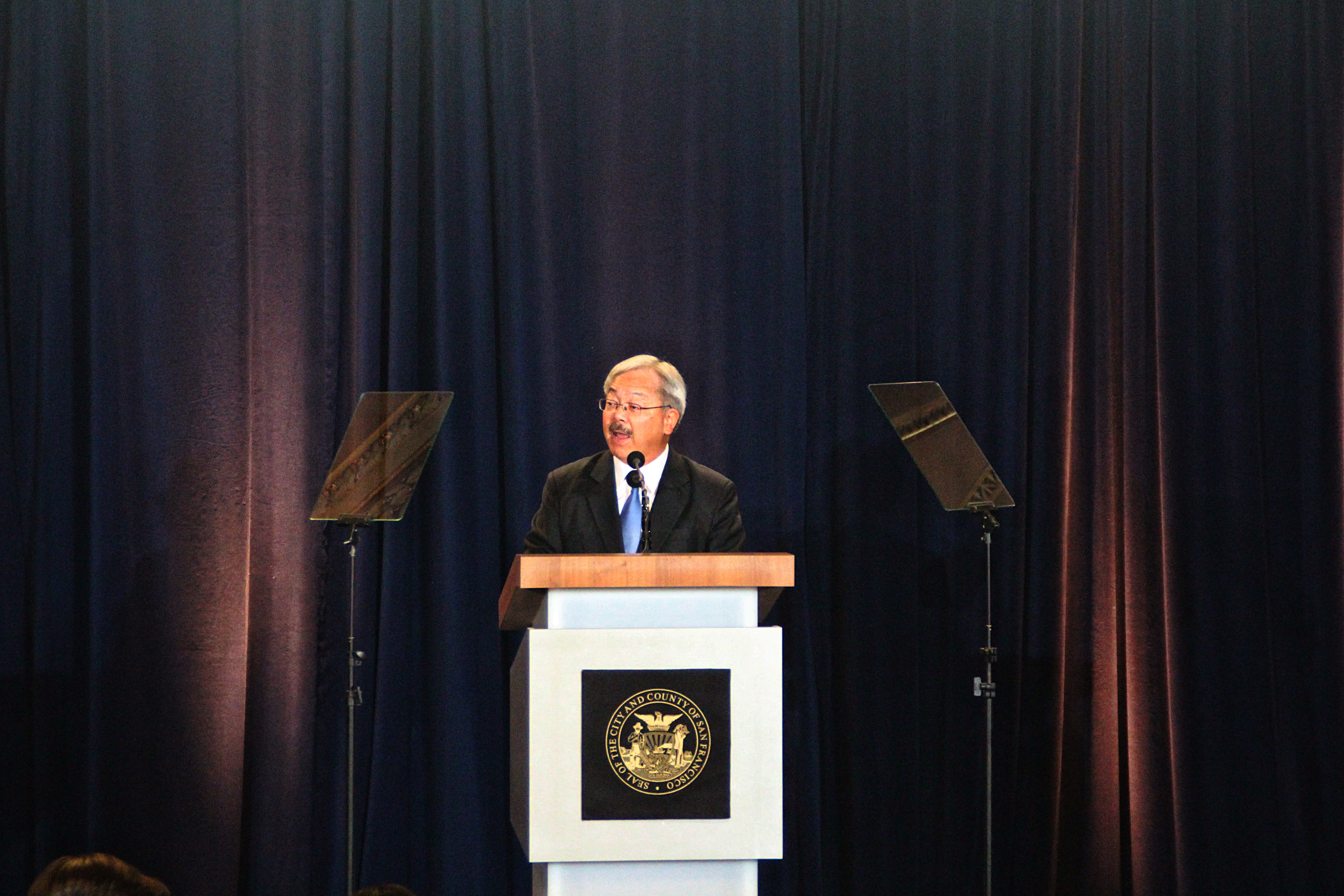 After the speech, we ran into Jim Lazarus, vice president of the Chamber of Commerce, who was almost giddy in his praise of the mayor. "We've gone from 10 percent unemployment to 2.9 percent," he said. "San Franciscans are getting jobs."
Lee talked up his employment record, too – without mentioning that housing prices have gone up so much faster than salaries (and many of the jobs are in low-paid service areas) that only a tiny fraction of local workers can afford the median-priced home or median rent. There has been a huge outmigration of the middle-class workforce.
But back to the Chamber: We asked Lazarus what the business folks he represents would do if Trump cut, say, $300 million in federal funding for the city. "We will fight back in Washington," he said. "We still have a very senior senator there."
Yes: Dianne Feinstein, who Lazarus used to work for, is still in Washington. But the Republicans – conservative Republicans – control both houses and will be able to implement any kind of budget they want. But Lazarus said he wasn't worried yet.
"Let's see how manageable the problem is," he told us.
We pressed on: What if it isn't manageable? What if we are facing serious service cuts? Would the business community support new revenue measures?
"Well," he said, "we can't deal totally from local revenue."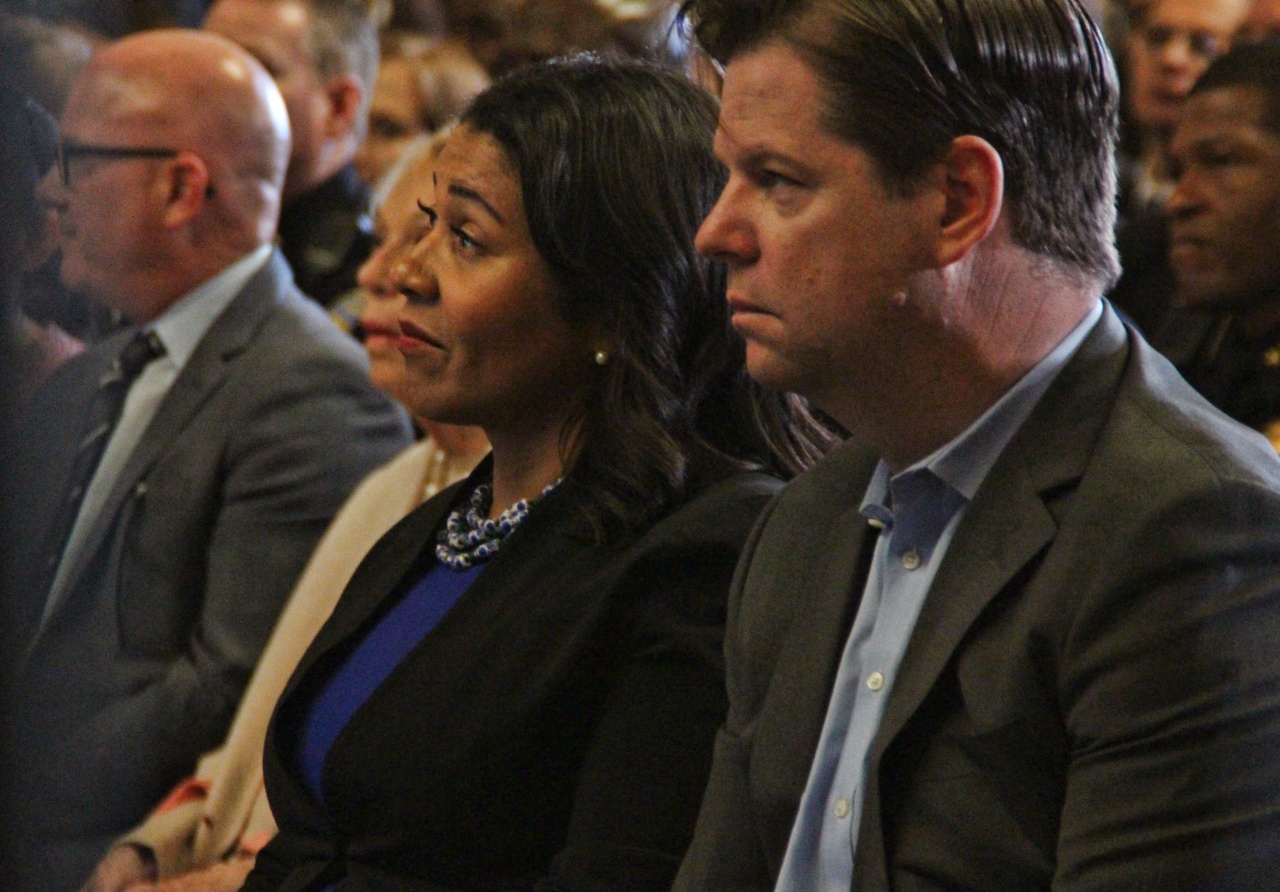 City Attorney Dennis Herrera says the city is prepared to go to court if Trump tries to follow through on his Sanctuary City threats; at least somebody in town is actually prepared to do something. But if Paul Ryan just reduces federal money for cities radically in the Congressional budget, we can't sue over that.
Jeff Kositsky, the head of the mayor's homeless department, told us that, in the worst case, homeless services alone could lose $30 to $60 million. That's one department. This is serious – it's bizarre that the mayor isn't talking about it.
Should we wait and see "how manageable" this is? Should we also wait and see if we can "manage" climate change? Nice to know that Sup. Breed is so confident, but this is scary shit. And if we are going to fight back, we need to be getting our act together, now.
"When I took office," the mayor said, "San Francisco was experiencing a housing crisis. Long-time San Franciscans were struggling to afford homes due to the failure to build enough housing throughout the 90s and 2000s, and a surge in economic growth that put upward pressure on housing prices.
"So we went to work. Reinvesting in affordable housing at all levels, from public housing to low-income and working class."
There's no question that public housing is being rebuilt. The disaster of the San Francisco Housing Authority is no longer managing all of the projects; much has been turned over to private nonprofits. We don't know the long-term results of this experiment; we do know that the old system was a train wreck, and the nonprofits, which have a track record of success in managing affordable housing, are now rebuilding and restoring decrepit units.
But overall, in the private housing market, the crisis is worse than it was when Lee took office.
The unemployment rate may be down, but the income and wealth gap in the city has driven thousands of longtime residents out of town.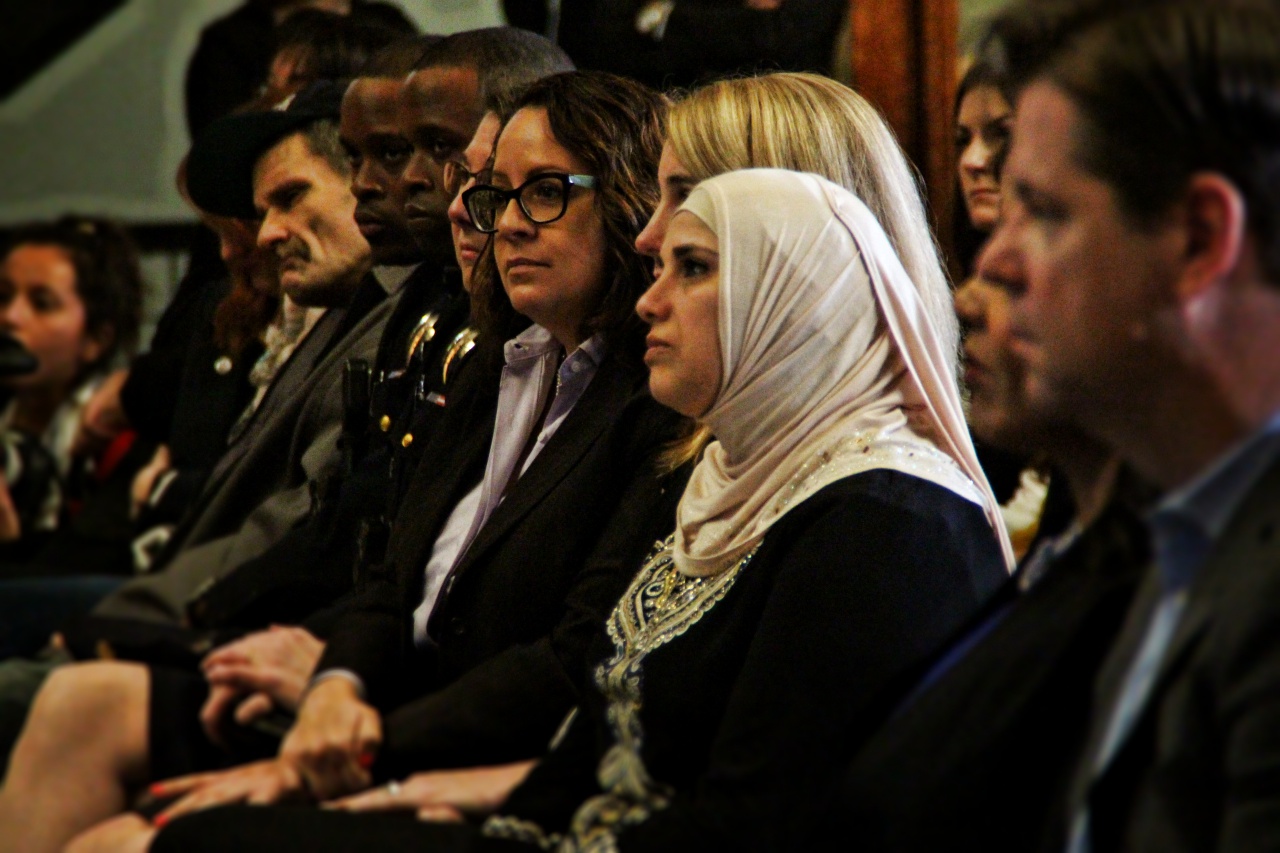 More unreality: Why did we underbuild housing in the 1990s and 2000s? And why will building more housing in the private market not make things more affordable for the working class?
Because cities don't build a lot of housing (we should). Most of it these days is built by private investors who are looking for the highest rate of return on their money. In the 1990s, commercial office projects returned more than housing in SF, so that's what got built. Now, luxury condos have the highest return, so that's what most developers want to build.
It's not as if we can magically convince international speculative capital to accept lower returns and build middle-class rental housing in San Francisco. We can force the high-end builders to include more affordable housing, or we can shift away from the private market as the primary source of housing. But we can't pretend we live in a world where wishing for affordable housing from the private market will work.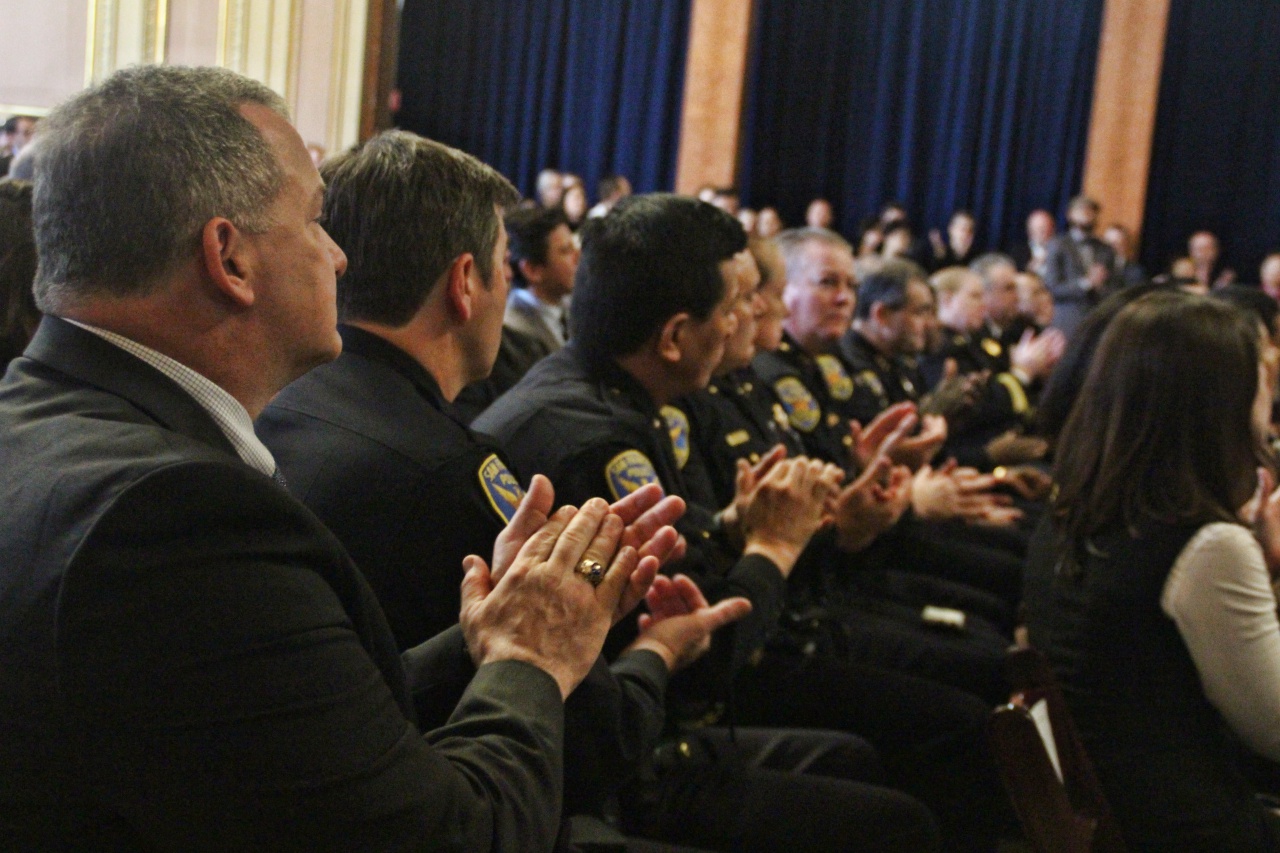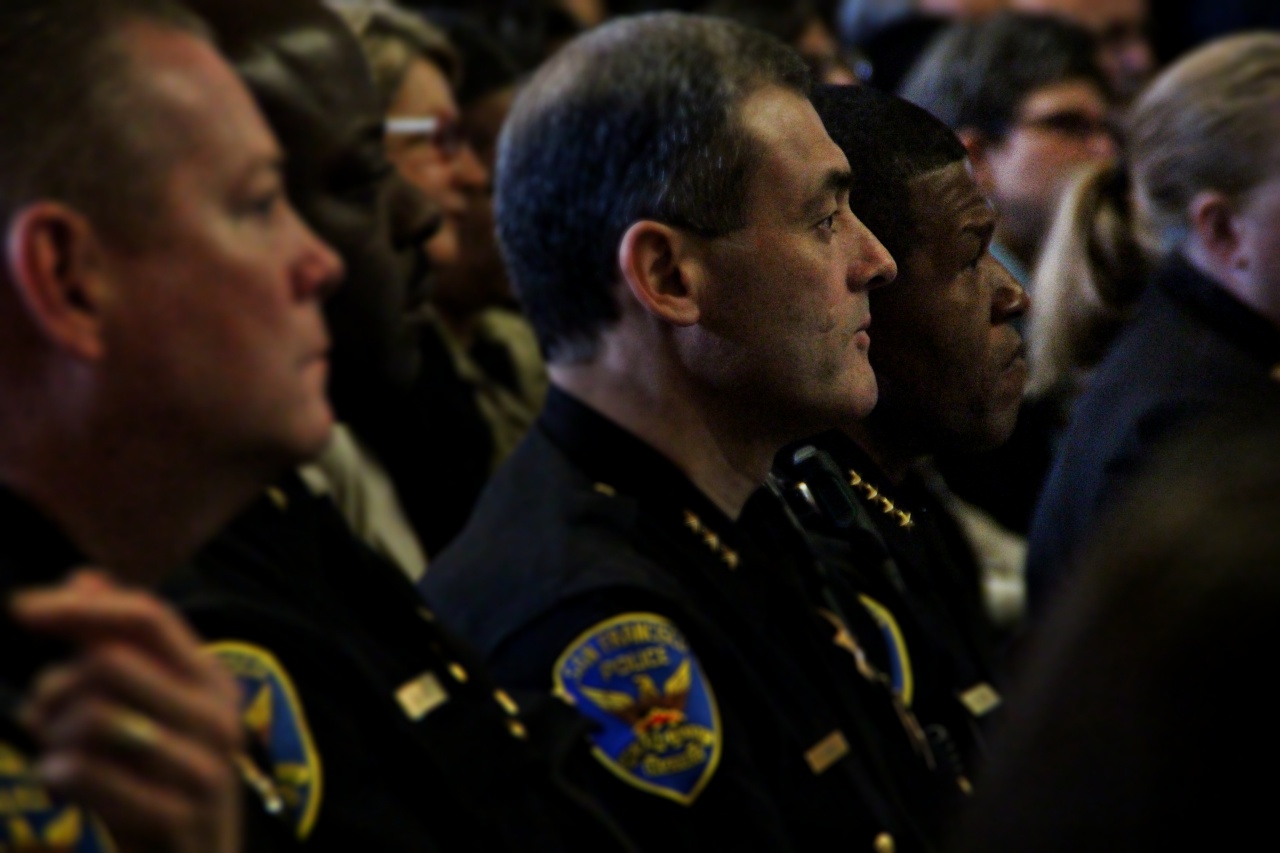 Oh, and if we just got rid of all the rules and let the developers build say 200,000 more housing units in the city? At a certain point, if the housing market fell to the point where most of the people who work in the city could afford to buy or rent a new place, the profit level – the return on investment – would drop to the point where developers could make more money going somewhere else.
(And who would pay for the infrastructure we need to support that many more people? Under our current rules, the developers wouldn't.)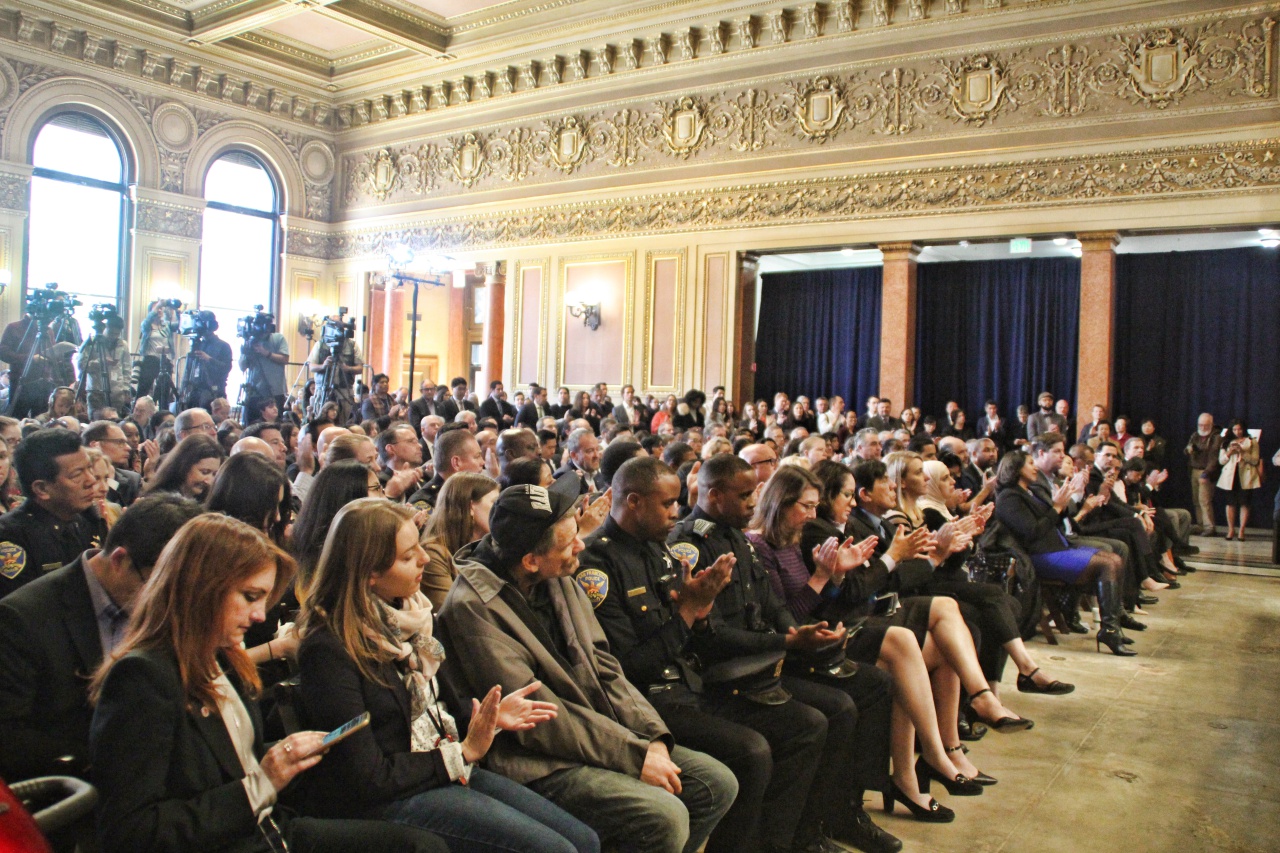 Why did the housing crisis get so bad under Mayor Lee? One reason is that he actively courted tech companies to come to the city, bringing in high-paid workers who wanted to live in "cool" places like the Mission. Then he allowed tech companies to bring shuttle buses into town to take more high-paid workers from those cool neighborhoods to jobs on the Peninsula, where cities get away with building no housing by exporting their problem to San Francisco.
That's reality. It's not what we heard at the Hibernia Bank Building today.