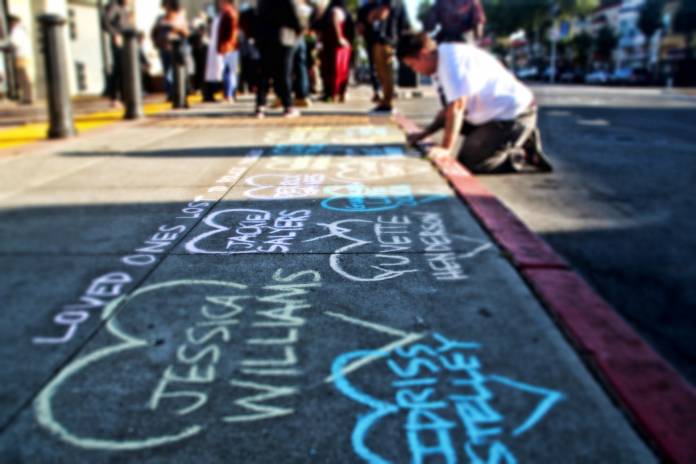 Crowds gathered at Oceanview on Thursday to attend the town hall meeting on the first officer-involved shooting of the year. Attorney Brian Pearlman, representing Sean Moore, the victim of the shooting, revealed that Moore suffers from mental illness, critiquing SFPD's conduct during the incident. 
Moore is in critical condition after being shot allegedly in the stomach and the groin, and had to go through emergency surgery. 
SFPD's case was presented by Capt. Greg McEachern, commander of the Investigations Division. 
The evidence SFPD is working with is the result of body-worn cameras that the involved officers were wearing. Pearlman said he would like to have access to the footage: "I am still asking for and wanting to see the body cameras and I am hoping we would see them soon and know exactly what happened," he said. 
Pearlman emphasized that Moore's mental illness was known to the SFPD: "Moore is schizophrenic and known to the police as having these disabilities. The police were there for quite sometime before the shooting happened but didn't call back up, didn't call other officers," he said. 
As per policy, the names of the two officers will not be released until 10 days after the incident. 
UPDATE: 
SFPD released name of officer who shot Moore: Kenneth Cha
SFPD's version:
According to Capt. McEachern, two officers from the Taravel station responded to a call made from an individual who claimed that his neighbor was violating a restraining order. The individual said that the neighbor (Moore) was banging on their homes' shared wall. 
The officers arrived 515 Capitol Ave. at 4:15 a.m. on Jan. 6, and began discussing the restraining order with Moore. According McEachern, Moore didn't respond to the officers' attempt to explain the restraining order to him: "There were verbal profanities being yelled (by Mr. Moore)", and McEachern said Moore didn't respond to questions asked of him by the two officers. 
According to McEachern, things escalated when Moore allegedly grabbed and pulled the restraining order from the hands of one of the officers. This is when, according to McEachern, the officer's partner pepper sprayed Moore in the face, which resulted in Moore allegedly kicking an officer in the face. The officer sustained bruises. 
 At this point officers moved into arrest him and one officer hit him with a baton: "Moore punched the officer in face, and advanced on the second officer, who fired his weapon as he was retreating down the steps."
After being shot, Moore returned to his apartment and called 911.
According to SFPD, it took an hour for the tactical team to break down the door and take Moore to the hospital. According to both Moore's family and SFPD Moore was bleeding profusely during this time and his apartment was covered in blood.
Moore family criticizes SFPD's conduct:
Cleo Moore, the mother of Sean Moore, who spent 40 years as a nurse at San Francisco General Hospital, spoke emotionally to the crowd and criticized SFPD's handling of her son: "If they couldn't handle the situation, they can back off, call Crisis Intervention and have them come out and help you," she said. Moore said she was denied contact with her son when she offered to help police deescalate the situation: "He's not an animal. He's a person with a mental condition."
Moore described coming home with her husband to the scene with the police officers and her son, who had barricaded  himself inside his home. She said she was denied contact with her son on the grounds that he was under arrest, and that she was not informed by SFPD officers that had her son had been shot and only learned about it later. 
Acting Chief Toney Chaplin, who Mrs Moore repeatedly pointed to as she spoke to the crowd, admitted that there was a need for SFPD to improve the way it handles people with mental health illnesses. 
In October last year, city officials announced that the Crisis Intervention Specialist team would be on call 24/7 to negotiate and de-escalate incidents involving individuals with mental health issues who may harm themselves or others. 
SFPD officers have still not been able to interview Moore, as he remains critical and the investigation is still ongoing.