ONSTAGE In 1941, when she wrote Watch on the Rhine (playing at Berkeley Rep through January 14), Lillian Hellman would have had no idea of the mass murder of millions that would follow the ascendance of fascism in Europe.   
Today, we know about the Holocaust, but we don't know about tomorrow. As each day's headlines bring news of a ban on Muslims, militarization of local police forces, immigration raids, and mass deportation, and a power-hungry president who threatens journalists who expose his lies and hurls invectives at African American athletes who dare to dissent, we can't help but wonder where it will lead. As Berkeley Rep artistic director Tony Taccone explains, "A new level of anxiety has embedded itself into our DNA… looking for the right moment to explode into our everyday reality and destroy any illusion of normalcy."
The choices that Hellman so poignantly portrays in this 75-year-old play — whether, on one extreme to stand by and assume that this too shall pass or, on the other, to commit a most heinous act against one person to save the lives of many others — still resonate powerfully today. Under the skillful direction of Lisa Peterson, associate director of Berkeley Rep, the excellent ensemble, including the three children, create a vivid, compelling picture of a world on the eve of disaster.
At first, the two moral poles seem to be set by two men: Kurt Muller (Elijah Alexander), a German engineer who has risked his life in an attempt to join the partisans trying to block the advance of the Nazis, and Count Teck De Bracovis (Jonathan Walker), a Romanian aristocrat with ties to the Nazi regime. These two immediately distrust each other, carefully scrutinize each other's movements and eventually come to blows.
But the predominance of that match between good and evil is deceptive.  Hellman prefers to plumb the grayer areas.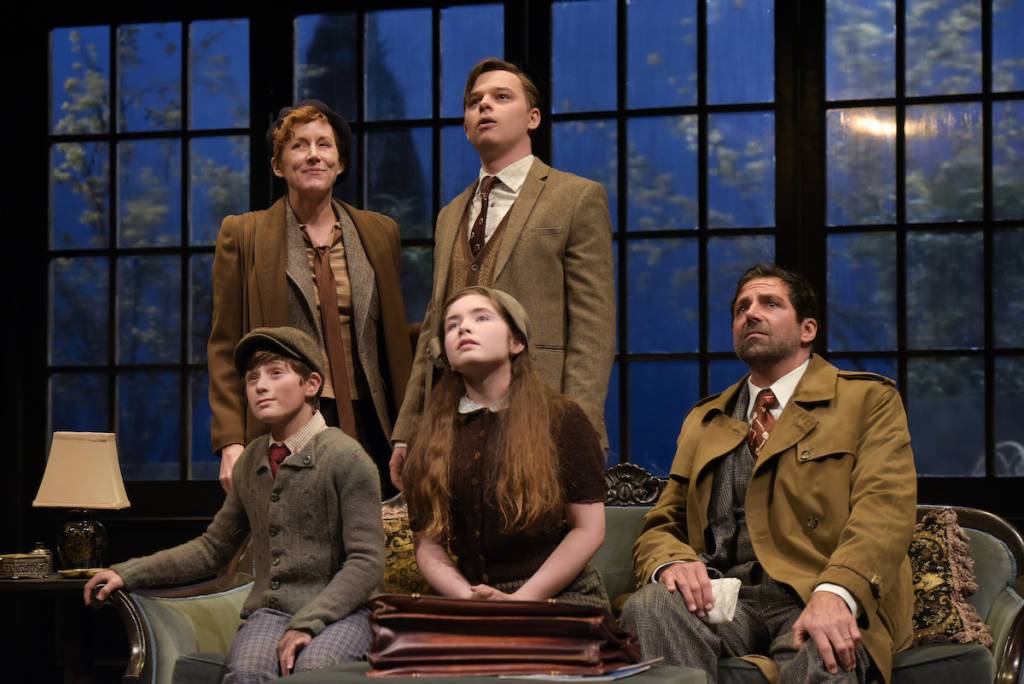 The real opposing pole to Muller's militancy is matriarch Fanny Farrelly, played with a unique combination of wit and éclat by Caitlin O'Connell. The wealthy widow presides with an iron hand over her splendid home in the suburbs of Washington, DC. The set by Neil Patel oozes with inherited wealth, from the recessed wooden ceilings to the brocade upholstery to an eclectic mix of vases, clocks and decorative lamps. Farrelly is the unlikely hostess to both Muller and the Count. Muller, because he is married to her daughter Sara (Sarah Agnew) who has returned to her childhood home after a 20-year absence, and De Brancovis because, well, Farrelly has a soft spot for European nobility, "who play good cribbage and tell good jokes," even if they are delinquent with their bills. 
It is late spring 1940. Europe is already gripped by the Nazi onslaught, but the US has not yet entered the conflict, and the clouds of war seem quite distant, especially in this affluent home where breakfast is always served at 9am. When the Muller family arrives with battered suitcases and shabby clothes, they stand in sharp contrast to the elegance of Farrellys' living room with its French doors that open to a plant-filled verandah. The children, Joshua (Silas Sellnow), Babette (Emma Curtin), and Bodo (Jonah Horowitz) are precocious, polite and fluent in several languages — but they are also hungry, having had only a warm bun and a glass of milk on their train journey.  Even the servants, Anise, the efficient and clever housekeeper played with style by Leontyne Mbele-Mbong, and butler Joseph (James Detmar) are dressed far smarter than the Muller family. 
Sarah Muller, well-aware how insulated by privilege her mother and brother David (Hugh Kennedy) are, tries to gently explain how distant her current life is from the cotillions and society teas she once knew. She doesn't know how long they will stay. The Muller children, who are clearly loving towards their parents, despite their unconventional and precarious upbringing, slowly make themselves at home in their grandmother's house, taking delight in the plentiful breakfasts, the sanitary plumbing, and the luxurious hot baths. Kurt explains to his children they are on holiday and that they "will have plans when the hour arrives to make them."
Kurt is energetic and bursting with ideas. He has crossed many borders, taken part in clandestine acts, and endured blows and bullets, which have left their mark, so he walks slowly and his hands tremble. He tells his mother-in-law that he has given up engineering to become an "Anti-fascist," a "job" he cares passionately about even though "it doesn't pay well."  After he saw 27 men murdered in street clash with Nazis, he tells her, he could no longer stand by and watch.
"My time," he says, "has come to move." 
The dapper, conniving Count De Brancovis is not only freeloading off the Farrellys and cruel to his wife Marthe (Kate Guentzel), but he is also on intimate card-playing terms with Nazi officials in the Embassy.
Fanny's role is more nuanced than either of these two men: her dilemma is the one that is the most familiar today. Her life is more than comfortable, she wants for nothing aside from wishing her rather unimaginative son were more like his deceased father. Though her daughter's arrival brings her closer to the realities of war, her solution is to keep that family safe in her mansion where she presumes the war can't touch them. When their shielded life is threatened, her instinct is to buy her daughter and granddaughter fancy new dresses. 
Kurt has made his decision: he has no choice but to sacrifice his time, his work, and even his children's well-being to fight fascism. Fanny's opulent home has been immune to the terrors of war, but when she finds the conflict right under her roof, she faces the central moral dilemma of the drama.  
How long can you ignore the thundering march of the jackboots?  When do the offenses get so strong that you have to take action? Fanny hasn't seen the victims the Nazis murdered in the street, but is there a moment when it will be her "time to move?" And what action do you take? Is providing sanctuary enough? Money? What if there is a risk of endangering your daughter or your grandchildren? Or someone else's grandchildren?  
If the title of play seems familiar, it may be because "Watch on the Rhine" or "Die Wacht am Rhein" is the song from Casablanca that the German soldiers sing in Rick's bar, before they are drowned out by the French patriots' rousing "La Marseillaise." It was a German battle song from the time of the Franco-Prussian War in 1871, all the way up to World War II.  We learn from Kurt that when he was a member of the German unit of International Brigade fighting Franco in Spain, they changed the words to an anti-fascist anthem: "This time we fight for people, this time the bastards will keep their hands away." 
Hellman won the New York Drama Critics Award for this play when it was produced on Broadway in 1941, but it has been rarely produced since. She is perhaps most well-known for her response to the House Un-American Activities Committee when they asked her to name names of political subversives she knew. She refused their request, stating: "I cannot and will not cut my conscience to fit this year's fashions."
In this prescient drama, she clearly answers the question, "When is it time to move?" Sometimes, Hellman's characters discover, we have to take the risk – no matter what the cost. 
WATCH ON THE RHINE
Though January 14
Berkeley Rep, Berkeley.
Tickets and more info here.