ARTS FORECAST It's been two years since David Bowie's shocking death — an event that many pinpoint as the beginning of world's current madness spiral, and why not? If it has to hang on something, the passing of the patron saint of weird and wonderful (followed soon by Prince ascending to the purple heavens) might as well have foretold the psycho-cyclone we're living in.
 San Francisco already threw huge parties to mark Bowie's birthday (January 8), and since the Starman departed our sphere in 2016, they've only grown huger and more poignant. Here's a quick rundown of this year's:
7TH ANNUAL BOWIE BASH A two-night extravaganza from the First Church of the Sacred Silversexual, San Francisco (led by Reverent Father Lysol Tony-Romeo) — our very own Bowie performance cult — which will recreate three of his seminal albums live: Friday will see The Rise and Fall of Ziggy Stardust and the Spiders from Mars and on Saturday we get Station To Station and Let's Dance. Live band, drag queens, burlesque, and tons of stage shenanigans. Fri/6 and Sat/7, 8pm, $25. The Chapel, SF. More info here. 
BOWIE AND ELVIS BIRTHDAY BASH Two splashy legends for the price of one? OK! From "Hound Dog" to Diamond Dogs, DJs Shindog (New Wave City) Cammy, Moonshine, and Andy T play all your faves. It's a costume affair, too, with prizes for best dressed. Birthday cake! Fri/6, 9pm-1:30am, $12. Edinburgh Castle, SF. More info here. 
BOWIE BIRTHDAY BALL Monthly Club Leisure is our bastion of all things British and pop — from mod to Morrissey — so of course a Bowie Ball chimes with its good times. Bowie-themed drink specials, Bowie tunes, Bowie karaoke, and one of the most stylishly fun crowds in the city. With DJs Aaron, Omar, and Jez and a champagne toast to the Thin White Duke at midnight. Sat/6, 10pm-3am, $10. Cat Club, SF. More info here. 
BOWIEMAS XIV The 14th installment of this cherished tradition, this year teaming up with the Stud's rockin' Sunday Lip Service party for hot tunes and tons of drag and burlesque. A magical night of dance and romance, plus a midnight mass in his honor. Dress up as a Bowie character (or a song lyric) and have a blast. Sun/7, 10pm-1am, $7. The Stud, SF. More info here.   
GOLDEN YEARZ: A BOWIE BIRTHDAY PARTY "GoldenYearz celebrates the ever-changing and far-ranging master of the extraordinary, David Bowie. Our focus is on David's Golden Years from 1965-1980DJs d'Animal & d'Escargot will spin Bowie and the artists he loved and there will be several live performances." Projections, surprises, and get your face airbrushed like a Starman. Sat/6, 9:30pm-2am, $10-$15. The Great Northern, SF. More info here. 
DAVID BOWIE SINGALONG One of my favorite local performers, Kitten on the Keys, leads a lively, good ol' fashioned singalong of Bowie's hits and favorites. Grab a cocktail and  belt out something fabulous. Tue/9, 7pm-10pm, free. PianoFight, SF. More info here. 
BOWIE-A-GOGO A truly freaky tribute! Our weekly pansexual bondage-themed wonderland, Bondage-A-GoGo, pays tribute to the true master. DJs Tomas Diablo and Damon, sexy go-gos, and a dungeon in the back room. Wed/10, 9:30pm-2:30am, $7-$10. Cat Club, SF. More info here. 
BOWIE BIRTHDAY BASH WITH THE JEAN GENIES Who doesn't love/live in constant terror of tribute bands? The Jean Genies will bring one Bowie back to life at the Starry Plough with their energetic covers, while openers Burning Down the House will animate another, David Byrne of the Talking Heads. Craziness. Sat/13, 9pm-1am, $10-$12. The Starry Plough, Berkeley. More info here. 
MORE ARTS EVENTS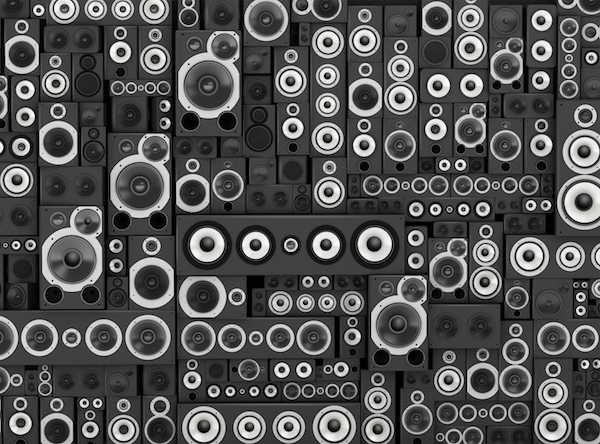 SAN FRANCISCO TAPE MUSIC FESTIVAL One of my absolute favorite events of the year! "America's only festival devoted to the performance of audio works projected in three-dimensional space, The San Francisco Tape Music Festival features four distinct concerts of classic audio art and new fixed media compositions by 30 local and international composers. Hear members of the SF Tape Music Collective, along with guest composers, shape the sound live over a pristine surround system (24 high-end loudspeakers) with the audience seated in complete darkness. It's a unique opportunity to experience music forming — literally — around you." Fri/5-Sun/7, $10-$20 for each night/$60 for all four performance. Victoria Theater, SF. More info here. 
LONG BEACH DUB ALLSTARS Founded in 1997 by surviving members of Sublime (I admit, this is a total selling point for teenage me), LBDA plays  a mixture of punk rock, reggae, dub, ska and hip hop. They're also endorsed by our own dub party powerhouse, Dub Mission, so you can barely go wrong here. Spark one up. Fri/5, 8:30pm, $25. The Independent, SF. More info here.  
"BRILLIANT DILETTANTES: SUBCULTURE IN GERMANY IN THE 1980S" The invaluable Goethe-Institut brings this awesome show of underground German club, arts, and music to Pro Arts Gallery, and I can't wait to see it (especially since I was lucky enough to party in Berlin before the fall of the Wall). "Curated by Mathilde Weh, this exhibition presents the most comprehensive survey to date of this extraordinarily innovative subculture, highlighting the work of the bands Deutsch Amerikanische Freundschaft/D.A.F. (Düsseldorf), Der Plan (Düsseldorf), Die Tödliche Doris (Berlin), Einstürzende Neubauten (Berlin), Freiwillige Selbstkontrolle/ F.S.K. (Munich), Ornament und Verbrechen (East Berlin), and Palais Schaumburg (Hamburg), as well as various artists, filmmakers and designers from West and East Germany." Opening reception Fri/5, 6pm-8pm, free. Show runs though January 27 with all kinds of live performances and music planned. Pro Arts Gallery, Oakland. More info here.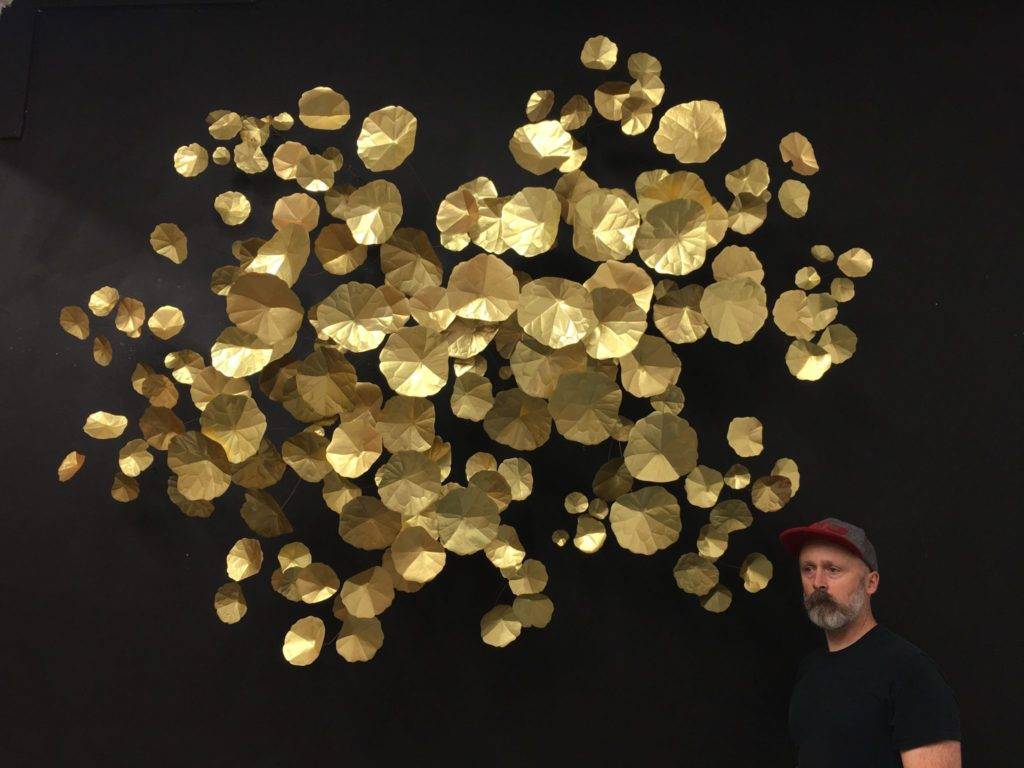 KIRK MAXSON: "BLACK ELK SPEAKS" Kirk Maxson is one of our most exquisite artists, fashioning nature imagery out of metal foil to create forests of reference and delight. (He all recently outfitted models for the Victoria Secret fashion show, so there's a lot of range going on in his work.) In this ambitious show, he addresses the fact that he was raised believing his family was part Cherokee and immersing himself in the culture: That provenance is now under question, but the sculptural metal works here explore Native American History in the United States, through book, song titles and a phrase from presidential speeches. Opening reception Sat/6, 6pm-8pm, free. Show runs through Feb 17. Eleanor Harwood Gallery, SF. More info here. 
MIYA ANDO: "OBOROZUKI" Artist Miya Ando's inspiration for this exhibition, including new paintings and ink works on aluminum, is the Japanese word 'Oborozuki,' meaning 'the moon obscured by clouds.' For the show she draws on the oldest known Japanese novel "The Tale of Genji." "Written by Murasaki Shikibu, the book is composed of minute, poetic observations of nature by it's lead female protagonist, Lady Murasaki. This ancient novel takes as its premise the fundamental interconnectivity of all things, and the fleeting, transitory awareness this recognition engenders. Nature is depicted not as a force, but as the vehicle that inspires in us contemplation and reverie." Opening reception Sat/6, 5m-7pm, free. Show runs through February 22. Nancy Toomey Fine Art, SF. More info here. 
MEMORIAL SERVICE FOR ODDBALL FILMS' STEPHEN PARR The local film and underground events community was devastated when Stephen Parr passed away in October. Stephen was the mind behind Oddball Films and the San Francisco Media Archive, and the former proprietor of Club Generic — he was a catalyst of so much that happened to keep underground film alive in the city. This memorial at the Roxie will pay tribute with "remembrances and testimonials, blessings and spiritual sharing and, of course, film and music." A reception will follow and the memorial will be filmed and shared for those unable to attend. Sun/7, 12:30pm, free. Roxie Theater, SF. More info here.
"BARN OWL" "At the dawn of the cyber age, 39 members of the UFO death cult Heaven's Gate "exited" their human vehicles [bodies], transitioning, they believed, into androgynous Star Beings and leaving behind a trail of breadcrumbs on the World Wide Web. Evan Johnson (Pansy, Don't Feel: The Death of Dahmer) teams up with Teddy Hulsker (performer/multi-media artist/Klanghaus Artistic Director) to create a chilling sci-fi ghost story exploring loss, queer cosmologies and the power of belief. Also featuring a live ET channeling by Nouzarbus. Performances by Silkworm, Hollow Eve, Clove Galilee, and Ingrid Shoop." Ummmm, yes I will be there. Mon/8, 7pm, $7. Z Space, SF. More info here.