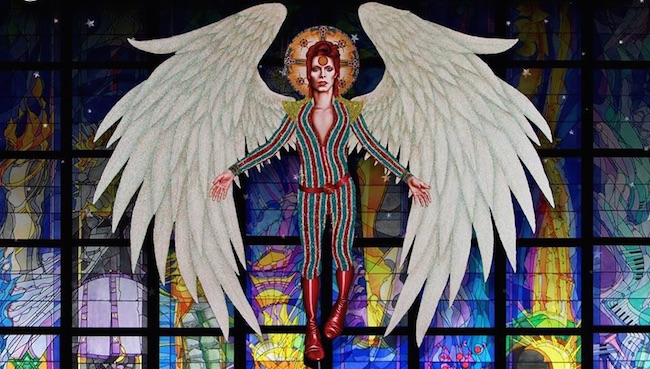 By Reverend Lysol of the First Church of the Sacred Silversexual
Oh you pretty things
Don't you know you're driving your mamas and papas insane?
Let me make it plain:
Gotta make way for the Homo Superior
Velvet Goldmine, a movie David Bowie refused to sign off on, has a moment where Christian Bale's character jumps up in the middle of his teenage living room, points at the Not-Really-Bowie-Because-He-Threatened-To-Sue on the TV screen, turns to his dad and exclaims "That's me, Dad!  That's me!"
That is David Bowie's true legacy.  The patron saint of the misfit, the outcast.  For generations now, he has served as a beacon of hope, that you can live in this world and Be Different, that the sad resignation of conformity presented by a Pink Floydesque modern industrial pastiche need not crush you into shape.
His story is one of the great rock narratives of the latter 20th century. A calculating opportunist who released Space Oddity to coincide with the Apollo 11 moon landing, he carefully molded an alien identity and then wrote an album to match.
Concept albums were still relatively new in 1972 but no one took it to such extremes as to build a persona that could leap off the record and walk around in public, giving interviews and scandalizing with his open bisexuality.
For two years Bowie was Ziggy Stardust, always in character, preening to his fans and answering questions with questions. And then he killed Ziggy off. Created a whole new character. Killed that one off too. Repeated the cycle again.
Transformation was never a "before" and "after" photo-type deal for Bowie.  It was a continual process, one you imagined as a challenge to his own artistic integrity. The sheer accomplishment of releasing nine albums in the 1970s takes a backseat to the dexterity of the disparate sounds he put out there.
By the time the rest of the scene caught up to glam rock, Bowie was making "plastic soul." Rest your eyes for a moment, and when you opened them he was making ambient experimental rock. And that was the way it had to be. Perpetually propelled by creative restlessness.
And these children that you spit on
As they try to change their worlds
Are immune to your consultations
They're quite aware of what they're going through.
David Bowie got most of us at an early age. Watching him in Labyrinth has been referenced as a sexual awakening by more of my friends than I can count. But it was his music that spoke to us as individuals. Bowie represented the big city dream of actualization for generations of small town boys and girls desperate to escape.
I was touched by his lyrics in a wonky academic way. His references to Kahlil Gibran and Nietzsche turned me on, formed a philosophy that would later become the First Church of the Sacred Silversexual. For five years I have been spreading his "Teachings" with a straight face as the Reverend of a Bowie Religion that puts on church services.
We worship Bowie because he set us free.  Don't be afraid of the changes you're going through.  Face the strange.
Don't fake it, baby
Lay the real thing on me.
The Church of Man, love
Is such a holy place to be
Now, there's truly a Starman waiting in the sky.  Forever sparkling, hoping that he may land tonight.