ART LOOKS One thing out of the way first: Berkeley Art Museum and Pacific Film Archive's sprawling new show Way Bay: 200 Years of Art and Film at BAMPFA (through June 3, and then continuing in a different form through September 2), which purports to be "organized around diverse poetic themes that cut across time periods, media, styles, and artistic cultures," is a bit of a ruse. It's really an excuse—elegant or overly complicated, depending on your point of view—for the institution to air out its fantastic archive, and to snatch a few new works, too, diversifying and updating its holdings in the process. 
That's a perfectly cromulent goal. But does the reverse-engineered concept of the show hold up? By focusing on the poetic affiliations of two centuries of local artworks—their tangential "vibes" rather than their chronology or historical context—Way Bay is certainly unique, and it's an overwhelming joy to behold. It's also confusing, frustrating, inspiring, exhilarating, and just plain loopy at points. All these aspects are expected from any show this wide-ranging. The concept, however, adds a vertiginous extra layer that doesn't quite gel.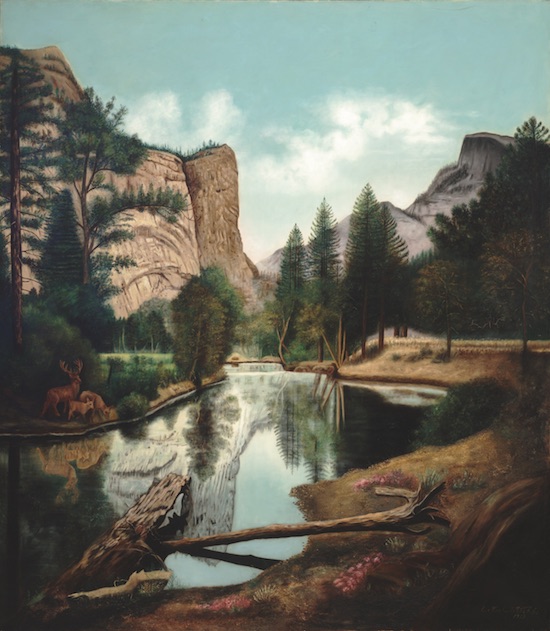 But here we are, and good on BAMPFA for trying something brave. You can feel the effort to do something beyond, "Here's a bunch of art and a timeline, you guys." Way Bay's most refreshing aspect is that it offers a rare opportunity to look at this art without the usual didactic guidance of big museum shows. While this doesn't help to show us how to look at and appreciate some of these challenging pieces, it does free the artworks to bob along on their own currents, sploshing against each other on BAMPFA's walls and washing up plenty of a-ha moments.       
Walking into the bright and airy main galleries, viewers are struck by almost 200 pieces hung salon-style, accompanied by sculptural works, monitors, and a couple large, wondrous double-sided screens playing newly digitized films from the PFA's archive. Ranging through 200 years (with the inclusion of an exquisite precolonial Ohlone basket, perhaps much longer), the artworks come with no wall text, only cheap-looking printed numbers; one must use a slightly bewildering gallery guide to identify individual pieces and their dates.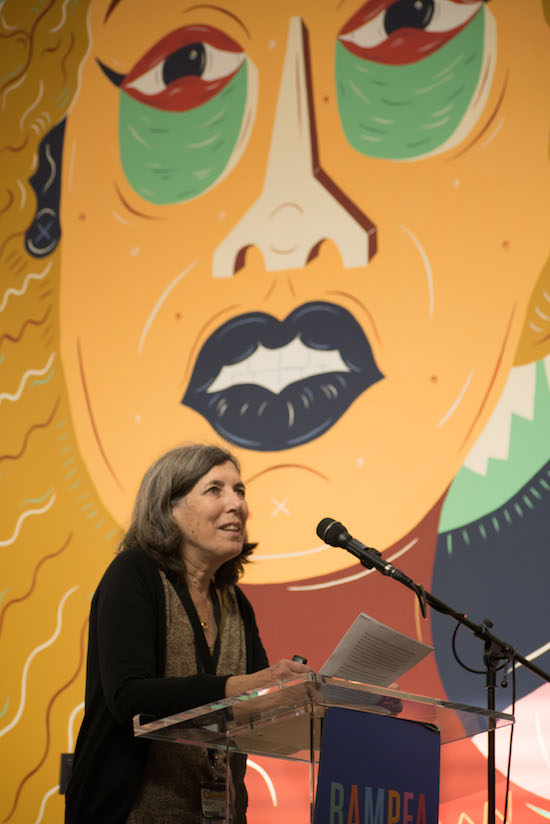 The gallery guide also contains the poetic phrases that supposedly guided chief curator Lawrence Rinder, Film Curator Kathy Gerit, and their team toward grouping specific works together. I have no idea why these poetic phrases weren't inscribed on the walls above the groupings: They are lovely and illuminating, including Ohlone song "See! I am dancing! On the rim of the world I am dancing!" and "My mother is a weather system, she eats villages whole," from Tanea Lunsford Lynx's "Mothers II." Abstract and evocative, they stretch the viewer's mind to encompass several visual interpretations. 
(The phrases are drawn from a fascinating project: BAMPFA's "engagement associate"  David Wilson reached out to local poets for help in a sort-of mail art project, asking them to create postcards with texts or images—some of these are highlights of Way Bay and have been reproduced for the taking—and to then create one using a favorite poem or extract from a dead local poet. The project includes well-knowns like Kevin Killian, Robert Gluck, and Lyn Hejinian alongside up-and-comers like Cedar Sigo and Bay Guardian hip-hop writer Garrett Caples. On its own, the project is an incredible snapshot of the local poetry scene, now and then.)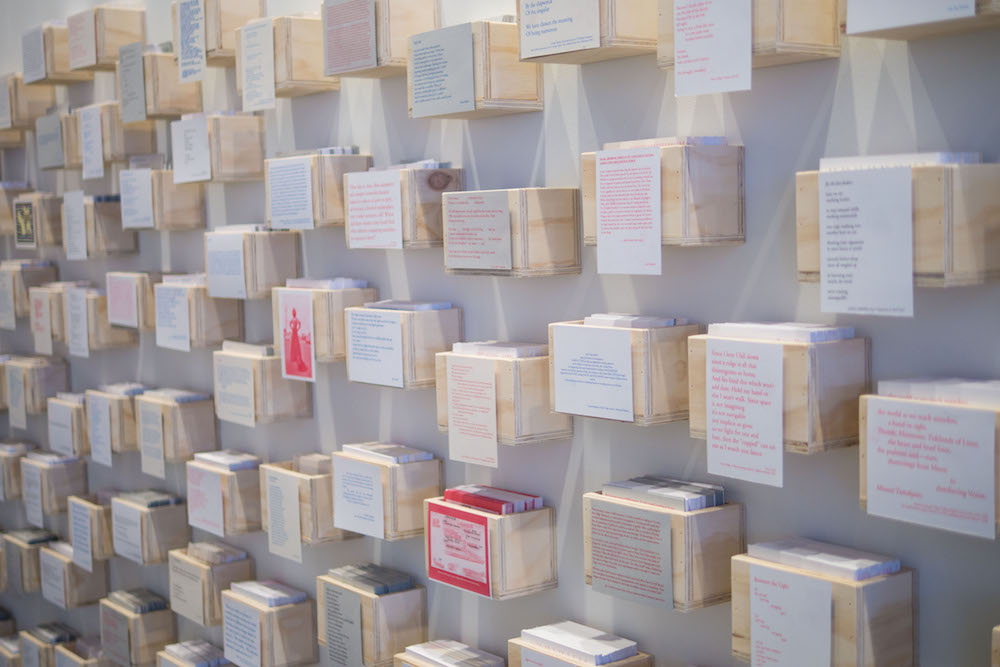 Alas, it's up to the viewer to constantly refer to the program—too distracting when you just want to drink in the art itself. There's so much here, you may just want to barge through, make some discoveries, and look up the specifics later. There are enough of the big names to underline the international influence of Bay Area art: Jay Defeo, Bruce Connor, Joan Brown, Imogen Cunningham, Barry McGee, Richard Diebenkorn, Richard Misrach, Jess. Way Bay displays Martin Wong's brilliantly hermetic 1982 "Silence" from its recent Martin Wong: Human Instamatic retrospective of that newly appreciated San Francisco artist's work, as well as Romare Bearden's kaleidoscopic 1973 "Study for Berkeley—The City and Its People."
These familiar artists help with orientation, providing comfortable access points to a plethora of works both old (William Keith's emphatically pastoral 1900 oil "Woodland Scene," Granville Redmond's haunting 1903 "Night March Scene") and very new (Al Wong's singed-paper "Square Burn" from last year). With no attempts to contextualize or identify movements—the Bay Area Figurative Movement and the Mission School, for all their  current bankability, aren't overrepresented here, which is just fine—you get to create your own story as you go, contrasting, say, Emma Michalitschke's 1913 "Yosemite Landscape" oil with Kim Anno's nearby inkjet-on-aluminum "Niagara" from 2013.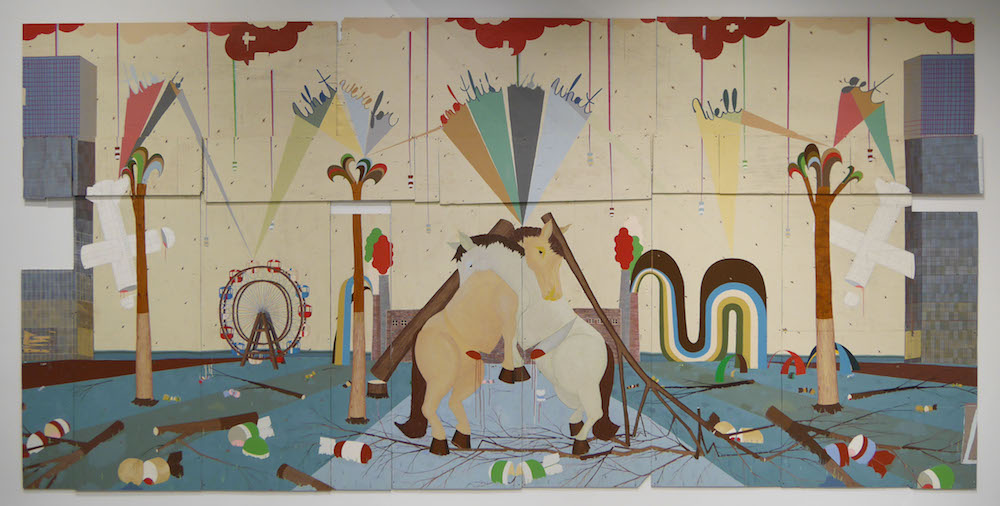 One of the big pluses of the exhibit is that BAMPFA has taken on expanding and updating its collection, especially with works by women, queer people, and people of color. Anyone on the contemporary art, performance, dance, or nightlife scene will thrill to see some of the folks enshrined here: Brontez Purnell Dance Company's "Free Jazz," filmed 2013 by Gary Fembot with lighting by Jerry Lee; Xara Thustra's mural-sized, 9/11-referencing "This is what we are for and this is what we'll get"; Xylor Jane's 2006 geometric abstraction  "Pequod"; former MTV presenter(!) Tabitha Soren's brilliant 2017 photograph of her smudged iPad as she followed the Ferguson protests, "Truth-out.org/Ferguson"; Catherine Opie's iconic photograph of fellow artist Jerome Caja, from 1993; Nicki Green's super-cool 2015 glazed ceramic "Three States of Gender Alchemy."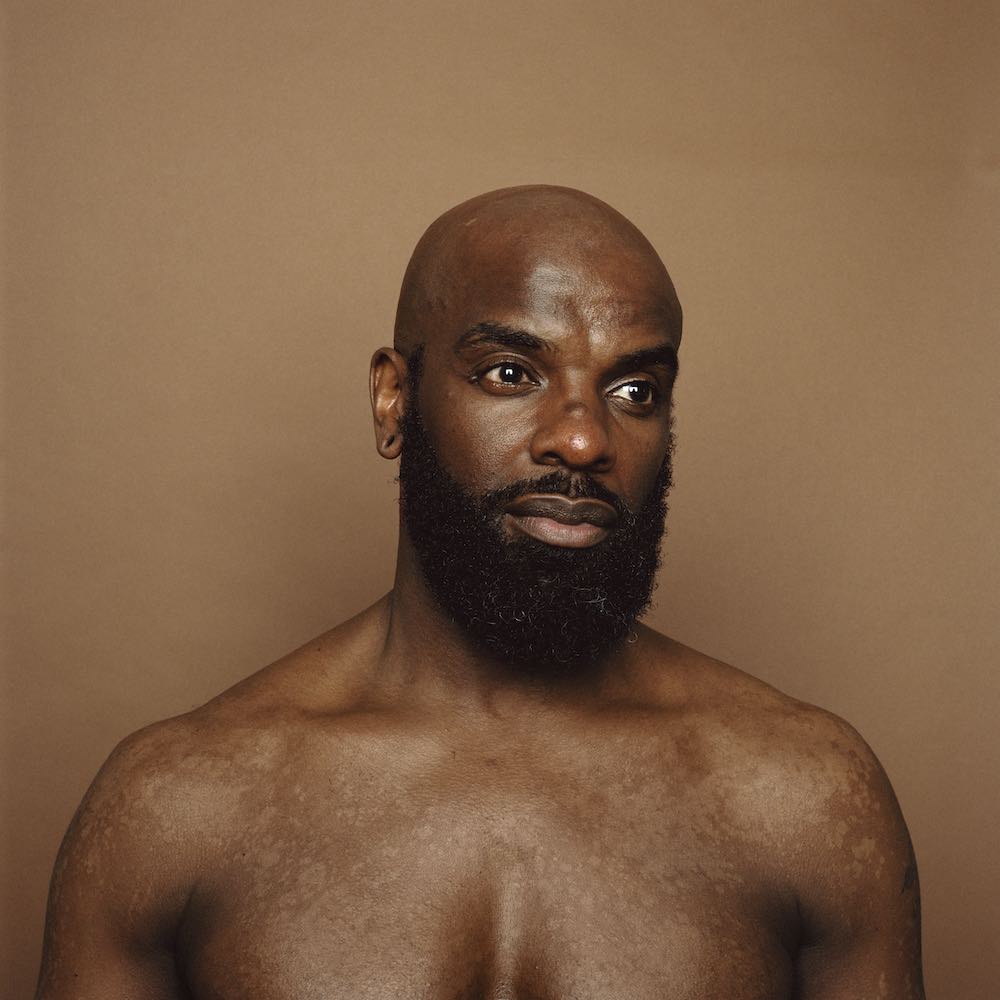 Revelations for me included Erica Deeman's "Marvin" from her 2015 Brown series, a striking head-and-shoulders photographic print of a friend against a backdrop the color of Deeman's own skin, "as a gesture of both solidarity and contrast." (The gallery guide offers brief notes on the artworks.) Also spellbinding was the late David Cannon Dashiell's 1992 "Study for Queer Mysteries," a frieze-like series of graphite figure clusters meant to ape the Dionysiac murals of the Villa of the Mysteries at Pompeii, and suggesting a Henry Darger-like fantasia by way of some late-night Sci-Fi cable channel in the early 1980s. (The drawings retain heavy scarring from a fire that swept through Dashiell's apartment, adding an element of danger and beauty.) 
After all of the conceptualizing and eye-popping and flashes of intergenerational themes—Bay Area artists certainly have a flair for the psychedelic and the joys of the ephemeral: see Lew Thomas's gloriously humble yet tingle-inducing 1972 photographs of light on his wood floor—what's the take-away? (One thing missing, among all the different media, was music!)
In the end, a simple pride of place satisfies.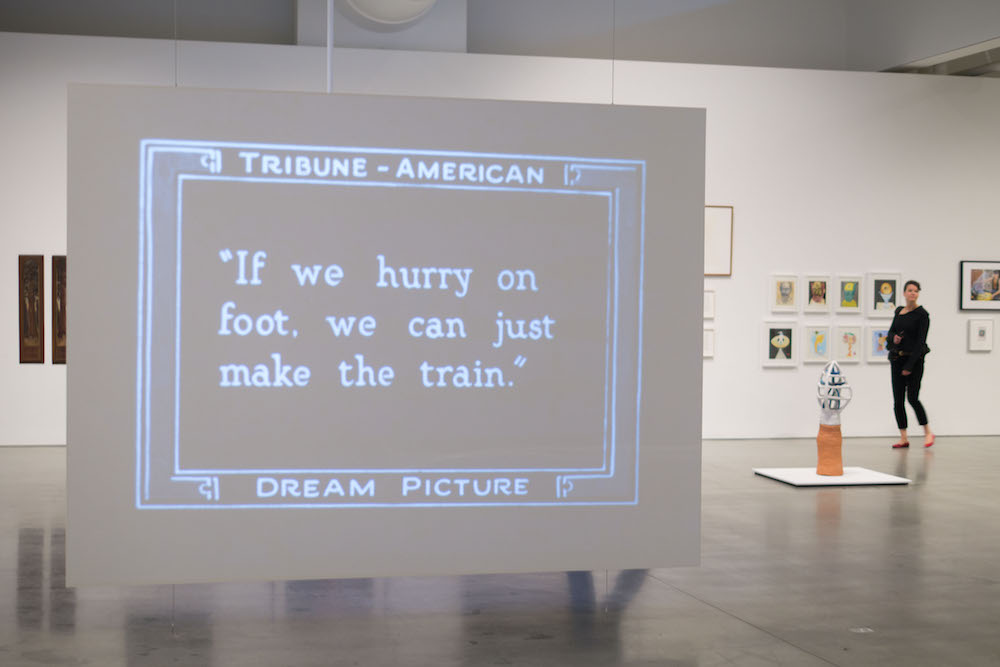 Perhaps the most delightful piece is the PFA's Tribune-American Dream Picture. In 1924, the Oakland Tribune asked readers to send in their dreams for a chance to it to be filmed; the dreamer would play a starring role. The lucky winner was Mrs. L.L. Nicholson of 3812 San Juan Street, Oakland, whose fever dream of a search for her lost baby takes her to both sides of the bay, and includes glimpses of life here almost a century ago, as well as Keystone Kops-Like sequences and sweetly surreal touches. Seeing that little gem on a big screen, situated among a wealth of local expression, is alone worth a BAMPFA jaunt. 
WAY BAY: 200 YEARS OF ART AND FILM AT BAMPFA
Through June 3
BAMPFA, Berkeley
More info here.