ONSTAGE Marga Gomez has been one of San Francisco's most beloved comedians since her time in legendary '80s Latino performance ensemble Culture Clash — right through to her "Best Comedian" win in the 2017 Best of the Bay. (She's also been seen all over big and small screens, from HBO to Batman Forever.)
Her lastest solo show, Latin Standards at the Brava Theater's new Cabaret Center (Thu/11-January 28), goes beyond its "recuerdos of yesteryear" title, taking a nostalgic trip through Gomez's family history to trace her dad's career and personal path toward becoming a successful Cuban entertainer in the US — and bringing up parallels in Gomez's own on- and offstage journey. It's also a sharp-eyed view of the effects of  San Francisco gentrification, especially on comedy and nightlife (RIP Esta Noche and Josie's Cabaret), and the ongoing challenges of being Latinx in the entertainment business.
The show was workshopped here in 2016 and then went on to win raves in New York, as a "loving, funny tribute" and "an engrossing portrait." Now its back, through January, to inaugurate the Brava's new cabaret space. I talked to Gomez about Fonomimicos, tip jars, stolen jokes, and more.      
48 HILLSThe show is partly about being "a ballsy adult child" of your father, a Cuban entertainer. Can you tell me a little bit about him?
MARGA GOMEZ My dad, his stage name Willie Chevalier, was born in Guanabacoa, Cuba. I'm not too sure about his childhood. But my guess is that his family wasn't rich. Because he was super thrifty and would freak out when I'd drink half my milk and pour the rest down the sink.
He started performing when at age 17, in the pre-Fidel cabarets of Havana. Back then he was a "Fonomimico" — meaning he lipsynched to popular Spanish songs and made them funny, but in guy clothes. Unimaginable! He also told jokes, probably half stolen.
One night a talent scout from Johnny Walker scotch "discovered" him and bought him a one-way ticket to NYC. My dad promptly divorced his wife, who was also a teenager, and flew to New York. Two marriages later I was born in Manhattan and dad was an established comedian, powerful producer of Spanish language variety shows, and closet songwriter.
Help us save local journalism!
Every tax-deductible donation helps us grow to cover the issues that mean the most to our community. Become a 48 Hills Hero and support the only daily progressive news source in the Bay Area.
This story is framed around his three songs that made the Latino Billboard charts. But "Latin Standards" has other meanings, including how jealousy can wreak havoc in a life. Telenovelas come from somewhere.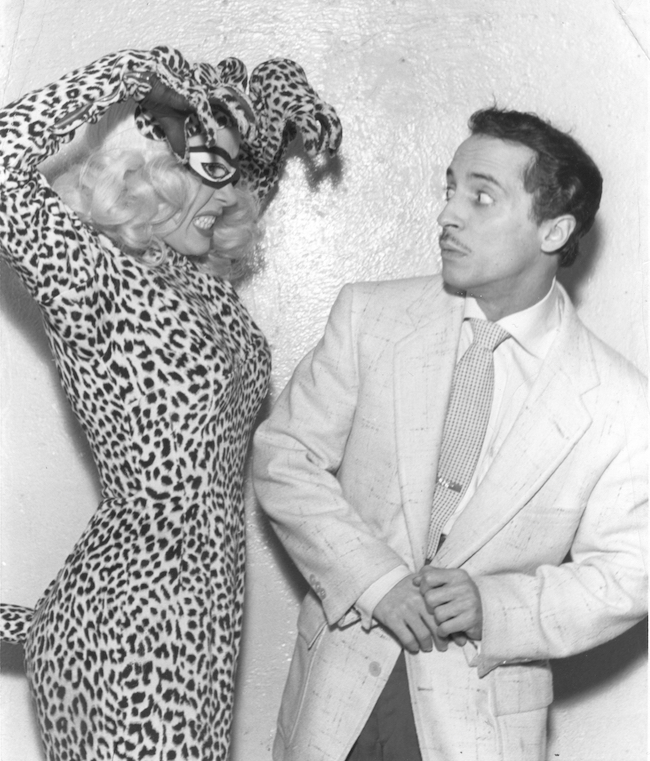 48H You've lived through such a significant time in the San Francisco arts scene. Latin Standards doesn't just reflect on the story of your family, but on the meta-story of "launching a hipster comedy night at the struggling legendary Latino drag club, Esta Noche, in the midst of San Francisco's gentrification crisis." Can you tell me a little bit about that hipster comedy night, and how it may represent a unique moment in San Francisco history, especially since Esta Noche is no more?   
MG Esta Noche looked and felt exactly like one of my father's hangouts in Manhattan except instead of posters of busty Latina babes in halter tops and hot pants, this joint plastered images of bare-chested hombres in jock straps everywhere and proudly displayed a life-size oil painting of the actor Joe D'Allesandro, naked, his schlong pointing down at the happy hour snack table.
My comedy career started in San Francisco at Josie's Cabaret, a popular gay venue. I sold a lot of tickets there. Then in the late '90s I moved to LA and New York to get more famous- LOL. When I moved back to San Francisco in 2006 everyone could see comedy for free, and if they were feeling charitable, throw money in a fucking tip jar. The comedians were often telling jokes in dim light with no stage and shitty sound. I was not pleased with this downgrade. However my father taught me to adapt in this business, so I searched for a place to run a "tip jar" show with, at least, a stage and decent lighting — which led me to Esta Noche. It was opened in the '70s by two gay Latinos as a safe haven for queer Latinos.
The club was humble at best, but they built a stage four-foot high, so even if you were standing with a drink you could see all of the drag queens in their finery. There was even a stage spotlight. It was shabby and smelled but it was Carnegie Hall compared to other comedy tip jar venues.
My first year at Esta Noche was slow-going, attendance-wise, with many tech mishaps. More than once I had to personally throw out a drunk or run across the street to buy another microphone battery at Walgreen's. But after a year we had full houses every week. The last year of its existence, Esta Noche was selected as a venue for Sketchfest and the short-lived, but genius, Comedy and Burrito Festival. The greatest benefit from my two years there was becoming friends with the drag performers, or as they were known "Las Chicas de Esta Noche."
Sadly the club owners were secretly planning to sell the bar to rich white folks. In 2014, they took the money and adios. For decades Esta Noche existed along with another queer Latino bar "La India Bonita" just a block away. At one time there were three queer latino bars on or near 16th street in the Mission. All gone now. "Latin Standards" is a love letter to my father and to the gay latinx dives of memory.   
48H You've been working on this show for a little bit. Where have you performed it, and how has it changed significantly as it develops?   
MG  I didn't realize when I booked Brava in January that my first show will be exactly one year from when Latin Standards made its world premiere Off-Broadway at The Under The Radar Festival. This has never happened before and may never happen again but I got an almost full-page great review from The New York Times and a "Critic's Pick." I hope the San Francisco press likes it but I can take a hit. I'm just glad we still have theater critics and my fate is not up to Yelp. So much of this show's path has been guided by an unseen hand. Maybe it's my dad micromanaging from the sky.
Anyways, Latin Standards began as a mixed media project that incorporated music and archival family photos. The pre-New York workshops at Brava in November 2016 included non-stop projections behind me. I learned that projections can misfire and undermine the story. Projections make tech week extra hellish and sometimes are used as a crutch. I want the audience to have the pleasure of visualizing the characters and locations I'm creating on stage. 
As I toured the show in 2017  we dropped the projections and the audience laughed and cried just the same. Since New York, I still update the opening monologue because I am telling stories from childhood, recent past, and present day — so I must follow the news, reflect it, and make it funny. Latin Standards was developed during the 2016 presidential campaign and I expected a more festive world to perform in. Dammit! 
My Brava run will be the first show in their new cabaret space. In two days I will see the stage for the first time and the new lighting set up. Any challenges from a cabaret setting will bring new discoveries. I will adapt the script as needed based on the original direction by my beloved director David Schweizer. I'm the canary in the cabaret, and like any trouper will expect the unexpected. I can't think of a better way to kick off 2018.   
48H This is your twelfth solo show — but a teaser on the Brava website says this is "perhaps" you final solo show. Say it isn't so!  
MG Latin Standards is my final solo show. That doesn't mean I won't be doing standup or front a Shakira cover band in the future. I'll be teaching how to create a solo show, but I won't be writing a new one. Come say good bye!
LATIN STANDARDS
January 11-28, $20-$30
Brava Theater Cabaret Center, SF.
Tickets and more info here.