ONSTAGE "It's amazing how pertinent this feels," a man in front of me at the SF Playhouse told his friend at the end of the 1946 play, Born Yesterday (Through March 10).
Why, yes, a story about a greedy, ignorant, bullying, vulgar, immoral millionaire going to DC to further his business interests does feel startlingly relevant. But more than that, it's amazing how well the writing in this classic play by Garson Kanin holds up—how it feels funny and even fresh and not too hokey—70 years later. 
A couple months ago, I heard someone on a political podcast joke about "sucking pretty hard on the West Wing pipe," as a reference to our need to see shows where government and democracy get treated as vital things that still matter. The producing director of the Playhouse and the director of Born Yesterday, Susi Damilano seems to have tapped into that need, with characters who say, for example, that selfishness is not a virtue—it's something that hurts people. (Take that, Ayn Rand, and by the way, that's not how you spell Ann.)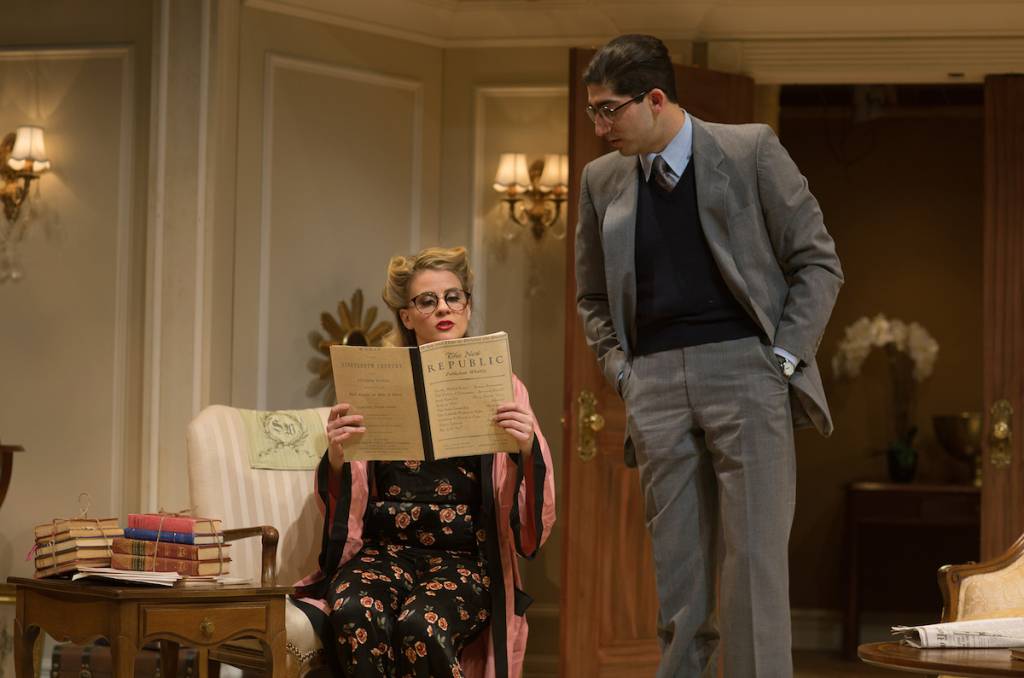 In Born Yesterday, calling someone a fascist is a horrible insult. To which the character responds, "I can't be a fascist! I'm from Plainsfield, New Jersey." I'm always a sucker for New Jersey jokes (my favorite state after California), so that totally made me laugh. Not everyone may share my fondness for New Jersey, but the play is full of satisfying lines for audience members no matter what state they prefer, like: "I don't want to live in a country of ignorant people – it's too dangerous," and "Who do you think the government is? It's me—and you. And a few million more people." 
Scenic designer Jacquelyn Scott's created a gorgeous Washington DC hotel suite that has a view of the capital out the window, an elegant staircase, chandeliers, and a little wet bar, where people are constantly pouring themselves a drink. This is where corrupt junkman Harry Brock has come with his girlfriend, Billie Dawn, looking to get even more money and power by bribing politicians. Brock worries Billie, a former chorus girl, needs some polish, so he hires reporter Paul Verrall to show her around and teach he about Washington, not expecting her to start to think about what it means to be a citizen and how greed subverts democracy. 
The cast is luminous. As Brock, Michael Torres throws his weight around, practically growling and baring his teeth, seeming uncomfortable in his too-large suits—always loosening his tie and taking off his shoes. He's the embodiment of Oscar Wilde's line about knowing the price of everything and the value of nothing, constantly judging people by how much money they make. Anthony Fusco gives a beautiful, funny and heartbreaking performance as the former US District Attorney, now working for Brock, who still has enough self- knowledge to realize he's sold his soul and drinks heavily to forget it.
As the senator doing business with Brock, Louis Parnell shows, as he responds to Billie telling him he shouldn't have to put up with Brock's abuse because he's a SENATOR and that's special, that he still has some conscience and shame left. It would be hard to be more handsome, more charming, more nerdily worked up about democracy than William Holden playing the reporter in the 1950 movie, but Jason Kapoor somehow does it, while coming off as completely relaxed and delighted by Billie. 
Millie Brooks as Billie Dawn, shines. On opening night, people practically leapt to their feet to applaud her performance. It's nice to see a woman getting all the best lines, but it was Brooks' delivery and her total commitment to the role whether she's beating Brock at gin, saying she doesn't understand why a senator's wife pretends to have read David Copperfield when she hasn't, or strutting while saying "I'm superb! New word," that made us all root for her and want to see her get the new life she talks about.
The supporting cast is incredible as well, including Melissa Quine as the maid who makes a whole hilarious production of entering and exiting a scene during a fight between Brock and Billie. 
The Playhouse's artistic director Bill English calls the play, which earned its author a spot on the Hollywood blacklist for being a communist sympathizer, "a subversive comedy masquerading as a romance." That's about right. It's pretty rare that a frothy, fun comedy takes on capitalist greed and makes you feel that integrity will win out over corruption. And that's a real gift. 
BORN YESTERDAY 
Through March 10
San Francisco Playhouse, SF. 
Tickets and more info here.