Consider the case of Milton Matson. Arrested for check fraud in 1895 in Los Gatos, he was placed in the men's section of the San Jose county jail—until a telegram arrived addressed to Luisa Matson, which threw his case into disarray. Milton had been living as a man for 25 years (he was arrested in the home of his female fiancée), and had been arrested for endorsing a check made out to the very same "Luisa," aka himself.
This situation, of course, caused much turmoil in the local legal system (can you be charged for impersonating your former self?), but that's not even the most fascinating part of the story: Along Market Street in San Francisco at the time existed "dime museums," kind of a milder form of freak shows, where citizens could ogle at all sorts of entertaining oddities. According to one report:
While the press was debating whether he would be re-arrested under the local law against cross-dressing, Milton was offered a position in a local dime museum to exhibit himself in male clothing. He stressed that he found women's clothing completely uncomfortable. The show was so successful that a few other local freak shows also introduced a male impersonator. He later appeared in the public library as S. B. Matson.  
Milton was released; but the price of being transgender in the 1800s was a form of public display, a striking proposition for anyone who had to live through the oppressive-in-a-different-way 20th century, where any alternative gender expression was mostly forced into shadows. Oh, and the police chief at the time of Milton's arrest was the legendary Jesse Brown Cook, himself known to dabble in drag. (He kept a huge stash of drag memorabilia in his home, and a well-known cartoon depicted him in drag next to the mayor).
Milton is just one of the characters queer artist Seth Eisen discovered while researching for OUT of Site, a pair of "performative walking tours" through North Beach (Sat/10, Sun/11 and Sat/24, Sun/25) and the Tenderloin (May 12-May 27) with his company Eye Zen. The tours promise "Two-spirits! Gender Benders! Forgotten Pioneers of Sexual Liberation! Rediscover lost gay and lesbian bars, speakeasies, and dives, long demolished and buried!"—which may sound like its own version of a dime museum, but with the purpose of  sparking awareness rather than exploitation.
Eisen has been entwining queer history with multimedia art projects for years: In 2012, he revived the history of the Pansy Craze and Buffet Flats of the 1920s and '30s through a series of slow food meals, and in 2016's "Rainbow Logic" saluted recently passed local queer arts hero Remy Charlip. But this is the first time he's taken on a walking tour—and a collaborative, performative one at that, created with a large cast of local artists, performers, and drag queens. (They'll bring to life an impressive array of characters throughout the tour route.)
"The inspiration for OUT of Site came from a recent National Parks Survey, which took a look at queer heritage sites and theme," Eisen told me. "That project brought together a huge amount of research and writers; and pointed up that fact that there's only like 19 explicitly queer heritage markers out of something like 19,000 national sites."
Eisen was particularly blown away by a paper researching San Francisco's queer history by Donna J. Graves and Shayne E. Watson. "There was so much I didn't know, that I think has been so forgotten—they went back like 200 years, to Ohlone practices. Reading all of this, I was like, 'Oh my god.'" He was also inspired by the historical researches of local scholars like Clare Sears, Amy Sueyoshi, and Nan Boyd.
"There's really just so much queer history that's been erased. People may kind of remember that North Beach was once a gay haven, and places like Finocchio's, the Black Cat, and Mona's may ring a bell. But there was so much more. One block of Broadway alone had 10 gay bars, and just up the way on Grant Street it was lesbian heaven. There was queer activism happening more than a century ago." 
Eisen wanted to find a way to bring that history to life. "The Park Service survey was astounding, but I didn't want everything to boil down to just a plaque on a building somewhere for these stories," Eisen told me. "Don't get me wrong, I love a good plaque. But I see the Rainbow Walk plaques on Castro, say, and while it's incredible that they are even there, so many people just walk over them. I wanted to make the stories of these people more immediate, really bring them face-to-face with people."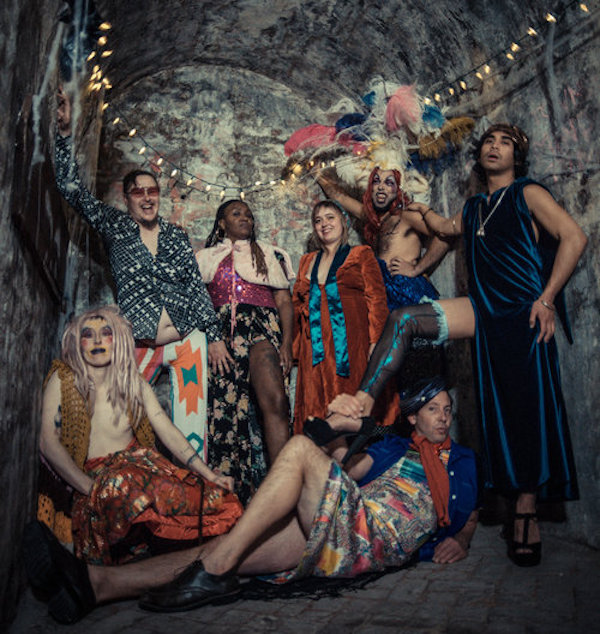 "Yes, most walking tours sound kind of boring. How can we activate this history in an engaging way? The spark really ignited when I was able to collaborate with Shaping San Francisco, an organization which has done incredible work excavating subversive local histories. I realized there was a way to visit the actual site of some of these bars, restaurants, and street corners in a way that really enlivened the history without being tacky. I've done street theater with Keith Hennessey and Circo Zero, and am very familiar with site-specific work and sculpture, so we can bring an artistic element to it that really involves the audience." 
Some of those characters on the two tours, each of which lasts about two hours, include pioneering jazz dancer Zack Thompson, who launched African American dance troupe Black Light Explosion and danced for Aretha Franklin and Maya Angelou; Babe Bean, a 19th-century trans man and writer who served in the Spanish American War; Jeanne Bonnet, a sex worker rights activist from the turn of the 20th century, and Gladys Bentley, renowned African American blues singer who performed at Mona's in the 1940s.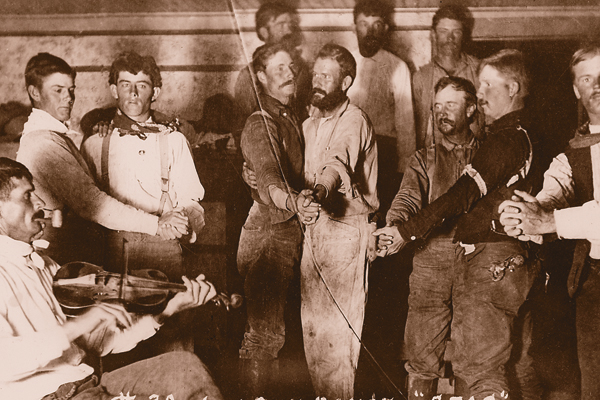 OUT of Site walkers will also visit sites like that of the Monkey Block, at one time the largest building in the nation, which housed a plethora of queer artists and activists, and learn about phenomena like the Gray Line Bus Tours, based infamous 1945 book Where to Sin in San Francisco, which brought straight tourists and the curious through the queer scene of North Beach (and led to some of the raunchy drag acts dropping their rougher edges in favor of more glamorous "gender illusion" to snatch more tourist dollars). 
"These stories are beautiful, and we are hoping to 'presence' things that don't exist anymore. The intention is that in embodying them, more people that get a physical sense of what happened, and what queer people were up against. We have a great cast, and the tour is full of surprises—at one point we visit the original sea was in North Beach, even," Eisen said. 
"If you give people a lived experience, they're more likely to keep telling the story." 
OUT OF SITE
Queer history performative walking tours
North Beach: Sat/10, Sun/11 and Sat/24, Sun/25
Tenderloin: May 12-May 27
$15-$40
More info here.