ART LOOKS Artist and filmmaker John Akomfrah grew up in London, near the Tate Gallery. He would go there as a 12-year-old, fascinated by, among other painters, the work of J.M. W. Turner, the British Romantic artist known for his landscapes and his turbulent paintings of the sea.
Now one of Turner's paintings, The Deluge (1805), which depicts a Biblical flood, is part of Akomfrah's new show at SFMOMA. The Turner painting and Akomfrah's three-channel video installation, Vertigo Seas, which debuted at the Venice Biennale in 2015, make up the show, Sublime Seas.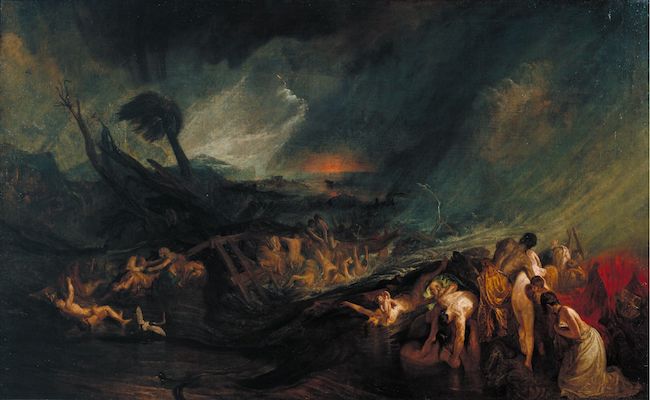 Rudolph Frieling, SFMOMA's media arts curator, said he loved Akomfrah's idea to pair his installation with the Turner, but the curator doubted it would happen.
"When he brought the idea forward, it struck me immediately as brilliant and I was kind of envious I didn't have that idea," Frieling said at a preview of Sublime Seas. "I thought it was highly unlikely we would get a Turner for a contemporary art show."
Turner's painting shows the terror of the flood, resonating with Akomfrah's videos showing the beauty and horrors of the ocean. The cruelty of the whaling industry as well as the slave trade and the current refugee crisis are encompassed in the 48 minutes of Vertigo Sea.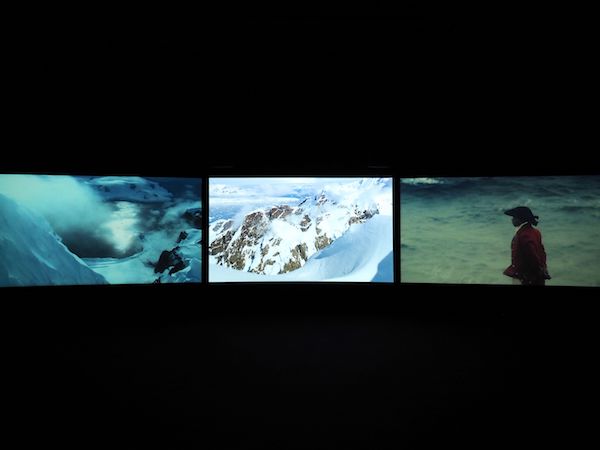 It was thinking about refugees that spurred this work, says Akomfrah, a founder of the influential Black Audio Film Collective in the early '80s. His and his family came to England as refugees, leaving Ghana when he was four years old because his parents, who were involved with anticolonial activism, feared for their lives.
"What's the difference between my family and someone fleeing Ghana now, almost four decades later? They might have a really difficult time getting in," Akomfrah said. "That was a powerful engine for this work and to explore the larger relationship with the sea."
Akromfrah and his partners in Smoking Dog Films spent four years creating the videos, which use documentary images, some from David Attenborough's The Blue Planet, archival footage, and text from Herman Melville's Moby Dick and Heathcote Williams's 1988 poem, Whale Nation.
Watching Vertigo Sea, you're swept up at first by the beautiful images of the ocean– crashing waves, dolphins swimming, sunsets. But the music is faintly ominous and you start to hear news reports about refugees from West Africa and their treacherous ocean voyage. There are black and white images of people setting sail long ago and sailors dancing on deck, along with tableaus of actors in old-fashioned clothes, standing by the shore with abandoned items: a clock, chairs, a table.
You see slaves bodies tossed into the ocean and refugees struggling to stay afloat. It's not just people we see being abused—there's also archival footage of people shooting and killing polar bears and harpooning whales.
Frieling says the combination of the tranquil nature images with the horror of the those who have perished at sea was what made him want to present this work, the first time it's been exhibited in the United States.
"It's a visceral experience," he said. "There's the Blue Planet aspect and then the brutality, and he managed to combine the two. It's about slavery and migration and refugees, and it's very coherent."
In the last few years, hundreds of thousands of refugees have been coming to Europe by boat, and Vertigo Sea began as a response to all those who are so desperate they leave behind their homes to get in overcrowded and unseaworthy vessels, says David Lawson, one of Akomfrah's partners in Smoking Dog Films. They spent four years looking at 800 hours of archival footage, to make the movie.
"These are very urgent issues," Lawson said. "The sea is a place of beauty and danger and transition. We wanted to create an immersive experience, not make something didactic, but rather allow the audience to make these connections."
SUBLIME SEAS
John Akomfrah and J.M.W. Turner
Through September 16
SFMOMA
More info here
(Plus: See three films by John Akomfrah April 28 at SFMOMA.)