MUSIC A night of Stevie Nicks' music, performed by awesome live bands, benefitting Access: Women's Health Justice? Stop dragging' your feet around and hit up the second annual "Night of 1,001 Stevies," Fri/25 at Bottom of the Hill, for plenty of scarves draped over microphones, tons of bewitching feminine energy, and a magickal lineup—including Everyone Is Dirty, Lapel, Katie Day, Jeremi Rebecca Hush, Josiah Johnson, and Marston, plus Tarot card readings by LouReads and artwork by Sister Stranger.
The brainchild of Tracey Holland of the evening's fantastic headlining act Vandella (whose rock sound is inspired by Fleetwood Mac among others), "Night of 1,001 Stevies" pairs her love of live performance in a tight-knit community with her passion for women's access to health care and abortion. We spoke over email about the genesis of the idea, the resonance of Stevie's music, and how it all comes together for one night. (Check out the "Night of 1,001 Stevies" Instagram for more.)  
48 HILLS How did you come up with this great (and hilarious) idea? 
TRACEY HOLLAND Several pieces sort of dovetailed all around the same time for me to bring the whole concept into what it's grown into. First, I'd gotten wind of the NY event called "Night of 1,000 Stevies," which has been going on for several years now. It's apparently a big dance party they throw every year on Stevie's birthday, May 26th, and has a big drag focus. As a huge Stevie and Fleetwood Mac fan, I was instantly in love with this whole idea, and knew that the West Coast absolutely needed our own version of this. Of course, as a musician, I wanted to make it more of a live show and use it as an opportunity to bring together a bunch of incredible musicians I know all in one place, as a means of also celebrating our music community which, particularly in SF in recent years, has taken something of a hit, as I know everyone is well aware.
The 2016 election really shook me, and was the catalyst for myself and so many other people trying to get more involved in politics in their communities and on a larger scale—so I then got really excited about turning the whole thing into a benefit for women's-centric causes, and a celebration of women, and intersectional feminism, and music, and community. Basically it felt like a way to make some small difference, and take a stand, and highlight all these things that I'm really passionate about.
Access: Women's Health Justice does amazing work that is targeted towards focusing on underprivileged communities and women who have limited resources and access to getting abortion and reproductive needs met. I wanted to make sure we were benefiting an organization that took into account women for whom Planned Parenthood (while wonderful, and whom I fully stand behind) is still a barrier to care. Access coordinates financial pieces, as well as even coordinating transportation and lodging for women who may need to travel, or may have a more sensitive situation. And to me, that is such an important, direct, hands-on piece of really caring for women having to do this. I really respect and admire their work and am really so passionate about abortion access for ALL women, and am really excited to be able to partner with Access for this particular reason. 
And it's also just an awesome, epic party with Stevie as the catalyst. So. What's not to love?!
48H I love that the Night of 1,001 Stevies aims to actively-embrace and harness the powers of music, feminine energy, and activism—can you tell me more about how you've experienced this connection to Stevie's music, and has this resonated with the other musicians involved? 
TH I've always been really drawn to darker complexities and emotions, the mystical, and exploring the messiness of humans and how we live and relate, and I think this is a piece of Stevie's music that clearly a lot of people are drawn to, and really appreciate, first off. As a woman in the music business, it took me years (until recently, really) to understand that a lot of my experience was based in misogyny, being written off or undervalued or dismissed simply because I'm a woman. I'm fortunate to have an amazing band of brothers whom are all progressive; but there's still a wide swath of my musical and business experience that has this underlying current always running through it.
Stevie, to me, is this amazing embodiment of feminine energy that is purely her energy—I think there is sometimes this rhetoric surrounding feminism that sort of misses the point, and forces women and girls to be pigeon-holed into a way that feminism is supposed to look, act, and "be." So, as a woman, it ends up feeling like no matter where you turn, you're supposed to fit into some sort of box or else you're not a part of the "club" (whatever that club may be). Stevie's music explores this darkness, and complex emotions, and is sort of unapologetic in that way, and that's something that personally has always resonated with me—the permission to not feel or be "nice" or "easy"—to be allowed to be difficult, and to have dark emotions, to be drawn to that—the permission to not have to always "make sense" because other people demand it of you.
I think part of what captivates people about Stevie and her music is that she is this strong figure, but she's strong in a very unapologetically feminine sense. "Strength" is so commonly associated with being more "masculine" and I've always rejected that and hated that notion. You can be soft, and you can be sexy, and you can be all these traditionally "feminine" things—and still be a badass. You don't have to do feminism any one way, and that's something I've always felt very strongly about. I think in our current climate, as we're talking more about gender roles and identities, trans rights and issues, LGBTQ issues, and feminism that does need to be inclusive of ALL the forms of feminism, that this mindset is starting to shift, and I'm so glad our larger discussions are starting to include some more of that nuance. 
The other musicians who are onboard for these shows are all such embodiments of this larger vision. The lineup is heavily female, though I always made clear from the start that my feminism is not at all about not including and loving men—there will be a lot of males onstage as well, and this is a mindful choice on my part. I feel very strongly that I want men who to be a part of the discussion, and the solutions, around feminist and women's issues. I believe the patriarchy, as it were, does a disservice to both men and women. So for me, including men who are positive supporters of women, including myself and others, was a conscious choice meant to keep the discussion open.  
Every one of the featured artists hopped onboard immediately and have been so excited and gracious. Every one has been touched by Stevie's music in a similar fashion to what I've described above, and I think it's just such a beautiful and special thing to recognize and get to revel in together.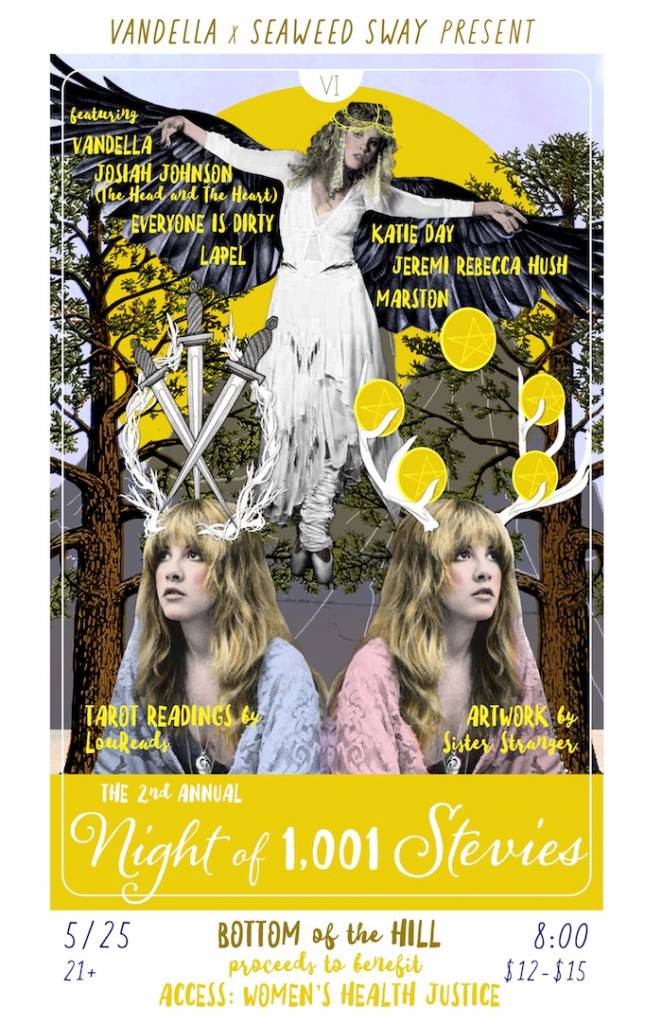 48H How was the first time you did this? Can you describe the scene and what you hope to replicate with the second installment? 
TH This is a very indie, DIY-benefit in the early stages of its infancy, so it's really been a labor of love and has that really exciting, buzzy camaraderie that comes with things like this, that are borne out of a passion for something and a hairbrained idea, and it gets all pulled together somehow. Last year was a small show in SF, but to a PACKED crowd. We had some amazing musicians play, and everyone was just so supportive, and again, just kind of buzzing. It felt like a really special night and it felt like the energy in the room around that was palpable.
We had Tarot readings going on, lots of scarves we'd hung from mic stands, impromptu face and glitter-painting going on in the crowd: It was pretty magical. We have some incredible volunteers this year (shoutouts to Kevin White, Allie Hunt, and Emily Zitin!) who are helping us with overall planning, promotion, and vibe – we're going to have a lot more surprises in store at the two shows that I think will really make it more of an experience.
We're also hoping to just spread the word of Night of 1,001 Stevies—not just for the fact that it's benefitting an incredible organization, Access: Women's Health Justice, but to spread the message, too, because honestly even when I just am telling people about it on the street, it really gets people excited. I think just the fact that you can have a hairbrained scheme (my bread and butter, if we're being honest) and then execute on it in your own small way to make a small impact. I think that gets people excited, and hopefully gets them to thinking of what they love and what pieces of their world they can pull together and get creative with to do some small bit of good, too?
My larger dream is to take this event annually to different cities along the West Coast and/or make it a small one-day festival where we get to celebrate all these things and continue to highlight, benefit, and talk about the issues we face in our current political and social climate. We're on Instagram at @1001stevies, which has been an awesome way to highlight all the artists and have a little more of a homebase to build on the community as it takes shape. 
48H How do you decide which songs each act plays? or are there multiple Landslides?
TH Ha, there will not be multiple Landslides—everyone will be playing a short set of songs of their choosing. The opening sets will be short sets of either Stevie/FM songs and a couple originals, followed by Vandella playing a headlining set deep with Stevie/FM jams, as well as some originals in the FM vein. The song choices are honestly pretty heavily Stevie-centric. Her solo catalogue has some amazing hits, and deep cuts, that are going to be featured throughout the night. it's a really eclectic span of her career, quite honestly. Everyone has impeccable taste in their song choices! There will of course be a lot of the hits because, come on. But it'll really showcase a lot of the different Stevie eras.  
48H What's your own favorite Stevie song? 
TH Oh wow. Ever? Of all time? Just ONE? Rhiannon is so beautiful and is representative to me of the kind of woman I want to be, if that makes sense. But I suppose if I'm picking the one that means the most to me personally, on a really deep and vulnerable level, I'd have to say "Storms." The lyric "Never have I been a blue calm sea / I have always been a storm" just slays me because it feels like it was written for me. That's the power of our girl Stevie. I'm sure a lot of people feel one of her lyrics so deep to their core like that; and that's part of what makes music so damn special, isn't it? OK, that was two. Sorry.
NIGHT OF 1,001 STEVIES
Fri/25, 8pm, $12/$15
Bottom of the Hill, SF.
More info here.