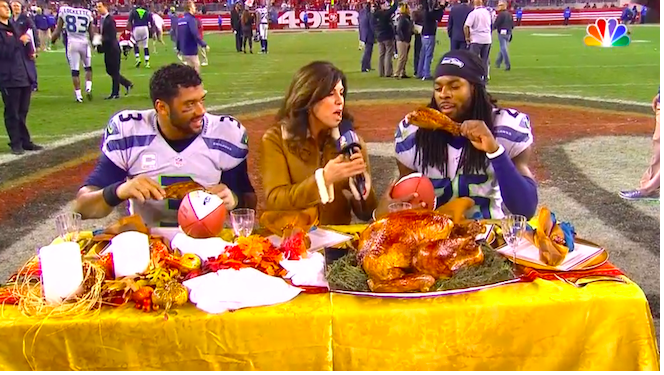 MASSIVE UPSET: 49ERS 26, SEAHAGS 23 (OT)
A monkey got off everybody's back in Santa Clara yesterday. The 49ers, against all expectations, finally beat the Seattle Seahawks after 10 straight losses. They flipped the Thanksgiving spread! Whiner fans remember all too well the infamous 2014 Thanksgiving Day defeat to the Seahags, because of the turkey and dressing spread at the 50-yard line, right on top of the 49ers logo, set up by NBC with Michele Tafoya chatting it up with Russell Wilson and the hated Richard Sherman (now a 49er! they love him!), and Sherman gnawing on a turkey leg. It's been gnawing at 49er faithful ever since.  I watched that game, and honestly was stunned that nobody came out of the 49er locker room and flipped the table. I sure would have. It would have been great theater, as well.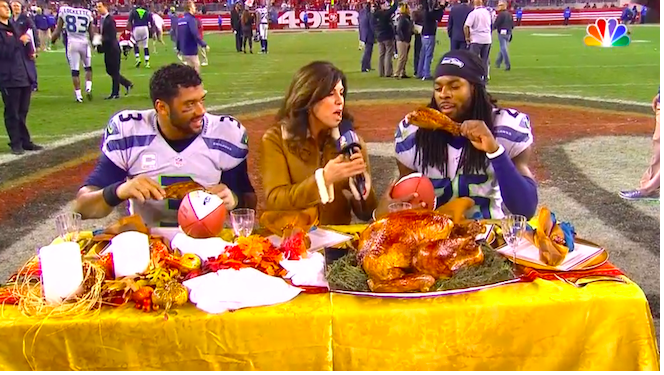 Those of you in an East Coast bubble, the Seahawks and the 49ers is a juicy rivalry, and yesterday was massive for the 49er psyche. They celebrated like they'd won a playoff game.  And it might as well have been for this team with a season of dashed expectations. 
49er practice squad QB Nick Mullens has another solid game, and the 49er defense turns in the second straight game of tough D. The Seahawks were playing for their chance to clinch a playoff berth, but instead came up with 148 yards of negative yardage on 14 penalties. 
Whiners fall out of first place tie with Arizona, and now have four 5-9 teams barking at their heels.
DOORMAT DIVISION WEEK 14

NFC              W-L        PF       PA       DIFF
Arizona         3-11        192     367     -175
Santa Clara    4-10       301     373      -72
Tampa Bay    5-9         344     403      -59
Detroit          5-9         284     333      -49
NY Giants      5-9         307     348      -41
Atlanta          5-9        356     381       -25
AFC              W-L        PF       PA       DIFF
Oakland         3-11      260      418      -158
Jacksonville   4-10      225      289      -64
NY Jets          4-10      292      359      -67
Buffalo          5-9        215      333      -118
Cincinnati      6-8       337      413       -76
GIANTS 0, TITANS 17
After two straight wins, and faced with the possibility of becoming relevant outside of the Basement, the Giants turn the Flounder Factor up to 11 and drop a goose egg on the unsuspecting Titans, who must muster on in the terrible vortex of playoff aspirations.
BROWNS 17, BRONCOS 16
The Blank Helmets scrape out yet another victory, this time against a dubious opponent who consistently make dubious coaching decisions that seem really…what can I say? The Brown Bombers ooze to 6-7-1, and eliminate any chance of their spending the winter in the Basement, where 10 losses is the pre-requisite. GOOD GOD, they could end up with a winning record. But let us not be hasty, as a guy named Treebeard once said.  Fill your pipe with Southfarthing leaf, and ruminate on the magical thinking of another Brownie victory over the Bengals next week.  A sweep on Cincy hasn't happened since cheese was invented.
LIONS 13, BILLS 14
No stiff is too boring to make more of a stiff for the Lions this season. Even when your opponent appears to be wearing red pajamas, and sipping hot cocoa, the Lions can find a way to lose, so matter how low the score. Fourteen first downs, seven punts, and another day at the Freezer in Buffalo results in the Pajama Men winning their 5th game.  Both squads now 5-9, and teetering on the TEN CLUB membership.  Two weeks to go.  Who can achieve greatness?
CARDINALS 14, FALCONS 40
The Cardinals, that's who.  Greatness awaits this collection of self-inflicted wounds and miscues that masquerades as a football club. The Moldy Carpet is there for the taking. 
Breathe deep, the gathering gloom (cough what's that smell?)
Watch lights fade from every room (hey Marge, the TV is broken)
Bedsitter people look back and lament (if only we'd played better on 50 or so snaps, we woulda won)
Another day useless energy is spent (do we really have to play this game?)
Yes, they did, and they thrashed the Falcons, a team in major tailspin mode, and spun them right back to thinking they are achieving victory and greatness!  The Crudinals didn't score until it was safely 40-0, and no one was looking. Seven punts, seven sacks, six geese a laying this egg, five golden opportunities completely bungled, four mis-called plays, three french fries (cold), two cigarettes and the Moldy Carpet on the wall.
UNDERDOG OF THE WEEK!
BAGUARS 13, REDSKINKS 16
The invisible man, Josh Johnson, got his first ever win in the NFL, after seven years of waiting for another chance.  Josh!  You won!  And who else but the Baguars could provide the opportunity. Take it and run, Washington footballers!!  Jacksonville does it again in front of their slack-jawed home fans.  What a slide, what a debacle, and they still have a shot at winning the Doormat AFC. Wow.
CHARADERS 16, BUNGLES 30
What do you do when the worst defense against the run, and rather suspect defense all around comes to town?  You do the football limbo and see just how low you can go.  Rushing yards for the Oakland Tankers: 68, with 1 first down by the run.  Thirtenn total first downs. Five sacks by a team that can't sack groceries (boy was that original), and two lost fumbles.  3-11 and looking like Doormat Champions.  The Kairse O' Chucky lives on…right on the sidelines.  Very unique curse.
BUCS 12, RAVEN-POES 20
The Bucs are still coming on hard, checking in with yesterday's low in first downs, 12, tied with Miami, and assiduously avoiding the end zone after the opening TD, sticking to field goals, and sticking the Ravens with a win.  5-9 and in the hunt, but let's be realistic. Nobody will catch the Cardinals now.  Not even if they wear Barney pajamas and helmets that look like gummy bears.  Don't tell the University of Oregon's uniform designers I said that.  Please.
THE TEN CLUB
So, far only a select few, but the Jags got there this week, as did the Jetskis.
RAIDERS      3-11
CARDINALS  3-11
49ERS         4-10
JAGUARS    4-10
JETS           4-10
And a veritable flotilla of 5-9 teams, teetering out on the patio, trying to survive another night by the dying embers of the grill.  Buck up!  There's another game to play next week!
aaaAAAAAAnd That's the View From the Basement!!!!