"Where would we have been without the Isley Brothers?"  Paul McCartney asks, clutching the mike and turning to guitar player Ernie Isley. "We would still be in Liverpool!"
The crowd roars and Isley begins to strum the opening chords of "Twist and Shout." The stage is crowded with top performers – Usher, Bon Jovi, Jennifer Hudson, Pharrell – who all join in a rollicking version of the classic.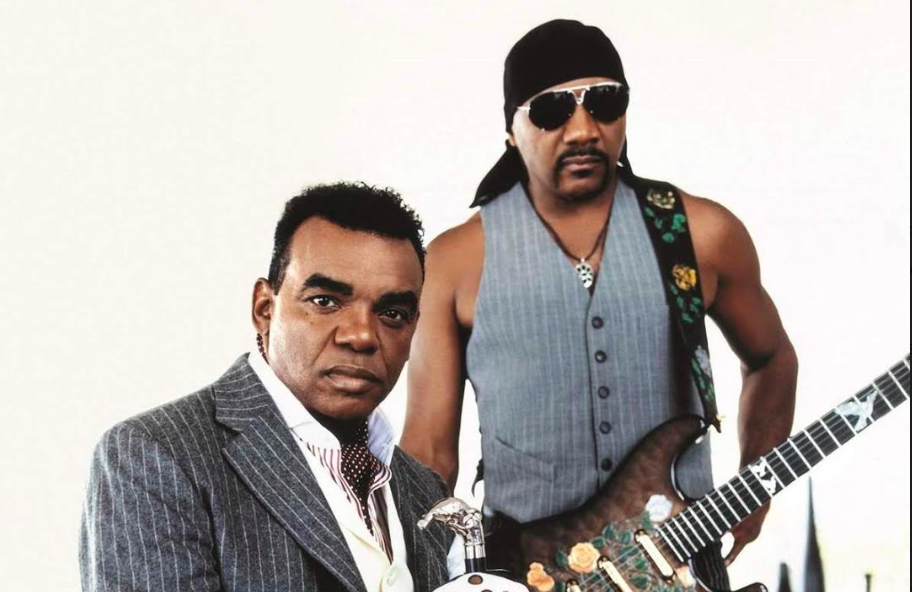 Ernie Isley laughs as he recalls that memorable night in 2012, a benefit for the Apollo Theater.  He had just met McCartney for the first time that evening.
Isley and his brother Ron — the current iteration of the extraordinary band that has been on the charts for decades — are headlining the final concert of the season at Stern Grove this Sunday, August 18.
I had a special reason for wanting to interview the renowned guitarist.  We are both from Teaneck, New Jersey.  One of my high school friends remembered that their mother, Mama Isley, played piano and led the choir at his church, First Baptist  in Englewood, another that Ernie's niece Tonya was captain of the Teaneck High cheerleaders in 1972.  And we all remembered dancing jubilantly to  "Shout!" We were thrilled when the Isley Brothers named their independent record label T-Neck Records.
The town is still pretty proud of these hometown musicians.  The Teaneck Town Council is considering a petition to rename the street that the Isleys lived on from Van Arsdale Place to the Isley Brothers Place.
When told about the resolution citing the group's "unique cultural heritage," Ernie said, "That would be really nice if they do that  — quite an honor."
It would add to his many honors. In 1992, the Isley Brothers were inducted (by Little Richard) into the Rock and Roll Hall of Fame.  Three years ago, Ernie was awarded an honorary doctorate from Berklee College of Music in Boston, the largest independent college of contemporary music in the world. The group received the rare Lifetime Achievement award from the Recording Academy in 2014.
Ernie Isley was just a kid when the elder Isley brothers formed a band in the 1950s. Over six decades, they have had four Top 10 singles on the Billboard 100, including the Grammy-winning hit, "It's Your Thing," "Who's That Lady," and "Fight the Power." Thirteen of their albums have been certified gold, platinum, or multi-platinum by the Recording Industry Association of America.
Though now regarded as one of the country's most exquisite guitarists, Ernie started out on drums and also played bass on "It's Your Thing," recorded in 1969. His older brothers influenced him a lot since they rehearsed at home.
"When I was just eleven and Marvin was ten, we would listen to them play for hours.," he recalls. "There were great musicians in my brothers' band. One of the guitarists   happened to play guitar left- handed," he paused before letting me in on the secret.  "His name was Jimi Hendrix."
Hendrix was a member of the band and an Isley houseguest from 1963 to 1965.  "My eldest brother O'Kelly told my mom that they had just hired a new guitar player and he needed a place to stay for a little while – she didn't know it would be for two years!"
"Our weekends were quite interesting.  Marvin and I would be in the backyard playing with our friends – but when the band started rehearsing our kickball game would stop and we would run down the basement and listen to them play.  They would play all day," he recalled.
"Sometimes in the evenings, my mother would get calls from the neighbors complaining about the noise. You know, those same people, if you put them in a time machine and they went back to the old neighborhood, they would have a totally different attitude now!"
Ernie remembers Hendrix as a gentle spirit who had a good sense of humor and a good appetite.  "He told my family how much he appreciated the hospitality – he was never charged for food or rent.  My brothers even bought him a guitar. When he left, he asked my brothers for one favor – he wanted to take the white guitar with him. They gave it to him – it was the first Fender he ever had."
Ernie was just 14 when he played his first live gig with his brothers in Philadelphia.  "I was on drums then, but after I heard Jose Feliciano play 'Light my Fire' that made me want to get a guitar."
He got his first guitar in September 1968, and learned to play by ear. Of course, Hendrix was a reference point.  "If he'd been around to hear my guitar solo on 'Who's that Lady' he would have given me something between a tackle and a bear hug!"
The Isley Brothers have been lauded for their musicianship, their lyrics and their phenomenal range, which goes from doo-wop to funk to soul and R & B.  That's probably why their hits have been sampled by a wide array of musical groups, including Ice Cube, Biggie Smalls and Gwen Stefani. "Everybody has done 'Shout!'" Ernie laughs, "it's like the rock and roll version of Happy Birthday!" Their songs have also been covered by the country's most celebrated musicians, from Aretha Franklin and James Brown to Marvin Gaye and Bruce Springsteen.
Even their songs that grew out of the turbulent 1960s and 70s, like "Fight the Power," continue to resonate today.  "Harvest for the World" whose lyrics represent the Vietnam War and the peace movement is completely relevant:
Dress me up for battle, when all I want is peace
Those of us who pay the price, come home with the least
Nation after nation, turning into beast
When will there be a harvest for the world
"Maybe that song will become part of some worldwide movement," Ernie mused, "it really does involve an embrace of humanity."
ISLEY BROTHERS
Sunday/18
2PM Sigmund Stern Recreation Grove
19th Ave & Sloat
Free, first-come-first-served seating