Imagine a city that cared enough about a $6 billion dollar industry—and the creative people who've built it—that it figured out a way to preserve it?
Imagine paying DJs, artists, performers, drag queens, promoters, sound techs, graphic designers, and all the wonderful players who make SF nightlife amazing enough money to stay home, rather than desperately try to save their livelihoods.
Imagine a city that clearly and equitably lays out the dos and don'ts of gathering as a pandemic wears on, and promotes them so everyone sees them and is on the same page?
Imagine taking this opportunity to completely rebuild a sprawling global scene, capitalized on by bad faith players, into the utopia dreamed of by generations of dancers? 
It feels so silly to lay out these obvious thoughts, which of course we've all been thinking for more than five months now. So easy to feel full-on nihilistic as venues and nightlifers continue to scramble towards whatever finish line—"closure" has so many meanings here—that we're continuously, endlessly approaching. Lights out, Ibiza! 
Meanwhile, everyone's just basically WTF. Hanging on barely by their half-year-old French manicure, looking by now like a rusty horse's hoof. Drained by the Zooms and Twitches and Lives (which are actually still quite marvelous, it's just so hard to commit). The lack of clarity—partly due to an unknown deadly disease, partly due to unclear messaging and leadership—has been an emotional and physical and spiritual drain.
Yes, I've clucked in horror at all the big DJs throwing parties and playing packed gigs despite spikes in several countries and regions. I've recoiled instinctively at the awkwardness of socially distanced raves and other sad Bubble Boy efforts to claw out some form of party normality in dangerous times. Even some of my absolute faves are making questionable choices (with the most eye-rollingly boring results). Why?
Nightlife is so essential to culture, mental health, and queer and BIPOC wellness and history. I understand the "generational urge" to party (and the snippy urge to shame current partygoers), even though I know there are thousands of us sacrificing our desire to let loose in a social atmosphere for what used to be called the "greater good." (Look at me, being snippy already!) People are struggling with lack of connections and vibes, it's a real thing.
Not gonna lie, though: Some of the partying is just dumb on a frat house—sorry, influencer house—sublevel. But above that, from undergrounds to limping festivals, the world seems in a state of zombie nightlife chaos. On one hand, we're affirming how globally connected we are, which was our message from the get-go. On the other, the decentralized, DIY nature of dance music culture makes it utterly ungovernable. Some medium needs to zap up Godfather of House Frankie Knuckles to set down new rules, or update those 10 Commandments of the Dancefloor.
Here in SF, we've had our fair share of party fouls, foibles, fuck-ups, and false alarms. I've seen six-feet-spaced park parties that look about as fun as a long-distance call to an unfavored great uncle, and crowded backyard "pod" gatherings that could double as swinger orgies. The city policy as to which bars can be open is a wreck. There's a 50/50 chance the closed-off Valencia stretch is a terrifying block party on most nights. Suspicious hoots and hollers echo from random backyards. The mild-mannered, golf-shirted techie next door held a rager last week. He played "Get Lucky" three ties in a row, which is surely another way to visit devastation upon one's neighbors.
Girl, it's a mess. But some are using the moment to step back, take a breath, and use this pause to dream of a better future for nightlife, once it comes back online. Off the booming fog of the dance floor, previously unheard voices—Black, POC, queer, women—are aiming for, and sometimes achieving, big changes in industry equity and representation.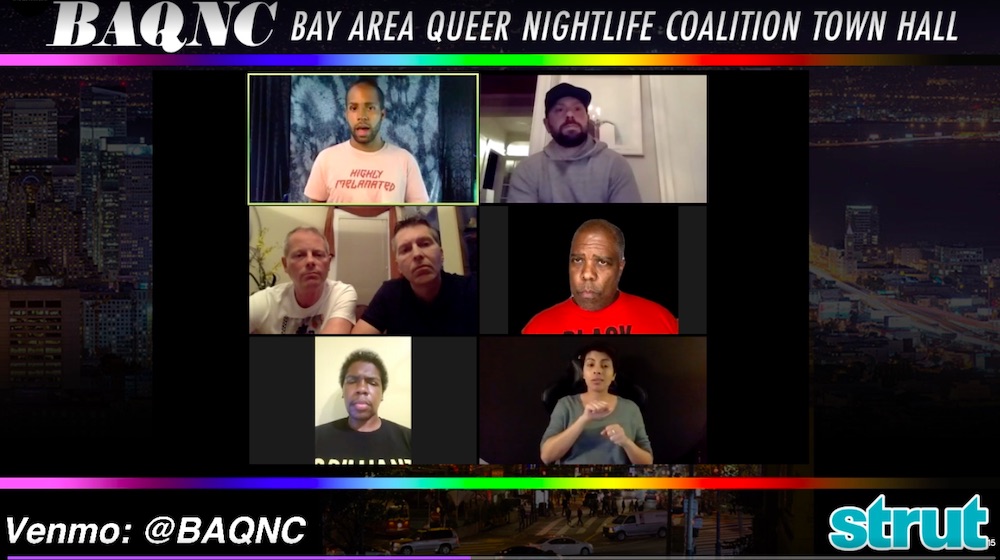 Here in the Bay Area, the queer community has stepped up to initiate deep conversations about racism and reparations in clubs and other spaces—and ways to move forward on these issues as COVID still clutches us. In online town halls, the Bay Area Queer Nightlife Coalition is connecting hundreds of POC voices with venue owners and management, discussing the results of an online survey about each venue's level of inclusion and safety. (Predictably, some owners were shocked—shocked—at being calmly questioned by young people of color. Others get it, listening with the intent to actually improve and serve their patrons. In an increasingly conservative gay city environment that freaks out at the mere idea of altering the rainbow flag slightly so people feel more represented, that's something!) Another online event, called Courageous Conversations: Confronting Racism in the Castro also focused this month on trying to change the traditional gay neighborhood for the better.
The local queer community has also done a terrific job of supporting itself during this time—the most visible manifestation of which has been the SF Bay Area Queer Nightlife Fund, which has raised hundreds of thousands of dollars for local performers and techs. They held a forum of their own this month, a community brainstorming session called 'What Makes It a Party for You?' which focused on how to reinvigorate online excitement (seeing how Venmo tips are how most performers get paid these days) and how to bring back nightlife in ways that would emphasize ingenuity and safety. A wealth of community ideas were presented, from safely distanced bike parties to building a new, centralized online nightlife platform that would directly benefit the community, rather than boring billionaires.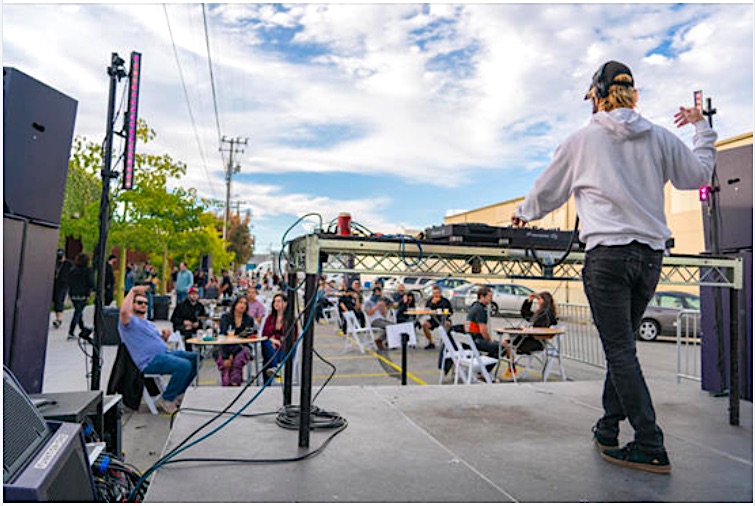 I haven't seen conversations quite like this in the broader San Francisco nightlife community. Other than a top-down citywide Nightlife Summit in early May, a petition push from bar owners to reopen in June, and a few active Facebook groups of venue owners and music enthusiasts, there hasn't been much of a public, unifying voice, in the spirit of the legendary Late-Night Coalition which helped save nightlife in the 2000s. Venues like Public Works and the Midway have valiantly thrown intriguing if somewhat grim-looking events that seem more like seated brunches than wild nights. But they're trapped in a framework of regulations that doesn't seem to fully understand what nightlife is.
Working within the strictures of what the government currently allows have ignited fears that the worst parts of nightlife—table reservations and bottle service; booking "bankable" mostly white, male talent due to fears that high costs must be recouped; big, venture capital-backed clubs surviving while small, more underground venues fail—will return before the good stuff.
That's what all this conversation and exchange is so necessary. All the great grassroots and venue ideas in the world won't help, however, if we're still (rightly) relying on the city's guidance—but the city isn't listening to us in return. It was an enormous relief to have Laura Thomas of the Entertainment Commission speak up at the Queer Nightlife Fund forum and tell participants that "We are here, we are listening." I hope they're listening to other conversations happening, too—and not just those from people with access to City Hall.
Because we do need that crucial guidance from city leaders, especially as we remain in a hot COVID moment. And as partygoers, no matter how much we want to stretch the boundaries, we have to perform that perverse trick of being the fabulously moral degenerates the room. We're just going to have to keep our party plans on hold and our Twitches fired up to protect each other. Keep the conversations going, keep the pressure on the city to get things in order. Don't shame, educate. And keep the pandemic PLUR flowing for everyone in need and reaching out.