There are lots of big questions about COVID-gutted San Francisco nightlife that have yet to be directly addressed. How and why are live venues, nightclubs, and bars expected to still pay rent while being restricted from opening? Why are all venues and bars being considered under similar terms, despite vast differences in capacities, licenses, ownership structures, and sizes? Will eventually being allowed to operate at 25%-50% capacity help bars survive—or drag them under? How does contact-tracing work at parties, or masks at bars?
And since nightlife and entertainment is a $7.2 billion dollar city industry, not to mention a huge tourism draw and cultural legacy, why isn't the city pumping it full of grants and other material support right now to ensure its survival?
Answers to those questions didn't come Monday afternoon, during the San Francisco Virtual Nightlife and Entertainment Summit 2020, organized by the Entertainment Commission to address the industry's COVID crisis. (Is there any more depressing sign of what's happening than a nightlife conference on Monday afternoon?)
Also missing were voices of actual workers, relegated to Zoom's Q&A function, rather than just officials, owners, managers, and CEOs. And there was a lot of "we're all in this together and we'll get through it," when, for increasingly desperate business owners forced to rely on GoFundMes and averse to shouldering loan debt in uncertain times—that clearly may not be the case.
Still, there were some valuable numbers and ideas to be had, expressed on two separate, lively panels that addressed both the current situation and the future of nightlife in the city.
A link to view the summit should be posted on the Entertainment Commission's Facebook page soon: I'll update when it appears. 
The first panel, "San Francisco Now," included participants SF Chief Economist Ted Egan, Director of the San Francisco Office of Economic and Workforce Development Joaquin Torrez, City Administrator Naomi Kelly, and Entertainment Commission Director Maggie Weiland. Here were some key takeaways:
18% of the SF labor force has applied for unemployment in the last two months, the highest percentage ever recorded.
Up to 50% of that unemployment number is nightlife and entertainment workers. As far as direct relief goes, OEWD's Torrez urged workers to file for unemployment and not just assume they'll hear "no." Torrez said to keep an eye on the OEWD website for any upcoming guidance and relief efforts.
City officials are looking toward the end of 2021 for nightlife to be reopened in some semblance of previous functionality, but getting back to anything that looks like full recovery may take until 2023 (this is especially true for full capacity at fairs and festivals), according to Chief Economist Egan. These will all be part of a Phase Four reopening; we are currently at the beginning of Phase Two. Arts venues like theaters and museums where social distancing is easier may be part of Phase Three.
The Give2SF fund has grown to $26.3 million —this was clarifying news, since the city-organized fund, which depends on tax-deductible donations, has been a bit cloud-shrouded. At first it was pitched to specifically help the city's homeless in some unspecified way, now it's being defined to address broader concerns: food insecurity, access to housing, and helping workers and businesses. There was no announcement on how the fund will be disbursed in the future. Jack Dorsey of Twitter has contributed $15 million for his "Start Small initiative" to expand testing and help undocumented workers.
The City is working with the ABC to continue to "innovate" with alcohol restrictions. Already, cocktails for takeout and delivery are options for many establishments, and officials are looking into outdoor expansion for bars and music venues to help with social distancing as well as other ideas.
The decision when to reopen bars and clubs will be a regional one. While state guidelines will definitely be part of considerations, City Administrator Kelly said that it was up to the region to set its schedule, since the virus is more of a regional phenomenon. On Monday, Governor Newsom announced an accelerated schedule of reopening that may mean most California counties could resume in-restaurant dining, hair appointments, and religious services. ("Why are restaurants considered more essential than bars?" a summit-watcher commented.) And officials from five Bay Area counties reaffirmed they would return to a unified reopening plan after a couple counties started setting their own goals.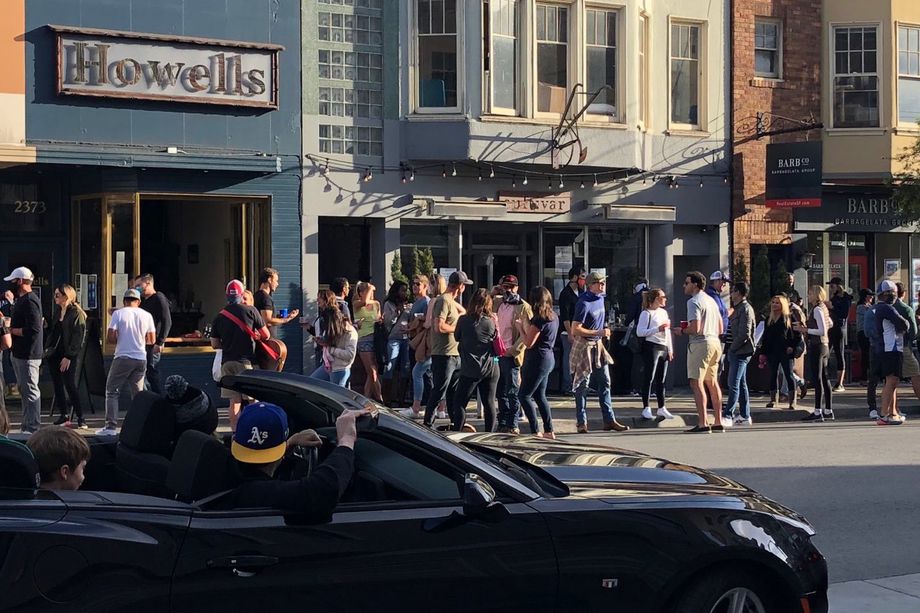 "Pent-up demand" was the phrase on everyone's lips, especially since the latest COVID-flaunting viral scandal, featuring dozens of unmasked, un-distanced Marina-ites gathered outside Howell's Bar on Chestnut Street. As an in-depth article on Eater SF about the incident shows, before Monday's reopening of 95% of retail businesses and a big portion of manufacturers, overeager self-isolators were starting to crowd onto sidewalks, as they had thronged to Dolores Park two weekends ago. This chomping at the bit was seen as booth a boon—it may be easier for businesses to recover, however slowly—and a danger: Would reopened bars and clubs be overwhelmed?
On the second panel, "The Future of San Francisco Nightlife," Bottom of the Hill co-owner and concert booker Lynn Schwartz had a strong answer to that last concern. "We have experience dealing with people who don't want to comply with the rules," she said. "We're fine with telling them to wear a mask to come in or fuck off!" It was such a welcome flash of old school rowdy SF spirit that I nearly wept into my afternoon Cosmo.
Schwartz was joined by Entertainment Commissioner, multiple bar owner, and nightlife activist Ben Bleiman; Chase Center General Manager Kim Stone; and Eventbrite founder and CEO Julia Hartz. Hartz seemed an oddly out of touch choice at first—the otherwise solid panel moderator, SF Chronicle Business Editor Owen Thomas, mentioned Eventbrite's recent IPO but not its recent massive layoffs—potentially pushing in the usual tired direction of "industry leader" fawning.
(That niche was filled by a goofy, very contemporary-hippie coda to the summit featuring Joie de Vivre founder and former AirBnb executive Chip Conley Zooming in from his Baja home to share what he learned about happiness in Bhutan and leadership after 9/11—hell yes he quoted Rumi.)
But Hartz, tapping into Eventbrite's international database, shared some valuable info about how she's been seeing nightlife adapt in countries that are beginning to open up—very small events and more of them—as well as how venues and entertainers were nimbly making the transition more and more to online. One positive of the Zoom/Twitching of local nightlife is that our DJs, drag queens, and other entertainers been reaching global audiences and expanding their reach.
There was another potential silver lining that Bleiman brought up, which was that with major acts cancelling arena tours, local music acts and performers could be called in to fill SF's vacated larger venues. There could be a renaissance of local arts, he said. Bleiman also pointed out that ABC had eased alcohol restrictions and the sky hadn't fallen, which suggests those restrictions may be outdated.
As for giant arenas, Stone of Chase Center also talked about being nimble, considering smaller acts or games in different parts of her venue, and experimenting with different uses. (She actually got a question about how to book Chase Center during the panel.)
Stone cited a recent fan survey from concert booking giant Live Nation about how COVID is affecting peoples' live event expectations. The survey revealed that 79% of active fans expect to attend a concert again within four months, 90% of ticket holders still plan to attend concerts that were postponed, and 72% say that watching performances online makes them more excited to attend live events.
Again the phrase "pent-up demand": "We know it's there," said Stone, "we just have to be nimble about how we can tap into it safely."