Whether you're celebrating at home alone or with a bestie or loved one, Valentine's Day is the perfect excuse to treat yourself right with a day of cannabis. Sure, flowers and cards are nifty, but the gift of weed is tons more fun and sexy.
Here's my strategy to get through the day in a puffy cloud of bliss.
First, start off the day with a pleasantly buzzy beverage. I have hearts for the Purple Passion soda from Keef. It's 12 ounces of yummy, bubbly grape soda that packs a pleasant 10mg THC punch. The flavor is not too sweet, but it is still a nice throwback to my grape soda days of yore. I also like the giddy buzz carbonated cannabis drinks provide.
Next up, I pop a Kiva's new Lost Farm Watermelon flavor fruit chews in my mouth. My teeth push their way into that sweet and tart, waxy candy as my tongue tastes the tangy weediness of that Starburst-like chew. I am a big fan of the new strain gummies, and this one with the live resins of Wedding Cake and Watermelon Zkittlez does not disappoint! Each bag has ten 10mg chews and sells for around $25. Now you are ready for the day.
A little pick-me-up later calls for a nice Purple Sun mini-joint enhanced with kief by Jetpacks. These babies actually smell and taste like grape. There are six .5g joints in the container, and it sells for around $30. Yummy! Indica is the perfect way to relax for a night of enjoying your favorite movie or a sexy date night.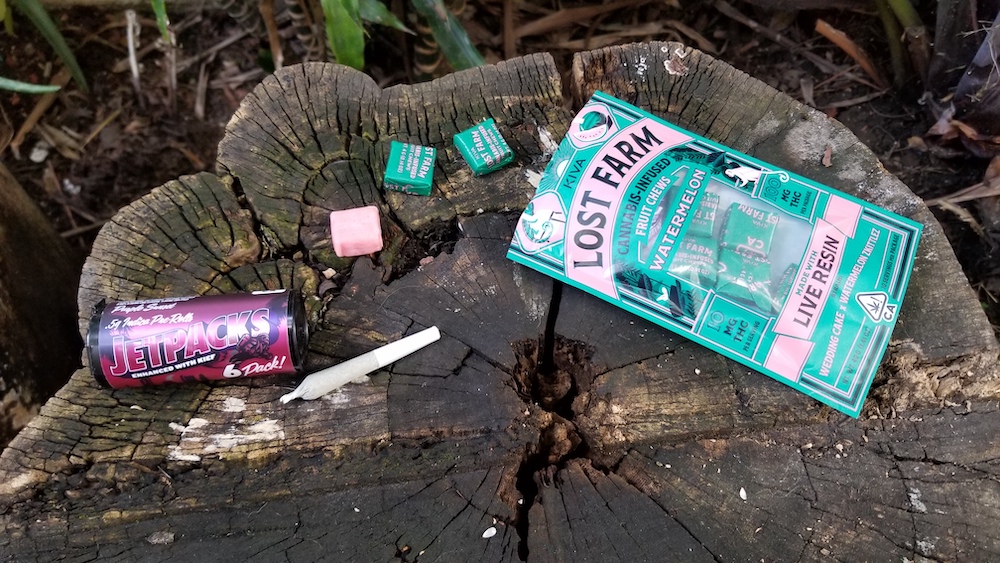 With my taste buds now abuzz, time to get to the chocolate. What VD would be complete without indulging! 
I am all about Kiva's Churro and Raspberries & Cream chocolate bars. They pack 100mg THC in 20 pieces and run at $25.
The Churro chocolate has a nice smooth texture and the flavor is enhanced by a light sprinkling of cinnamon. The back of the bar is coated in sugar crystals to give you that churro-y crunch sensation, and it is delightful. Hopefully, I can stop snacking on them long enough to get all this written down.
The Raspberries & Cream has a nice creamy white chocolate feel and a nice tart stab of raspberry flavor. It plays well in your mouth and is a pleasure to eat.
For an extra sexy touch, you can melt the chocolate in a double boiler over gentle simmering water and dip fruit like strawberries, nuts or any old thing your heart desires in it. Place on wax paper and refrigerate until set or just lick it right off and make it extra messy. Serve with champagne or a bubbly cannabis drink.
I love peanut butter cups, so I am delighted to find Emerald Sky's delectable version. Each cup contains 10mg of delicious THC and is rolled in crunchy sugar crystals. They taste just like they should with almost no cannabis flavor.
Beware of all this candy though, it is easy to forget they are weed. Especially after you are stoned! Set a limit, otherwise, you will spend the holiday quietly staring at the wall with an untouched glass of water next to your chair.
When you cross those power buzzes of sugar and cannabis you get that wacky up-the-downstair-case feeling, so now is a good time for some sexy time, work or cleaning the place up and mopping. Your choice.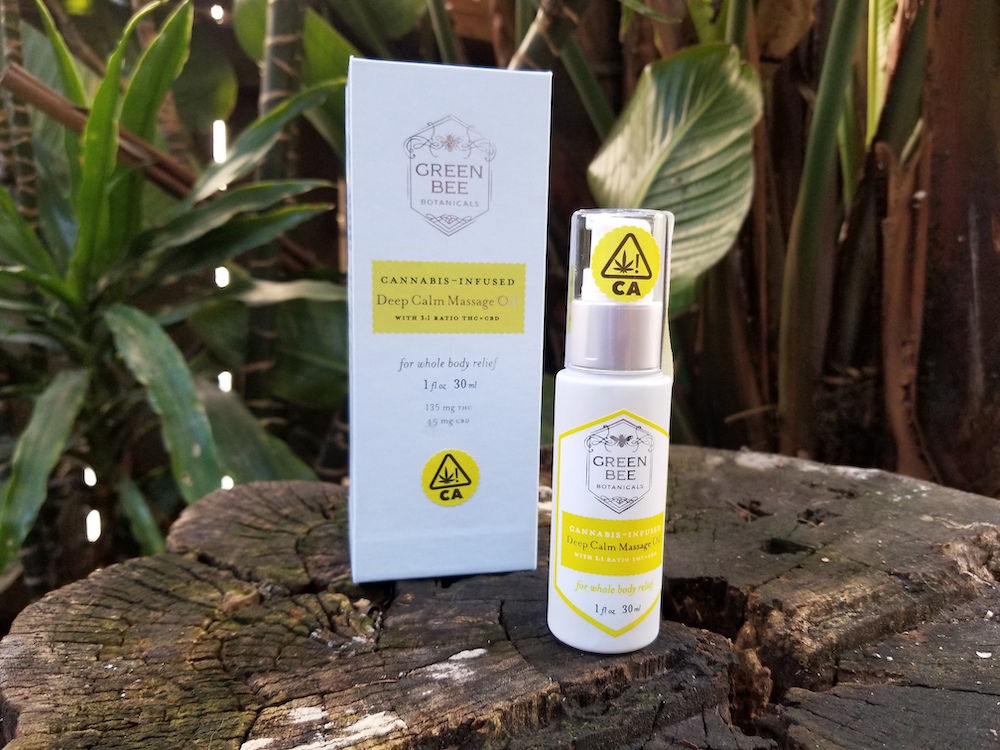 So as the day slips away, it is time to relax and let all the intricate irritations of the day fall aside. Jump in a hot, steamy shower and ease those muscles. Afterwards, you can rub down with Deep Calm Massage Oil from Green Bee Botanicals .
I have been using the massage oil on my neck and shoulders during the pandemic because I store all my stress there. I use it weekly with great results. It has a 3:1 ratio of THC to CBD and sells for $38 for a 1oz 30ml bottle.
Now, it's show time, so grab some snacks and nestle in for your favorite movie depending on your take of the holiday. Why not a classic romantic movie like Two for the Road with Albert Finney and Audrey Hepburn or maybe a gay romance like Edge of 17? Sometimes, I am more in the Silence of the Lambs state of mind. It's all fun to watch stoned.
Now, light up some nice flower like my current favorite sativa Lava Flower from A Golden State which has a nice Jack Herrer edge with the zonky buzz of the Lava Cake.
After the movie, it is time for an indica gummy and bedtime.
If you follow my finely stoned strategy, you will get through Valentine's Day with a long-lasting giddy fun high that you can do alone or share with others. It works for everyone. I guarantee it!
If you are looking for something a bit bigger, may I suggest Lucky Box Club's wonderfully curated Eros Collection for $156. It comes with cannabis flower, candy, massage oil, gummies, a special vape kit, bath soak, spray and more! Too bad there isn't an option for a cute, stoner boyfriend as well!
Your favorite dispensaries are having specials and sales now, so be sure and shop around for your best deal. There are many wonderful options out there.
Valentine's Day is more a state of mind than anything. Get your inner Valentine high with good self-love, and let it radiate to all those you care for. There is a light at the end of the tunnel, and we are almost there, one toke at a time. Be well, be safe, be stoned.
Now, it's time to eat up some more of that Churro chocolate!