Over the last four years, The Legion of Honor has boldly shaken up its curatorial model, inviting contemporary artists like Urs Fischer, Sarah Lucas, and Lynn Hershman Leeson to interact with their French NeoClassical building and its collection in unexpected ways. In Nairobi-New York artist Wangechi Mutu's "I Am Speaking, Are You Listening?" (through November 7) the artist presents a series of figurative sculptures, paintings, and video that fantastically hybridize human, plant, and animal. Using patinated bronze and earth, Mutu's dark brown and black figures intervene on Western-centric histories to claim space and offer alternative mythologies.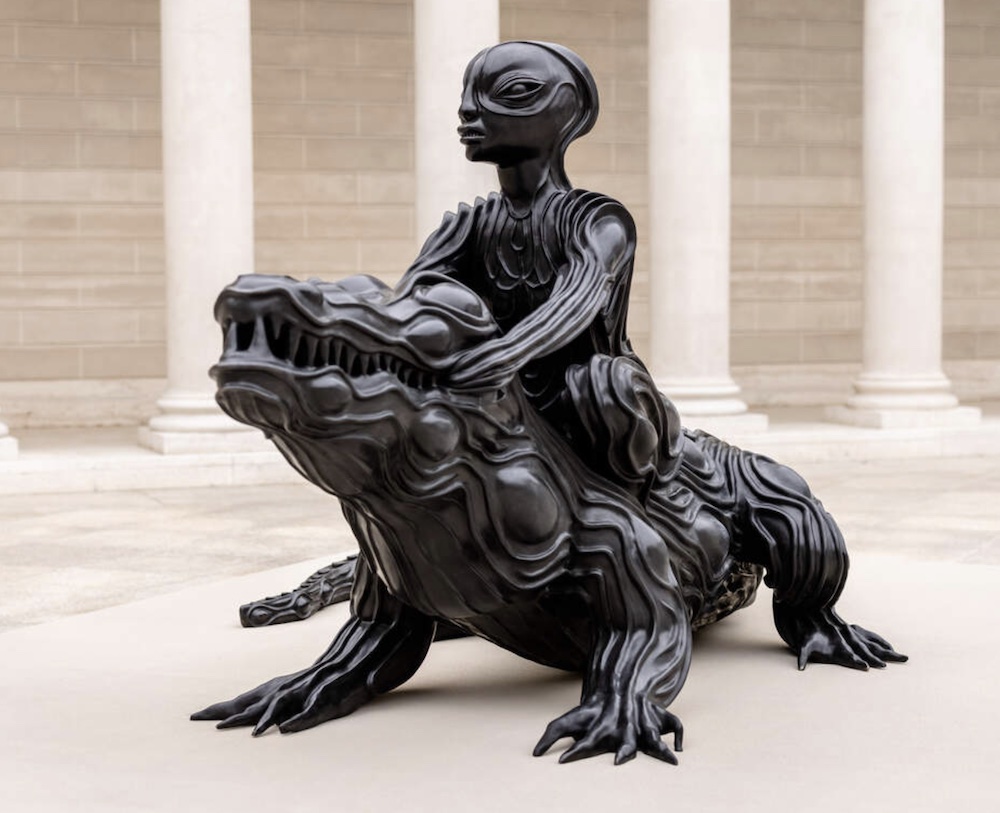 As NeoClassical architecture is frequently adorned with ancient Greek goddesses and mythological figures, Mutu stages four allegorical bronze figures at the museum's colonnaded entrance. Most strikingly, Mutu places two female figures, "Shavasana I" and "Shavasana II" (2019), at the base of Rodin's "Thinker" (1904). Lying on their backs, the figures evokes the rest and recovery yogic "corpse pose" to pay homage to the violence and suffering of Black people globally and domestically, particularly women.
As we respectfully cover the deceased, bronze woven mats conceal the women's torsos and heads, with only their hands and feet extending outwards. Almost jarringly, the figures' brightly painted finger nails and high heels locate them in the present day. Poignantly, the figures' finely detailed skin texture and creases suggest the process of life-casting, where mold making materials are placed on the body to create indexical impressions. Poetically and as a process, life-casting plants the stakes for Mutu's mythology in the lives of real women.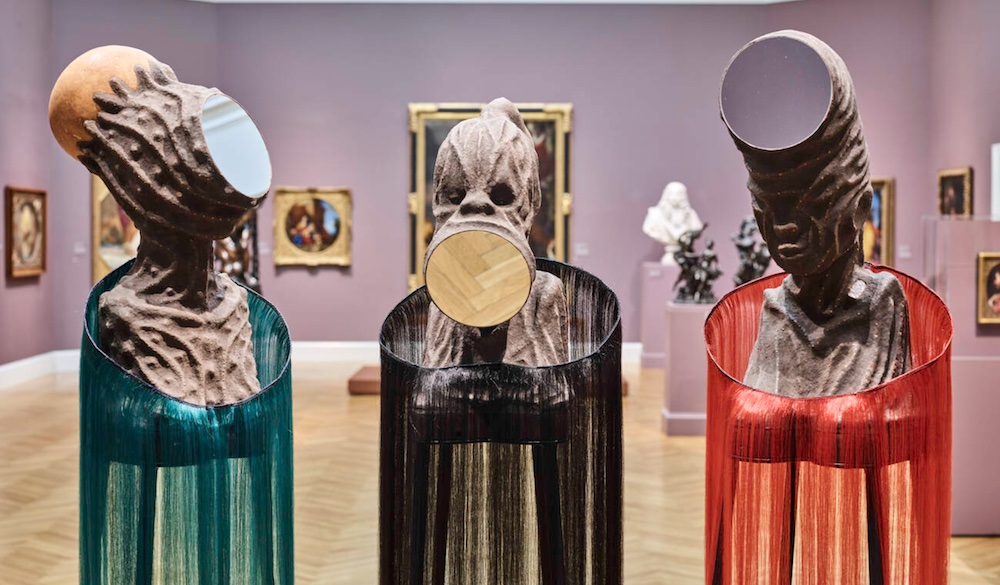 Upon entering the galleries, viewers encounter "Mirror Faced I," "Mirror Faced II," and "Mirror Faced III" (all 2020). While the Three Graces—Greek mythological goddesses that represent charm, beauty, and creativity—are frequently represented in white marble, Mutu presents three distinct figures fabricated from dark soil and draped in bright green, black, and red gowns. With a circular mirror emerging out of one of the figure's mouth and elaborate raised linear patterns across their skin, Mutu evokes lip plating and scarifications, non-Western traditions of beauty, ornament, and power. Moreover, with mirrors positioned on the face, mouth, and atop the hair, the figures reflect the floor, ceiling, and viewers, such that reflection is a defense, a conduit of cosmic energy, or a frame for viewers to see themselves.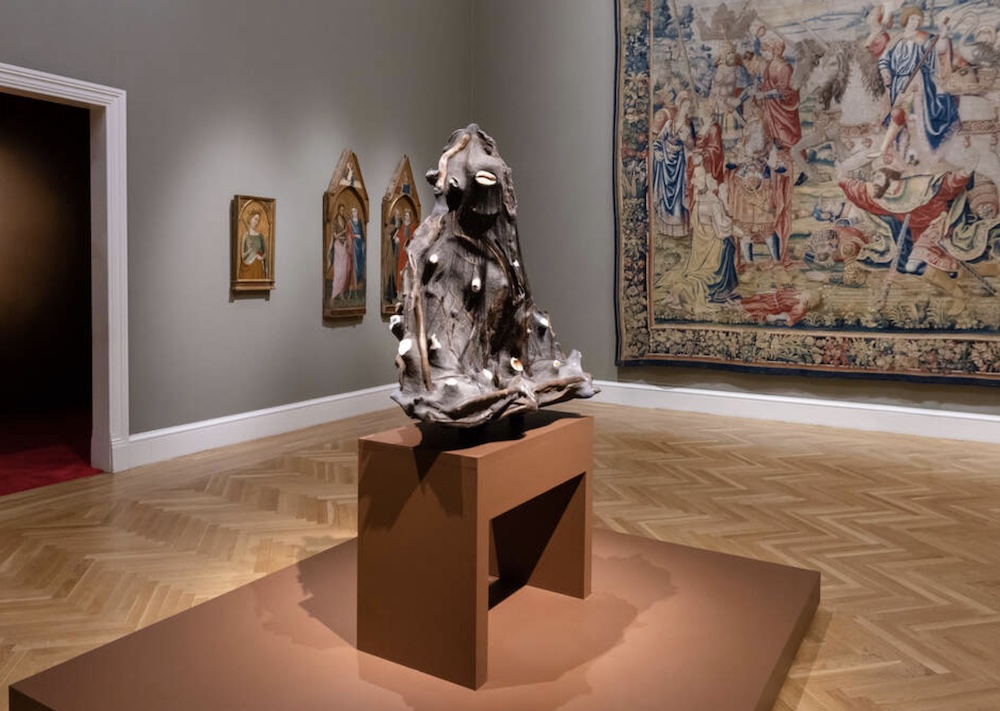 In the gallery of 14th and 15th Century Italian and European religious works, Mutu's "Seeing Cowries" (2020) stunningly reverberates with the collection's icons and alter pieces. With a peaked top and wide base, Mutu's seated figure suggests a mountain and a Buddha or Ganesha figure, absent amongst the museum's Christian icons. Constructed from paper pulp, wood, charcoal, and shells, the sculpture's materiality speaks to the earth as place and creation myth, akin to the golem of Jewish folklore. Astutely, placed at the entrance to the screen room, Mutu's alternative reality and spiritual mythology is elaborated in the artist's mesmerizing animation "My Cave Call" (2019).
Rich with beautifully fabricated and provocative works, Mutu's exhibition radically disrupts Western-centric histories and the institutions, like museums, that house and rarify them. As the exhibition title indicates, the artist is speaking; it is our collective responsibility to listen and consider who and what gives voice and makes space.
WANGECHI MUTU: I AM SPEAKING, ARE YOU LISTENING? runs through November 7 at the Legion of Honor. More info here.