This week I received an unusual solicitation in the mail: a one-page, full-color flyer asking me to donate to the big private affordable housing developer, Bridge Housing.
Under the headline "MEET YOUR NEIGHBORS," the mailer features a photo of my "neighbors" Jamie and Jennifer (no last names), chemistry "professors at UC Berkeley" who "have been Berkeley residents for more than 20 years" and "whose brilliant work in chemistry is changing the world."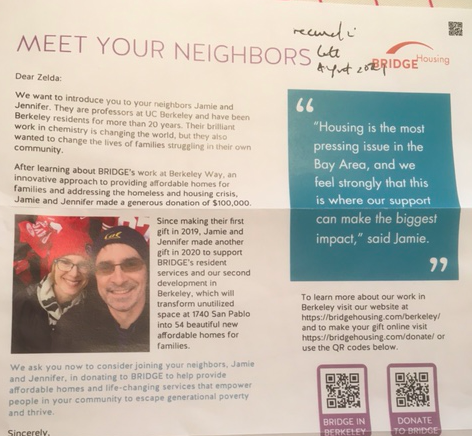 The couple donated $100,000 to Bridge in 2019 and a second, unspecified amount in 2020. At the bottom are simulated photos of Bridge's two Berkeley projects, and bar codes and URLs that take you to the company's website.
The flier closes:
We ask you now to consider joining your neighbors, Jamie and Jennifer, in donating to BRIDGE to help provide affordable homes and life-changing services that empower people in your community to escape generational poverty and thrive.
I'm not going to donate to Bridge, for the following reasons:
First, the city of Berkeley has already given $27M to Bridge Housing to help fund its project on Berkeley Way.
Second, Bridge has endorsed the two most controversial housing bills in the state Legislature—SB 9 (Atkins) and SB 10 (Wiener). If they pass—and both are on the verge of final approval, short of Newsom's signature—both bills would severely constrain local land use authority. SB 10 would authorize city councils to override voter-approved initiatives.
So much for community empowerment.