It is almost impossible, right now, to see the years 2020 or 2021 on an exhibition checklist and not think of the COVID pandemic. How did the artist's experience parallel or differ from one's own in this collectively isolated time? Which peaks or valleys of the last year guided the making of a particular work? And what has the artist, like you, remembered and forgotten? What will remain and what will fade away?
Ajit Chauhan's expansive solo exhibition of over sixty works, hapless, helpless, hell heaven, health, hello, hi, ho, home (through August 28 at Anglim/Trimble) swirls with these questions. The title is derived from found text by the San Francisco artist's landlady, who wrote the series of words as a "cognitive exercise." The tenor of the resulting words poetically evoked the ranges of emotional experience throughout the pandemic. The works in Chauhan's exhibition are also exercises of remembering: fragments of memories that have been further fragmented and then imagined anew.
Chauhan uses collected print ephemera for source material: vintage postcards and secondhand records. Particularly in this solitary moment, objects with distinct purposes and lives before meeting the artist is outreach towards interpersonal connection. The artist's gestures on these materials are at once inscriptive and redactive. Postcards bear carved drawings and geometric cutouts made by removing surface imagery. Record covers are erased into abstractions and kaleidoscopic tableaux.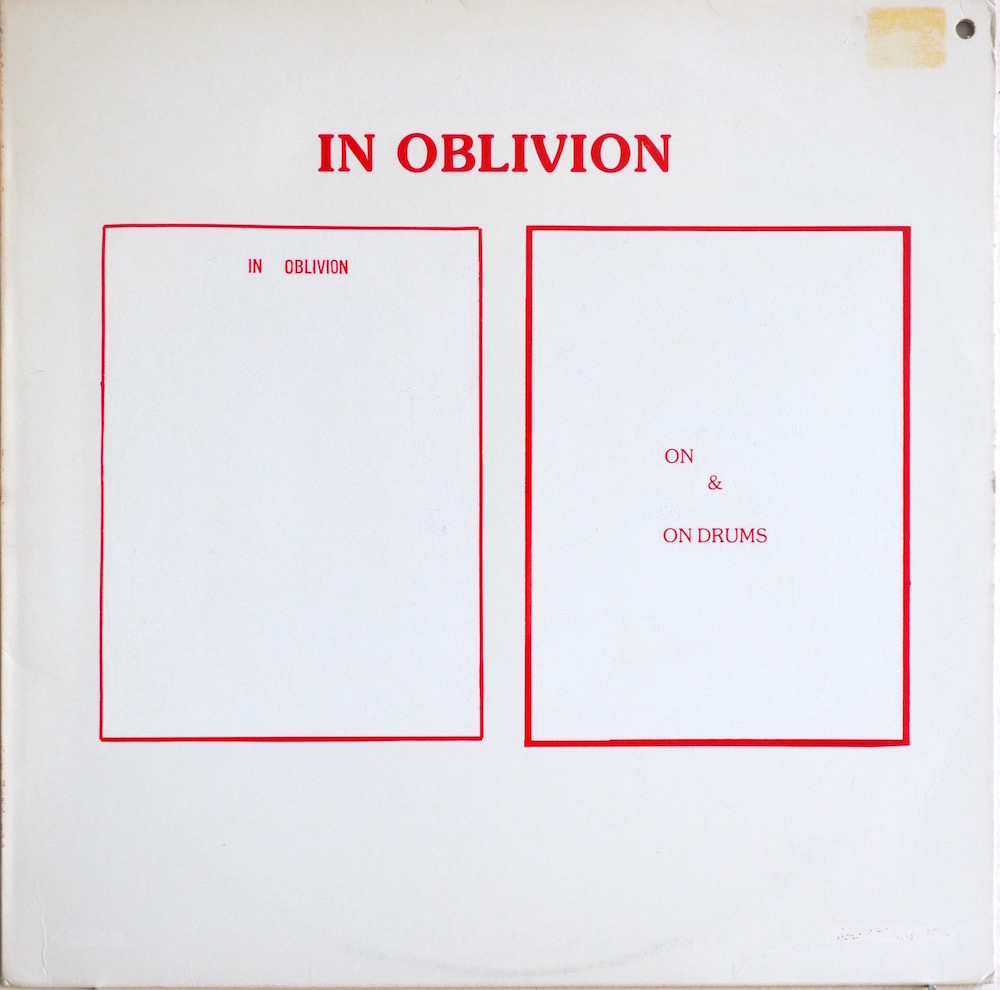 A significant portion of the exhibition shows Chauhan's works with used record covers. The earliest work in the exhibition, the powerfully minimalist Forget from 2017, has a haunting prescience toward our current moment. Red text reading "IN OBLIVION" is the focal point, foregrounding a state of mind that has felt so resonant for the past many months. Below, text reads "On & On Drums": the sentiment of days blurring into weeks into months, punctuated by news that is sometimes welcome and often not.
In other works with record covers, abstracted forms resemble attempts to remember a song and only recalling flashes that do not exactly make a recognizable whole. The rectangular forms in seafoam green and muted rose gradients in Traveler's Checks have a staccato quality that is resolutely abstract. What one remembers from a piece of music can be something distinct from the original—a new piece, as the record covers in Chauhan's works have become.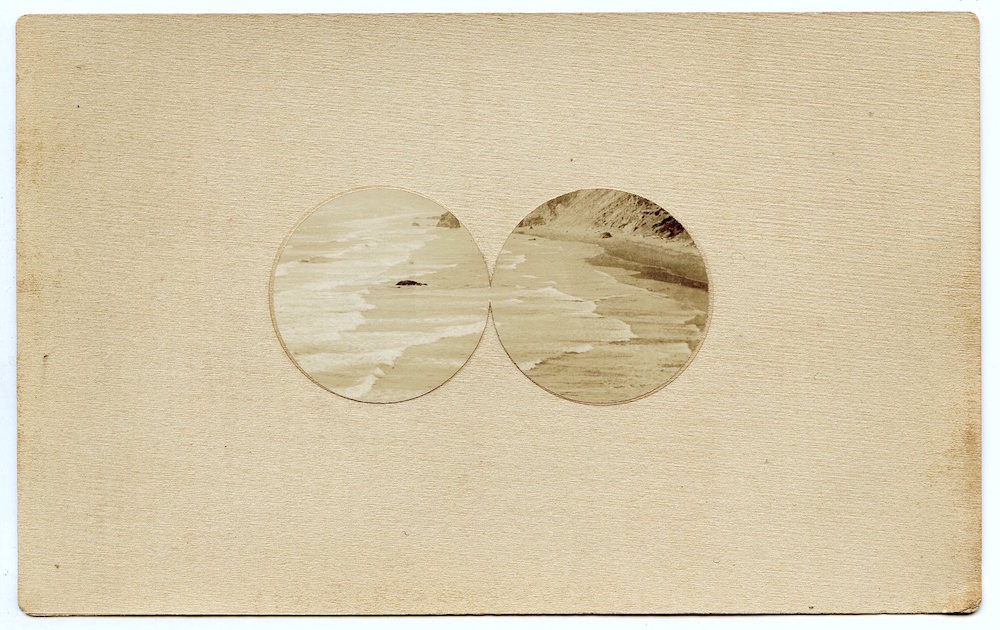 The postcard is an object designed to share experience across distance: a record of presence that declares "I was here." Like memory, however, these objects are only fragments. Snapshots of idealized vistas and short missives that "wish you were here." Chauhan taps into these ideas in a series of erased postcards, Ambos Mundos (meaning "both worlds" in Spanish). Each work is a diptych, with two postcards erased all but for two circles at each center. On the left-hand postcard in Ambos Mundos (both worlds) III is a minimal horizon line below a heavy grey sky. On the right is a wave crashing into a rock. Stillness and turbulence, like two people remembering one moment in vastly contrasting ways.
This stereoscopic view into details of the original images also underscore what is no longer there. The warm-toned negative space in Ambos Mundos (both worlds) IV leaves the viewer wanting more, beckoning towards what once lay beyond each circular piece. Might someone be riding the darkened wave in the left-hand postcard? Is the light grey expanse on the other sea or sky? The sense of what is not there, however, is not one of loss. Instead, the works provoke an intimate wonder, asking viewers to come close and get lost in the details.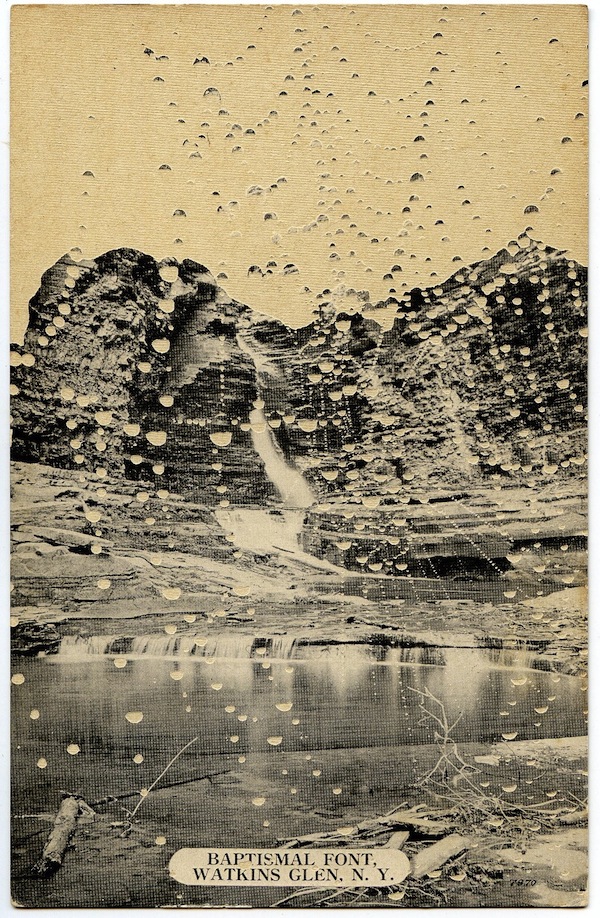 Chauhan's drawings are the artist's contribution to each object's rhizomatic history. In Wet Webs, another series of erased postcards, delicate spiderweb patterns are cut into the postcard's surface, revealing the aged paper beneath. Wet Webs II shows a particularly dew-laden spiderweb, with circular shapes cut from the black-and-white photograph of a waterfall cascading into a pool. The top third of the postcard is almost completely removed. The only remaining parts of the original image are the small cutouts that form the web. Like morning dew, the memories of each landscape seem to evaporate until only certain parts remain.
There is a deep tenderness to Chauhan's works in this exhibition. To so precisely remove layers of paper from these delicate objects asks for a careful, gentle hand. The gesture of erasing throughout is not one of erasure, but rather one of imagining. The redactions draw attention to new possibilities for these materials and our memories. Chauhan's marks declare a presence, personal and firm, that brings stability to the mercurial nature of our present moment.
AJIT CHAUHAN: hapless, helpless, hell heaven, health, hello, hi, ho, home runs through August 28 at Anglim/Trimble gallery in SF. More info here.