Are live performances back? Let's hope so. The last 18 months have been particularly tough for dance on stage. Dancers repeatedly complained about missing the connection with an audience, perhaps carried by some collective breath. No matter the noble efforts of elaborate technologies to bridge the chasm between live dance and the viewer, it rarely worked. Dance doesn't need verbal inputs but it needs the human breath.
For the last 20 years, Christy Funsch has explored movement as a non-verbal language to question established norms—political, social, and artistic. Her works are quiet, yet intense and crystal-clear; they speak strongly within their own formal terms. You may recognize a move, but it's never favored over any other. Embracing small scales, she has made dozens of solos and duets, particularly with her colleague and friend Nol Simonse. Dance to Funsch is not about physical display but about a physical practice, rooted in tasks that demand attention by their very ordinariness. In the process they acquire an almost ritualistic quality. In a recent conversation, Funsch called what she does "devotional."
With her 20th anniversary as a choreographer coming up, she decided against a retrospective—but she did want to look at what bears looking at. She found a large body of work created in San Francisco but also a deep and ongoing sadness about personal losses and the country's ongoing social, political, and racial injustices which demand atonement.
These musings became "EPOCH," a large multi-cast Christy Funsch Dance Experience work, big in its ambition but also in its performance demands. For one day only at ODC Theater, Sat/2, a multi-cast of 15 dancers, alongside musician Cheryl Leonard and designer Danielle Ferguson, will perform for 12 hours, from 10am-10pm. "EPOCH" is divided into individual sections, starting at the top of each hour. The overall structure alternates between group performances and small units. A number of duets between Funsch and Simonse offer an ongoing refrain. Both Leonard and Fergusson will perform outside their regular disciplines. At times, Funsch has said, the project almost seemed too painful and too big, yet it was one that needed to be done.
She decided on what was possible for her: for 12 hours she would make a one-minute movement fragment each. She also asked each of her dancers to videotape themselves in something of their own choice. One sent a movement improvisation, another recorded herself arranging her children's artwork. Some of those videos will be displayed in the ODC Theater lobby. She then assigned the contributed material to individual dancers who were encouraged to treat it as "seeds" that they could grow within given parameters.
Conscious of existing power relationships in the performing arts as much as in business, politics, and academia, Funsch periodically released her own directorial authority by inviting a fellow artist to direct rehearsals. "There is no reason to think," the performer-choreographer-teacher says, "that I always know the best way to do things."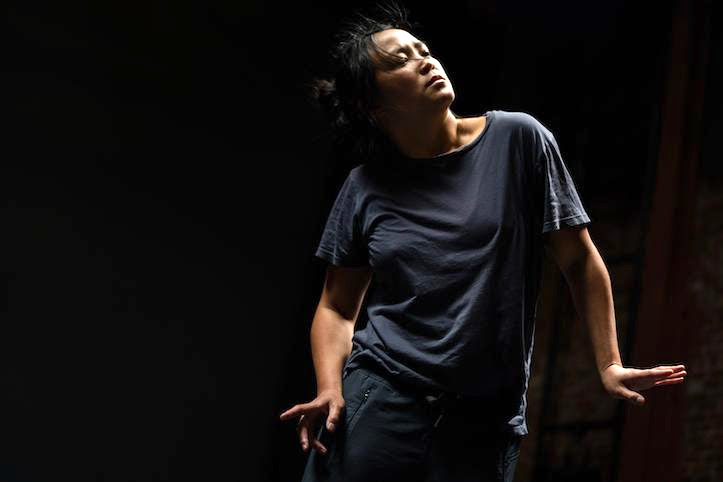 But maybe the most radical way to undercut the status quo was by inviting fellow, though very different, choreographers Jes DeVille, Maurya Kerr, and Coral Martin in a process of "wrecking." It's a way of shaping work which Funsch learned from choreographer Susan Rethorts. It allows an outsider to look at an unfinished piece and rearrange material, redeploy dancers, and reorganize the work yet without introducing new parts.The last hour of "EPOCH" will include an invitation to its dancers to also engage in their version of wrecking.
A couple of weeks before the premiere, dancer Emily Hansel rehearsed a half-hour solo in an ODC studio. Intently focused on every gesture, multilayered or straight forward, she sailed through space, balanced on the edge of her feet or curled and uncurled from the floor. Hansel embodied logic and certainty no matter how unusual an individual part might have been. The invention was rich, the development unhurried but inevitable. The whole complex work exuded modesty, embracing what needed to be done. With a huge skylight overhead suggesting a larger world, the place was silent except for the whirring of the air system, the periodic scraping of a foot and the gentle responses of the dance floor. All of it was held together by the constancy of Hansel's breath.
"EPOCH" runs Sat/2, 10am-10pm, and ODC Theater, SF. (Audiences are welcome to come and leave at will and/or tune into the theater's livestream.) Masks and vaccination proof requires. More info here.