It's time for some Good Taste around here! This is your weekly bite-sized look at Bay Area food finds and developments.
Fish sommelier? Fish sommelier! Michael Mina has transformed his eponymous San Francisco restaurant into Estiatorio Ornos, a seafood-forward Greek concept in partnership with chefs Girair "Jerry" Goumroian and Nikolaos Georgousis that also recently opened in Miami. Representatives for the Mina Group kindly invited me in for dinner last week, on the fourth night of service, to see how this former tasting menu spot has returned to its seafood roots; before Restaurant Michael Mina, his space was called Aqua in the '90s.
It's not appropriate to pretend to review a brand-new restaurant that I've been to once and that has hosted my meal. But as a frequent guest of Mina's restaurants in San Francisco, I can say that, with a high bar of food and drinks in place, my first impression is that this new incarnation fits well into the company collection.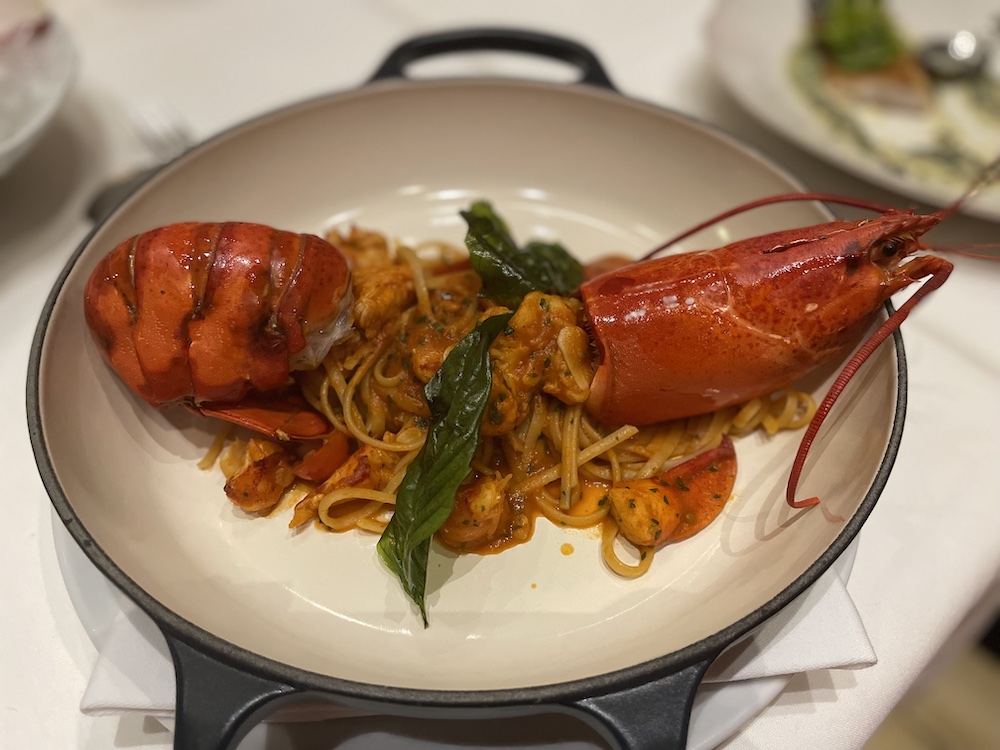 I have never been to Greece, but I have been to Miami many times and could feel the Ornos Beach club vibe that they're going for, with the new draped pillars, coral colored half-circle booths and accents. After what feels like 100 years of eating out of takeout containers and my own cookware, it felt good to see this previously fairly quiet restaurant start to unbutton a bit and animate. Tasting menu options will return eventually, but they will be for a fraction of what the Michael Mina tasting menus cost.
I know I can always expect good quality at a Mina restaurant, but I definitely giggled when I was told that Estiatorio Ornos would have a fish sommelier in the house. Would they be recommending a nice, dry glass of sturgeon at the bar?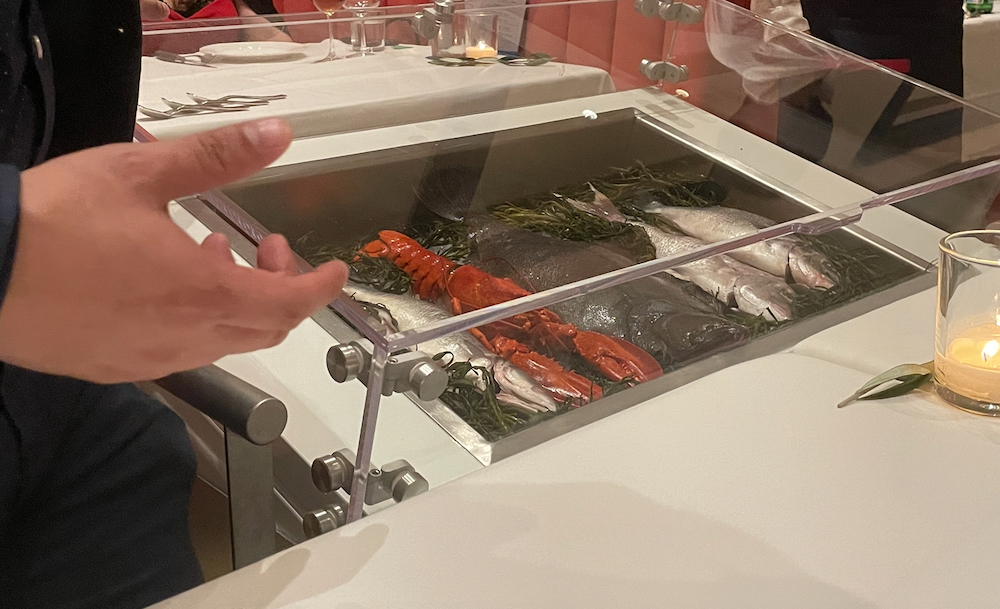 Turns out, they'd be recommending a phyllo-crusted petrale sole, topped with Brussels sprouts leaves and surrounded by a lush caviar beurre blanc, and a whole lobster served with Athenian-style pasta and Greek brandy. Both picks were first presented whole in an enclosed clear rolling cart. They were lovely selections and complemented each other well even when I started diving in and mixing it all up on my plate like a heathen.
Fish sommelier is a position that was created a few years ago by the Mina Group for use at Mina's Fish House, the company's restaurant at the Four Seasons Resort Oahu at Ko Olina in Hawaii, and is also used at the Estiatorio Ornos in Florida. The title holder isn't required to submit to an intensive education and certification process, as a wine sommelier must complete. The cart of whole fish and other sea creatures won't appeal to all diners, and I say this because I'm pretty sure it'd make my mother want to run out of the restaurant. But I enjoy how the very idea of a fish sommelier made me smile and look forward to a seafood dinner, and support the notion of a restaurant group cultivating its own vocabulary in the name of imagination. You can see more photos from this outstanding meal on Instagram.
Stars on ice: Just hours after Michelin released its latest round of stars for high end restaurants (its first in two years), I received a press release from a disgruntled local chef who is celebrating the loss of not one, but two stars out of a possible three because, to them, it represents freedom from worrying about it year after year.
Is the tide turning? There are definitely some head-scratching results in that new Michelin list, which, for example, honors a few restaurants that have been closed since the first whisper of the pandemic and don't seem to be returning any time soon. The Michelin star distinction may only go so far for a restaurateur who hasn't even begun to recover, but it should also offer a boost in reservations and, hopefully, some incentive to keep pushing forward creatively.
Unless you've got fairly deep pockets and are really into fine dining, you may be more interested in the 23 San Francisco restaurants on Michelin's Bib Gourmand list, which is the company's take on creating a relatively budget guide that awards stellar food served for a "modest price."
Go to Tamara's site California Eating for more calorie free food reading.