I'm trying to pay Tim "The Optimist" Williams for the art book celebrating his recent exhibition "Ticket to Ride," but the Venmo app isn't loading. We switch over to PayPal, and it's not working, either. Instead, we decide to walk around the exhibit itself—and I promise I'll pay him later. (The exhibition, at RVCA in the Haight, was too short, but the catalogue and prints from the show are available here.)
Optimist is a known graffiti writer who has been getting up around San Francisco longer than I can remember—a true OG whose name has covered Bay Area surfaces long before any cash app was invented. Hearing him tell me about his connection to the 415 in person feels like peeking into someone's blackbook, with decades worth of tags and IDGAF recollections scrawled onto each page. It's definitely a refreshing break from the constant texting, emailing, and DMing that happens in my ordinary day as a freelance journalist.
"This exhibit was about real people: artists, revolutionaries, thinkers, all from Frisco, who made you feel some type of way," he said. "Tech doesn't do that for me. I mean, we couldn't even use those apps right now because the service is down [due to the six-hour September 4th worldwide service outage of Facebook, Instagram, and Whatsapp]. How wack is that?"
The art, a series of 16" x 35" wooden panels painted to resemble giant MUNI transfers that were discontinued in 2017, was an homage to the "old Frisco" that Optimist knows. It's a tribute that includes over 60 San Francisco legends and their birthdays, along with a fact or quote about them.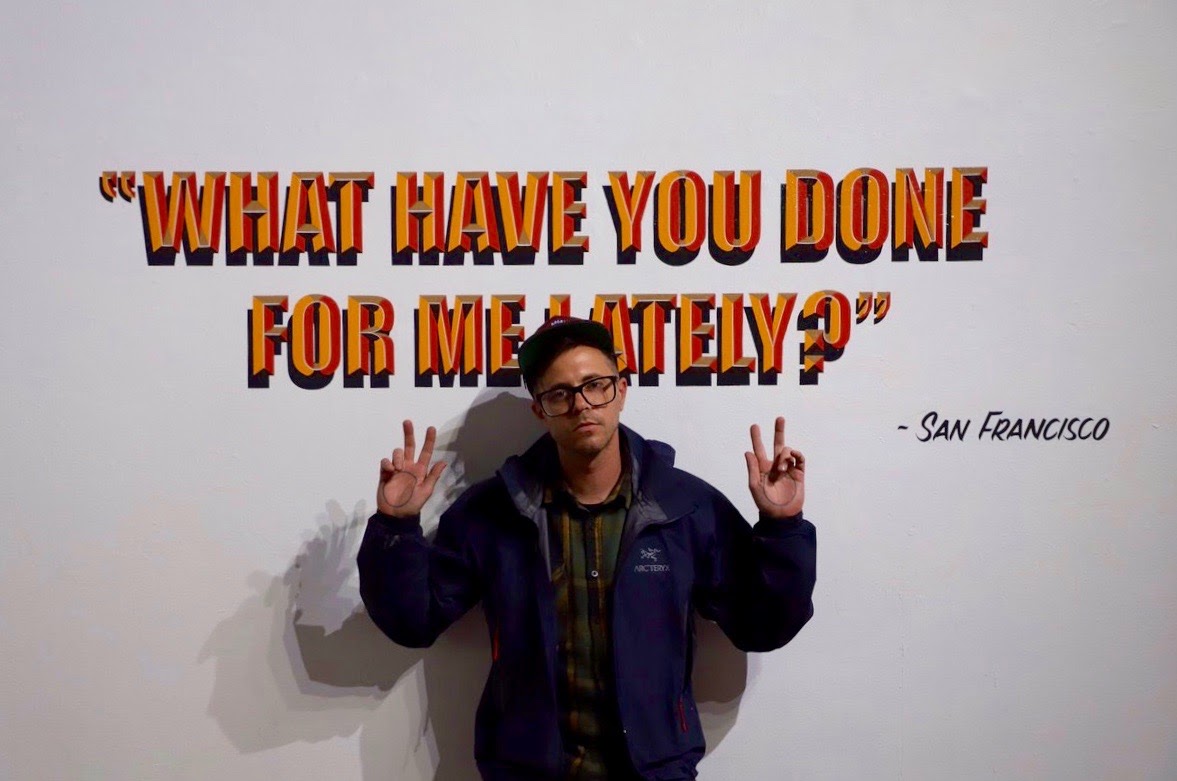 Maya Angelou, the world-famous writer who moved to the Bay Area as a teenager, is one of those honored by Optimist. She became the first Black female streetcar conductor in The City's history, and went on to revolutionize literature. In "Ticket to Ride," there was a panel with her name stamped as April 4, indicating her day of birth. I didn't know about this aspect of Angelou's local history until I engaged with Optimist's work. But not even a poet of her magnitude could claim San Francisco's entire spotlight; there are many more to be recognized.
Within the exhibit were those who were born and raised in the region, like Fillmore rap legend Andre Nickatina, and current vice president of the United States Kamala Harris. But also present were individuals who came from other places to make their impact on this city, including former 49ers quarterbacks Colin Kaepernick and Joe Montana. The series covered a range of iconic figures, inviting readers and viewers into SF's unfiltered memory bank.
"Some of these people are like heroes, some are villains, some are just wack," said Optimist. "I wanted to have that mix. They're all from SF or made their name here."
Rather than portraying The City in a perfectly idyllic way, Optimist intentionally included forgotten, controversial, and unpopular San Franciscans, such as Jim Jones and O.J. Simpson. Out of respect to the San Francisco he grew up in, the artist isn't trying to merely paint a pretty picture of his home. Instead, he's calling up a sense of communal interaction and critical artistry that he feels has been "sucked out of this place by tech money."
"MUNI stands for 'community.' That's where it comes from," he tells me, poetically. "When we were kids, Uber and Lyft didn't exist, and we couldn't afford cabs, so we all took the MUNI bus and that's where we all mingled. You had these quarter-mil businessmen sitting next to homeless people. It was the great equalizer. That's gone now."
As the unifying connector throughout The City by the Bay, MUNI was a perfect metaphor to convey his layered emotions. The idea for the MUNI tickets emerged just as organically, since he often saved his transfers as nostalgic tokens, and would occasionally write birthday messages on them to give as gifts for his homies. Yet, this art collection is much bigger than one individual artist's nostalgia. It's about a home that feels like it has moved far away for many.
"Ticket to Ride" operated as both praise and a criticism of San Francisco, a complicated urbanscape that has been neglected in myriad ways over the decades, and has become one of the most unlivable, most expensive cities for families and individuals. In 2021, MUNI transfers no longer exist, and statistically, less people rely on public transit. According to a pre-COVID UCLA Institute of Transportation Studies report, "Ridership across the Bay Area's public transportation systems fell by 5.2 percent between 2016 and 2018 … with the region's residents taking 27.5 million fewer transit trips per year." As the convenience of ride sharing apps has coupled with longer commute distances, MUNI (and BART) have become inaccessible for many.
The same study concluded, "The Bay Area is becoming increasingly expensive and more and more people, particularly low-wage workers, are finding it difficult to live and work near transit. We tend to think about housing and transit policies separately, but this study shows that they need to have a much tighter link."
In bringing attention to the MUNI, Optimist also brings attention to larger, complex realities of a city and region dealing with tremendously flawed and inequitable systems that can be traced back to politicians and tech moguls, like those included in this exhibit.
"Ed Lee was like the pinnacle of destruction here. He let tech companies come in and get tax breaks," Optimist said. "He's from Frisco and he died here." Lee, of course, is included in the exhibit with his own MUNI tickets.
Despite his sunny-sounding name, Optimist Williams doesn't hold back in voicing his anger, frustration, and unhappiness with the current version of San Francisco.
"I was hella angry about it all but I'm over it now, so I might move," he said. "I don't want to carry the rich and bring back what's gone if it's not my responsibility. This show is like a final farewell for me. This is the people. This is the vibe. Let's go back to that. Let's remember the roots of this city."
It was disheartening to hear about how many artists, creatives, culture-makers, and ordinary people are unable to live in the place they've known so that a wealthier, more professionally-trained transplant can replace them in the "shell of a city where you can't participate unless you have money."
Optimist's series acted as a mirror for "the good, the bad, and the ugly," those who've played a role in shaping this city's past and potential futures. The exhibit closed with a culminating performance that featured Bayview and RBL Posse rapper, Black C (who is also highlighted in the collection) and its vision and history lives on in the exhibition catalog.
As someone who believes in preserving our region's independent artistry, I bought a copy to support a long time hustler in the art scene, but also to learn about a version of San Francisco that is no longer "ridable" like it once was in the '80s, '90s, and '00s. Even as a lifelong Bay Area resident, I gained a tremendous amount of knowledge and introspective value from the artwork. Here is the resounding message with which I was left:
"['Ticket to Ride'] is organic," Optimist said. "The MUNI is such an icon of the old city we all grew up in. And they got rid of it during the height of the tech takeover. It's a metaphor for the death of this city. Humans run on vibes, not phone apps. SF had a vibe that everyone flocked here for. The people on this wall are those people who gave SF that vibe. There's no culture in tech. They're not contributing, they're just taking and increasing rent. They give donations as a guilt Band-Aid. They make code for people who are rich to get richer. They make things in the ether, not in the city. This is for The City."
Buy the "Ticket to Ride" book through Optimist Williams' online store.