There's a hint of Elektra's shadow hanging over Kait Kerrigan's script for Father/Daughter, the first Aurora Theatre Company show for live audiences since February of 2020. There are many Freudian implications of the casting of the same two actors as a romantic couple, and then as the daughter of one member of the original couple, and her paramour. A "we all wind up dating our parents" take could make the show incredibly uncomfortable, but Kerrigan seems to side-step any incestuous implication in the animosity she writes into the characters' storylines.
Such is the tone set by Father/Daughter. On a recent showing, the audience was packed in pretty tight, with only a few empty seats per row. Luckily, scenic designer Kate Boyd's apartment setting is perched upon Aurora's thrust set, which does best with close-quarters intimacy.
Our cast is comprised of the Boomer couple, played by the unapologetically blunt Risa (Sam Jackson) and awkward Baldwin (William Hodgson), a divorcée and father to eight-year-old Miranda. There is also a Millennial couple, consisting of adult Miranda (Jackson) and Louis (Hodgson), whose professions I don't recall ever being mentioned.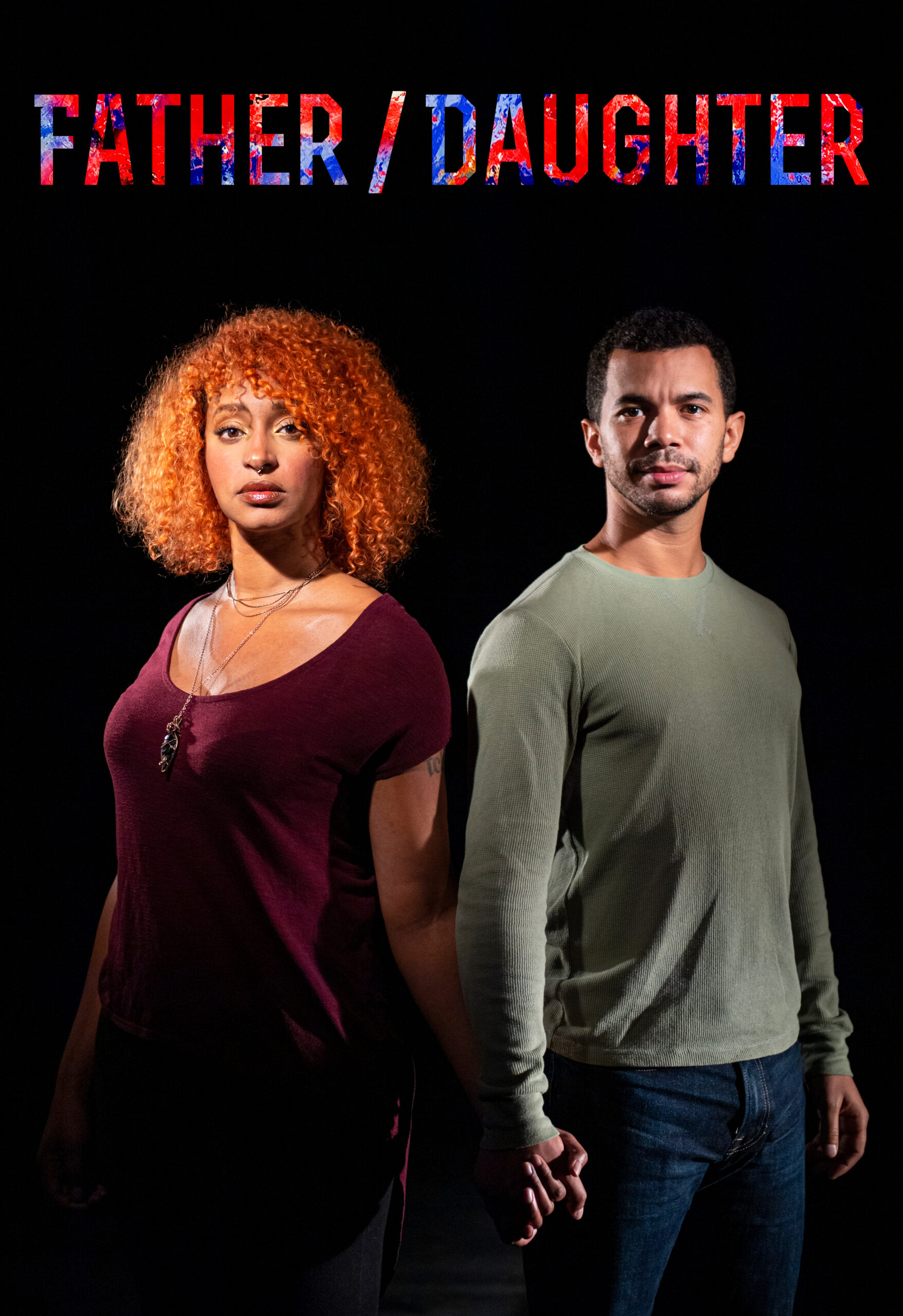 Baldwin clearly hasn't dated much since his divorce, concerned that he'll do something wrong. On his first date with Risa, she pressures him to admit that he's not an optimist. He's clearly not used to dating someone as forward and frank as she, but she, a yoga teacher, admits an attraction to his aura. Yet, for someone so unapologetically open, Risa has hidden important details from her suitor. Most notably, she tells him out of the blue that she's pregnant via an ex-boyfriend, and has been before their first date. She's then offended that Louis–whom, you'll recall, she just met–doesn't talk her out of an abortion.
It should go without saying that this is not how one starts a healthy relationship. When Baldwin later strikes Miranda out of anger (not shown onstage, but suggested through one of the show's many dance montages), Risa's counsel is that Baldwin "get in front of the situation" by telling Miranda's mother. The bad advice makes Risa come off as incredibly dismissive of the fact that Baldwin has done something that may lose him his daughter forever.
These actions make the Boomer scenes frustrating to watch. Baldwin is an exemplar of toxic masculinity who secretly got a vasectomy. His cartoonishly aggressive beau tries to mold both the world and her paramour in her image. These two should not be together, so it's no surprise when they break up.
Better served are the Millennial scenes. Even with forced nostalgic details, such as the pair's affinity for N64 Goldeneye (why are they playing it on an Xbox when that model never happened?), the scenes of the younger couple have more substance on their own and how they're informed by the Boomer scenes. Miranda calls out Louis for his affinity of outdated gender roles, as she's seen truly toxic relationships all her life. We are the legacy our parents leave us, and it can be a child's highest hope or greatest fear (or both) to follow in a parent's footsteps. When this is kept in mind, the play is at its strongest.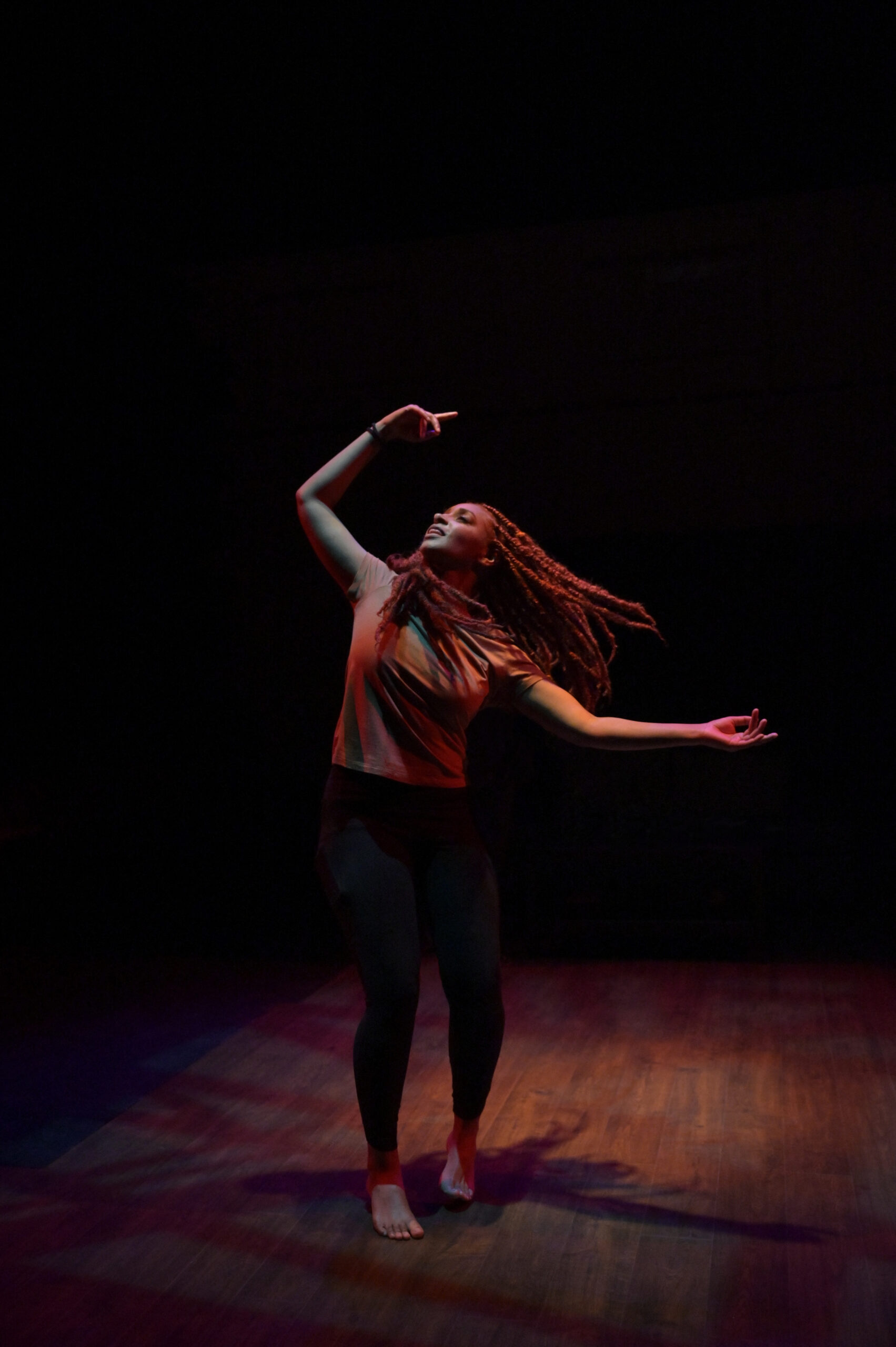 That strength is found easily thanks to the sure and steady hand of director M. Graham Smith. He finds the right balance that keeps the melodramatic moments from becoming overwrought. He also gives the dance transitions an organic feel that actually serves the narrative rather than just showing off for the audience, be they a pre-coital scene shifting to "the morning after" or Baldwin physicalizing his anger (at himself and Miranda) in the transition to the scene in which his striking of Miranda is revealed.
As an incredibly reliable pair of local actors, Oakland Theater Project's Hodgson and Jackson aid Smith in creating a watchable show. Though the topic of race is never brought up in a piece where gender norms take center stage, casting two Black actors in the roles gives the show a window into a not-often-seen relationship portrayal. What's more, the actors–particularly Jackson–grasp tightly to the hearts of their characters, even when they're in danger of those characters escaping reality.
And therein lies the paradox of Kerrigan's script: the contradiction of its realistic small moments (a post-coital whisper of "hi" is the sort thing other stories overlook in favor of detailed descriptions of intercourse) with an almost soap opera-like urge to insert dramatic turns as often as possible. Make no mistake: life is full of dramatic turns and relationships are a constant minefield of emotions, but there comes a point in dramatization where such turns come off as contrived.
If you can appreciate the unmistakable realism borne out of great acting and directing choices, then Father/Daughter will have a lot for you to enjoy. It's an intimate story about intimacy told on a stage that's been mostly vacant for the past year-plus. It's need to impress may occasionally grate, but the skill put in makes it worth your time.
FATHER/DAUGHTER In-person shows run through December 12. Online stream available December 7-12. Aurora Theatre Company, 2081 Addison, Berk. More info and tickets here.