Many art events and venues are touted as "immersive" simply because they're built or staged around the area the audience occupies. International art destination darling MeowWolf is an example of this: Allegedly immersive in terms of the fantastical visual setting, one trundles through it without feeling completely transported, the only soundtrack the banal chatter of tourists in sneakers and sports team shirts. In some immersive theater, performers interact with the audience on a more intimate level. This can be evocative (I recall an actor in Cheek by Jowl's Sleep No More who pulled me into a dark closet, hissed inscrutable lines one my ear, and fed me a gumdrop like some gem of esoteric knowledge) or cringingly awkward (how I feel at most "interactive" theater).
Both treatments can be successful, but for me they're a crude and literal-minded interpretation of what an immersive experience can be. (Don't get us started on the Metaverse.) Depending on the care and imagination that goes into an artwork, even a piece experienced passively and from a distance can feel immersive.
Post:ballet's retelling of the myth of Orpheus and Euridice, "Lyra" (performed October 24 at Taube Atrium Theater as part of San Francisco Performances) is a dance film shot in breathtaking settings in Eastern California. It was presented with a musical soundtrack composed by Samuel Adams, performed live by The Living Earth Show—a melodic mix of Phillip Glass-esque fugues, EDM, and jazz, with ambient, metallic screech-inflected nature sounds, the score was dispatched through 75 speakers surrounding the audience. This soundscape was the only part of the performance that was technically "immersive." 
Yet in Post:ballet's depiction of the central couple's arc—their love for each other, her sudden death, his journey from the dramatic landscapes of the land of the living into the underworld and back, and their brief, doomed, reunion—"Lyra" was more encompassingly atmospheric than many shows categorized as such.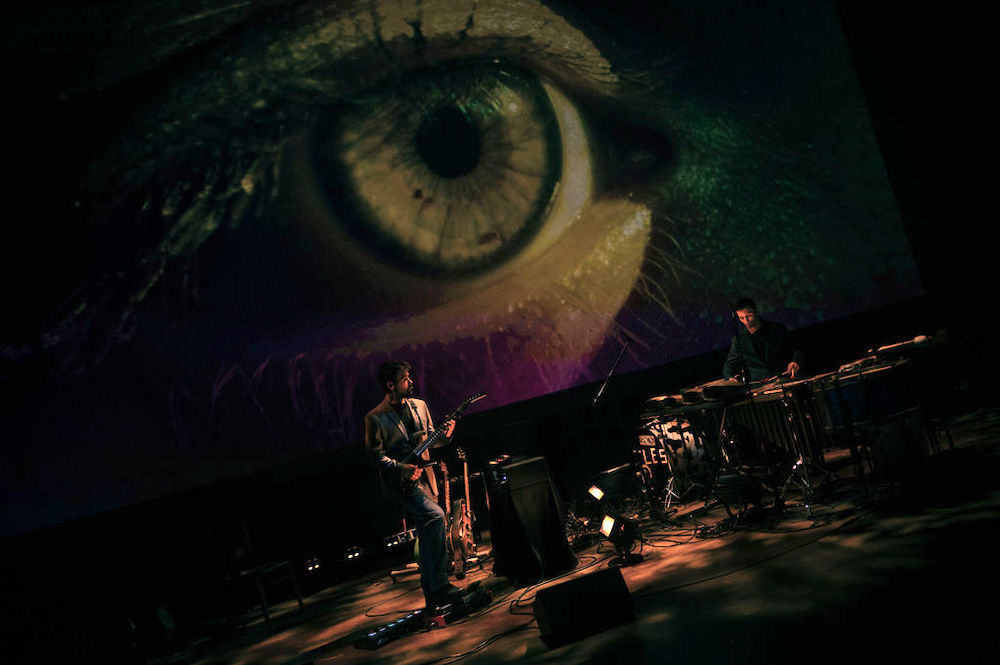 Rather than dropping a traditional theater-born performance in among and even despite the landscape and its accompanying natural idiosyncrasies, Post:ballet made rigorous, inventive, and aesthetically gorgeous use of them. The company dances in hiking boots and kicks up clouds of dust that build, rise, and illuminate dancers in the setting sun. Members ricochet off boulders and create stunning tableaux by holding bolts of fabric that float or flap against the wind to emphasize pacing. They squint in the sun while wearing highly reflective gold fabric that makes us squint, too, looking at them. As they scan the arid landscape, the sound of distant winds swoosh around us through the surround sound system, placing us with them at the center of the expanse.
It's not a dainty landscape, and the dancing is not dainty. Through Vanessa Thiessen's choreography, dancers wrestle with and climb over each other, and lead and follow. Cora Cliburn's Hades might have added several new postures to Martha Graham's lexicon of "power poses." Bald and serpent-spined as Atropos, the Fate whose name means "inflexible," Emily Hansel undulates and twitches in silhouette at the mouth of a cave like a menacing lizard. Cerberus is created by three dancers in oblong silver masks suggesting insectoid eyes, crawling and lurching in a thrilling combination of costuming (by Christian Squires) and physical characterization.
Eurydice wears the most traditionally feminine costume (despite the boots) yet, becoming ever more fierce and ragged in her defiance of her fate, Moscelyne ParkeHarrison seems to throw herself about with the most abandon of anyone; her final failure to break free of the clutch of Atropos is a devastating shock. In a breathtaking conclusion, Babatunji Johnson's Orpheus appears onstage in person and hypnotically "becomes" water.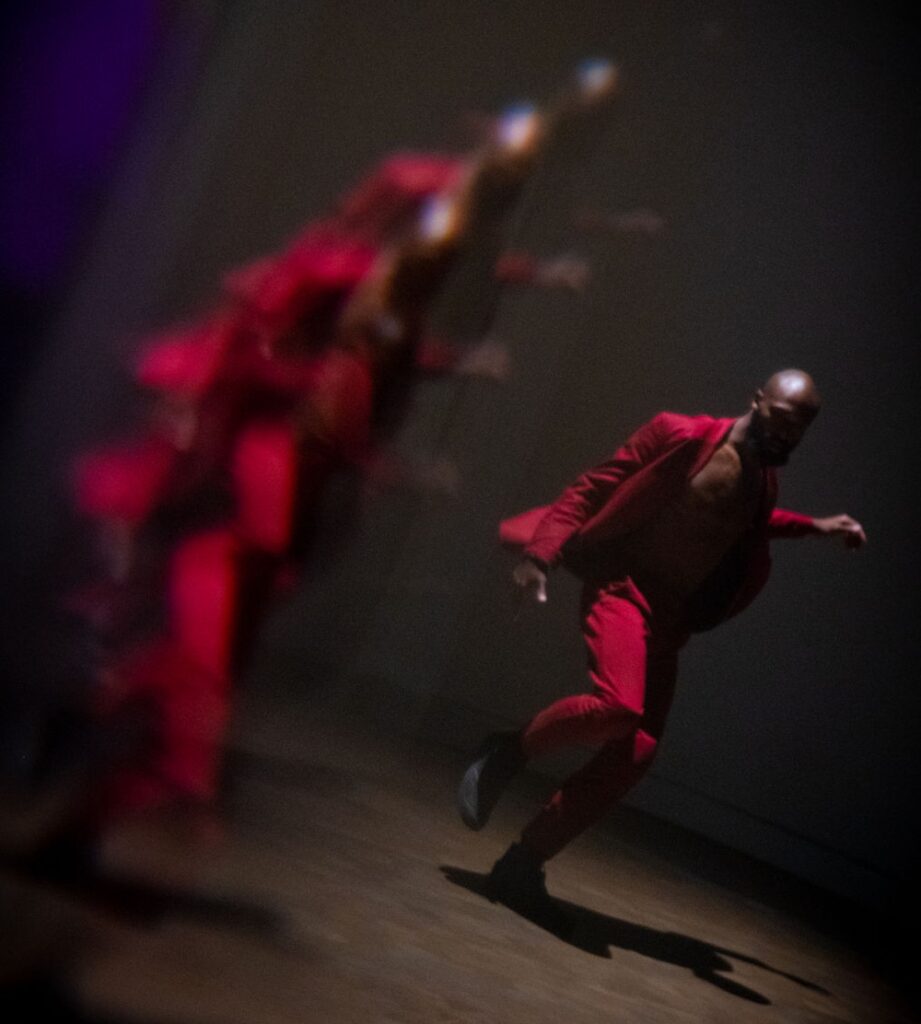 In a Q&A after the show, the creators of Lyra expressed the intention to bring the piece to different venues and possibly on tour, believing it a flexible enough production to adapt to different performance contexts and COVID protocols. As profound a joy as it's been to get back into the theater and see live performance for those of us who ached for it over the past year and a half, it's also refreshing to witness companies like Post:ballet adapt and create new paradigms for creating and performing. Audiences can experience their work in new, technologically and artistically inventive ways which push beyond the previously accepted bounds of what constitutes theatrical or immersive art. I'm eager to see how the creative team behind Lyra continues its experimentations as the world reopens.