Internet memes being what they are, it's safe to assume that most of you reading this are familiar with the phrase "That escalated quickly." It comes from the Will Farrell comedy Anchorman: The Legend of Ron Burgundy, spoken by the eponymous lead in a state of exhaustion, after '70s-era sexism devolved into West Side Story-esque brawl before then becoming medieval battle royale. Burgundy's metatextual line perfectly complements the excess preceding it, making it a perfect internet go-to for a world often zooming 0-60 at the drop of a hat.
Swept Away, the John Logan and Avett Brothers musical having its world premiere at the Berkeley Rep, is such a slow-burn slice-of-life tale that when its gruesome denouement occurs, one's tonal whiplash would forgive them for thinking "That escalated quickly."
With Logan's extensive screen credits—having written everything from Gladiator and Star Trek: Nemesis to Scorsese films and James Bond sequels—it's easy to forget that his roots are theatrical. No doubt those roots helped him adapt and streamline Sweeney Todd for Tim Burton's film adaptation.
As those credits reveal, quite a lot of his work results in several characters meeting a bloody demise. One is pressed to point this out because there's little in the Rep's promotional material to properly prepare the audience for the macabre turn the story takes in its latter half. Throughout most of the play's roughly 90-min runtime, it's a Steinbeck-esque old-fashioned tale of men doing manly work as they dream of something more. Then again, Steinbeck's characters weren't known for happy endings either.
The story, such as it is, is told from the point-of-view of an unnamed ship's Mate (John Gallagher, Jr.). Before the show begins, he's sick in a hospital bed, haunted by the ghosts of his former Captain (Wayne Duvall), an enthusiastic fellow sailor whom we know as Little Brother (Adrian Blake Enscoe), and the latter's Big Brother (Stark Sands) who joined the crew for the pure sake of protecting his younger sibling. As you may have noticed, none of the characters are given names.
One can read a great deal into that: perhaps they're unnamed in an attempt at inviting the audience to impress their own ideas upon them; perhaps they're unnamed because even in this 1888 setting, capitalism cares about the worker's labor and nothing more; perhaps it's because one's actions should matter more than any title given to them? In any case, we meet this near-anonymous motley crew the day Little Brother joins Mate and Captain's crew. Little Brother has left his girl behind to see the world, but Big Brother knows he'll never be able to look their parents in the eye again if Little winds up dead on the high sea.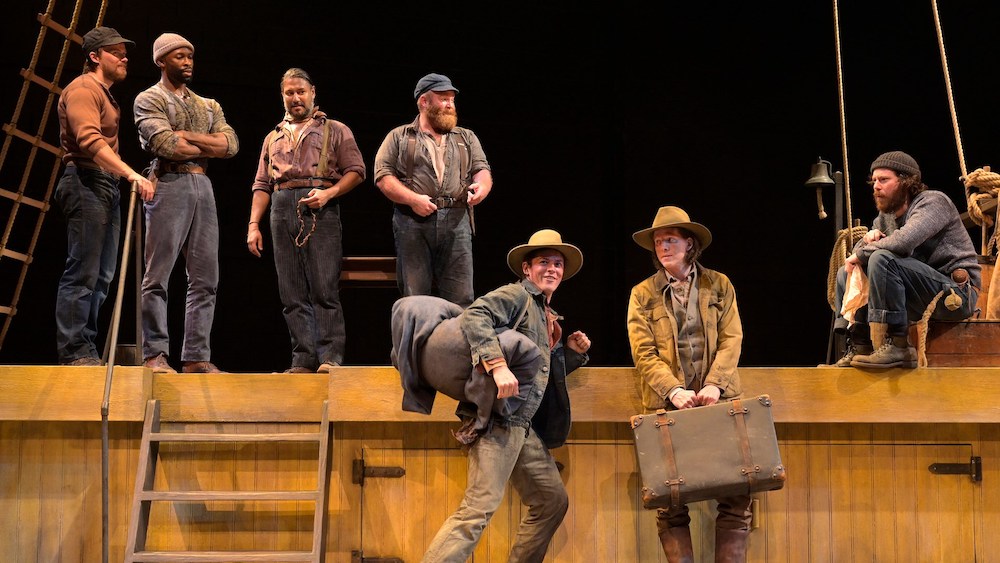 It's here that one has to bring up Avett Brothers' score. I'm not familiar with the bluegrass duo, but their work here is well-served. All but one of the songs integrate perfectly into Logan's book, flowing between diegetic and non, sea shanties and hymnals, that do, in fact, fill in the blanks on these characters. Although Mate isn't fond of the inexperienced Little Brother at first, they bond one night over memories of pretty girls back on land. (The memory of each former love comes with the lyric "You swept me away," which could have easily been grating in the wrong hands.)
Similarly, when Sunday arrives, the overly pious Big Brother asks the Captain to lead the crew in hymnals, only for the cantankerous skipper to reject both the offer and the very idea of a higher power. Big Brother then begins his own hymnal, with the Avetts' strings coming from the air as if from a down-home heavenly band. That Mate tries to corrupt the song by intruding with lyrics of secular delights doesn't take away from the song proper, anymore than Mate can shake Big Brother's faith. These are a decent crew of fellas and it seems that this will be an entertaining slice-of-life depiction of late-19th century maritime work.
Then there's a storm.
I'm doing my best not to explicitly spoil the, well, explicit turn in the narrative—especially since the Rep didn't even ask us to avoid spoilers (as the ACT did for Branden Jacobs-Jenkins' Gloria). Still, one should be prepared for the hard-left turn in the story, both thematically and gore-wise. Depicted violence is kept to a merciful minimum, but the characters' graphic descriptions of the violence are enough to churn one's stomach. Also, the extended sequence contains the musical's weakest song, in which Mate reveals the details of his past in a manner more exposition-dump than insightful revelation.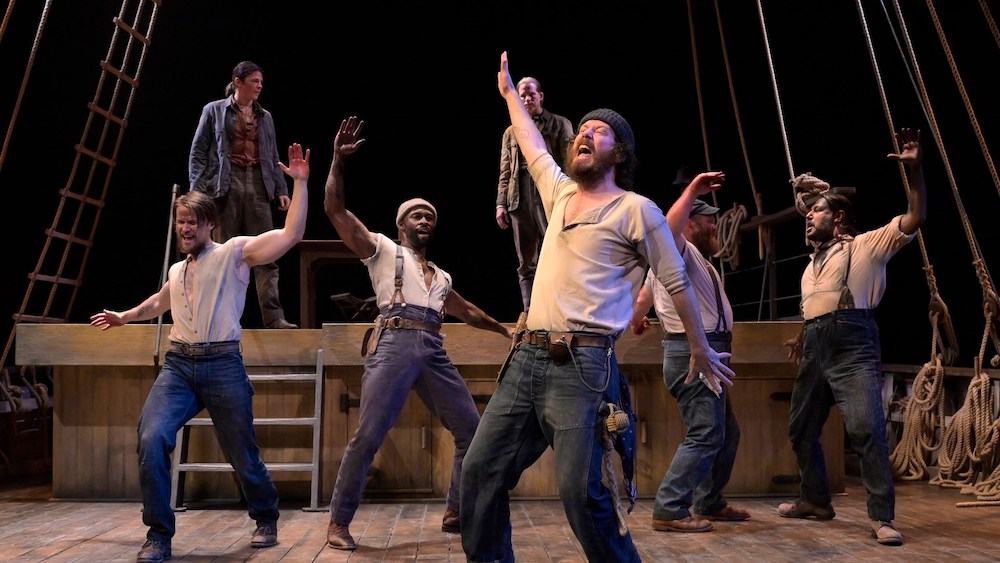 Not to make light of human survival situations, but if you know the phrase "It's a Shpadoinkle day!," then you know what sort of ghastly development is in store at the play's climax.
Through it all, our cast well inhabits their nameless aliases under Michael Mayer's direction. Set designer Rachael Hauck's set has no shortage of surprise, transforming from hospital bed to ship's surface to—in a move that got applause from the opening night audience—a single lifeboat on the open sea. Kevin Adams' lights and Kai Harada's soundscapes further perfectly rendered the illusion that there's no land as far as they eye can see. The Rep isn't a place to skimp out on the technicals, and this show is no different.
To the question as to whether Swept Away is "good," it's certainly technically well-done and perfectly acted, and possesses a near-excellent catalogue of songs. The narrative may have been better served without the Mate's narrative bookends, the latter of which is too eager to wrap things up by rushing through characters' fates. What's more, the audience could do with some forewarning—both in press materials and the narrative proper—about the dark turn ahead.
Still, the world premiere show provides a memorable and musical night of theatre. Bloody, but memorable.
SWEPT AWAY runs through February 13 at the Berkeley Rep's Peet's Theatre, Berkeley. More info and tickets here.