Mist swirls through soaring Monterey pine trees, threatening to envelop the gated enclosure below. A steep embankment protects a community garden from the wind and fog, offering sanctuary to hundreds of species of plants that have pushed roots and shoots past crumbling concrete to reclaim a small parcel of land in one of the most densely populated cities in the country.
Erick Campbell, caretaker of the garden, smiled impishly and attacked a slab of concrete with a pickax. Beads of sweat dotted his forehead. "Daly City," he said between swings, "is the worst. There's no urban canopy, something like 3.9 percent."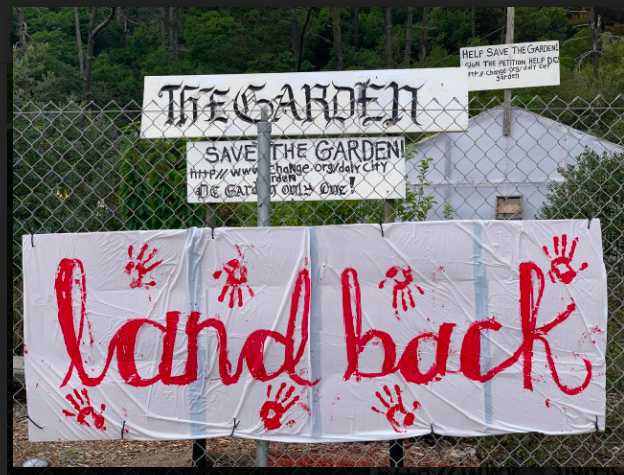 An urban tree canopy is the layer of leaves, stems, and branches that cover the ground. It averages around 27 percent for US cities. Daly City is an extreme outlier. It's "an impervious concrete jungle," as Project Green Space puts it.
Campbell pointed to the ground, where the rich sediment, a combination of 20 years of decaying vegetation and protective mulch, has created a thriving habitat for seedlings and saplings to grow.
"It's made its transition from concrete back to earth," Campbell observed. "Kind of silly to think they just want to put it back to concrete, you know?"
The garden sits on land owned by Jefferson Union High School District, which plans to build a 14-story apartment tower directly on it. The construction is part of a larger development venture — known as the Serramonte Del Rey project — that will bring 1,113 units of housing, retail, and recreational space to Daly City.
The SDR project would be an economic windfall for the school district. Leasing 22 acres of surplus land to developers, primarily for market-rate housing, would generate millions of dollars for its high schools. Supporters say it also will help ease the housing crisis in the Bay Area.
But the development comes at a cost. Critics contend it is a land grab that privatizes public assets. They also fault the design of the project, which is not transit-oriented. Lastly, and perhaps most contentiously, they oppose the plan to relocate Daly City's only community garden.
From a shuttered school to a sacred space
Hand painted signs hang from fences and planter boxes, urging community support for the garden. "Land Back," "Sign the Petition," "Save the Garden!" The petition to keep the garden alive has accumulated more than 3,500 signatures.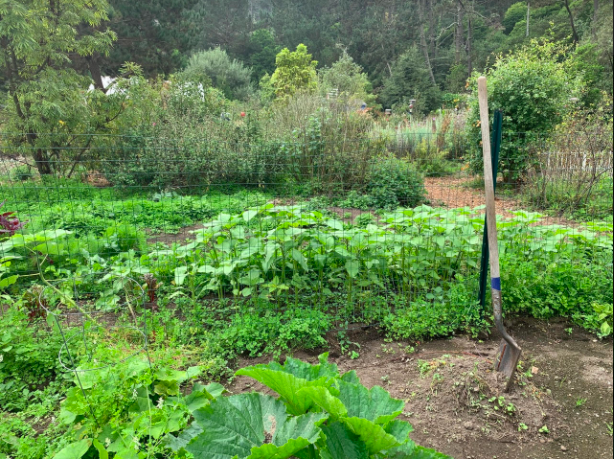 It is the work of Debbie Santiago, an elderly Washoe woman who, like Campbell, views the garden as more than just a garden. "I feel the ancestors of the Ramaytush Ohlone when I enter the garden," she said. "I walk, breathe, and tend the earth with them."
Santiago first started visiting the garden in 2004. The fruit trees and bushes were small back then, as the garden was in its early stages of land reclamation.
The garden itself emerged from the innovative tinkering of teachers who wanted to expand their instructional activities to outdoor settings. The shuttered Serramonte High School, with its patches of overgrowth, was an ideal site for this experiment.
Since then, the garden has served many student populations, including those with special needs and in adult transition programs. San Mateo County Health spotlighted this unique learning environment in a 2017 newsletter. It described the activities of students from the Serramonte Therapeutic Day School who frequently used the garden as a meditative space.
"Students enjoy visiting during breaks and lunch, hanging out, feeding the chickens, visiting with our cats or just wandering around to see, smell and touch the plants and flowers," the author wrote.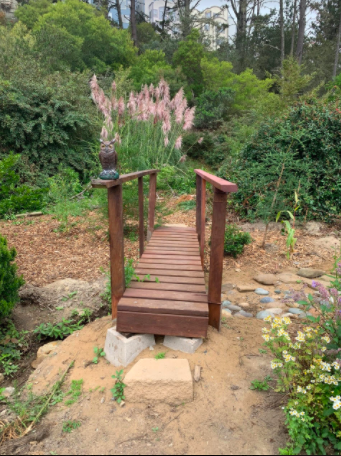 No one anticipated the controversy the chickens would create a few years later. While community members valued the free rein feel of the garden, insurance agents saw it as a health hazard (somewhat ironically since the health department seemed not to notice). To comply with district regulations, Campbell grudgingly removed the chickens and their coops. He also got rid of the beehives and drained a small stream.
Without notifying the school district, the Day School entered into a Community Garden Partnership Program with San Mateo County. The program focused on educating the public about composting and sustainable gardening and ran for a year between 2018 and 2019.
The district learned about the partnership after it ended and requested the county remove all signage and mention of the garden from its promotional materials. The county complied, but the request came too late. The garden was not just a school garden anymore. It was a community garden supported by San Mateo County's Office of Sustainability, at least in the public's mind.

Santiago expressed this perspective in her comments to the Daly City Council last September. "Even though the school district says it's not a community garden, it became a community garden," she said.
"This is the time of year for all the California tribes to honor the harvest," Santiago continued. "We have our ceremonies, dance, and songs. We do this when we can't go back home," she added, alluding to a history of forced removals and relocations. "This is the place to go."
The price of educational equity
Taking a cue from the garden activists, JUHSD recently created its own petition to encourage more visible support for the SDR project, which it describes as a fight for "housing justice and educational opportunity."
The project aims to build 10 percent affordable housing on the site, the city's minimum requirement for new housing developments. While opponents of the plan say it is not enough, Leora Tanjuatco Ross, from the Housing Leadership Council of San Mateo County, offers a different perspective.
"The number we're most excited about is 1.8 acres," she said. "Land dedication," she continued, "is the best way to get deeply affordable housing. I've never seen that much land dedicated to affordable housing, which is why we're so supportive."
The project also will generate ongoing revenue for JUHSD, the lowest funded high school district in San Mateo County. "It's an equity issue," Tanjuatco Ross said. "You don't see wealthier school districts needing to become developers in order to fund their schools."
The district passed two parcel taxes and a bond measure to try and reduce this equity gap. The parcel taxes helped supplement teacher salaries and educational programing while the bond measure funded the construction of workforce housing for district employees.
The SDR project is an extension of these efforts to level the playing field. That is why opposition to it—crystallized in the debate about relocating the garden—has caught so many of its supporters off-guard.
Kalimah Salahuddin, a member of the Board of Trustees of the school district, who is involved in the SDR project, spoke about these issues. "Our goal going into this was to raise revenue for our school district," she said. "And it spiraled into something else.
"I didn't know there was such a connection to the garden," she continued. "There was no way to anticipate it because we felt this was the same as a tennis or basketball court. We allow community members to use our basketball and tennis courts after hours. But if we ever needed to reprogram them, I'd never think twice about it.
"I didn't see the garden any differently," she added. "I had no idea it would become this."
Salahuddin has deep ties to the school district. Her oldest son has autism, and she credits JUHSD for his success as a self-sufficient adult. But his principal and all his teachers and counselors have left. Every year the district loses 25 percent of its staff to schools with better pay and amenities.
"I don't think people understand the educational crisis we're in right now," Salahuddin said. "And I don't want to seem unsympathetic to the garden. But where's all this passion for children's education?"
The SDR project plans to create a new community garden in a new location. Drawings show a sunny, ADA-compliant garden with evenly spaced rows and raised beds—the exact opposite of what exists now.
A jagged-tooth saw rests precariously on a log. Smiling gnomes and carved animals peer out from thick bushes while pots lay scattered among overgrown plots. Children leap over an empty stream bed, keeping to the greenery that grows uninhibited along a wooded embankment. Built on top of a concrete tennis court and pushed to the edges of a parking lot, the garden is a peculiar mixture of urban decay and intense cultivation and care.
"Is there any way we can save this particular portion?" Santiago asked. She posed her question to the committee that was convening to discuss the district's surplus land.
"Because everything grown in the ground is sacred to us," she continued. "And so, I ask you again to look at this place and not demolish the garden or use it just for throwing your dirt to make buildings."
Santiago ended her speech with an invitation. "I look forward to hopefully one day when we can meet," she said. "We can meet at the garden."