Sharmi Basu calls their new album Sicko a "freak 4 freak, crazy 4 crazy wet blankie."
"You cry so much into it, it's wet, you know?" says the Oakland-born, San Jose-raised producer, who records as Beast Nest. "It's like your favorite blanket that brings you comfort when you're going through it."
Comfort objects have been part of Basu's work since their earliest shows in 2009, when they and their early collaborator Jules Lipman would hide under a blanket fort "so we didn't have to look at anyone, 'cause we were freaking out before every show."
In their Self-Investigations #0 installation, coming in May to Temescal Arts Center in Oakland, participants hold a stuffed bear as a "stress ball" to subtly change the colors of an LED light strip while being asked a series of questions about "conflict, hurt, and liberation."
Those same questions are included in a booklet with the vinyl release of Sicko, out now on Ratskin Records, which could be seen as a kind of comfort object as well. Though Basu's roots are in the East Bay noise scene, Sicko is bright, vivid, jubilant, and centering, driven by drums that seem perpetually on the verge of exploding. There's noise, but it's not confrontational, instead bringing texture and intrigue to these six long tracks.
One of the first sounds on the album is a candy-sweet vocal sample, taken from the 1998 Bollywood rom-com Kuch Kuch Hota Hai and run through so much distortion that it sounds as much like a burst of electric guitar heroics as anything else.
"They have Bollywood theaters in Fremont and Santa Clara," says Basu, who is South Asian. "When I was younger, I would go to them with my family. I had a distaste for most Bollywood movies actually, because I was embarrassed and had internalized racism. Kuch Kuch Hota Hai I watched more as an adult. It's a really tragic and cute and love story."
Basu describes KKHH as "like Titanic" to South Asian audiences, but the sample's distorted enough that they suspect even listeners familiar with the movie might miss the reference. A lot more listeners, though, will recognize some of the track titles as phrases from Keeping Up With The Kardashians.
"I feel like they've have been like a useful lens for me to have like a more disconnected analysis of the weird hyper-world we're living in," Basu says of the Kardashians, while admitting that they provided some of their favorite "one-brain-cell entertainment" during the pandemic (another, the Pokémon games, inspired the matchbooks and stickers Basu is selling as merch).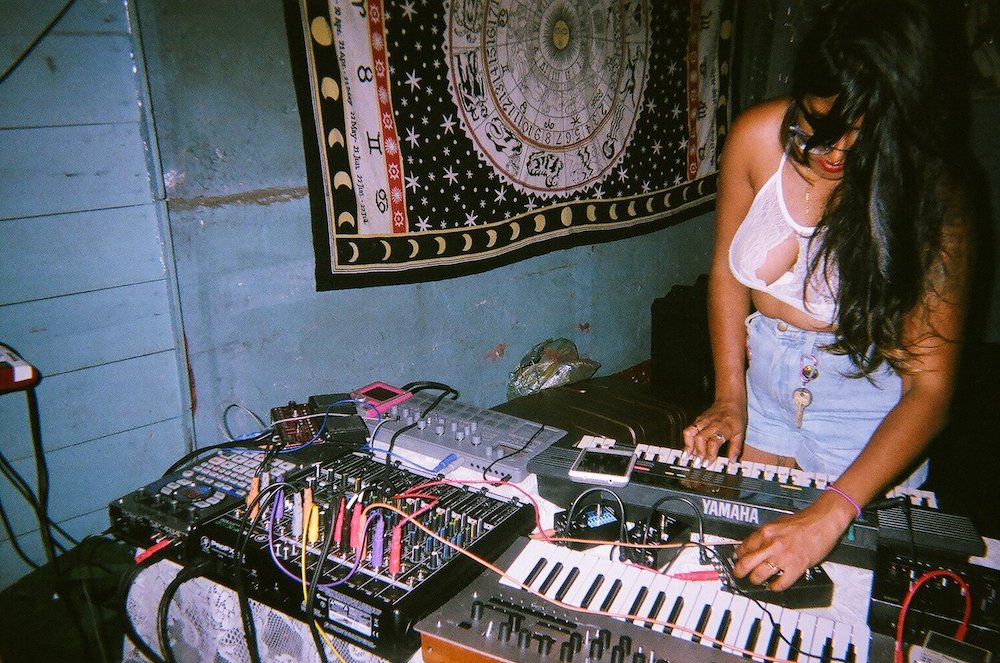 "Ur Doing Great Sweaty" and "Kim, People are Dying" seem like memey-glib titles at first, but they're poignant when you read them closely, reflecting a Kardashian's surface-level awareness of the true horrors of life-under-capitalism. Though Sicko is a record about community and the joy it brings, it's just as much about how having like-minded friends can be a bulwark against that horror.
Basu describes their brain falling into a "deep but necessary pit" in the aftermath of the Ghost Ship fire, which took the lives of 36 partygoers and following which Basu was crucial in raising fire relief funds. Both Sicko and 2018's A History of Sexual Violence include compositions called "Jsun," named for Jason McCarty, a collaborator and one-time partner who died in the fire.
In the same statement in which Basu called the album a "wet blankie," they thank those who stuck around during that time. Many of those who Basu connected with were those who, like the artist, identify as physically and mentally ill—hence the terms like "sicko," "freak," and "crazy" that they gleefully reclaim here.
"For me, finding other people who identify as crazy in the way that I identify as crazy has been comforting, and the most loving friends that I have are the friends that I feel like I can be my most authentic and vulnerable with," they say. "And so this is my offering to them."