Painter, sculptor, and designer Casey Gray is an artist because doing anything else seems trivial in comparison.
"Art moves, grounds, and inspires me in a way that nothing else can. It's where I feel most like myself," he told 48Hills.
Driven by the search for balance, he is interested in how other people manage the visual and psychological overload of daily life. Arranging objects as symbols into complex still life compositions helps him make sense of the world and discover meaning in connections he hadn't made before.
"Finishing a still life piece, there is often an aha moment, like, 'Oh, now I get it,'" he said.
Gray was born in Menlo Park and grew up in the San Jose/Los Gatos area. Finishing his BFA from San Diego State, he landed in San Francisco in 2008 to pursue his MFA at the San Francisco Art Institute. He knew from a young age that San Francisco was his destiny.
"I loved the pace and surprise the city offered compared to the suburbs," he said.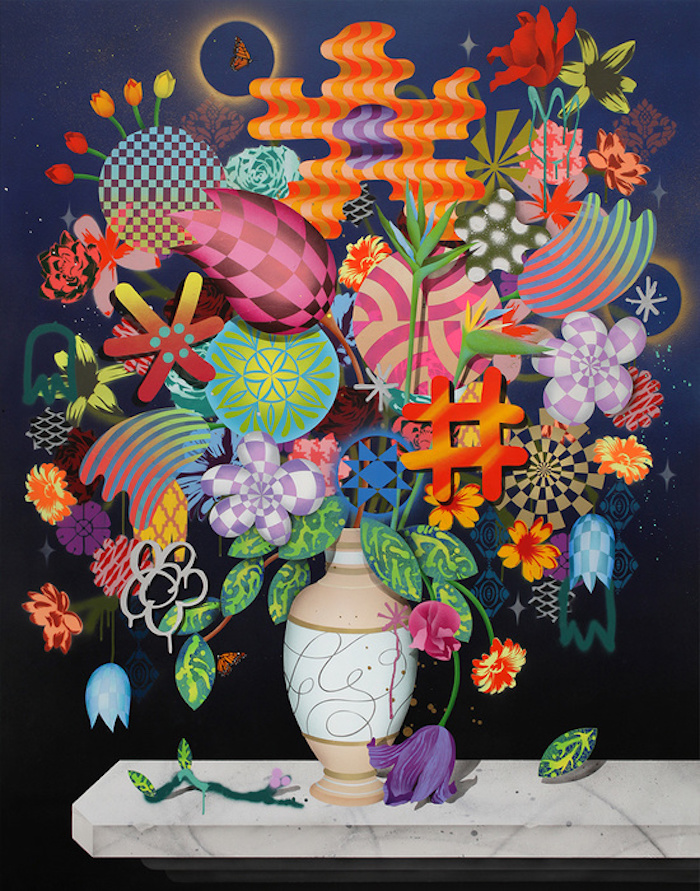 Gray became a new dad in 2020 and his immediate environment was taken over with animal motifs, influencing his most recent work. Focusing on more playful topics as a respite from the difficulty of the last two years is very intentional.
His graphic work is about his desire to double down on a single symbol or celebrating a single moment, the simple pleasures of being. But don't be fooled by that word simple. Gray aims for precision and skill in his work, reflective of a personality, which he describes as, relaxed yet hard-working. Optimistic, yet aware of a complex world.
Themes of longing and the search for an ease related to his suburban youth, rebellious spirit and his love of nature are common in the work. He weighs in on social issues from time to time but mostly those are background elements. His motivation springs from a natural curiosity, a desire to learn and grow.
He is also inspired by travel (he's been to 25 countries), leisure, chance beauty, authenticity, classical and historical painting, often depicted in trompe l'oeil. Oh. And skateboarding. Gray has been an avid skateboarder for 26 years. It's a lifelong passion and a huge part of his identity.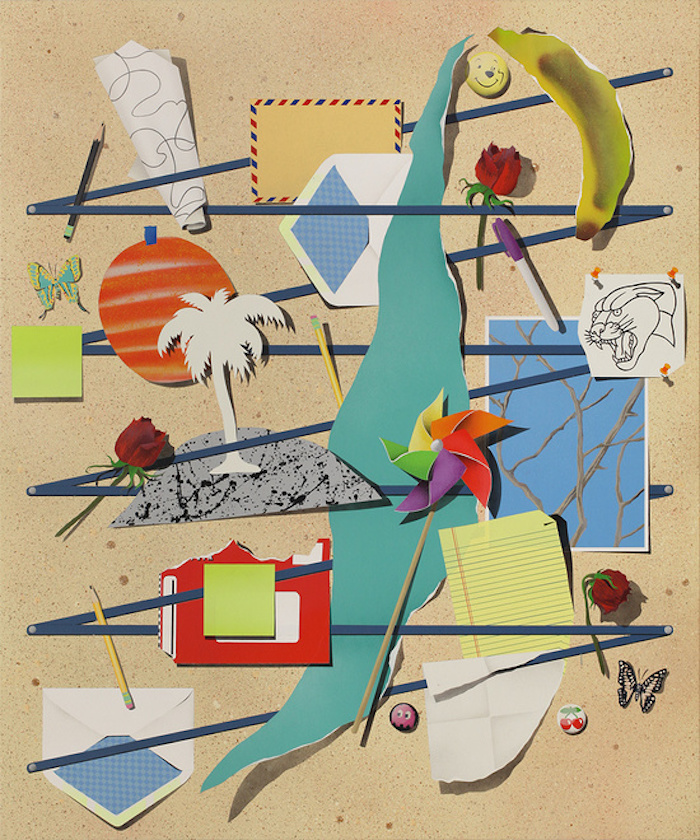 Gray has lived on Mason in Lower Nob Hill since 2013, and his studio, located in the southeastern corner of Bayview near Double Rock, (Fitzgerald Ave. at Jennings to be specific), is in an industrial mixed-use building shared with other makers and small businesses. Just 300 square feet with 30-foot ceilings and a large flex space, Gray has been there for almost seven years. Before that, his studio was a large warehouse in Dogpatch, at Mariposa and Illinois Street across from The Ramp, that was the former recording studio for the band Journey.
"I shared the space with a group of musicians and friends for over six years, but it was eventually demolished to build condos in 2015," Gray said.
Gray typically wakes at 6am and arrives at his studio by 9am, putting on house or techno music and getting to work. Leaving work in progress from the day before is a trick that keeps him from wasting precious time in the early hours at his studio.
The artist spends some days building panels, cutting sculptures or working on digital sketches. Other times, he paints the entire day, working on at least two to three pieces at once, with never a wasted moment. Gray works nearly non-stop until 5pm, except for a break to snack on trail mix—which he keeps on hand at all times, calling it "food for thought."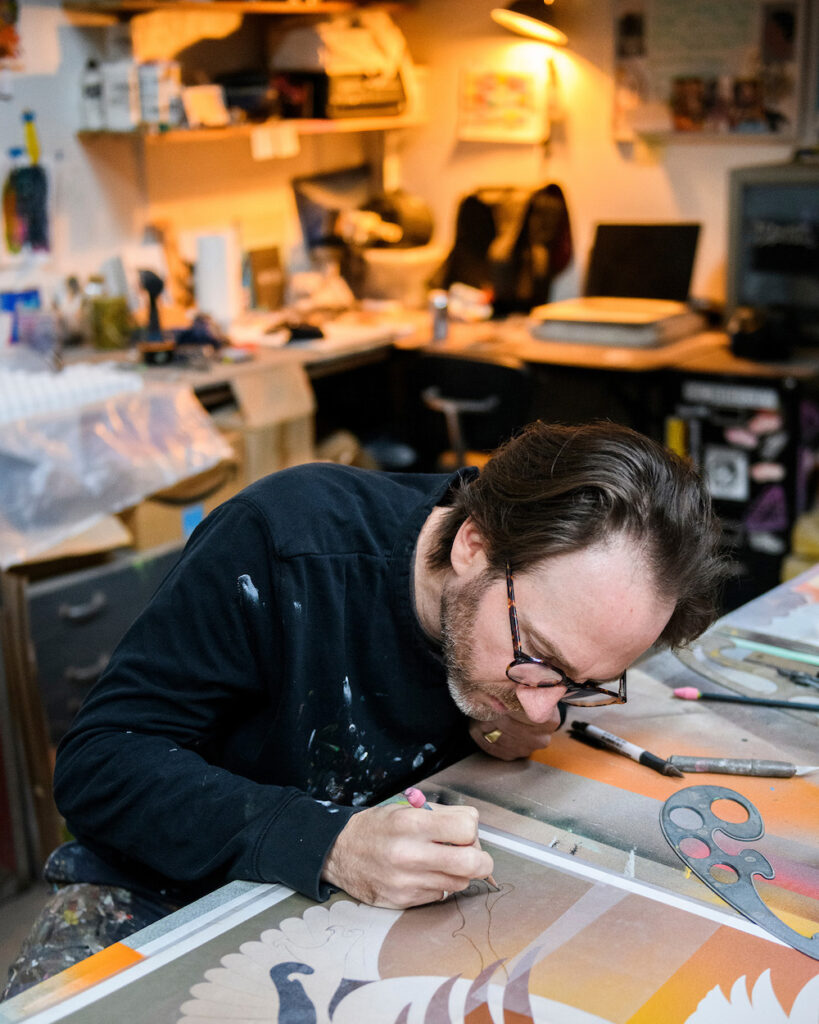 He keeps ample art supplies, too, but says he is a "make good with what you have" kind of guy, adding that he can live without anything, except the love and support of family. He tries to get home to catch the parking turnover on Pine Street at 6pm and make dinner—he cooks most every night for his family and says it also inspires his still life works of food.
Gray's materials are characterized by a commitment to aerosol paint as a primary medium, and hand-cut masking techniques as the foundation of his process. Using frisket film, which has a light adhesive, he cuts out shapes directly on the painting surface.
Employing a variety of mixed media— texture spray, aerosol glitter, fluid acrylic, and other mediums—helps the artist achieve differing marks and surface treatments. Gray relies on Montana Gold spray paint and Golden acrylics exclusively in his work.
"My methods are more closely related to auto painting and airbrushing techniques than graffiti or stencil art, though people often assume the latter," he said.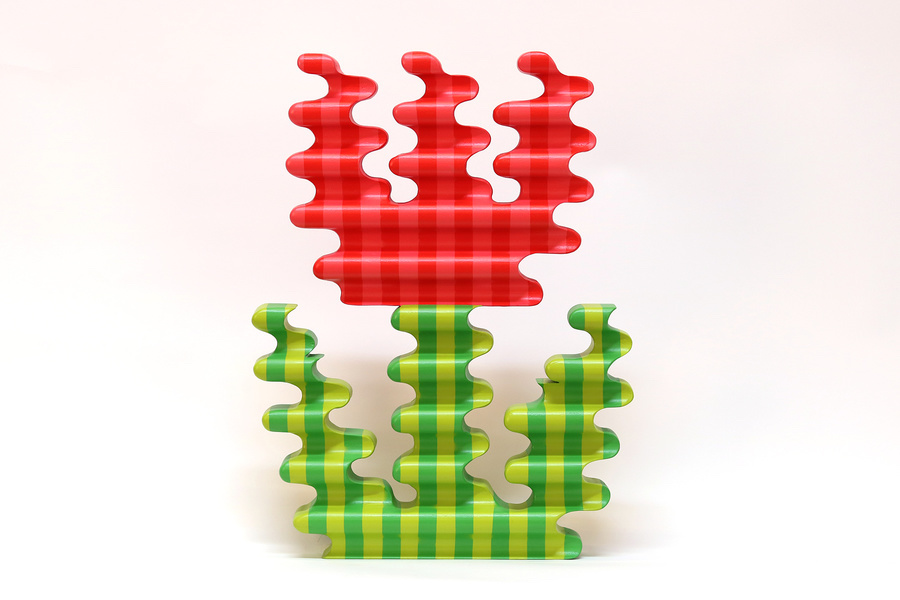 His sculptures start with a blank wavy pattern that he creates by using a one-inch plank of pine, half-round moulding for the positive space while routing out the negative space with a scroll saw. Next, he sands the pieces for "what seems like forever," fixing mistakes and smoothing things out with molding paste and paint.
Gray's son, Indy, was born a month into the pandemic. While other artists quarantined in their studios using the time to work and feel the impact of the lockdown, the election, the wildfires, and the Black Lives Matter movement, for Gray, the pandemic coinciding with parenthood really insulated his life.
"Becoming a parent has forced me to reconsider both audience and subject matter. I'm looking at the world through a different lens, letting go of distractions and gaining a stronger sense of self," Gray said.
A recent exhibition, Wild Animal, closed in February at Hashimoto Contemporary on Sutter. He is currently working with a new restaurant in Mill Valley to outfit the place with his art, has a couple brand collaborations on the horizon, and will participate in group shows in San Francisco, Portland, and Los Angeles in 2022. He's also planning a future show in Paris.
Casey Gray wants people to get a sense of optimism and a feeling of shared experience, kinship. He wants us to feel a sense of wonder and a bit of confusion while viewing his work but come away feeling nourished. Gray's advice to other artists?
"Paint what you know. Authenticity is important. There is room in the art world for everyone, you just have to find your place."
For more information, visit www.caseygray.com and on Instagram.