Please do not layoff 50 full-time CCSF tenured and tenure track faculty. Instead, direct the current chancellor to build a less hasty, more carefully conceived plan to deal with the College's budget. Insufficient planning preceded the decisions to consider the layoffs. The decisions were precipitous without considered thought about the impact on student learning and student outcomes.
The Accrediting Commission of Community and Junior Colleges is adamant about the relationship between financial planning and other institutional planning: "The institution's mission and goals are the foundation for financial planning, and financial planning is integrated with and supports all institutional planning." (ACCJC Accreditation Standards Introduction)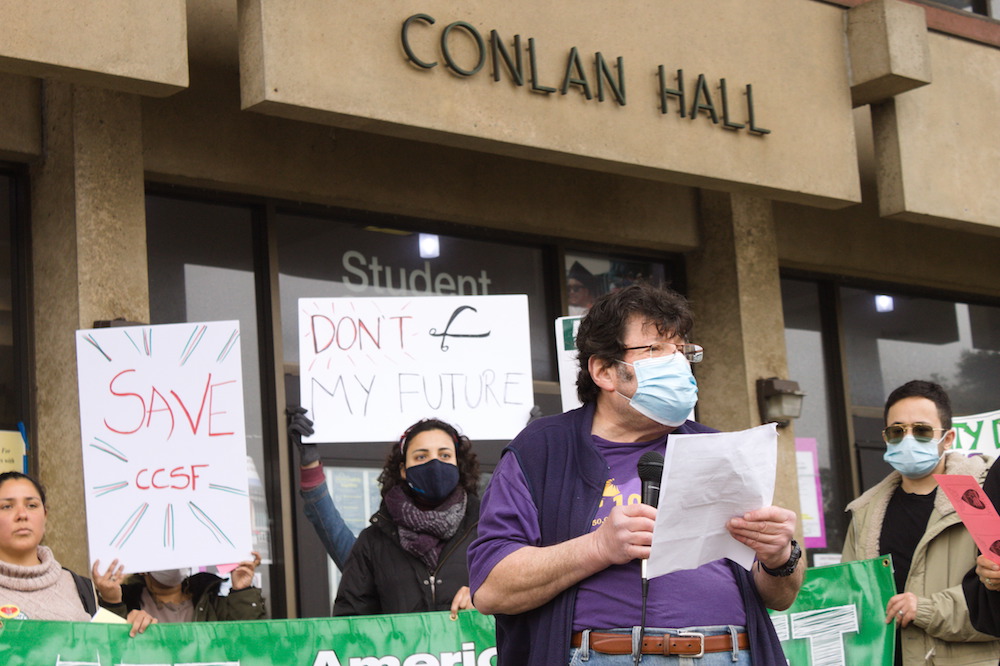 As someone who has participated as CIO (chief instructional officer) and CSSO (chief student services officer) in a turn-around of two community colleges to satisfy accreditation requirements, I offer these comments:
First: Though the college has been on enhanced monitoring for two years and "institutions on enhanced monitoring for three consecutive years that fail to address their fiscal issues may receive an adverse action by the Commission" (ACCJC letter; emphasis mine), there should still be time enough for a well thought out planned process to see if layoffs and class cuts are needed. This process must start now.
Second: CCSF must address all the ongoing risk factors identified by the ACCJC, especially and specifically the decline in enrollment. There is an inevitable interwoven relationship between layoffs and class cuts. At some point—and based on new data and information—the two must be disentangled for additional review to allow for an improved relationship between the two. The goal must be to avoid a downward enrollment spiral, since enrollment remains the college's main source of income.
Third: CCSF must communicate its clear intentions to address fiscal and other planning issues. Tell the ACCJC that
• CCSF is in the process of addressing all the risk factors, including enrollment decline, giving specific examples of the planning process underway to meet budget limitations. Per the ACCJC, planning would include "all constituencies having appropriate opportunities to participate in the development of institutional plans and budgets."
• CCSF anticipates being on better financial footing to improve its standing using improved planning and budget processes. CCSF chooses to do careful planning because it has better outcomes; gives enough time for a new chancellor and his new administrative team to lead the effort; provides more substantial information to the Board and community.
CCSF can defer the decision about faculty layoffs to March 2023. That way, better planning linked to budget could be demonstrated in the interim, and CCSF would have a more predictable base from which to work—starting now—for the coming academic year. CCSF may discover the layoffs are not needed.
Creative collective problem solving will replace the perception that a hasty, unilateral decision was made. Additionally, a positive campus climate will replace its current demoralized state.
The current ACCJC has positioned itself as more forgiving, perhaps in response to a past lawsuit. Even in the worst case scenario, the only potential loss I see is perhaps a "watch" or "probation" accreditation status after the 2023 accreditation visit. A campus organization could be built by then to efficiently address and correct that status in a year or so. CCSF has time. And, in my experience, an improved campus climate leads to better outcomes. Isn't it worth the risk of potential "watch" or "probation" status to have time to create a campus climate where folks work together to address an outside challenge? And isn't it better for CCSF to present a unified campus presence to the visiting ACCJC team in 2023, rather than one demoralized by ongoing layoffs?