City College faculty staged a sleep-in protest outside the main administration building, Conlan Hall, Tuesday, which continued Wednesday, with teachers pitching tents in front of the building's entrance and pledging to stay there until the Board of Trustees rescinds the vote to layoff 50 full-time faculty.
More than 50 students, faculty, and other community members gathered as the faculty prepared to hunker down for the night.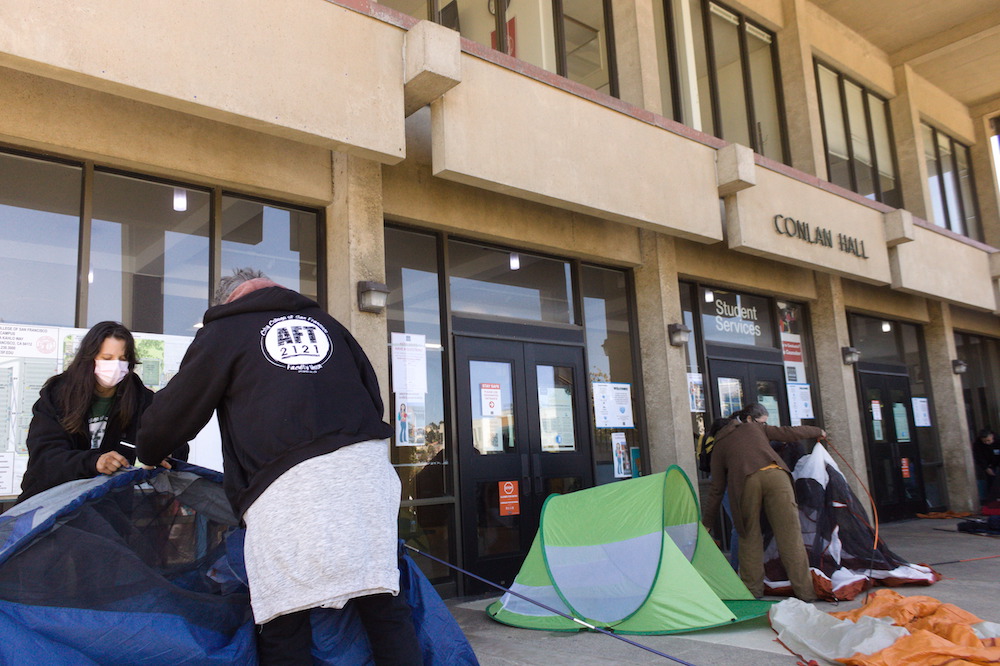 "We want our voices to be heard," said Mary Bravewoman, vice president of the faculty union, AFT Local 2121. "We are staying right here until the trustees hear our message."
City College police appeared sympathetic as faculty set up tents outside the building. This reporter overheard City College Police Chief Mario Vasquez telling Bravewoman to call the campus police if anyone "gives them trouble" during their night spent outside Conlan Hall and offering to loan them a floodlight to illuminate their sleeping area.
Bravewoman also said that Vasquez told her he would contact the San Francisco Police Department to say campus police are aware of the tents outside Conlan Hall and that SFPD does not need to get involved.
City College campus police are represented by SEIU Local 1021, which has publicly supported AFT 2121's calls for the layoff vote to be rescinded and endorsed the AFT 2121 alternative budget.
Local 2121 has disagreed with the board and the administration's view on pursuing layoffs to cut faculty salary expenses in the wake of declining enrollment, saying that fewer course offerings sends more and more students into the arms of neighboring community college districts, which they say then leads to lower enrollment, and then cuts, and so on.
The layoffs would heavily impact the ESL and business departments, and could eliminate the Theater Department, which has nearly 200 students taking classes this semester, according to its sole full-time instructor, Patricia Miller.
Under the Education Code, before a single full-time faculty member can be laid off, all part-time faculty must lose their assignments as well.
Miller said that the Theater Department has been beneficial to more than just theater students, helping boost the confidence of students in other departments.
"My classes are packed with business majors and future scientists, who have to learn to speak and engage and be dynamic to be successful in their lives," Miller said.
Chancellor David Martin has encouraged the layoffs, and has said during board meetings that cutting jobs is the most reliable way to keep City College financially solvent, which is an important aspect in the college maintaining its state accreditation, which allows courses earned at the school to transfer to the University of California and California State University systems. City College's accreditation is due to be reviewed by the Accrediting Commission for Community and Junior Colleges in 2023.
City College's administration says the school faces a deficit of more than $1 million this academic year and forecasts a roughly $445,000 deficit for the following academic year.
Local 2121 members have proposed an alternative budget, that includes cost adjustments that result in the elimination of layoffs and a budget surplus.
Faculty say that the alternative budget accounts for a $7.5 million cost-of-living adjustment from the state, cuts spending on consulting, and spreads high annual insurance costs over different budget years to prevent faculty layoffs.
Trustee Alan Wong said in a text message that he is open to discussion with faculty about the alternative budget, to strike a balance between preserving the college's course offerings and being conservative with its budget ahead of being reexamined for accreditation by the ACCJC.
"City College is in a difficult position," Wong said. "Throughout this whole process I have sought to explore compromise and listen to all voices. I would like to see if we can still reach a middle ground and balance the needs of City College to protect its accreditation and the needs of the community to have classes."
Rizzo said in an email statement that he, the administration, and "other trustees" have discussed the alternative budget with the union previously.
"I have been meeting regularly with the union to talk about the budget, as have other trustees. The union has also been meeting with the administration," Rizzo said.
For some, however, the effects of layoffs extend beyond City College.
Cassondra Curiel, president of United Educators San Francisco, which represents teachers in the San Francisco Unified School District, said that City College is a crucial part of the public school pipeline funneling students from SF public schools to the UC and CSU systems.
"Our students we have in Pre-K come to City College by the time they are through with us because of what City College offers," Curiel said. "This is part of us as well."
The Board of Trustees will hold a special meeting Friday/6 to finalize the layoffs.