You're eyeballing Good Taste, a weekly peek at the Bay Area food scene. This week, we're tracking San Francisco's love of inari, rice-stuffed pockets of fried bean curd, and serving up ideas on how to create your own with simple toppings.
Inari has long been a staple of sushi restaurants, but the humble rice-stuffed bean curd pockets got a lot fancier in 2020, when Japanese chefs got creative with their takeout offerings and started topping them with premium fish and vegetables.
The first place that I saw kicking off this pandemic trend in San Francisco was the high-end omakase spot The Shota, which piled inari high with toppings like lean fatty tuna, crab, crispy shrimp, and mushrooms—and King crab and crystallized egg yolk inari is still an offering at the equally luxe Kusakabe.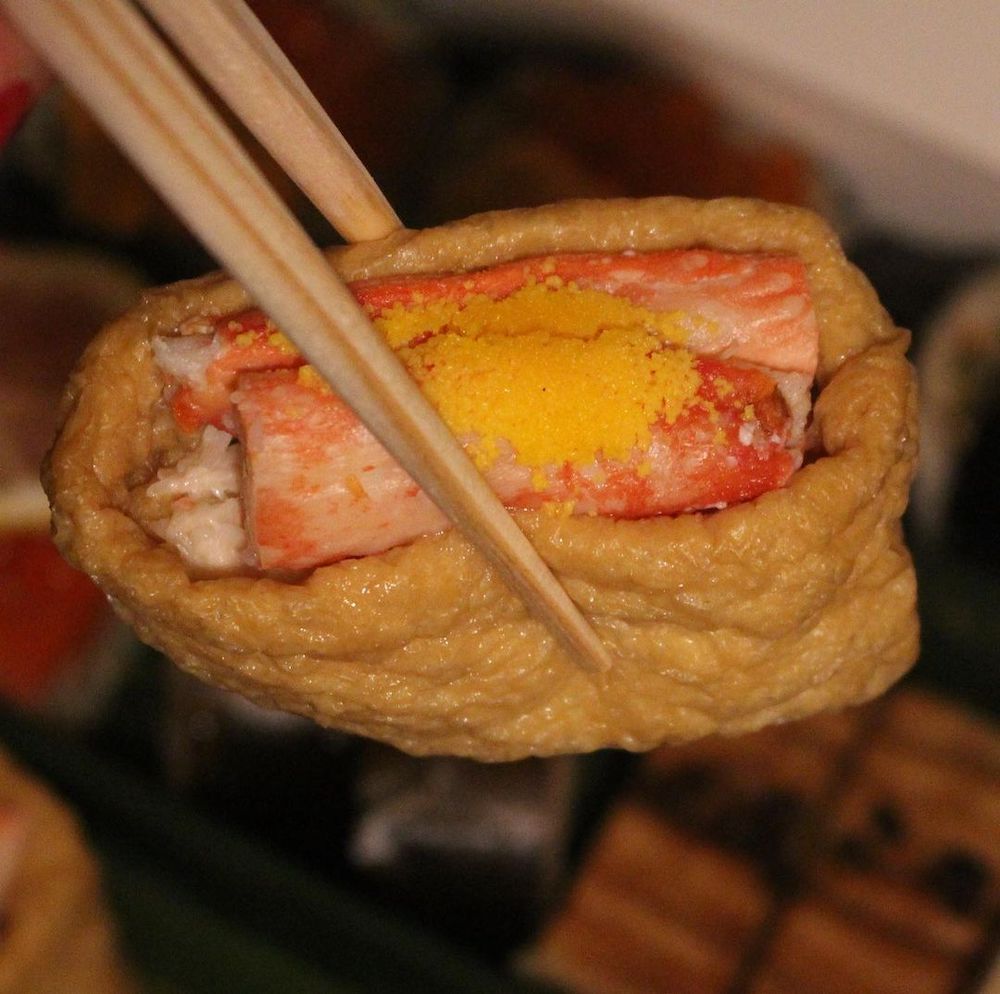 Recently, a dish of tuna confit "inari" with quinoa, farro verde and miso dressing popped up on the menu at State Bird Provisions. The inari is put in quotes on this menu because the pocket is made of a smoother byproduct of tofu called yuba; you can buy sheets of yuba made by Oakland's Hodo at places like Rainbow Grocery.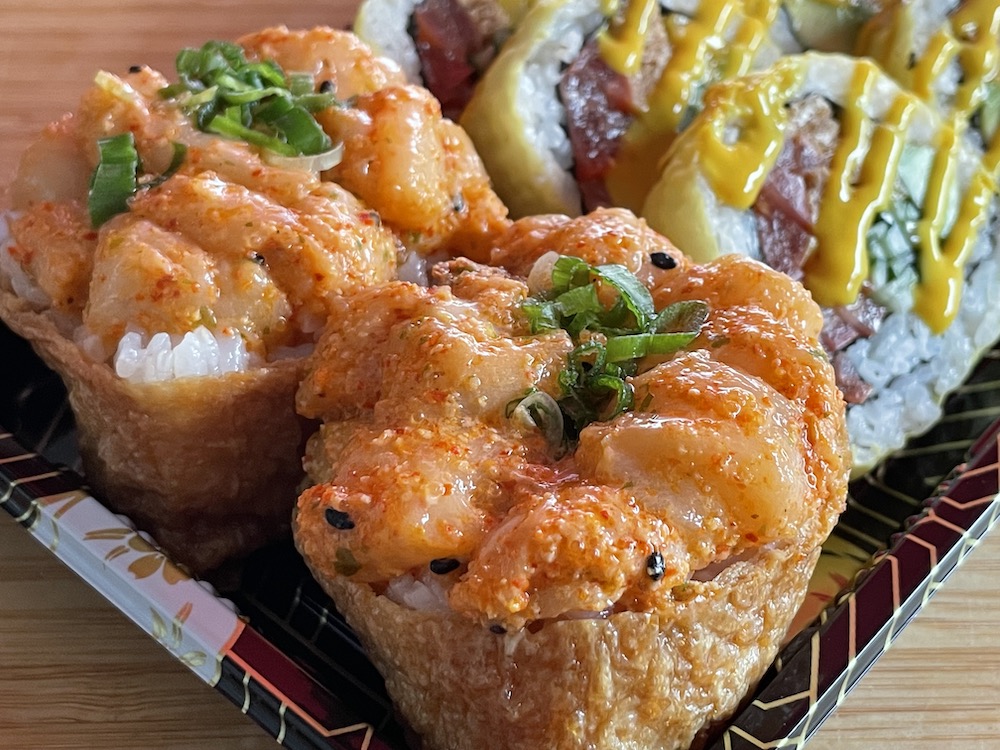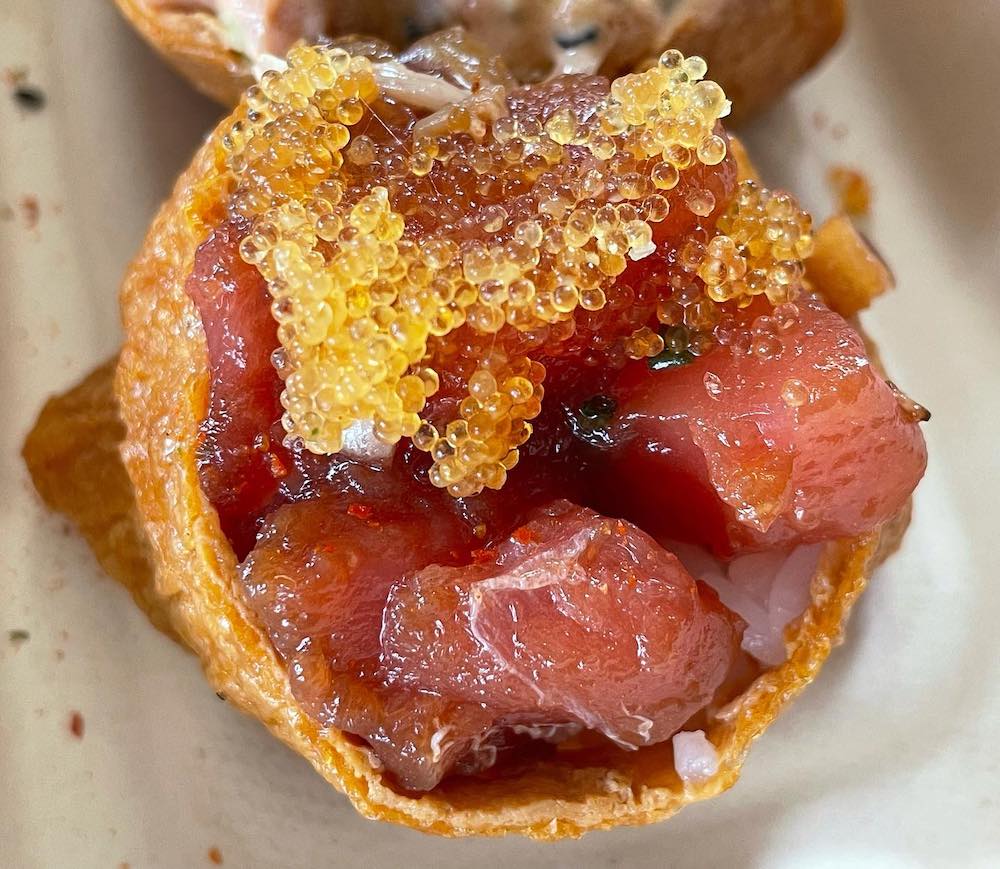 This type of next-level inari goes by different names, depending on where you're dining. For instance, they're called Yummy Pockets at Elephant Sushi, which just opened a third restaurant in San Francisco, and are known as Poké Bombs at the 12 Bay Area locations of Pacific Catch. Places like these intend them to be appetizers, but they can be pretty substantial.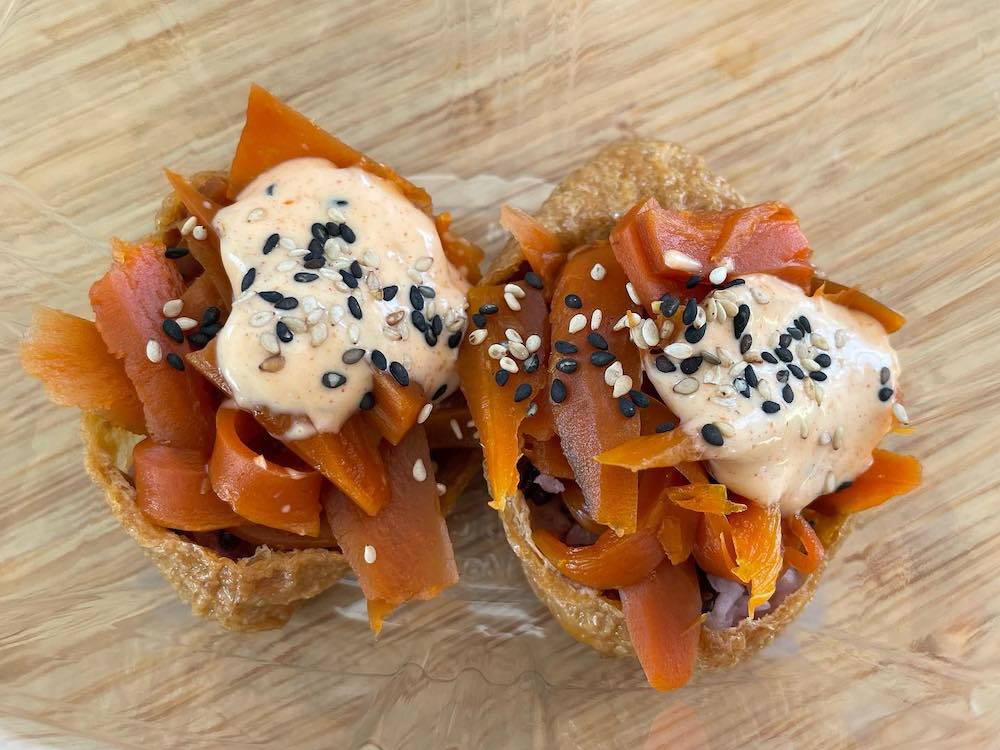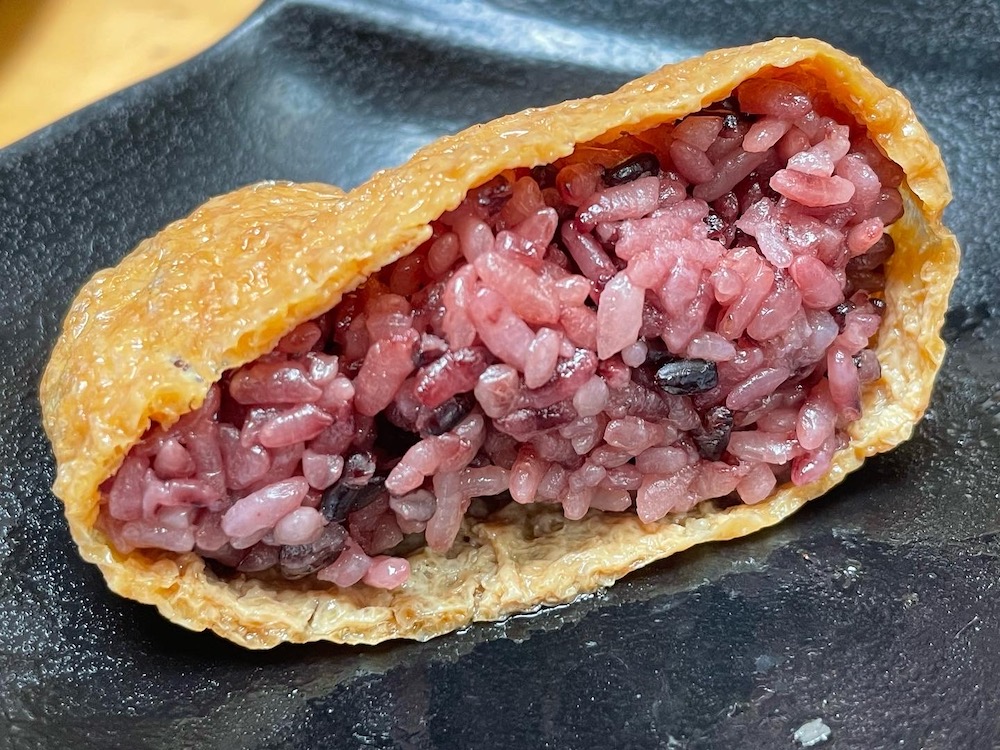 Inari is really simple and satisfying to make at home, and you should definitely try it. Inari age (fried bean curd) is readily available at grocery stores such as Nijiya Market and usually costs less than $5 for a dozen sheets, so it's an economical choice. They're fairly delicate, so expect to tear a few along the way as you try to carefully separate them to fill with cooked rice. If you outright destroy any of the inari age, just eat it or put it on top of a salad.
Most restaurants use some form of sushi rice to make inari. Cooked Koshihikari rice is an excellent option, or you can experiment with a sticky grain such as Korean purple rice, like chefs do at the new takeout-only Vegan Sancha Sushi and the recently-opened restaurant Menya Kanemaru Golden Ramen. I was inspired by those uses of purple rice and made a version with Korean mixed grains, Rancho Gordo pineapple vinegar, and a dab of honey that tasted good for days; normally, the shelf life for inari is pretty short.
After your rice has finished steaming on your stove or rice cooker, mix in ⅓ cup of rice vinegar and a couple tablespoons of sugar (optional) as you fan the pot with a rice paddle and cool it all down. Let the rice cool for at least 15 minutes before you assemble your inari.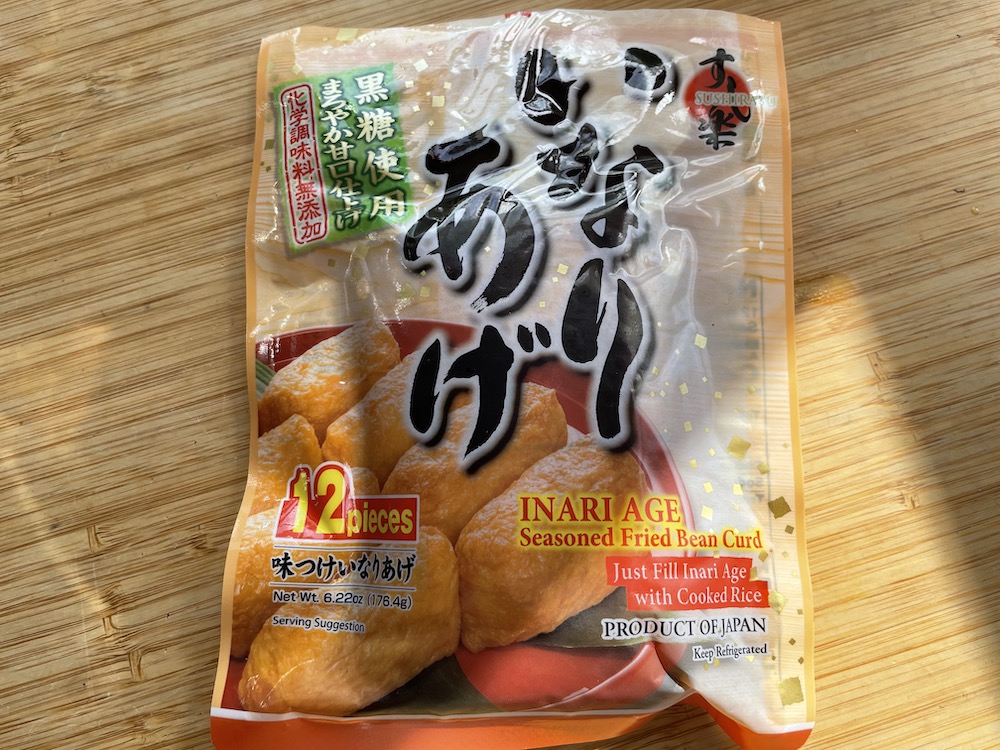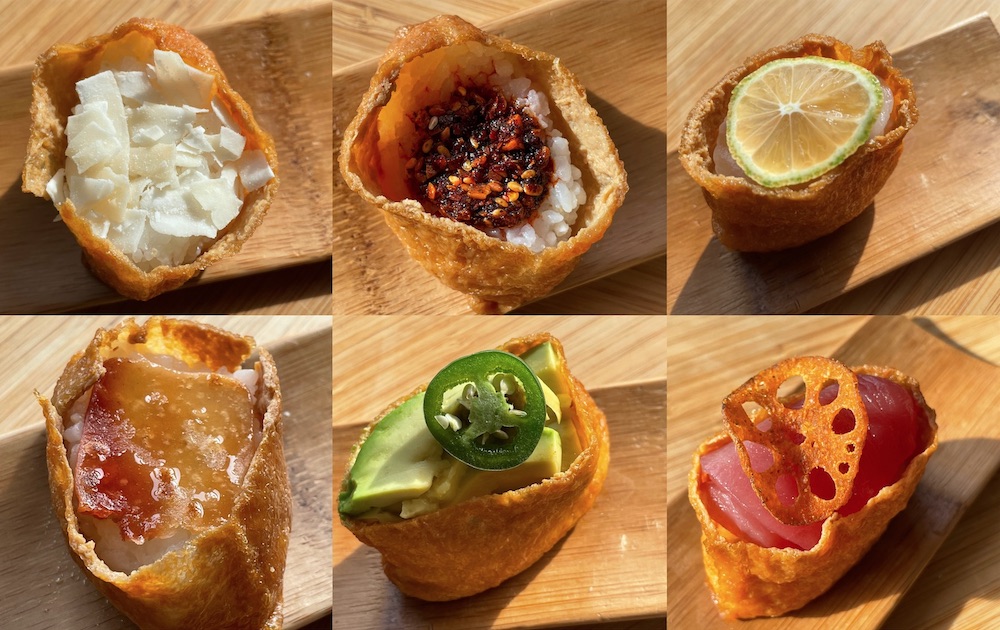 Don't overstuff the inari age — leave room for toppings! Because the inari age tends to be very sweet, you can go either savory or sweet with what you add as your finishing touch. Some easy ideas to get you started: wasabi coconut chips, chili crunch, raw scallop with a thin slice of lemon, crunchy vegan bacon by San Francisco startup Hooray Foods, avocado with jalapeno, and raw tuna. 
Making inari at home is vastly easier than rolling sushi, with so many flavor possibilities. Let your imagination run wild and have fun!
Find more food ideas for your kitchen at Tamara's site California Eating.