You're reading Good Taste, a weekly look at food in the Bay Area. Today, we'll teach you how to make your own version of Taco Bell's Mexican pizza and where to score some superior indie versions.
When Taco Bell announced a few weeks ago that the chain's beloved Mexican pizza was coming back in mid-May, I put the gas on an idea that was long-brewing in the back of my head—to check out some of the various Mexican pizzas I've seen on menus around San Francisco for a long time. In the process, I found at least three that I think are worth bringing to your attention.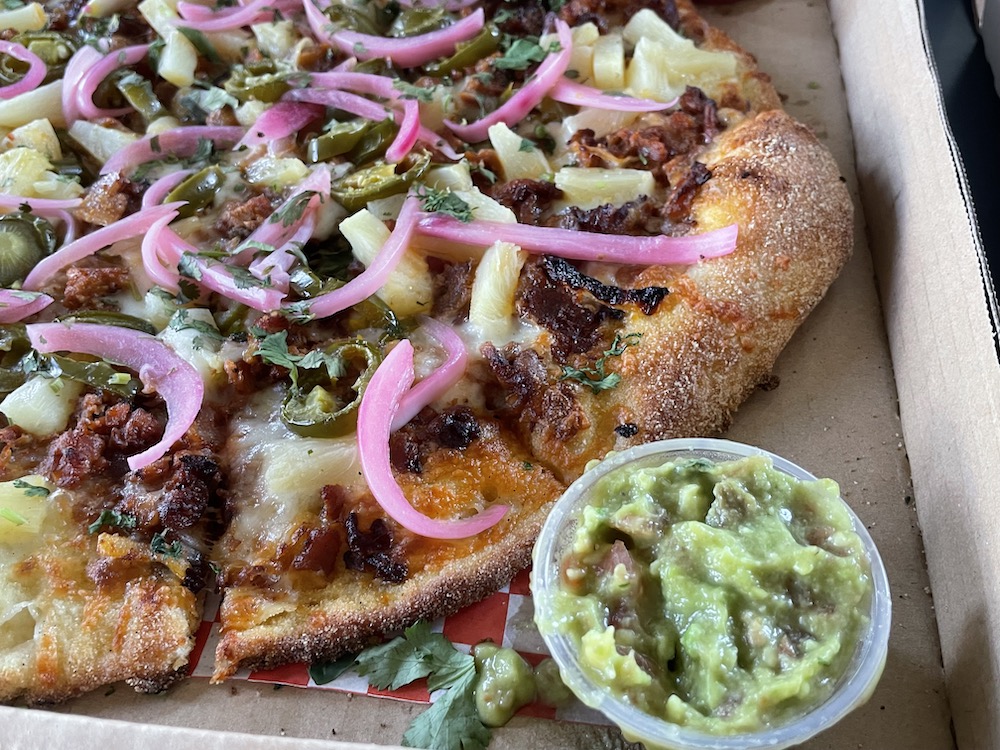 Anton's Pizza & Deli has a number of Mexican pizzas on the menu, including one called El Puerquito that has just about every preparation of pork that you can think of but al pastor. I am a proud pineapple pizza person, so I opted for the al pastor pizza instead. It's topped with pickled red onions and served with sides of guac and pico de gallo.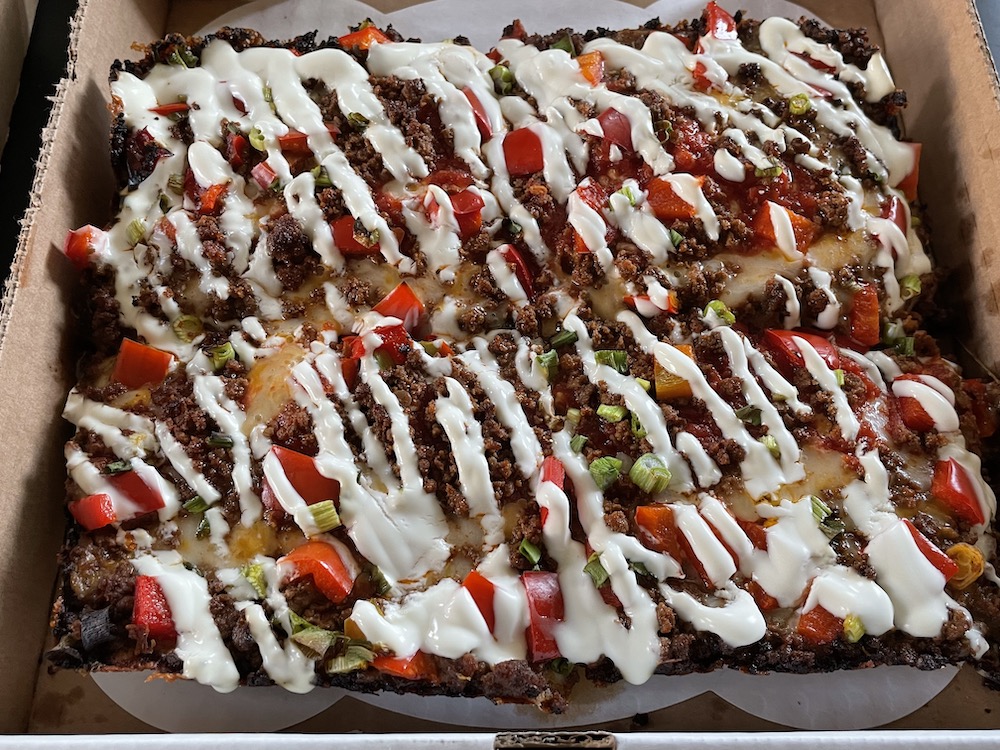 Detroit-style pies are big in San Francisco, you may have noticed, and Pizza Squared has a really fun square Mexican pizza that I'd love to order again. This one is similar in spirit to Taco Bell's, with ground beef and refried beans, but it's topped with a zesty lime crema that TB could never.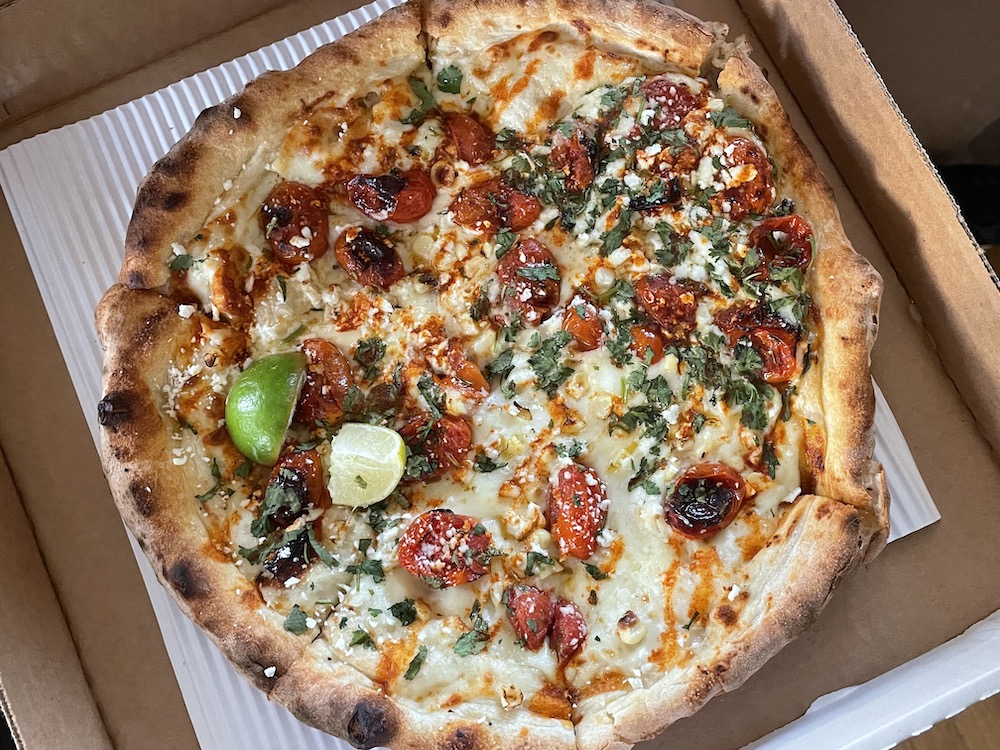 La Vaca Birria started with a birria de res pizza on the menu and now has several Mexican pizzas on the list. I love the subtlety of the El Elotero, a white pie with sweet corn and cherry tomatoes that comes with lime to squeeze on top.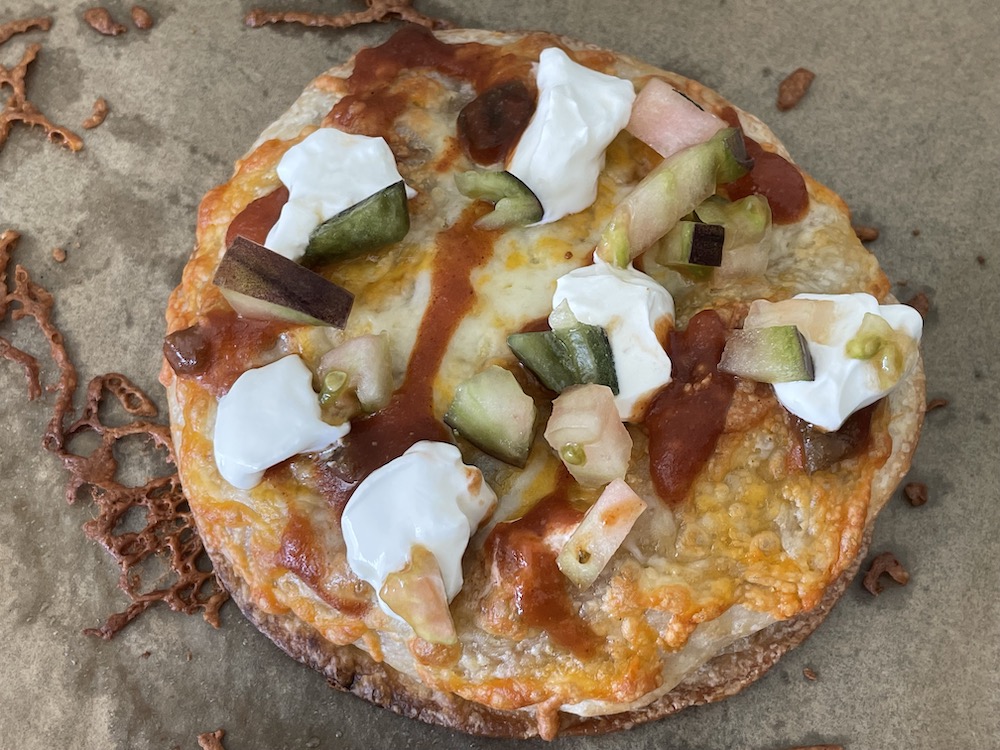 All of these are traditional pizzas and that's different from Taco Bell, which uses two tortillas as the pie. I do know of one tortilla-based Mexican pizza in town, a birria de res version served by Al Carajo, but wasn't able to catch the truck or pick one up in Mission Bay before publishing the column. Instead, I decided to make my own at home using as many local ingredients as I could easily get closer to home. The technique would be easy to reproduce in your own kitchen.
Preheat the oven to 400 degrees before doing anything else. Normally, I'd start with a can of refried beans, but I decided to make my own out of Rancho Gordo's super creamy Buckeye Bean, one of several varieties that the company carries and recommends to make refried beans at home. I simmered them with a few cloves of garlic, some olive oil, the last of my cilantro, and half an onion for about three hours. I then drained most of the water and mashed it all with a potato masher and let it cook down for another five minutes or so. 
Taco Bell uses ground beef but I opted for the local and plant-based Impossible Ground, cooking in a bit of oil in a cast iron skillet for about six minutes before adding a packaged taco simmer sauce and letting that all mingle for another five or so. 
The local flour tortilla maker Xulo makes par-cooked tortillas using a variety of fats; choose coconut oil if you want to stay vegetarian. I poofed up four of them and set them on a cooking sheet. The pizzas are now ready to be built. Start with a layer of refried beans, top with your meat or meat substitute if you're using one, and then put another tortilla over the pizza.
TB sprinkles a three-cheese blend on top, but I found an even fancier blend of four Mexican cheeses at Whole Foods. Be messy with the cheese so that you can have a crispy cheese skirt to sprinkle on top. Bake for 5-8 minutes and top with a drizzle of taco sauce or salsa, sour cream, and a chopped tomato; it's the beginning of heirloom tomato season in California, and I found a gorgeous purple, green, and pink one for mine. Be fancy, or not—heck, it's gonna be better than Taco Bell!
Get more food ideas at Tamara's site California Eating.