While teaching at San Quentin State prison, Diana Kahn discovered the humanity of incarcerated people. Inspired by what she witnessed, she has taken on the mission of sharing the photos and stories of incarcerated people on a website called Humans of San Quentin.
"When I first started teaching, I was overwhelmed by the vulnerability and truth the students would share and by the high level of emotional intelligence exceeding men in the free world," Kahn said. "From working in San Quentin, I see incarceration in a completely new light."
Kahn started working with a peer education program at San Quentin five years ago. Her background is in education—she was an elementary school teacher and is now on several education and public health boards. While teaching 4th grade at San Domenico in San Anselmo, she met a new friend who was studying to be a psychologist at San Quentin.
"From that moment on I wanted to work inside San Quentin," Kahn said.
In 2018, Kahn came up with the idea to create Humans of San Quentin by Brandon Stanton's Humans of New York. Stanton takes pictures of everyday people and publishes their stories in books and online.
Kahn felt it would be a crime not to share the lives of those behind bars so she decided to model Stanton's mission with the focus on giving a voice to people in prison to build awareness and connections. She posts pictures of incarcerated people with short stories they penned themselves on the Humans of San Quentin website, Facebook, Instagram, Twitter, LinkedIn, TikTok, and Reddit.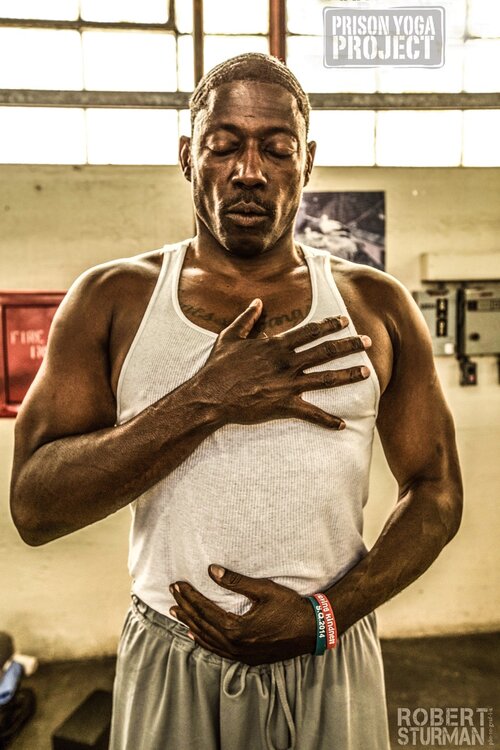 On the Humans of San Quentin website, a photo by Robert Sturman shows Darnell, a 55-year-old incarcerated Black man, in various yoga poses. Darnell wrote about how he overcomes anger using yoga and practicing Buddhism.
"Breathing out, I sent loving kindness and compassion to all who have been affected by [tragic] events," Darnell wrote. "In doing this I'm practicing the offering of joy, happiness, and love."
Michael, a 39-year-old Black man is featured wearing a black graduation cap and gown. He shared how running his life like the CEO of a multimillion dollar company has improved it.
"Doing the best I can means I'll be paid better," Mike wrote.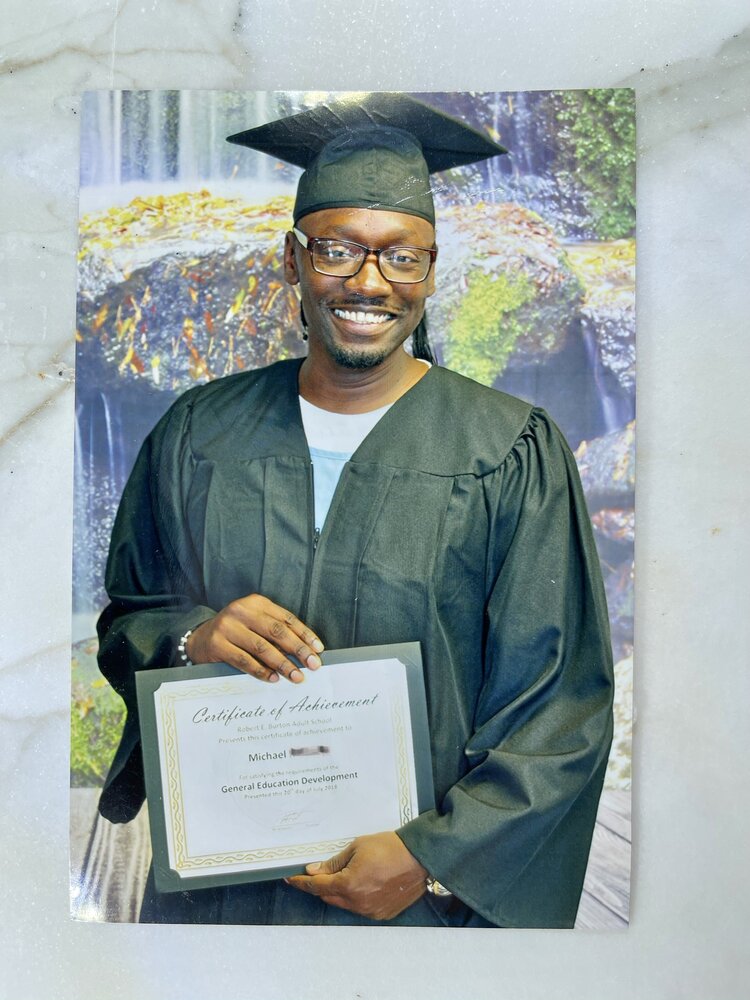 Eric, a 25-year-old man featured in a picture fragment wearing prison blues wrote from solitary confinement, about the results of bad choices, in hopes that other make better ones than he did.
"We all have control of our lives by the choices we make," Eric wrote. "It might be too late for me but not for you."
Several incarcerated men co-founded and helped launch Humans of San Quentin, helping Kahn bring stories from people imprisoned in 18 states, with hopes to expand to all 50.
She first pitched her idea to James King, who was incarcerated at San Quentin at the time but has since paroled. King, a writer who was active in coordinating a college program at Quentin, directed her to Juan Haines, senior editor of the San Quentin News, the largest newspaper written and run by people in prison.
Haines, a 2017 Society of Professional Journalists Silver Heart and a 2020 PEN America Fielding A. Dawson Prize Fiction award winner, loved the idea.
"I've always been interested in amplifying the voices of incarcerated people," Haines said. "Today's technology provides the ability to connect with anybody, anywhere—that's true excerpt for people in prisons. Using Instagram to follow the example of Brandon Stanton's Humans of New York, incarcerated people can now speak about their experience directly."
Haines took on the role of coordinating and training guys on how to conduct interviews and tell great stories in 400 words, to meet Instagram's 2,200 character requirement.
Haines recommended involving Eddie Herena, a staff photographer for San Quentin News before paroling on October 15, 2018. His photos have also been published in Rolling Stone, The Guardian, The Athletic, Next City, San Francisco Chronicle and, of course, Humans of San Quentin.
"I got involved because I believe in telling untold stories to set the record straight," Herena says. "It feels right, it feels good, it feels necessary to do this work."
Two men formerly incarcerated at San Quentin, Joe Krauter and Marcus Blevins, were hired as editors.
Humans of San Quentin's goals for the future include hiring more staff, broadening education in other prisons, publishing a Humans of San Quentin book and shining a light into cells around the world.
"I feel society need to experience what life can be like with emotionally intelligent men in it," Kahn said.
For people behind bars who want to share their stories with the world, send your short story, age, years incarcerated and photo to: Humans of San Quentin, P.O. Box 417, San Quentin, CA 94964. (hi@humansofsanquentin.com)