I'll say this for opening night at Aurora Theatre: it may be the only place besides the DNA Lounge to not only scrutinize my vax info, but specifically look for a booster date. The trips to and from the theatre were a nightmare of unmasked faces on BART, so it was a welcome relief to go through a check so thorough that someone ahead of me was turned away for not showing booster proof. (Though there was one woman who got pretty far in before putting on her mask.) What's more, the curtain speech by artistic director Josh Costello emphasized the importance of masks by saying "We are not out of this yet."
The only masks seen in The Incrementalist (a world premiere running through May 15) are those worn by Black protesters shortly before they're beaten by UC Berkeley cops. On its face, that probably wouldn't matter, but this scene—as told by the on-screen projections of Mary Mackey Productions—takes place in 2022. Apparently, it's an alternate reality where one character can refer to the pandemic in past tense and not be considered willfully ignorant. In a recent interview, playwright and UC Berkeley alumnus Cleavon Smith said he began writing the script in mid-2019. Aside from a few specific lines of dialogue, it seems like he didn't bother to update it.
In fact, most of the problems in the play stem from Smith's outdated interpretations of Black identity and campus activism.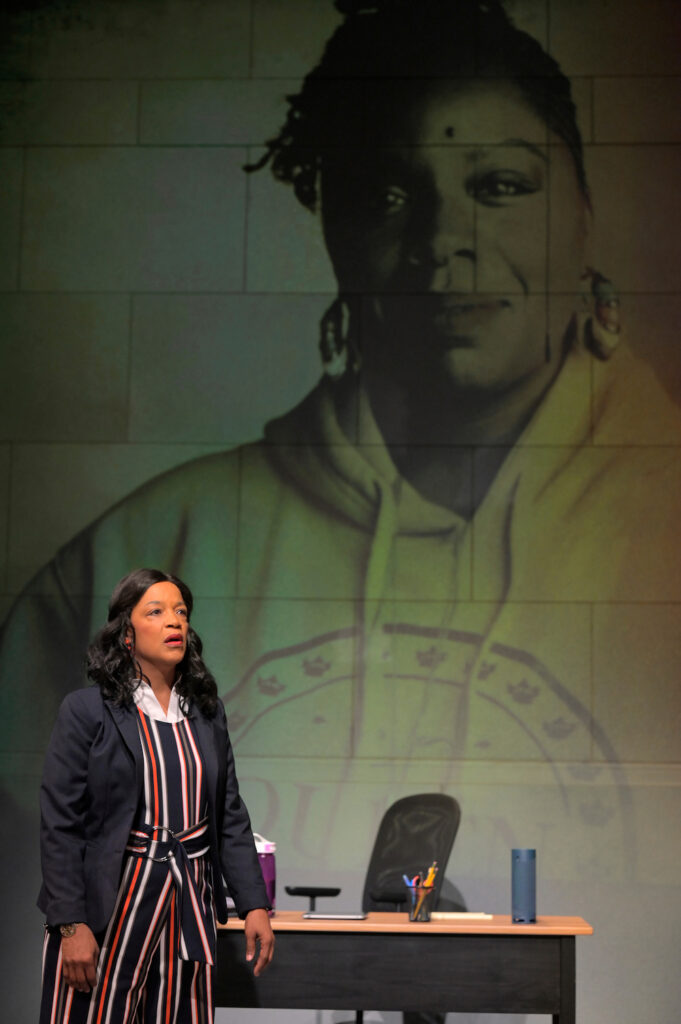 The story begins in 1992, with collegiates Nina (Anna Marie Sharpe) and boyfriend Marteen (Sam Jackson) debating about whether or not they should use their newly-justified activism for more radical change—removing a racist university staff member who used epithets on Marteen—or trying work the system from within. Choosing the latter, the now-adult Nina (Cathleen Riddley) is a UC Berkeley staffer finding herself face-to-face with her mirror image in the form of Black Student Union members Miriam (also Sharpe) and the non-binary Raz (also Jackson).
When UCB cops violently assault Raz during a protest, Nina, with the assistance of friend and author Tom (Michael J. Asberry), attempts to open a dialogue between the righteously angry, long-winded students and the UC staff. It goes about as well as you would expect.
(Given that the play revolves around acts of violence on the UC Berkeley campus, I'd be remiss not to mention that this opening performance occurred hours after the real campus was temporarily locked down due to a credible threat of violence.)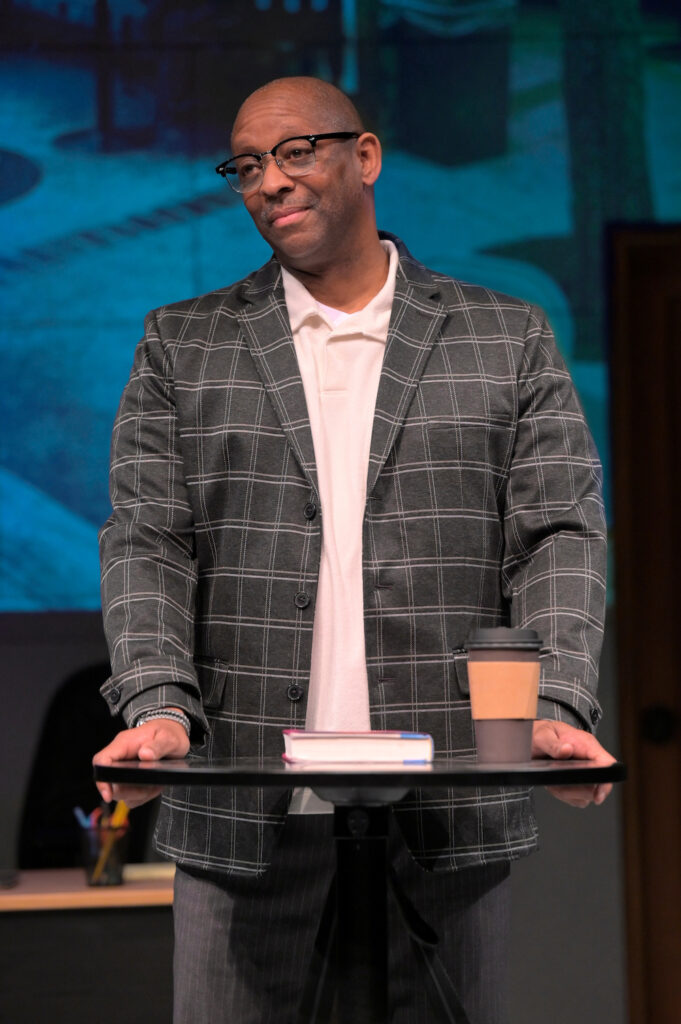 The pieces are all there for a powerful and timely work of theatre by a Black artist, but Smith once again proves to be his own worst enemy. As a writer, he likes telling tales that involve contemporary youth, but always approaches them from an awkward "Hello, fellow teens!" angle that condescends rather than connects. His strongest scenes in this play are the brief glimpses we see of Young Nina and Marteen in 1992. Those scenes have the same stilted dialogue as the rest of the play, but at least there's a verisimilitude that's sorely lacking from the 2022 scenes, which are the majority of the play.
And again, those 2022 scenes feel like they take place in an alternate reality. Even if Smith didn't have all of his Black characters ignore the pandemic, something troubling from a Black writer when Black people suffer disproportionately to whites in the ongoing pandemic, the fact that George Floyd gets only a passing mention makes it all the more egregious. Other recent dead Black folks, including Trayvon Martin, are only named in one of sound designer Everett Elton Bradman's montages, suggesting they weren't considered in Smith's script at all. This is a play focusing largely on young Black activists making legit demands of an archaic white establishment, but Smith seems to have no interest in the social media activist generation that keeps those names alive.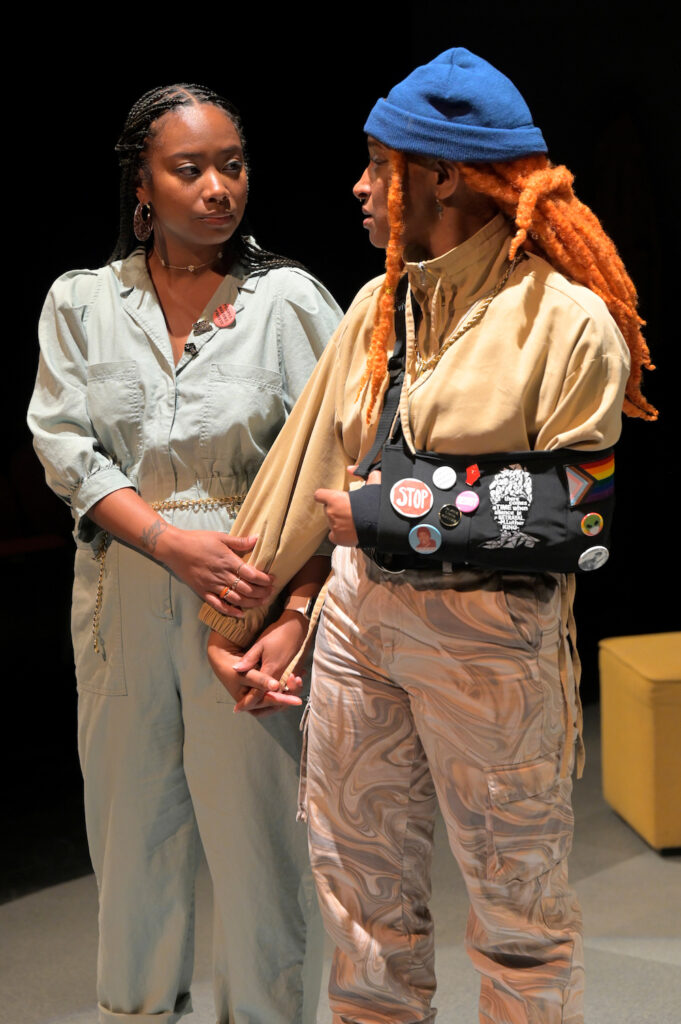 In fact, it's clear Smith sides with the older characters. Which is fine; art should take bold stances. Still, the younger ones never grow beyond being straw people, a series of buzzwords and cross-references the Nina and Tom have collected into files.
Yet, the most frustrating aspect of Smith's script may not be the dialogue, the Black art clichés (a "sellout" named "Tom"; "Nina" being given her namesake bullet as a gift), or the condescending way he talks down to the TikTok generation just because they aren't his peers. No, it's the high regard he seems to have for toxic relationships.
We're expected to empathize with Tom because Nina puts him in the imaginary "friend zone"; every proper couple gets into an argument that verbally crosses the line, but they brush it off and smile because the script says so; and no couple member defends their partner when that partner is talked about by an outsider. (For example, Young Nina doesn't defend Marteen to the school board).
These are the folks we're supposed to root for?
As if the play's muddled intentions weren't bad enough, this two-hours-with-intermission play goes on far too long, taking the Return of the King approach of adding countless endings that stretch out into infinity. Granted, I wasn't eager for the long BART ride amongst maskless super-spreaders, but one begins to feel trapped with Smith's technically competent play. I began thinking of recent work by other Bay Area Black artists trying to connect their classic styles and messages with contemporary world events. Their success at it looked effortless, which means it wasn't. Cleavon Smith tries very hard for a "meet me halfway" dialogue, but it comes off more as "Get off my damn lawn!"
THE INCREMENTALIST runs through May 15 at the Aurora Theatre, Berkeley. Streaming performances run May 10-15. Ticket and info here.