Before arriving at the Opera House (where they're still doing vax checks, but indoor masking continues to be mixed), I scrolled through news on my phone and found outlets already referring to this show as "Helgi Tómasson's swan song." I rolled my eyes, but what do you expect when a company's artistic director ends both the season and his nearly-four-decade tenure with a work that has "swan" in the title? There's low-hanging fruit, then there's just having it handed to you directly off the vine.
Nevertheless, there was some farewell gravity present at Tómasson's take on Tchaikovsky's Swan Lake (through May 8). It's not the first time he produced the show for the SF Ballet. In fact, the first intermission saw the press room visited by Corps de Ballet dancer Ludmila Bizalion, taking a break from her maternity leave. She recalled the complex choreography of Tomasson's 2009 production.
In a way, Swan Lake is to ballet what Romeo & Juliet often is to traditional theatre: Everyone in the world has done it, but every director wonders "what can I do with it?"
If you're not familiar with the story, here's the quick version: A wicked guy named von Rothbart (Daniel Deivison-Olivera) has eyes for Princess Odette (Frances Chung), but she rejects his creepy advances. So he angrily transforms her into a swan—because toxic dudes are prone to harassment, violence, or the purchase of Twitter. Meanwhile, the Queen Mother (Anita Paciotti) is trying to marry off her dashing son Prince Siegfried (Joseph Walsh), but none of the local ladies pique his interest. During an evening hunt in the woods, he becomes enchanted by the sight of Odette, now the White Swan. She's equally taken by him, which does not sit well with von Rothbart.
That old story.
The redux of a classic often distinguishes itself aesthetically. The designs by Jonathan Fensom (sets and costumes), Jennifer Tipton (lights), Sven Ortel (projections), and Michael Ward (hair, wigs, and make-up) are no less stunning now then they were in 2009 or '16—the latter production was shown during the company's two-year streaming stint. The grand ballroom, the palace courtyard, and the cliff above the lake, with its gigantic, hypnotic moon, all lend the right level of magical realism to the event. Similarly, Tomasson's pirouette-heavy choreography is just as impressive a spectacle live as it is on screen.
The only reason one would take their eyes off the stage would be to repeatedly shush the chatty audience members sitting directly behind you. Which I did.
Still, that doesn't stop one from being stunned by Frances Chung's execution of the aforementioned pirouettes as the Black Swan and the near-weightless pointe steps she brings to the White Swan. Joseph Walsh is mostly fine as Siegfried, but he isn't as, for lack of a better term, fluid with Tomasson's choreography, something all the more apparent in his duets with Chung. He isn't bad, he just isn't perfect: not a fault of his.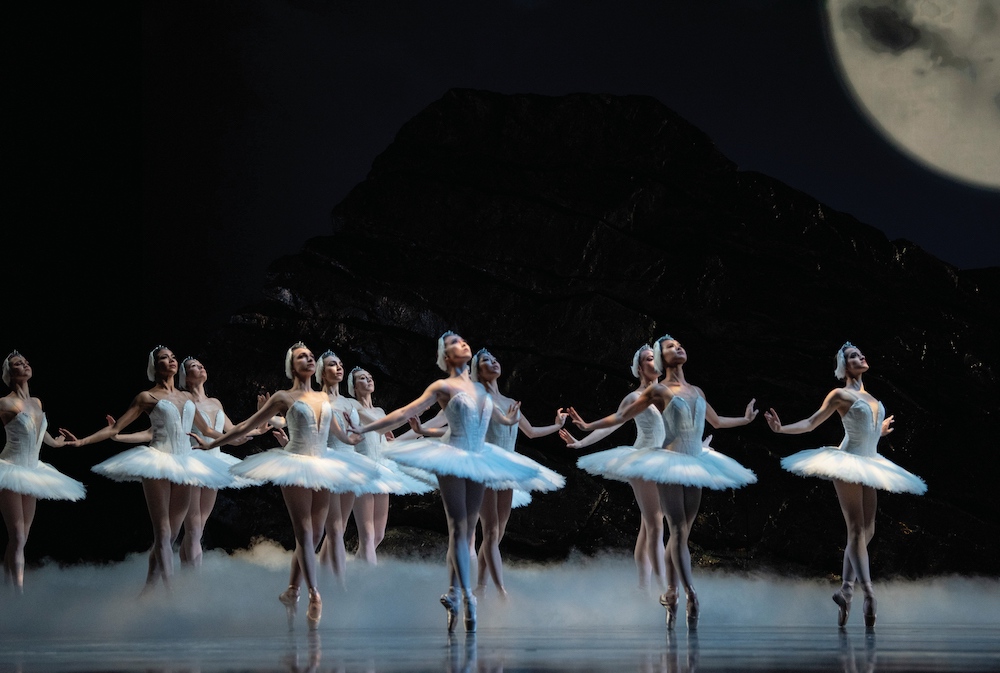 Ricardo Bustamante brings his usual youthful enthusiasm to the stage as Wolfgang, and that's despite sharing the stage with the young students from the SF Ballet School during the courtyard scene. Naturally, the company who make up the additional swans are a delight to behold.
Like many classic stories, Swan Lake inevitably ends in tragedy. Yet, it also finishes with a happy(-ish) ending and the suggestion that those we've followed have better things in store. Perhaps that's why Helgi Tómasson chose this familiar piece as the season finale: It's definitive proof as to what will be missed in his absence (as well as that of star dancer Sarah van Patten), yet it's also proof that ballet-lovers were ready to return to the War Memorial stage after two years of streaming fatigue.
We have a while yet before we see the company under the tutelage of Tomasson's successor, Tamara Rojo, but finding out will be half the fun. Who knows? We may even get a new take on Swan Lake sometime down the line.
SWAN LAKE runs through May 8 at the War Memorial Opera House, SF. Tickets and info here.