COVID could have put a temporary halt to writer-director-actor Cooper Raiff's burgeoning career. In 2020, the growing health crisis put a stop to the in-person edition of South by Southwest, where his debut feature Shithouse was scheduled to premiere. But the festival's juried awards went on as planned, and Raiff's film came away with its prize for best narrative feature. Shithouse went on to win several more honors throughout that year of virtual screenings, including a special citation for independent cinema from the San Francisco Bay Area Film Critics Circle.
Raiff was a hot commodity, invited to meetings with producers who could green light his next film, including one with Ro Donnelly, Dakota Johnson's producing partner. He had an idea for what he wanted to do next that eventually blossomed into Cha Cha Real Smooth, the Sundance Film Festival audience award-winning, coming-of-age-meets-rom-com that opens this Fri/17.
He had been writing about one of the characters, a young mother of a disabled daughter loosely based on his own mom, for years. But while he had fleshed out a pitch, he had yet to write a script. Not that he told Donnelly that when she asked if she and Johnson could read his screenplay. Instead, he asked for a week to polish it.
"I went away and wrote it really fast," Raiff says in conversation a few hours before Cha Cha Real Smooth's local premiere as the SFFILM Festival's closing night selection.
"I always find that when I'm under pressure, that's when I actually put it all together," he continues. "I think I would never ever want to sit in a room and be like, 'What's an idea for a movie or what's an idea for a character?' But if I have that idea, and I've been thinking about it for many years, and then someone says, 'Alright, you need to write that this week,' then I think that's when the best things happen."
Donnelly and Johnson liked what they saw. Cha Cha Real Smooth became one of the first features backed by their TeaTime Pictures production company, with Johnson taking one of the major roles opposite Raiff, who had intended to stay behind the camera for this one. Raiff even had a specific actor in mind to cast in the lead, but his producers shot him down.
"Ro and Dakota were like, 'Hmm, we love that person, but…'" he recalls. "The script had so much of, I guess, my DNA in it and I think they were excited about the idea of someone being so entrenched in what they were making."
In the film, Raiff plays directionless recent college graduate Andrew. Living back home with his family in New Jersey and sharing a bedroom with his 12-year-old brother David (Even Assante), Andrew spends his days working at a mall food court. Nights are spent at bar mitzvahs as David's classmates and the children of family friends turn 13. At one of these, Andrew takes over for the party starter, and discovers a real talent for the profession. He is suddenly in demand. He is also smitten with Domino (Johnson), the young mother of Lola (Vanessa Burghardt), an autistic middle schooler.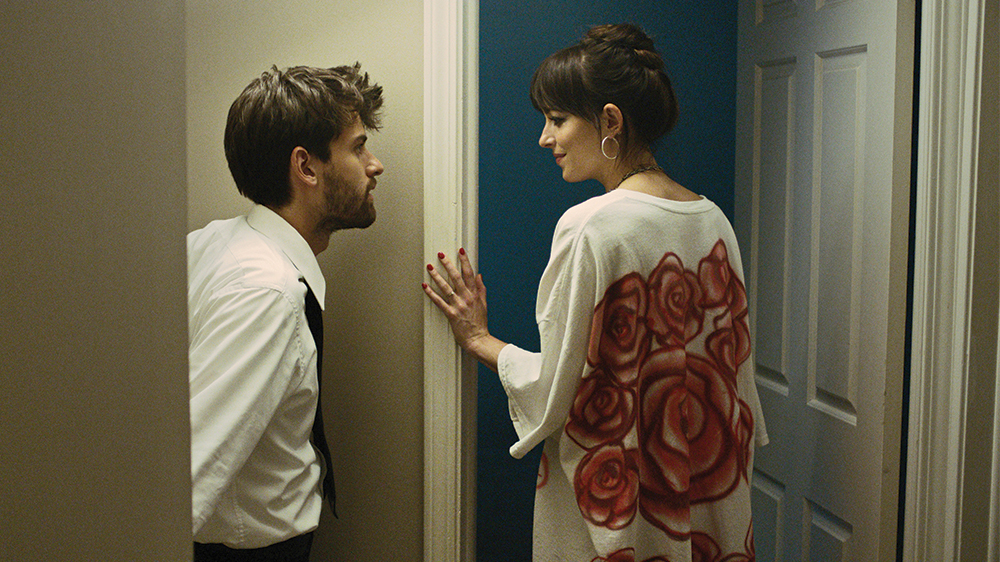 Raiff's own story points to a personality the opposite of Andrew's. Only 25, with two well-received features under his belt, he knew exactly what he wanted to do after college, and he had the drive and ambition to make it happen. He insists that those are only surface differences. When it came to putting himself into Andrew's headspace, he says, in some ways he was already there.
"I like making movies and I knew that's what I wanted to do," Raiff says. "But I very much relate to not knowing who you are and feeling like you need to grasp onto things to tie you down, because you don't like that feeling of not knowing."
"I think that's why I write, to try to figure out things out," he goes on. "In making movies or making art, you're trying to offer some part of yourself to whoever is going to see it, and in doing that, you figure out a little more about who you are and what you care about."
Like Andrew, Raiff is gentile yet spent a lot of his youth at bar mitzvah parties. Raised Methodist in Dallas, he estimates that 40 percent of his classmates at his private school were Jewish. He recalls seventh grade as endless succession of parties where he got to see the party starters work their magic in getting everyone into the groove and creating a good time.
"I have a lot of weirdly specific memories of bat and bar mitzvahs, from an outsider's perspective," Raiff says. "I have the most visceral memories. It's funny because I think the way my memory works is sometimes I don't have the bigger picture. But there are just very specific things that I remember about that year of my life, where every Saturday night was a bar mitzvah. I had my first kiss at a bar mitzvah, and so parts of the movie were very personal."
Cha Cha Real Smooth opens in Bay Area theaters and on Apple TV+ on Fri/17.