Choose your devil: a natty-suited Greek god with a baritone deeper than a Louisiana bayou and a penchant for hellish industrial dystopias, or an unkillable Floridian white supremacist with an obsessive proclivity for kidnapping. In fact, choose both, indubitably two sides of one diabolical coin, featured in exhilarating musical Hadestown (through July 3 at Orpheum Theatre) and jaw-dropping drama Dana H. (through July 10 at Berkeley Rep), respectively. Both plays were rightly showered with Tonys when they recently played New York. And better the devils you know.
Touring via Broadway SF, Hadestown is singer-songwriter Anaïs Mitchell and director Rachel Chavkin's retelling of the Orpheus myth, set in a jazzy New Orleans milieu whose steamy atmosphere is thicker than the sugar on a fresh beignet. It's one of those kinetic ensemble pieces in which the nimble band is onstage, the actors sing and occasionally pick up instruments, gorgeous lighting and effects help tell the story, and the ingenious set is constantly surprising. (Bits of very clever business with a partially revolving floor keep the action at a breathless pace.)
For those who need a brush-up, as I did, on the ancient Greek myth with a modern twist: Sensitive teen heartthrob poet-musician Orpheus (Nicholas Barach, adorable) meets the love of his life Eurydice (Morgan Siobhan Green, delightful) in a cafe, but loses her when he becomes too preoccupied with finishing his latest song. Eurydice, hungry and abandoned, signs an eternal contract with hot zaddy Hades (Kevyn Morrow), God of the Underworld, to join his below-ground industrial workforce in exchange for security.
Meanwhile, Hades and his goddess wife Persephone (a blazing Kimberly Marable) are drifting apart—she runs free during summer, but must return unhappily to him in winter. Orpheus, equipped with his lyre (guitar) makes a deal with Hades that if he can walk with Eurydice from the underworld to the above-world without looking at her even once, she will be free—but can he do it?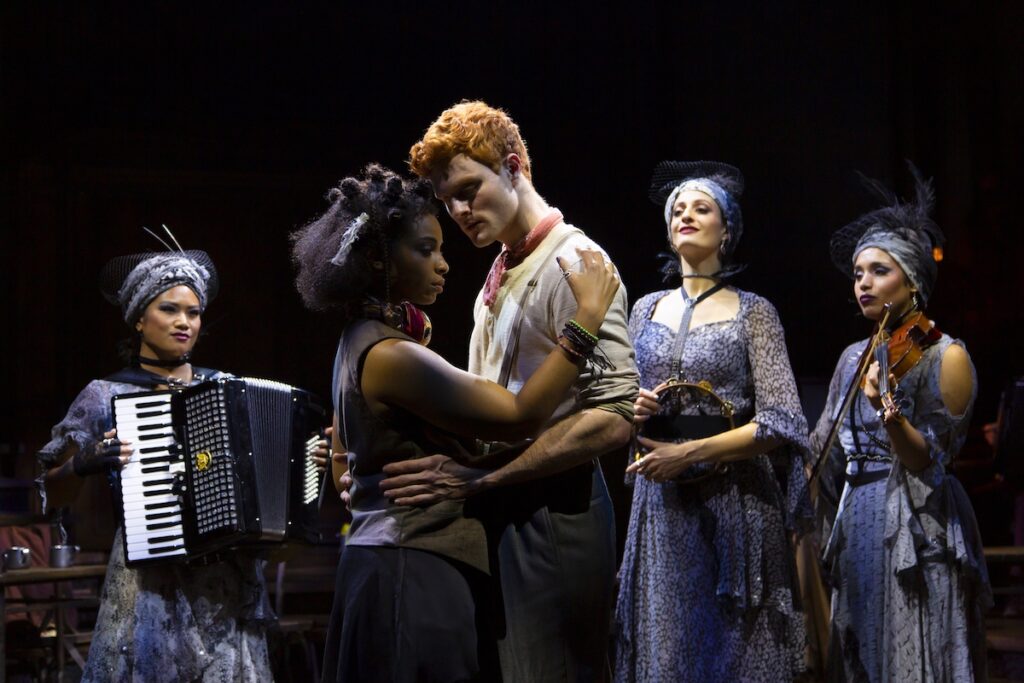 All of this is semi-narrated by Hermes (Levi Kreis), who confusingly doesn't seem to have much to do with his messenger-god namesake—Kreis fills the proverbial wingéd shoes of Broadway legend Andre de Shields here with slick, talk show host aplomb—as well as Greek chorus-like The Furies (Belén Moyano, Bex Odorisho, Shea Renne), by turns wonderfully ambivalent and malevolent, a combo of Hercules' muses, The Triplets of Belleville, and the Motown trio from Little Shop of Horrors.
Got it? Like the Greek myths themselves, playwright Mitchell plays fast and loose with motivation: You won't believe that strong-willed Eurydice would sell her soul on a dime. But you'll be too busy taking in the dazzling stage pictures, like Hades' infernal underground power grid—Rachel Hauck's scenic design and Bradley King's lighting rightly won Tonys, while Michael Krass's costuming will be the envy of steam-punk burners and vintage swingers alike—and tapping your feet to the bright score to pay mind.
*****
Meanwhile across the Bay, another tale of imprisonment, Dana H., directed by Tony-winner Les Waters, couldn't be more different. It's a brutal one-woman show with a notable lack of music or sustained special effects, unless you count the absolute knockout performance of Jordan Baker as the titular character. In an act of unfathomable empathy, Baker lip-syncs precisely, right down to the jangle of wrist baubles and slaps on the arms of a chair, a harrowing 85-minute recorded tale of stalking, kidnapping, and escape that will sear itself in your brain, but also leave enough questions dangling that you'll have plenty to chew on afterward.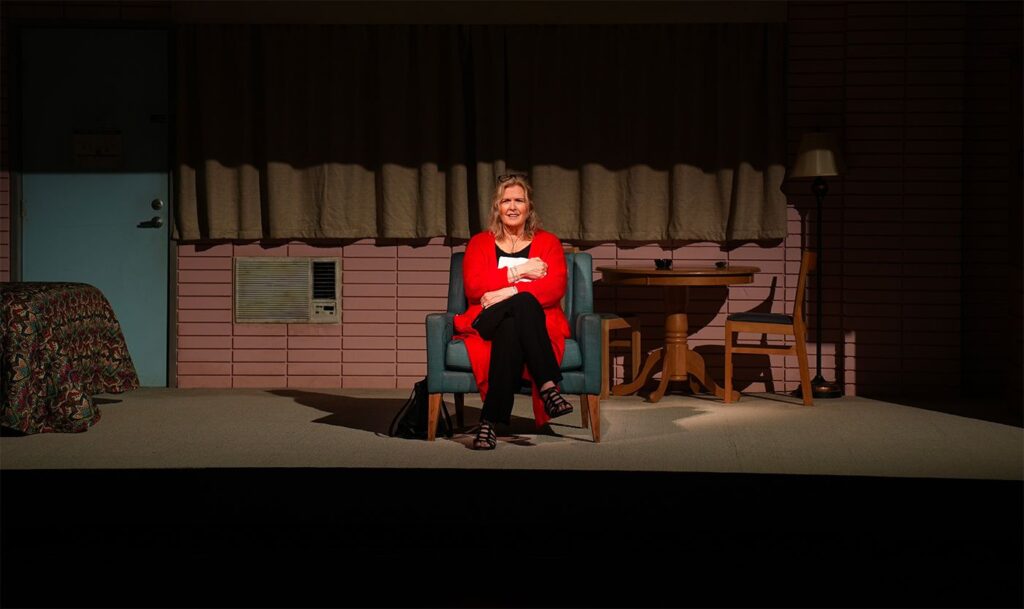 The victim here is playwright Lucas Hnath's mother, Dana Higginbotham, an evangelical Christian chaplain in an Orlando psych ward, at a hospital at once non-denominational enough to respect patients' dying wishes for any type of last rites they wish, but religious enough to fire her for suddenly being divorced after Lucas left for college. Tragically, one of her last "clients" was Jim, a perpetually incarcerated, suicidal psychopath who belonged to a white supremacist group but fused himself to Dana when she invited him to stay for Christmas at her house, in a misguided attempt to rehabilitate him.
Instead, Jim seized Dana and for five months barely let her out of his sight as they traversed the state. He performed odd jobs and "hits," while all of her attempts at escape were foiled by a police force in direct cahoots with fascists and the ever-present threat of a violent network of Jim's buddies. In a seedy pink-concrete motel room, Dana relates the pure hell she went through in those months in the matter-of-fact way of a chaplain attending a patient (the events took place in the 1990s, the recorded interview years later, and she even refers to a manuscript she's written of the horror).
Baker's miming helps put a necessary emotional distance between us and the story while bringing Dana's words to life onstage. Paul Toben's lighting, Mikhail Fiksel's sound design, and Andrew Boyce's set become more immersive as the play unfolds.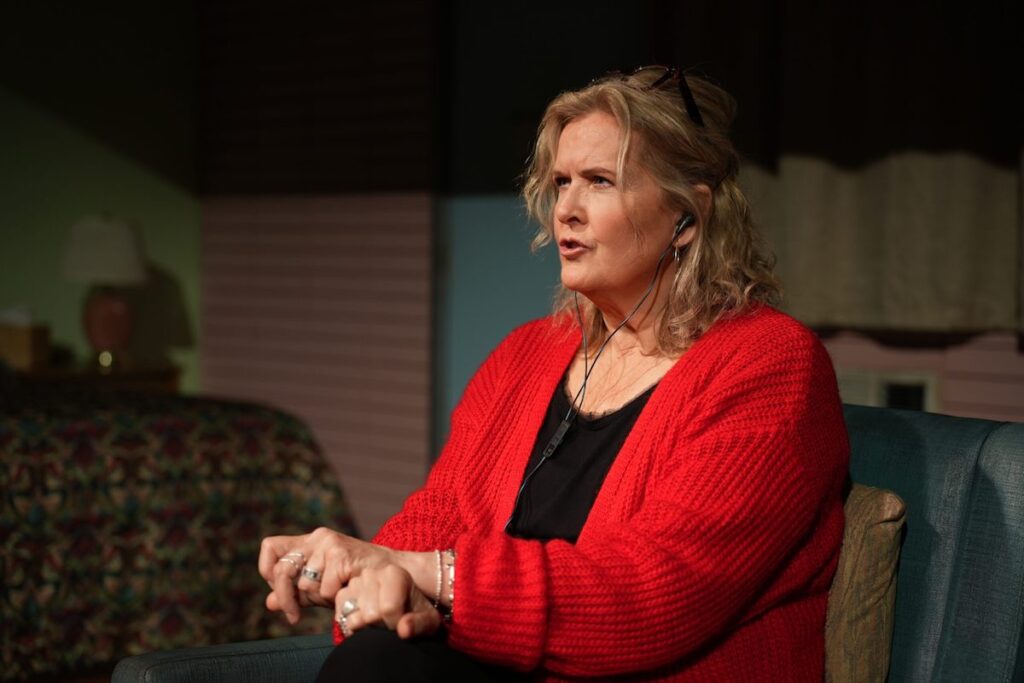 While we never fail to believe her, we bear witness to the ways trauma can affect memory and time can transform even the most terrible occurrences into what seems like a phantasmagorical yarn. There are points when Dana almost throws up her hands in surrender to the appalling ridiculousness of her situation—what was she to do? She had no marriage, no job, no home to go back to, and no money or clothes to get anywhere else. She even keeps totems of her time under Jim's thumb, objects he came home with during his manic episodes that she squirreled away, to prove to herself that what happened really happened, and, maybe, to give herself some agency within and ownership of her story.
It eventually comes out that this abuse was not the first Dana had survived. And after she miraculously escaped Jim's clutches (I'm not giving away any spoilers here) she found herself adrift, building a whole new life for herself on the road, a period she remembers with relish. It's only afterwards that it hit me: Where was her playwright son during all this time? And beyond the spellbinding power of the performance and the philosophical issues of narrative and memory, what is his intent in all this? Regardless, we see a resilient human recovering in real-time from inhuman duress, and we won't likely forget her anytime soon.
HADESTOWN plays through July 3 at Orpheum Theatre, SF. More info here.
DANA H. plays through July 10 at Berkeley Rep. More info here.